It's a New Year and a new Thrift Store Decor Upcycle Challenge! We took a few months off for the holidays, but we are back to show you more upcycled thrift ideas! This time we have joined forces with even more bloggers and have tons of thrifty upcycle ideas to get those wheels spinning.
The Rules:
Upcycle an item(s) from a thrift store, resale store, or garage sale into a new piece of decor.
There's no monthly theme.
There's no budget to stick to.
Meet the Hosts
Amanda | Red Cottage Chronicles Kim | Made in a Day
Dru | Polka Dot Poplars Erlene | My Pinterventures Colleen | Life on Kaydeross Creek Pili | Sweet Things
Shirley | Intelligent Domestications Ann | Duct Tape and Denim Debra | Shoppe No. 5 Marie | DIY Adulation
Chelsea | The Johnsons Plus Dog Jes | My DIY Envy Lindsay | Crazy Organized
Molly | Just a Little Creativity Ashley | 3 Little Greenwoods Kimm | Reinvented Michelle | Our Crafty Mom
Ali | Home Crafts by Ali Sue | A Purdy Little House Sara | Twelve on Main
Claire | Pillar Box Blue Chelc | Inside the Fox Den Kim | Farmhouse Made Victoria | Dazzle While Frazzled
Sherry | Savvy Apron Jennifer and Vicki | 2 Bees in a Pod Lora | Craftivity Designs Megan | C'mon Get Crafty
Denise | My Thrifty House Toni | Small Home Soul Deborah | Salvage Sister and Mister
Make sure you follow our board on Pinterest for more upcycled decor inspiration!
---
Farmhouse Candle Wall Sconce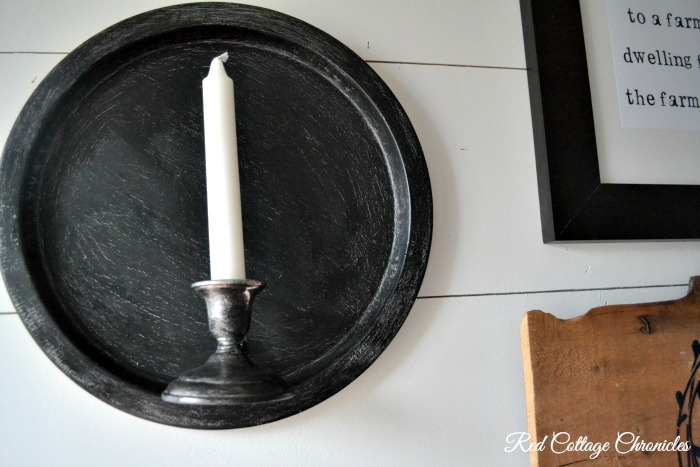 If you visited Red Cottage Chronicles recently you may have seen the reveal of my farmhouse dining room. The budget to makeover our room was only $100, and the bulk of that went towards faux shiplap and paint, so I had to be really creative when it came to accessories. I mostly shopped our house for things I already had, but did hit the local thrift shops for some fun finds.
Sometimes I go into the thrift store with an idea in mind, but other times I walk around aimlessly until something catches my eye. The latter is how I decided on this vintagey (not a word, I know) farmhouse style candle wall sconce.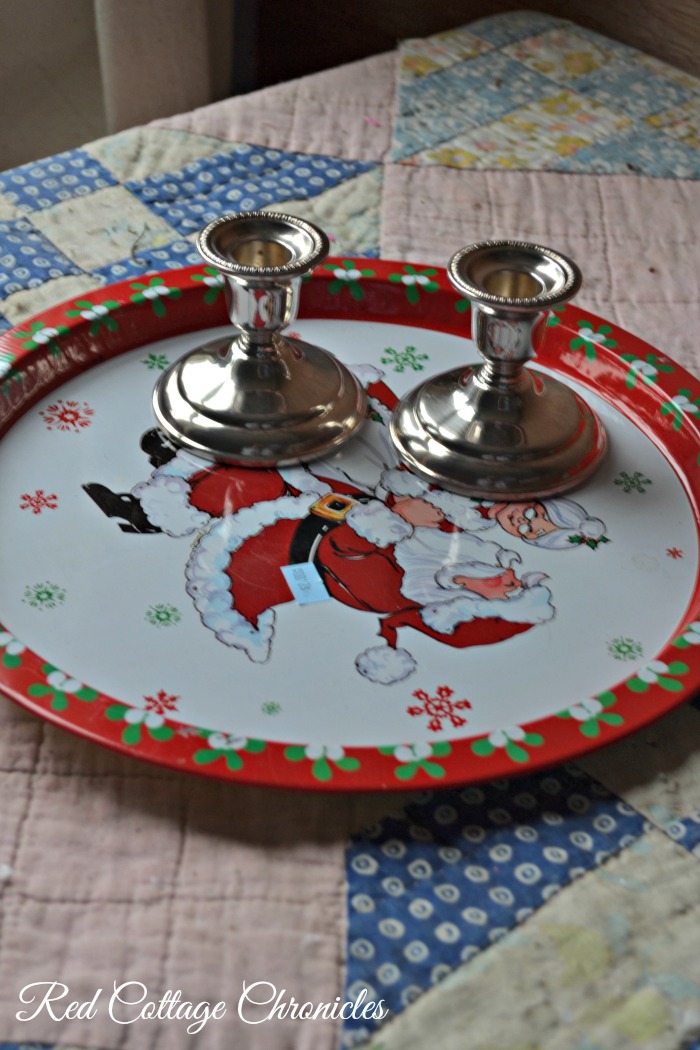 This Christmas tray was only a dollar, and a set of silver candlesticks were $5.00. The candle sticks are real silver so I felt a bit guilty about painting one of them for this project, but that lasted only for a minute!
I really had no idea how to achieve the finish that I wanted, so I just layered on paint I already had to create kind of a pewter finish with an aged patina.
After giving each piece a good cleaning, I sprayed them with a light coat of black chalkboard paint and let it dry. It goes on really shiny, but dries to a nice smooth, mat finish.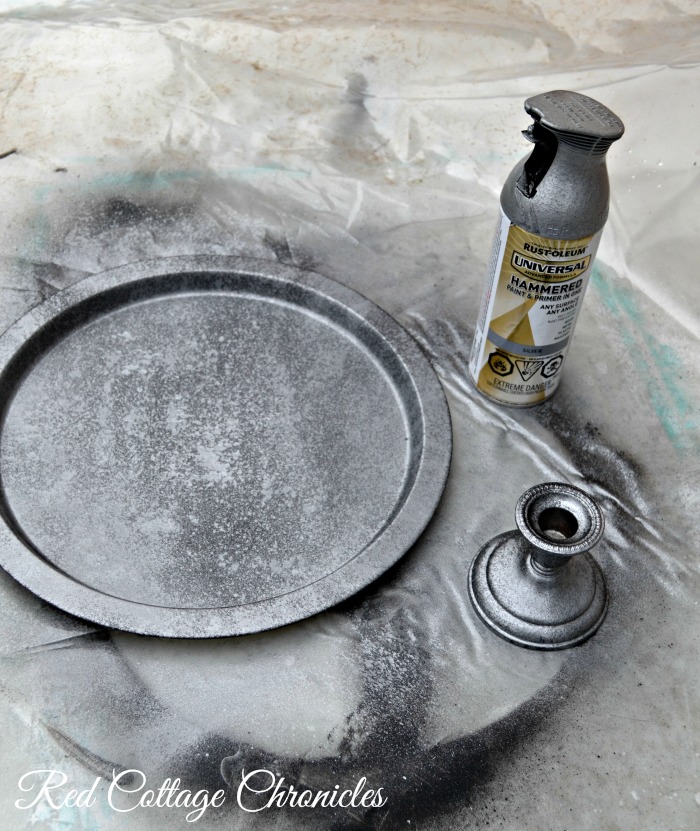 Next I sprayed on a light coat of Rust-Oleum Universal Hammered Paint & Primer in silver, leaving some of the black showing through. I like the hammered finish as it adds a bit of a texture of old pitted metal.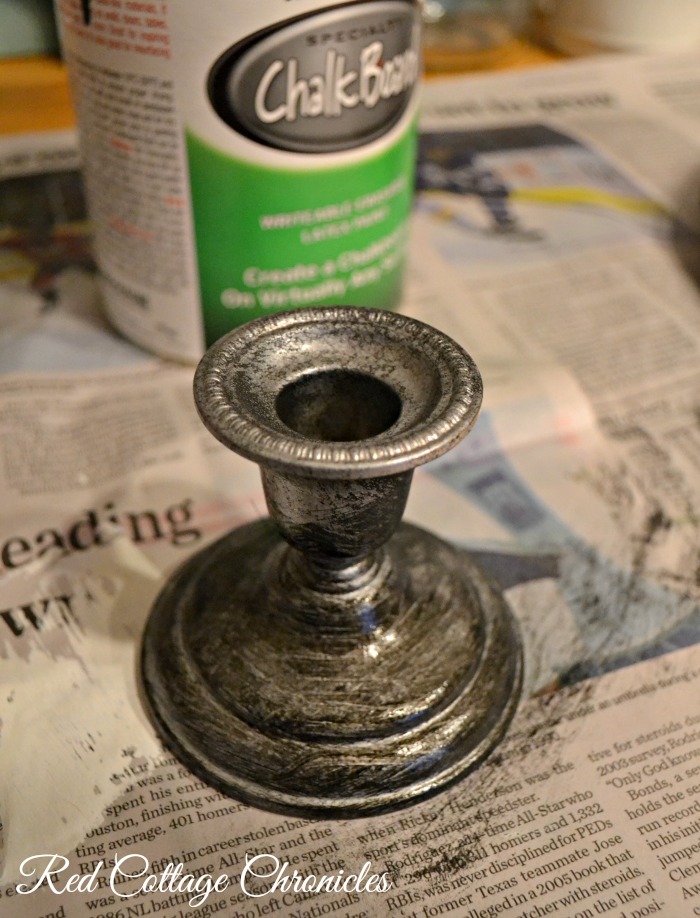 Finally I used a can of chalkboard paint and a paint brush to layer on more black chalkboard paint. I left more of the silver showing through actual candle holder. On the tray I built up layers allowing each to dry in between coat until I achieved the look I wanted.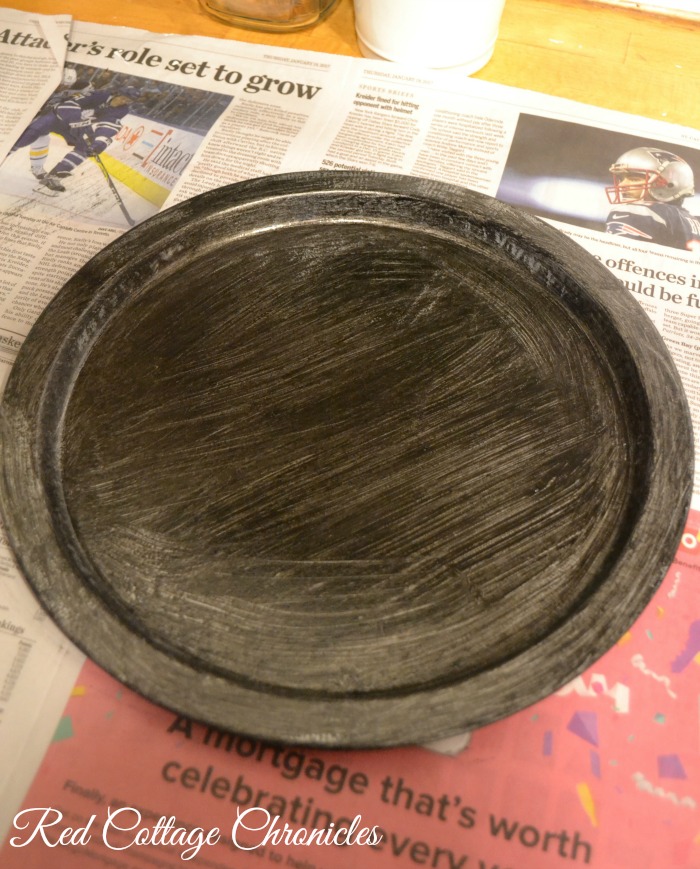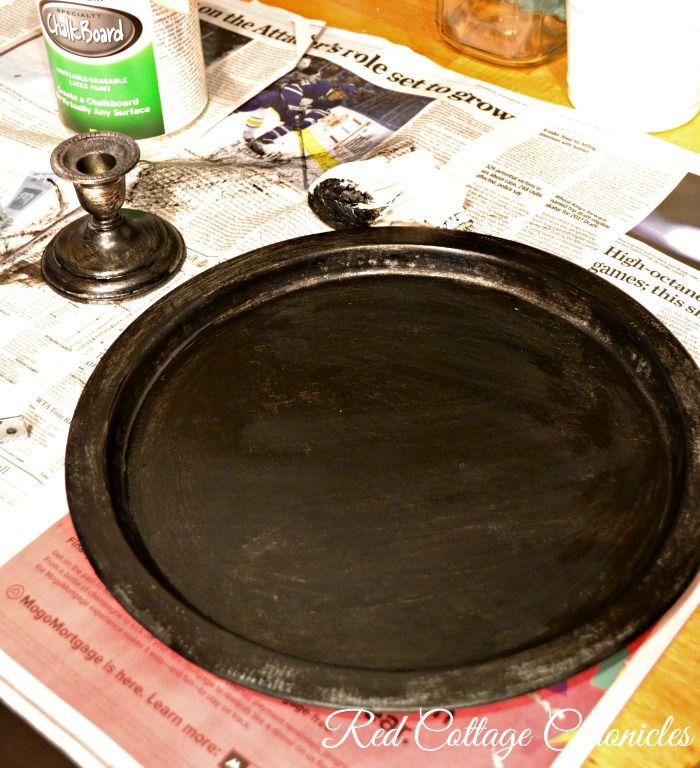 I actually used a paper towel to kind of smudge the last coat and eliminate some of the brush strokes, giving it a bit of a softer patina.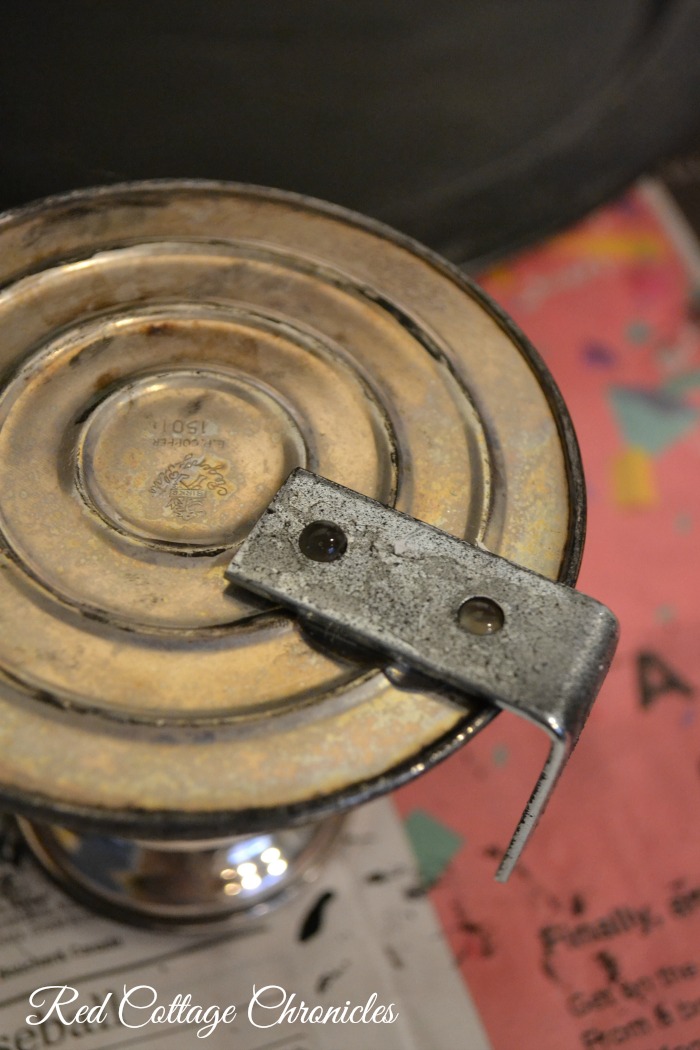 I used a 1 1/2 inch angle bracket to mount the candle stick to the tray using hot glue. First gluing the bracket to the bottom of the candlestick.
NOTE: I won't ever light a candle in this faux vintage wall sconce as it was constructed for decorate purposes only, so I was okay with the level of hold the hot glue offers.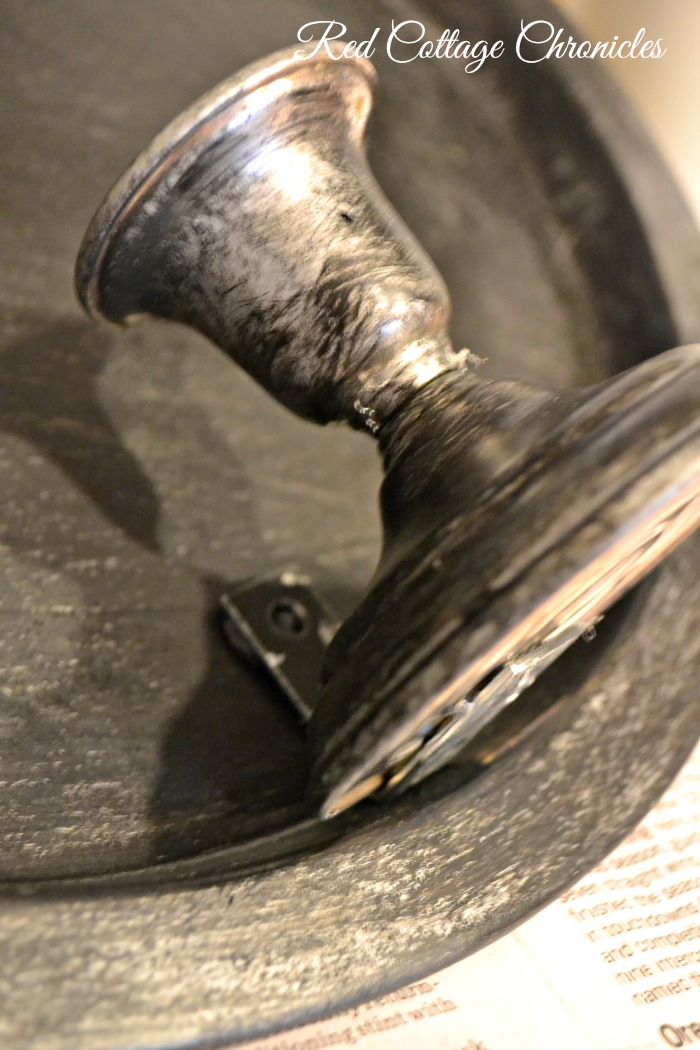 Again using hot glue, I fastened the candlestick onto the tray. Finally I hot glued a "tooth" type wall hanging thingy to the back of the tray. I know, very high tech terminology!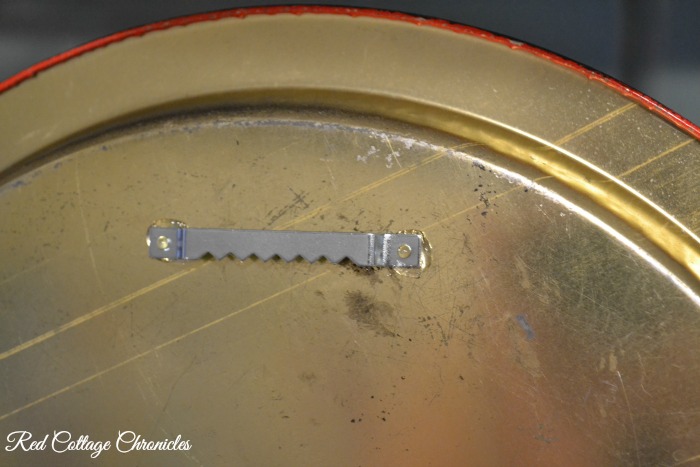 For a grand total of $5.50 this farmhouse wall sconce is the perfect addition to the gallery wall of our newly updated dining room.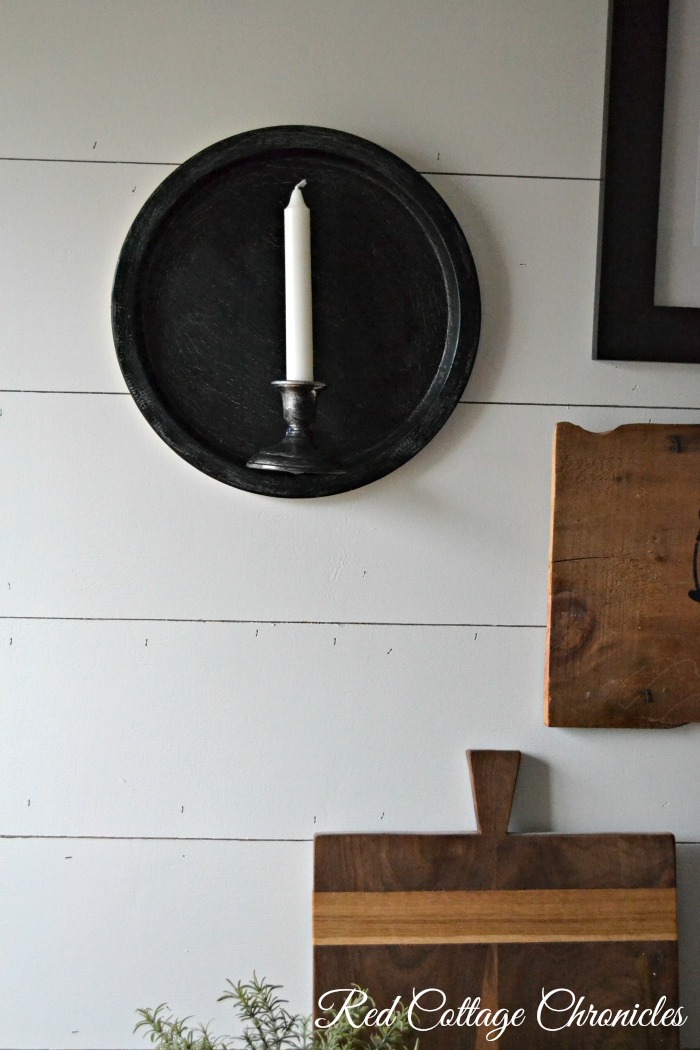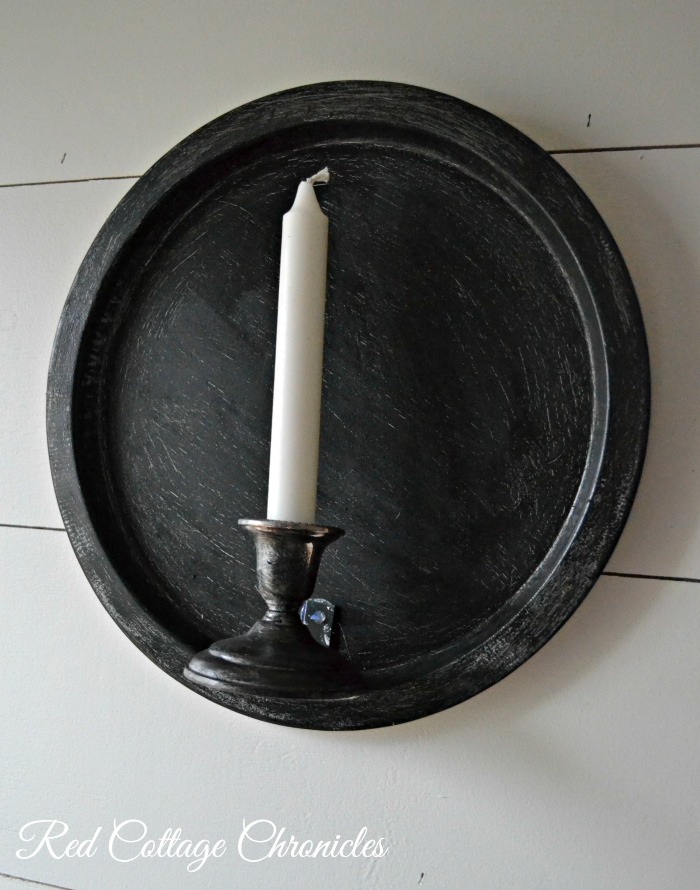 Although I am not sure if this is what aged pewter really looks like, I am really please with how it turned out!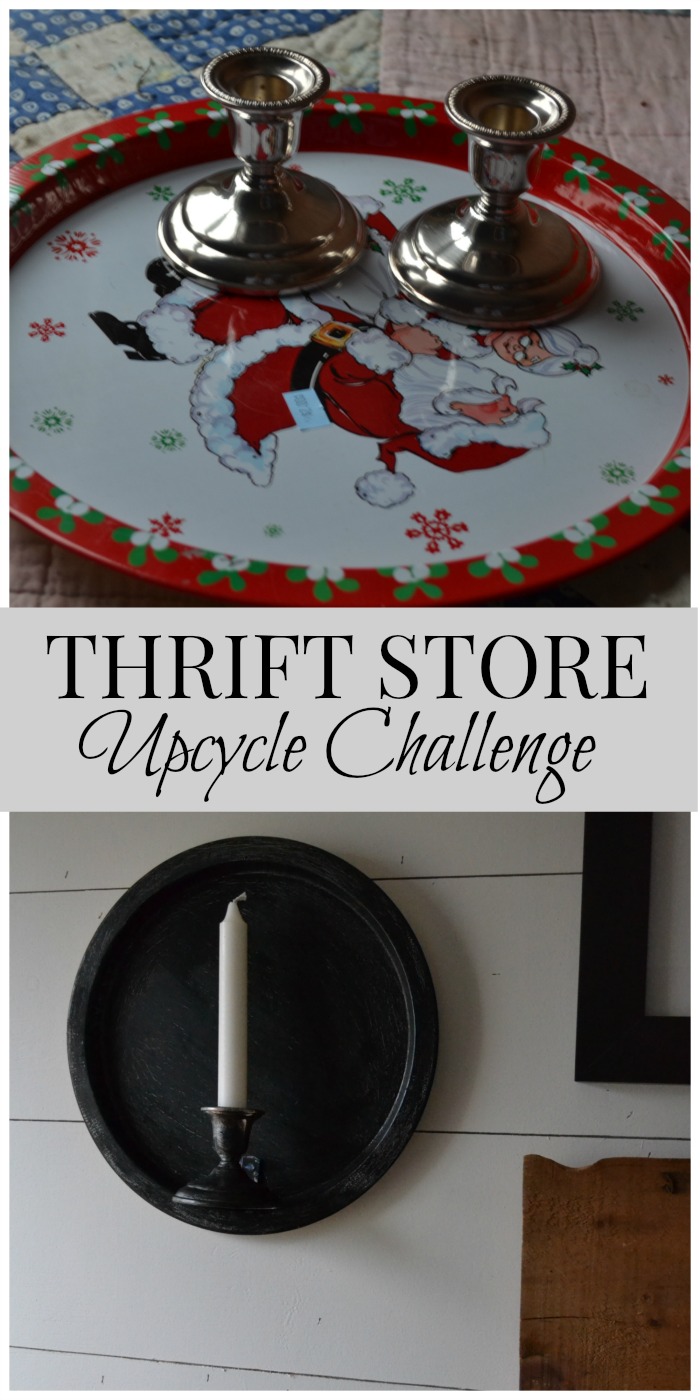 For even more thrift store upcycle ideas be sure to scroll down and visit all the participating bloggers!
Until next time….

And now for more thrifty goodness!
Check out what my fellow upcyclers created below!