How to Decorate a Cake With Flowers
Even if you don't have an ounce of cake decorating skills you can still create a show stopping cake for any occasion. Today I thought I would show you how to decorate a cake with flowers. If you have read this post, you know I don't have any cake decorating skills myself, but hasn't stopped me from creating like this naked cake!
This post contains affiliate links, that should you click and make a purchase I may receive a small commission at no increased cost to you!
I always like to use a pretty cake plate. It doesn't have to be ornate or super fancy. Just a classic pedestal cake plate either in white a color that will compliment the flowers and theme of the cake.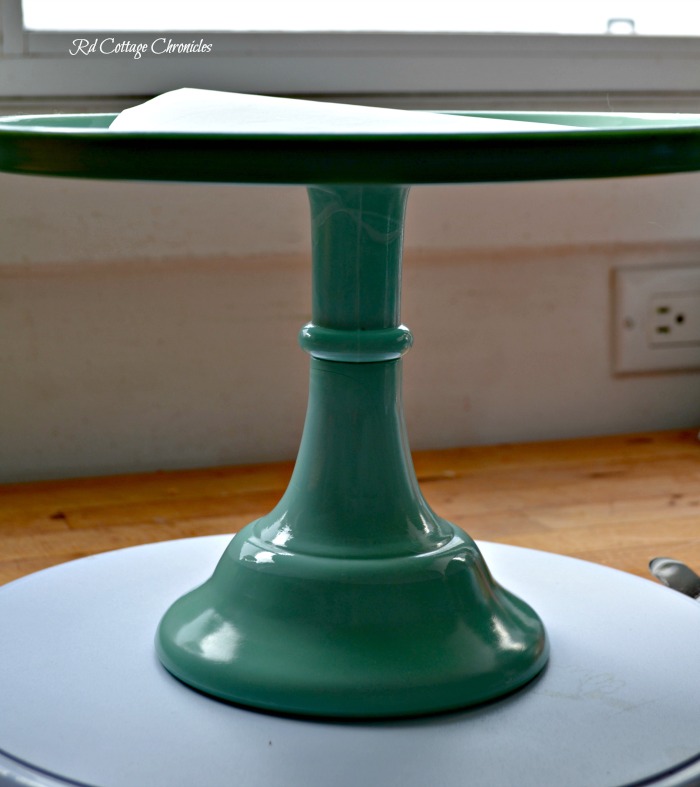 I baked an 8″ round 2 layer cake. You can use any frosting recipe you like, or even prepared frosting if you prefer.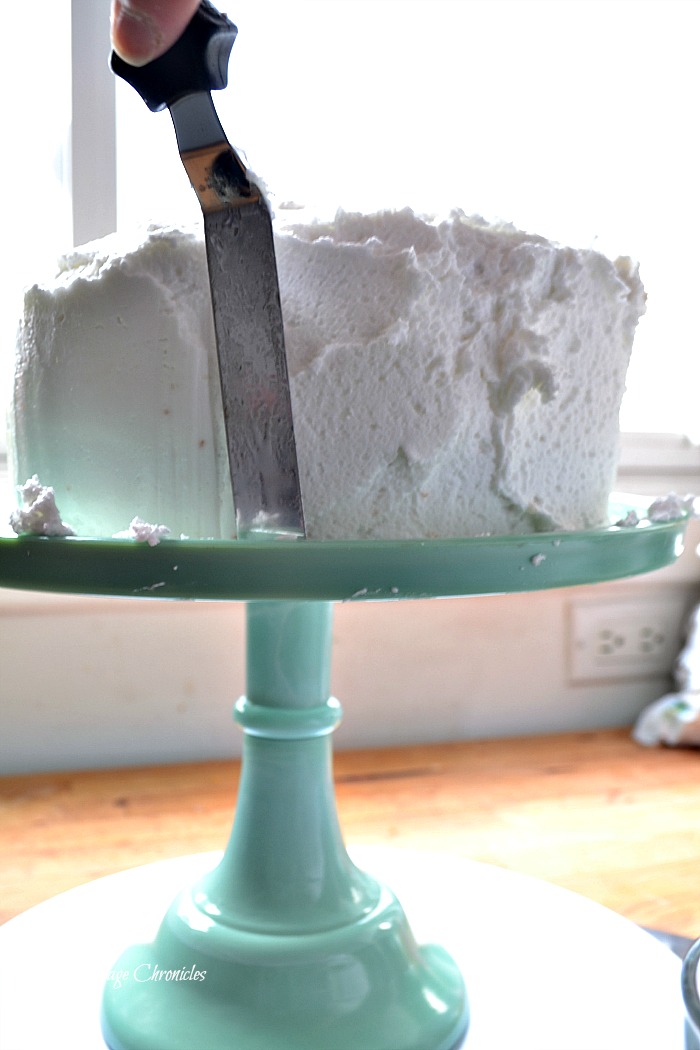 Using an offset spatula, heap the icing on top of the cake and spread down the sides of the cake. I use a turntable made for cake decorating to rotate the cake around easily as I am spreading the frosting. The one I have is the Wilton Trim 'n Turn Plus.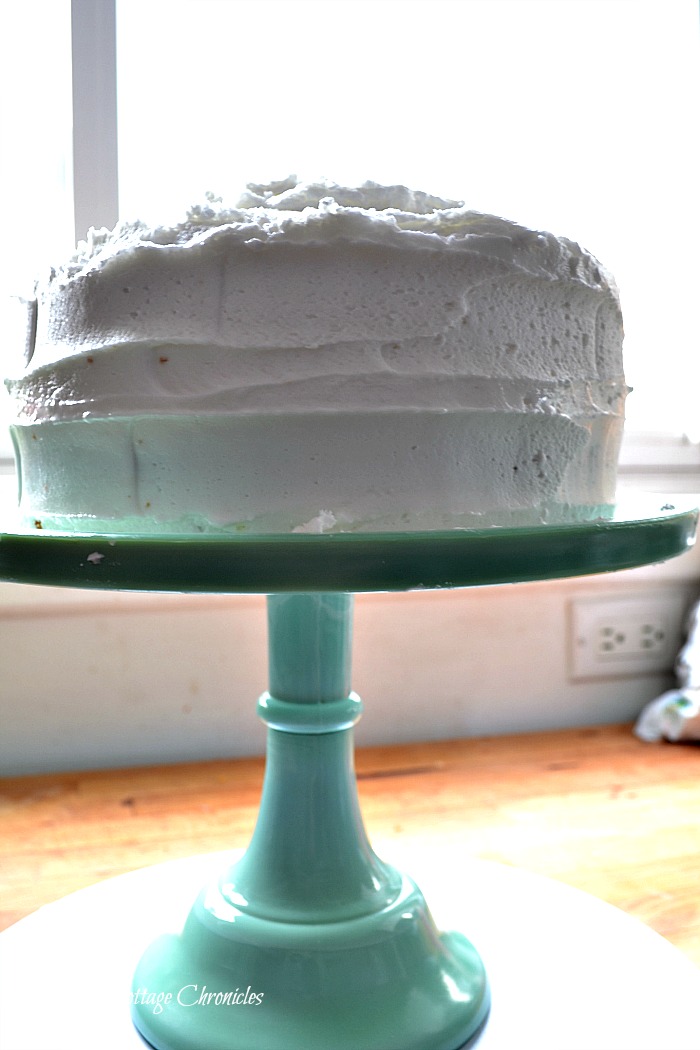 Don't worry about smoothing the frosting our going for perfection. As long as you have an even layer of frosting you are good to do. I used my spatula to make a random design around the sides of the cake. It is the easiest way to frost a cake to disguise any imperfections in your frosting skills!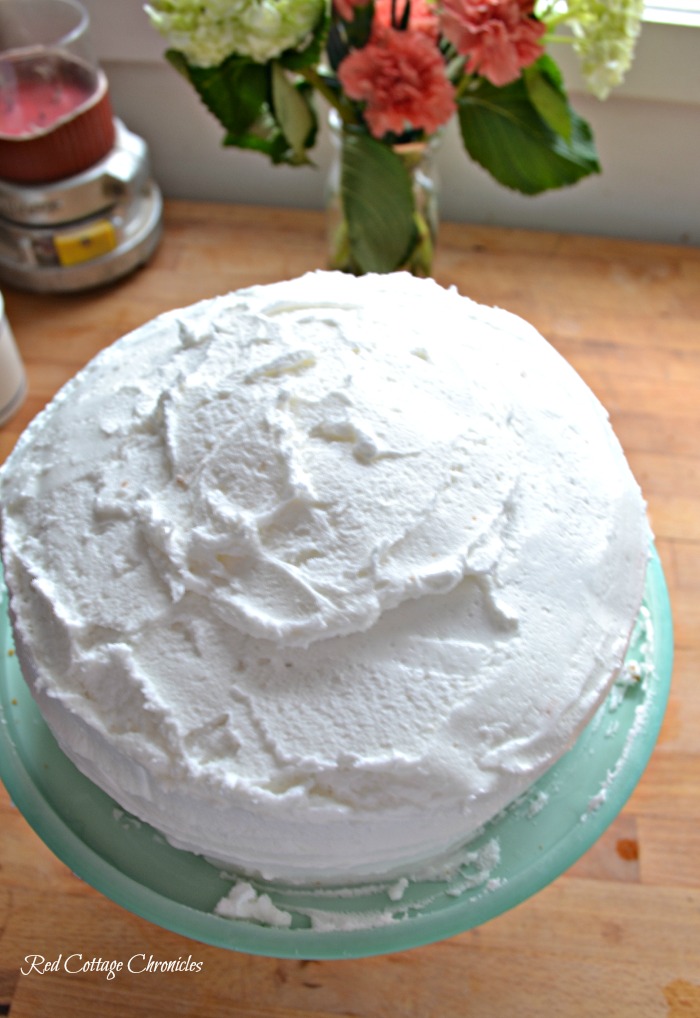 Create a mound of frosting in the centre of the cake. This gives you a nice base to stick your flower stems without going too far into the cake.
I used a combination of faux and fresh flowers this time. Always start with the largest blooms.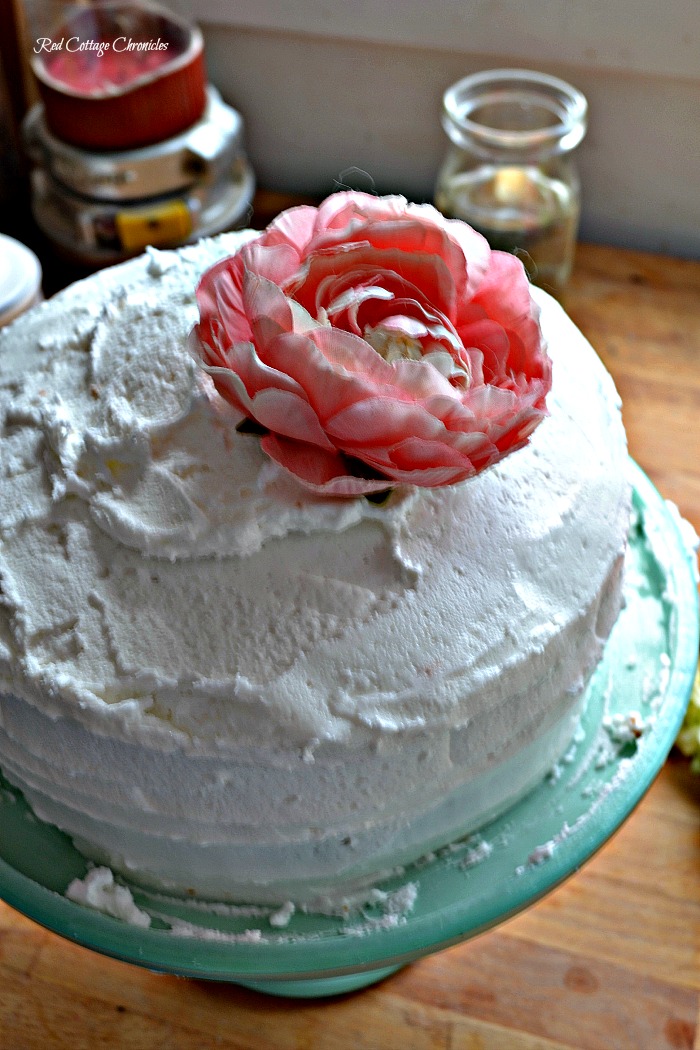 I am keeping it real, as I always do! My hand was covered in frosting when I took some of these photos and was holding my camera being careful not to get it covered in frosting too! Hence, they are not the sharpest! Next time I will use my tripod!!
But, I think you get the jest! Begin with the largest blooms first. In this case they were faux roses.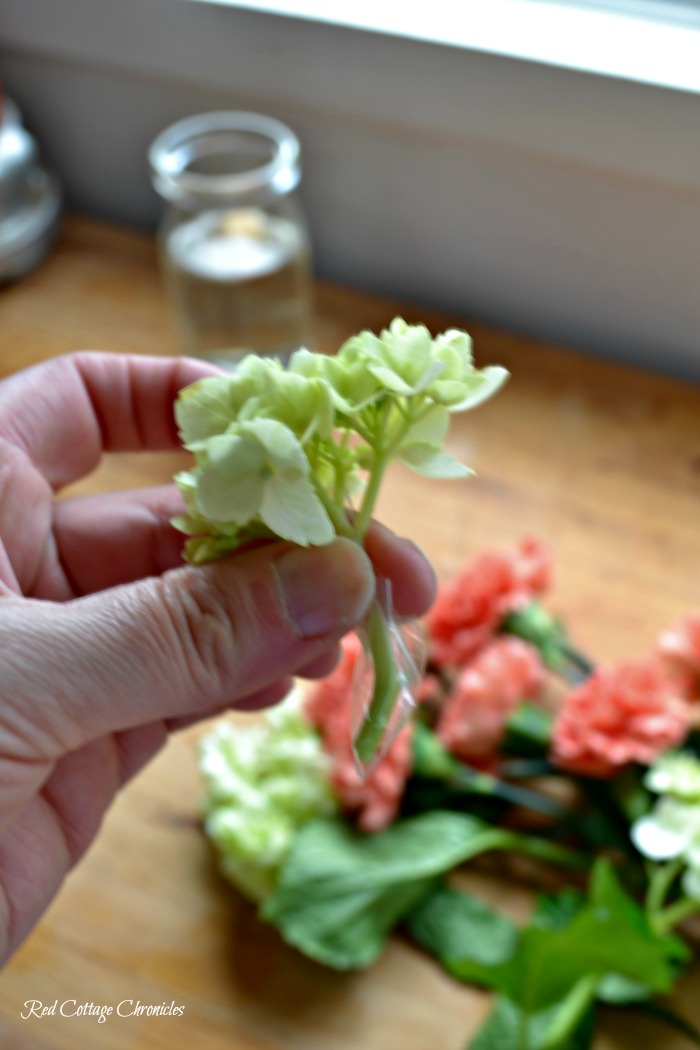 Now, everyone who knows me well, knows that I am a safety girl! Always taking extra steps to be careful and safe. (Sometimes a bit too careful, or so I am told)!
And, I always am careful when using fresh flowers on edibles. In this case I wrapped the stems of each of the fresh flowers in plastic wrap before inserting it into the cake. I also rinsed each bloom in a sink full of water.
And, just to be extra careful, when I serve the cake, I scrape off the mound of icing that flowers were stuck in to! Ummm, maybe I do take it too far sometimes!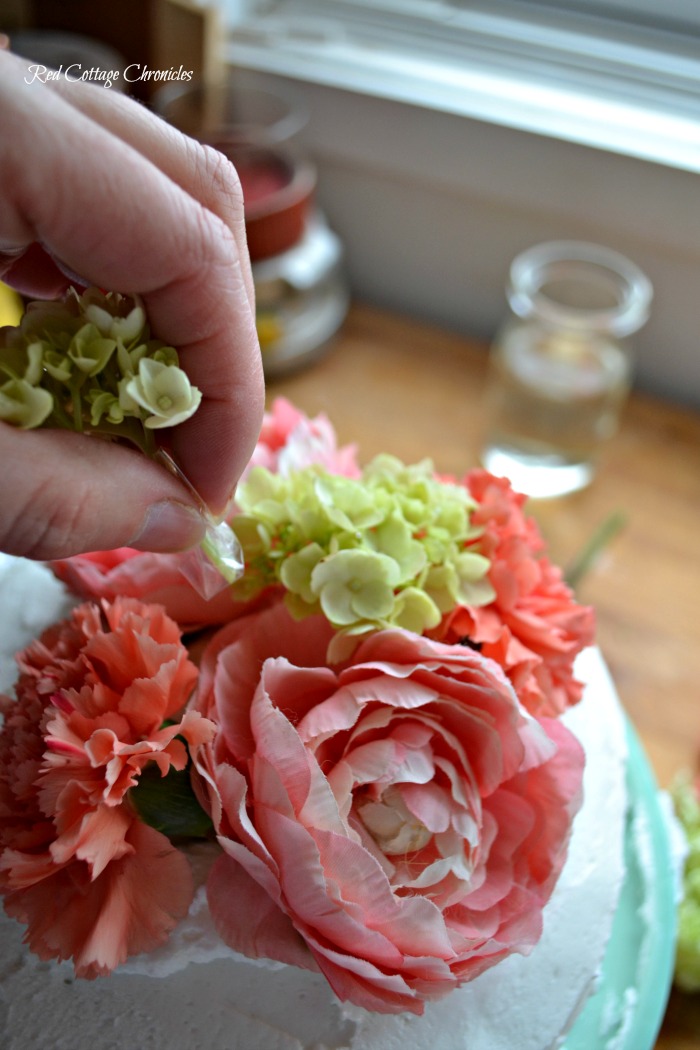 Arrange the blooms in the centre of the cake in a way that look pleasing to you. Keep it simple and use only one or two different varieties of blooms. I cut individual blooms from a stem of hydrangeas to add a pop of green.
To finish off the bottom edge, use a band of ribbon in a complimentary color. Then, using a plain round tip such as a 1A add "pearls" around the the perimeter.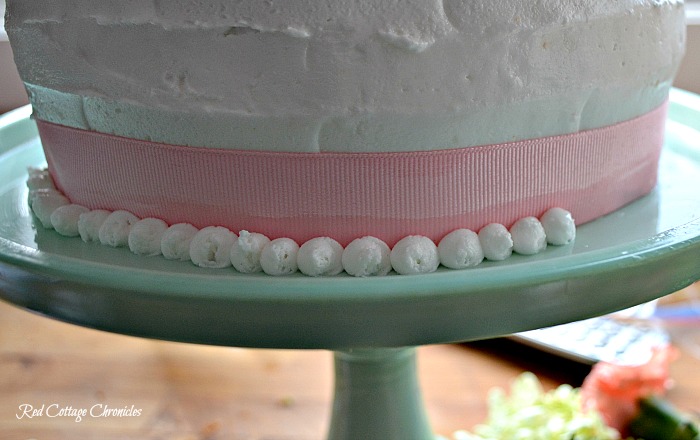 That is all there is to it! Absolutely no skill required!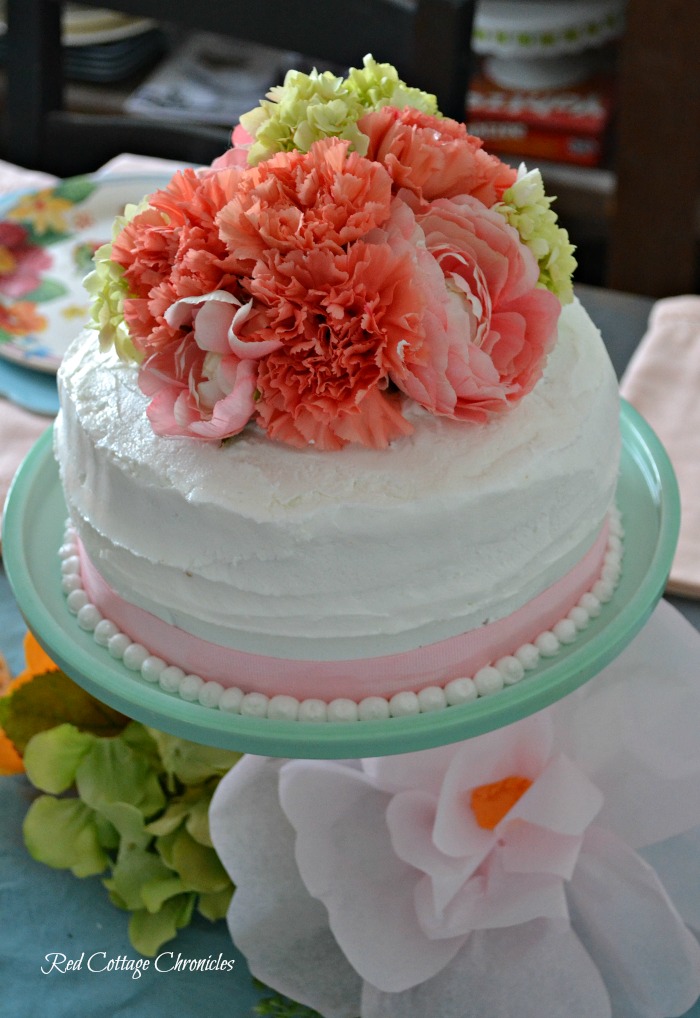 A few tips….
if you don't have the time or inclination to bake a cake, simply order one from the grocery store or bakery. Just ask for a two layer cake frosted in white with no decoration
if you aren't comfortable using fresh flowers, use all faux flowers as there are so many lifelike blooms available at craft such as Michael's and Hobby Lobby
If you don't have an icing bag, simply make a small cut in the corner of a Ziplock bag and fill with frosting to create the pearls
don't aim for a perfectly finished cake, but rather go for a somewhat rustic, unfussy look
How to Decorate a Cake with Flowers….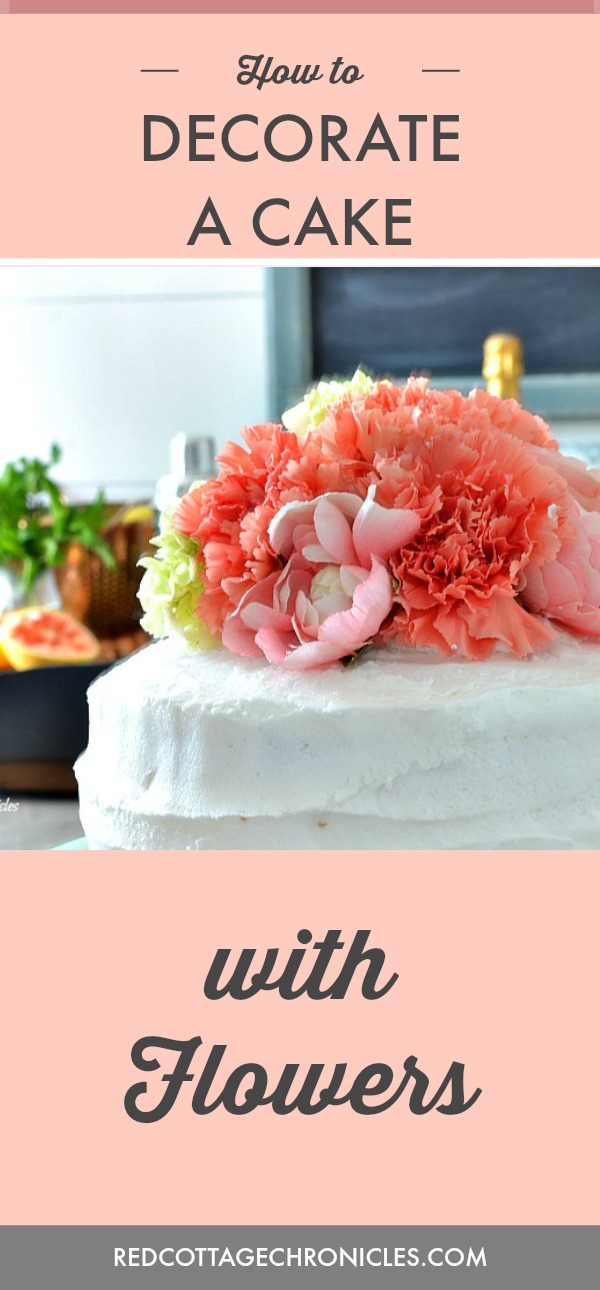 I decorated this cake to use as the centrepiece for this spring tablescape, but it would look equally fabulous for a birthday celebration, a wedding shower or a garden party!
Until next time….