Love my Logan & Cove Luxury Hybrid Mattress
You know that feeling you get when you have been away from home for a bit and can't wait to get home to sleep in your own bed? Well, that is exactly how I feel every day since getting our Logan & Cove Luxury Hybrid mattress!
This post contains affiliate links, that should you click the link and decide to make a purchase, I may receive a small commission with no change to your cost.
I have partnered with GoodMorning.com and have been provided with a mattress in exchange for my review. As always, my thoughts and opinions are my own.
If you have been following our One Room Challenge bedroom makeover, you had a sneak peak at some of the options we have chosen for the room. As promised, today I am going in depth with my honest Logan & Cove mattress review, and the reasons why we chose this bed-in-a-box.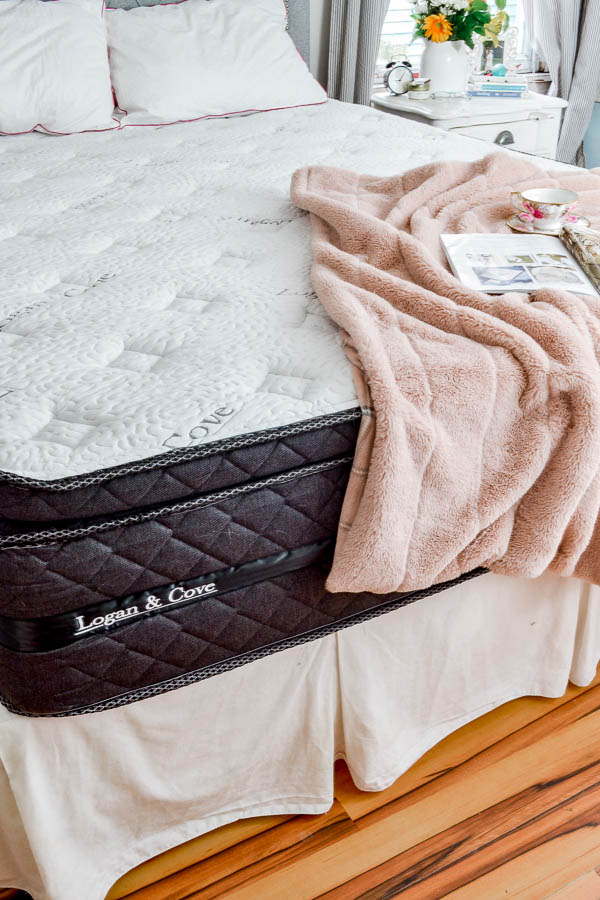 From ease of ordering, speedy delivery, and the easy (and fun) setup, I have been smitten.
Let me back up a wee bit…….
When it comes to choosing a mattress, you could say I am a bit high maintenance. Our last mattress took us me six months to choose.
Both because of the time it took just to visit the mattress showrooms to try all the different mattresses, and because every store had a slightly different version of the same mattress making it hard to know if you are getting the best price.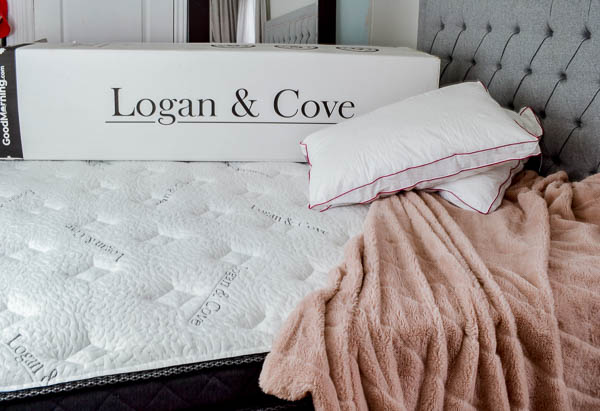 Not to mention the awkwardness of actually trying to get a good feel for the mattress with a salesperson and other shoppers hovering around. And, let's be honest, a few minutes in a showroom does not give you an accurate assessment.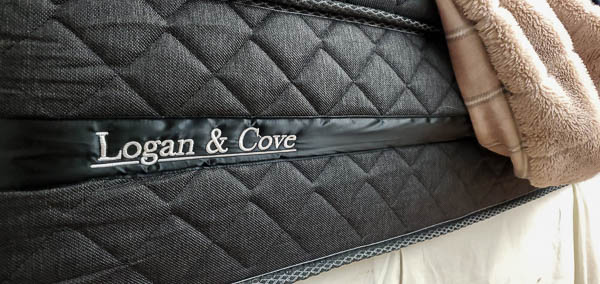 Why we chose the Logan & Cove Luxury Hybrid Mattress
It has been estimated that we spend a third of our lives in bed. I, for one, want that third of my life to be cozy and comfortable!
We decided earlier this summer that it was time to replace our current mattress. I did not relish the thought of repeating our last mattress buying experience, so I started to investigate bed-in-a-box options.
We looked at numerous review videos, spoke to other people we knew who had purchased a bed-in-a-box, and spent some time reviewing the materials, workmanship and make-up of each of the different brands.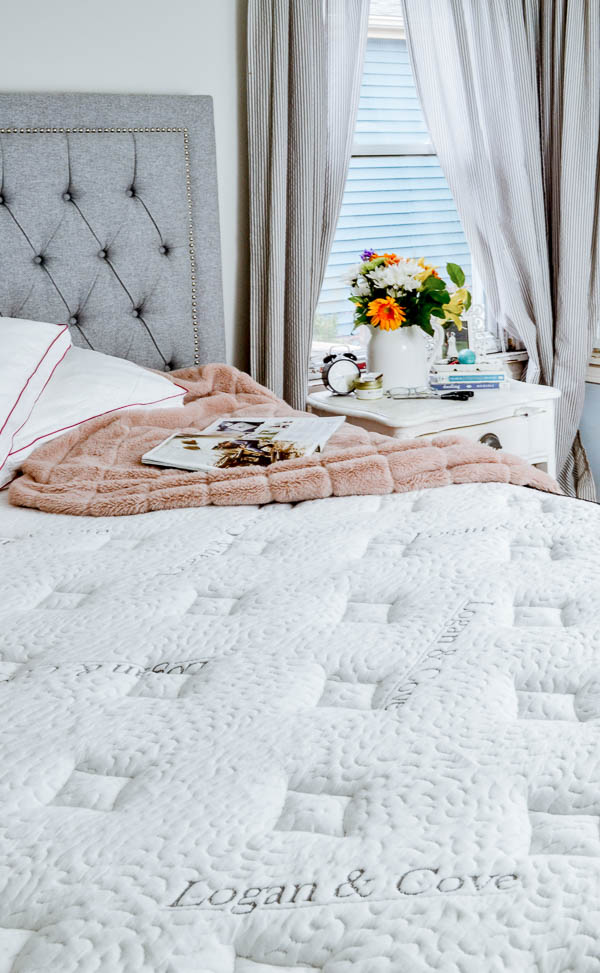 I was confident the Logan & Cove was going to be a perfect fit. And, below are just a few of the reasons I came to this decision:
Hybrid Design
We were curious about the memory foam bed-in-a-box that are so widely available, but still felt I wanted the bit of bounce that you get with spring mattresses. Plus, I wanted the luxury feel of a pillow top that I love. The Logan & Cove mattress is the best of both worlds.
the luxurious pillow top has a layer of an antimicrobial temperature regulating silk blend, a layer of heat-dissipating cooling gel foam, and a layer of soy infused contouring bio foam, all wrapped up in a luxuriously soft sustainable Tencel fabric
under the pillow top is a layer of supportive soy-infused eco foam and over 800 motion isolating individually pocketed coils. This core layer is encased in engineered edge support foam designed to provide superior edge support
We have found there is almost no motion transfer when one of us rolls over or changes position at night. Such a big change from our old traditional mattress!
The edge support has been one of my favorite things about this mattress. It really allows you to sleep on the entire mattress. I don't even notice anymore when the Mr. is taking over the entire bed and pushing me to the edge!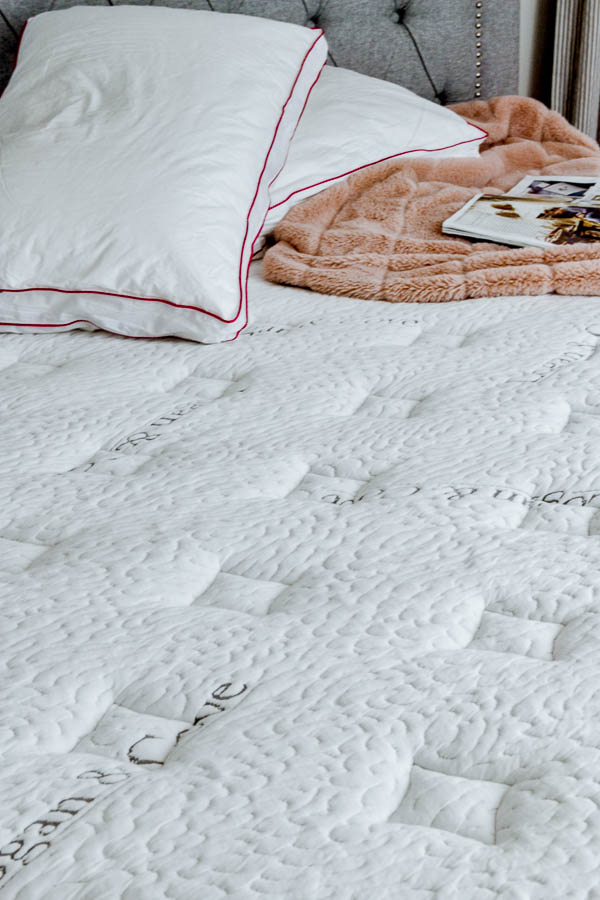 Cooling technology
It is no secret that I am une femme d'un certain age! And along with that comes some really fun changes, like hot flashes and night sweats! My poor husband has had to get used to having a window cracked open a bit or the fan on, even in the middle of winter!
With the cooling technology of the pillow top via the Tercel fabric encased silk blend and the gel infused cooling layer, staying cool at night is so much easier than before. No more blankets on, blankets off all night long!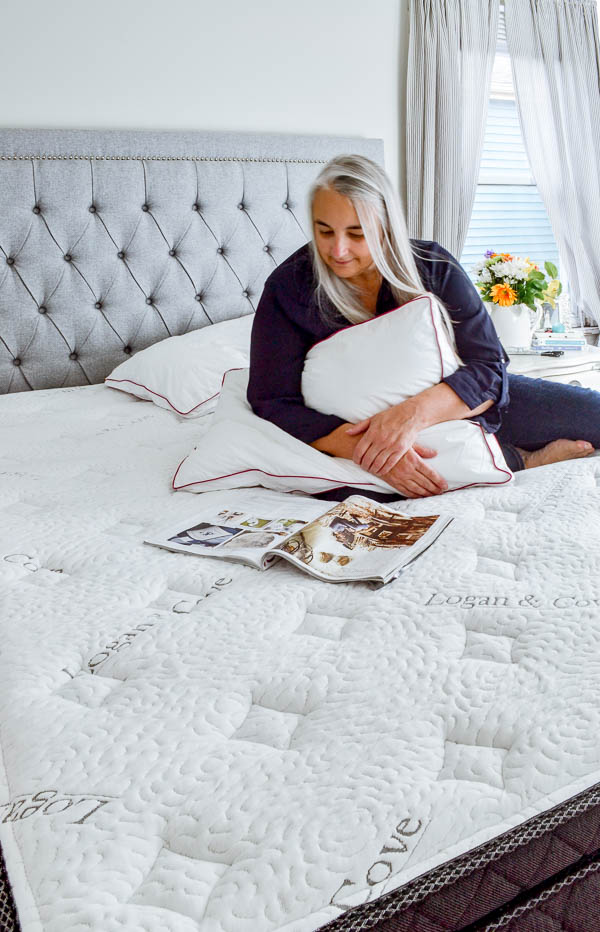 No more aches and pains
Immediately we settle into the oh-so-comfortable pillow top, but at the same time notice the firm, comfortable support beneath.
I am a side and stomach sleeper, and Tim is a back and side sleeper. Both of us have noticed that we are not waking up with the same aches and pains we used to. For me it was hips and shoulder, and for Tim it was mostly his back.
The mattress does an excellent job of supporting pressure points in any position, which translates into a better night sleep, and better mornings!
They also sent me two Douglas memory foam pillows, which have done wonders for my neck!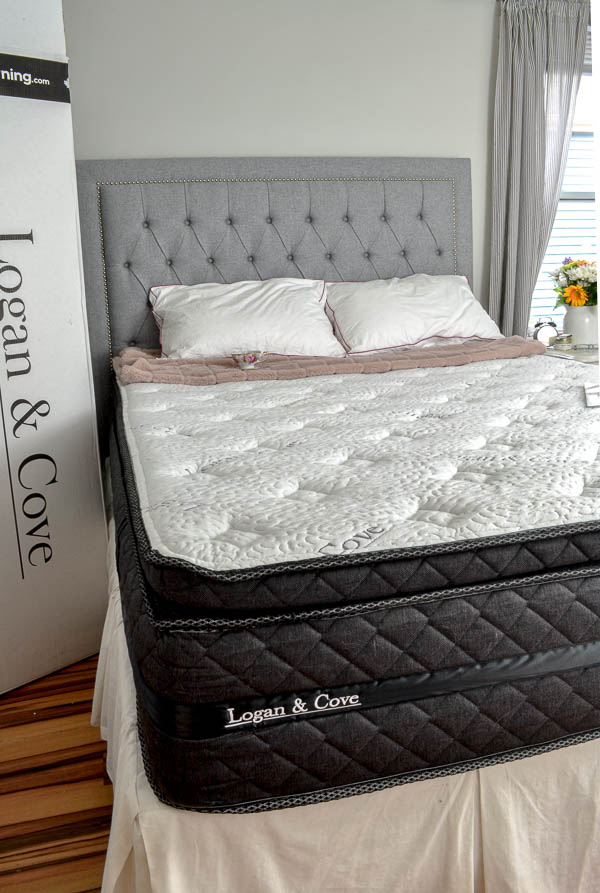 120 Night Sleep Trial
When shopping for a bed-in-a-box, I really appreciated the generous 120 night sleep guarantee. It makes awkward mattress testing in a showroom a thing of the past! Oh, how I dreaded that part of mattress shopping. It was just impossible to know if the mattress was "the one".
Having the ability to try it out for 120 days removes the worry of choosing the wrong mattress.
We have no intentions of returning our mattress, but if after 30 days you find it just isn't the right fit for you, Logan & Cove offers free pick up and whenever possible donates the mattress to a charity.
Company History and Integrity
GoodMorning.com is a Canadian company that makes mattresses for Canadians! Founded in 2009 under the name Novosbed, the GoodMorning.com brand is a pioneer of the bed-in-a-box industry, and Canada's largest independent on-line mattress retailer.
The price point is very reasonable, starting at just $799. They offer 6 different Logan & Cove mattresses sizes including twin XL and California King. All are available in your choice of medium plush or luxury firm.
As mentioned above, they offer 120 sleep trial and a 15 year warranty.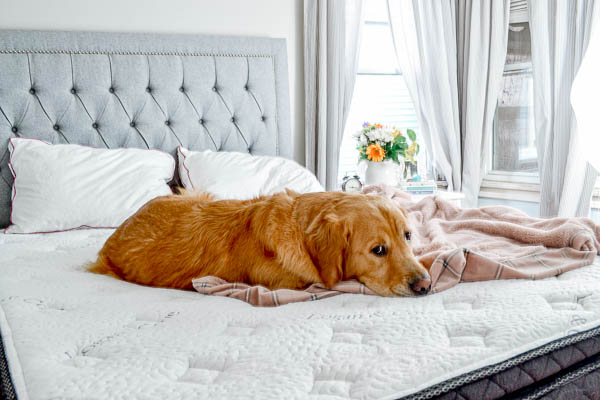 The bottom line…
We are both thrilled with our Logan & Cove luxury hybrid mattress and wouldn't hesitate to recommend it to all our family and friends! The pillow top is so silky soft to the touch and we both have said it actually feels like we are floating on a cloud. I can honestly say I have had my first full night sleep in months, and look forward to many more!
Even the dogs love it! Tried as I might, Charlie was just not getting off the bed!
If you want to see how amazing it looks all made up? Follow our One Room Challenge bedroom makeover!
I hope you have found my Logan & Cove mattress review helpful. I know that when I was doing my research I read every review I could find. Visit Goodmorning.com to learn more about the Logan & Cove and their full line of bed-in-a-box options!
Until next time……