Every year since we
built our fireplace
I have been most excited about decorating it for Christmas. In fact, decorating Christmas mantels was my main motivation in building it in the first place!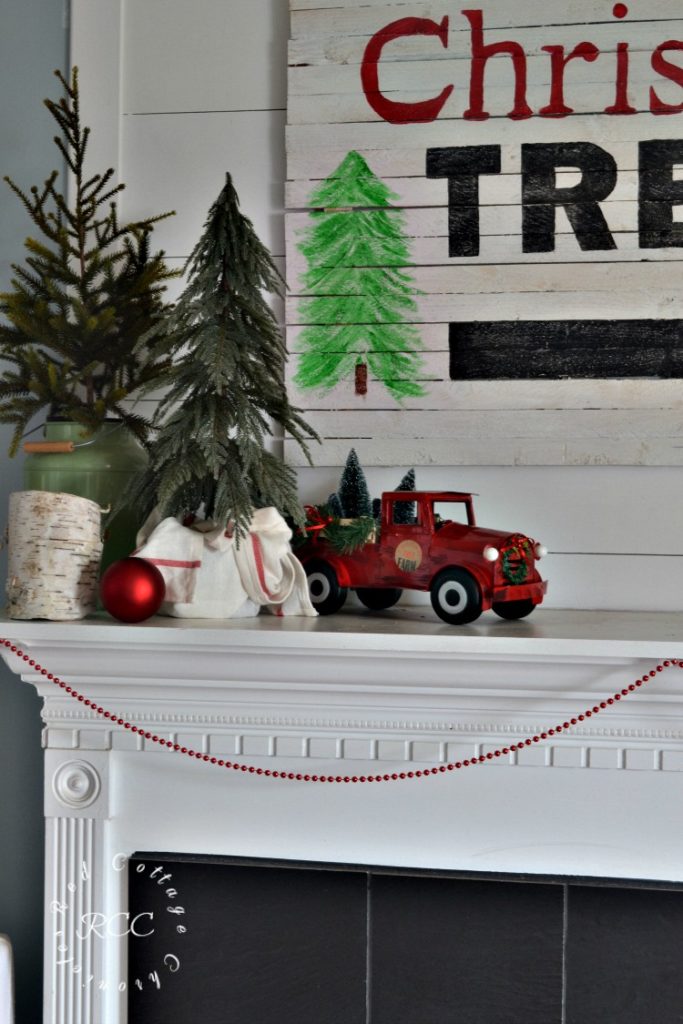 Today I am particularly excited about sharing this years Christmas mantel since I have collaborated with one of my most favorite group of bloggers. What makes this group so special. Well, first of all their incredible talent, but each and every one of us is fifty or over. Talk about years of experience! You will find links to all of the participating bloggers creative Christmas projects including Christmas mantels holidays! No shortage of inspiration here!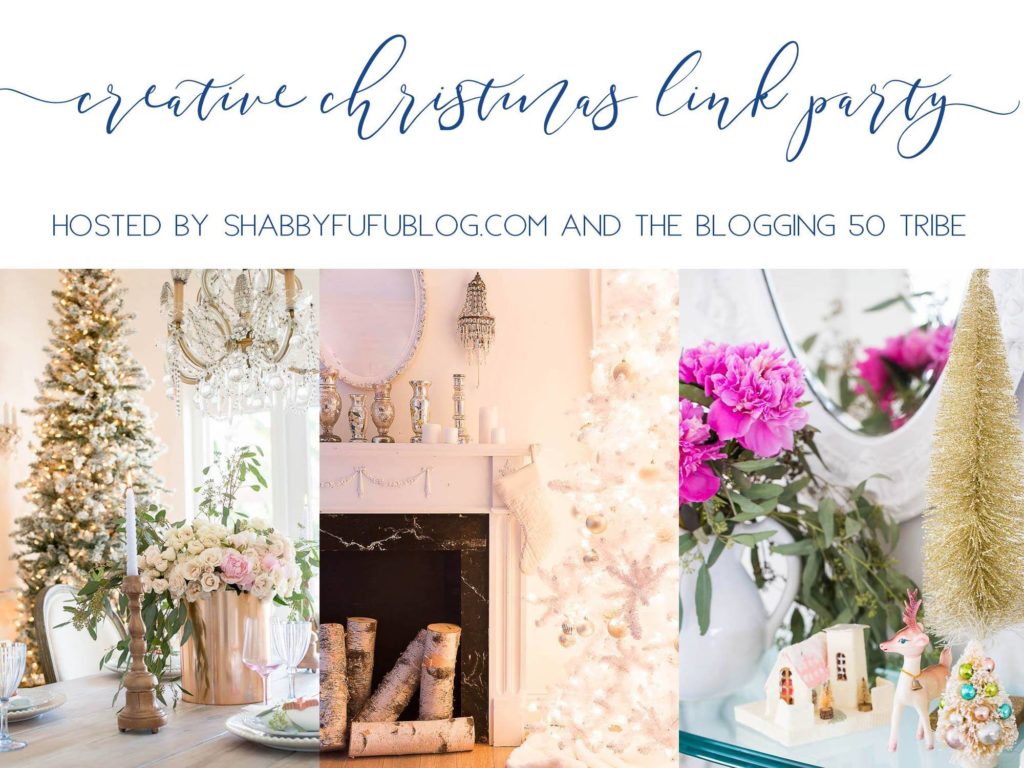 This post may contain affiliate links, which allow you to easily find products similar to those featured in my posts. I may earn a small commission (at no extra cost to you) if you choose to click a link and subsequently make a purchase.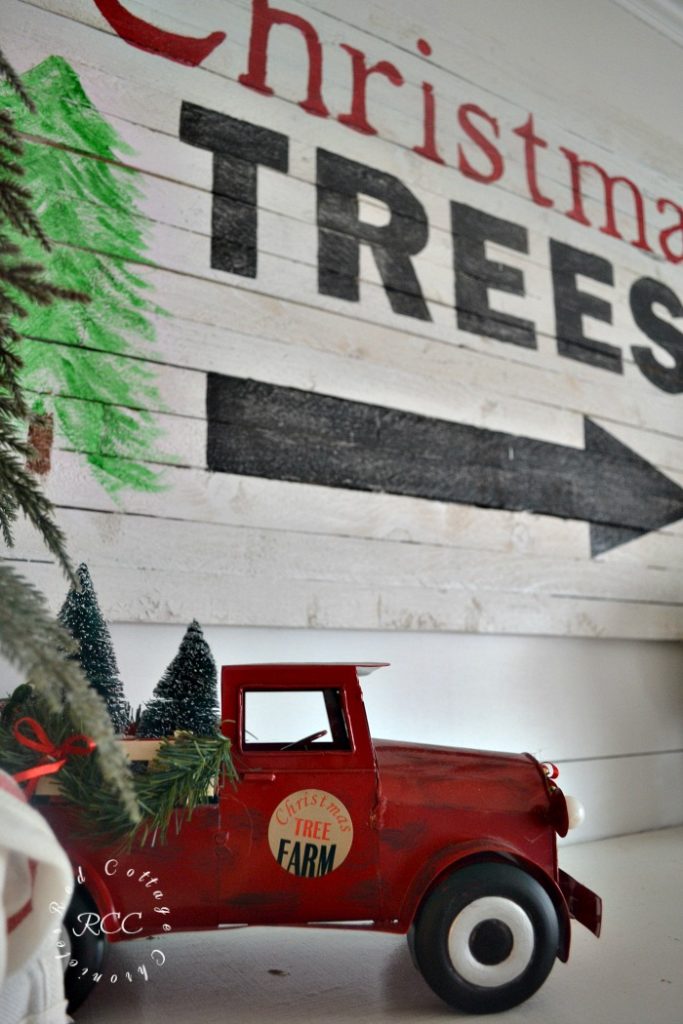 Since we get a real tree every year, it isn't until the first weekend in December that pick one out and set it up. While I am waiting, I thought why not decorate the mantel in a Christmas tree theme.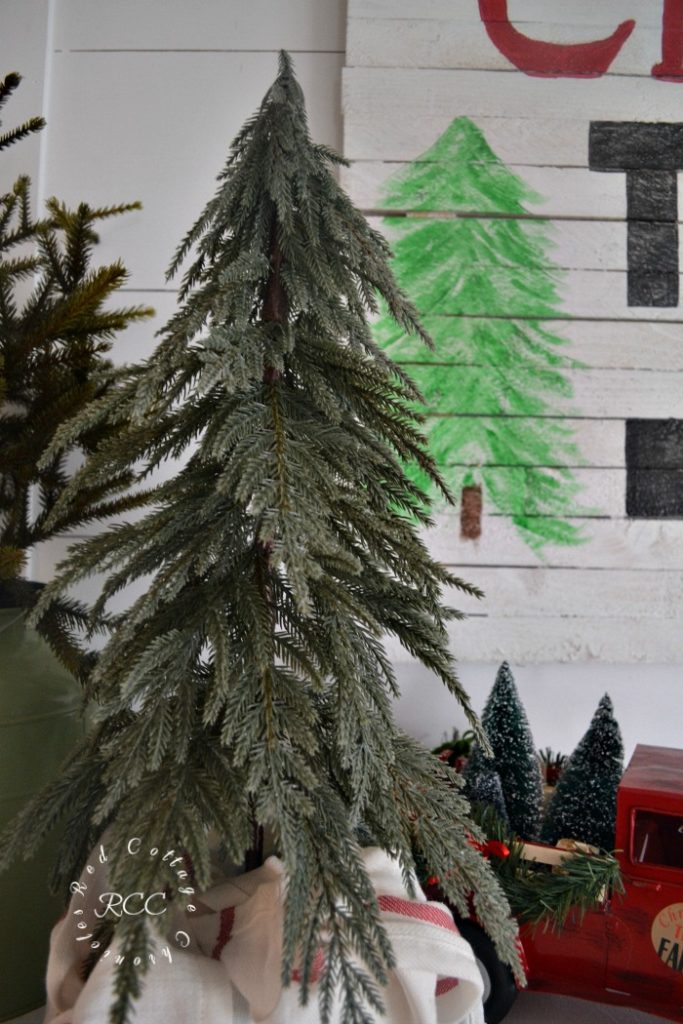 All of the trees are from Ikea. I have had all but one for a while. We don't have a full size Ikea nearby, but we do have a pick up point, which stocks some of their most popular items. When we popped in last week this frosted evergreen caught my eye right away, and was the inspiration for the entire mantel. At $14.99 it was a bargain.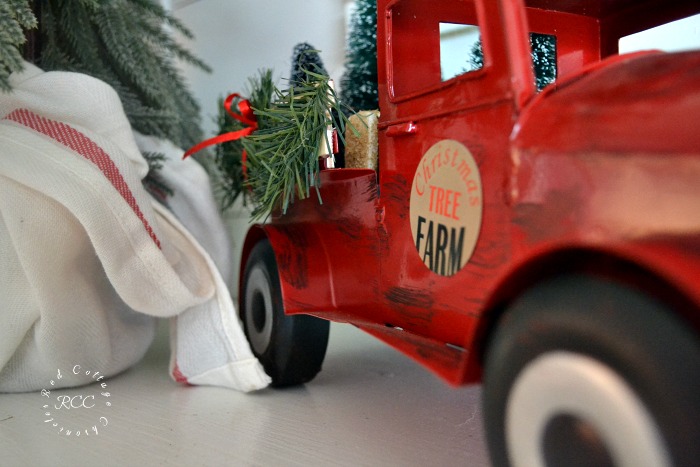 The red Christmas Tree Farm truck was a treat my husband brought home from work. That is one benefit of his job, he gets to see new items that come into the store and picked one of these up the day the arrived. It reminded him of our
almost life sized red truck
we made for our yard last year.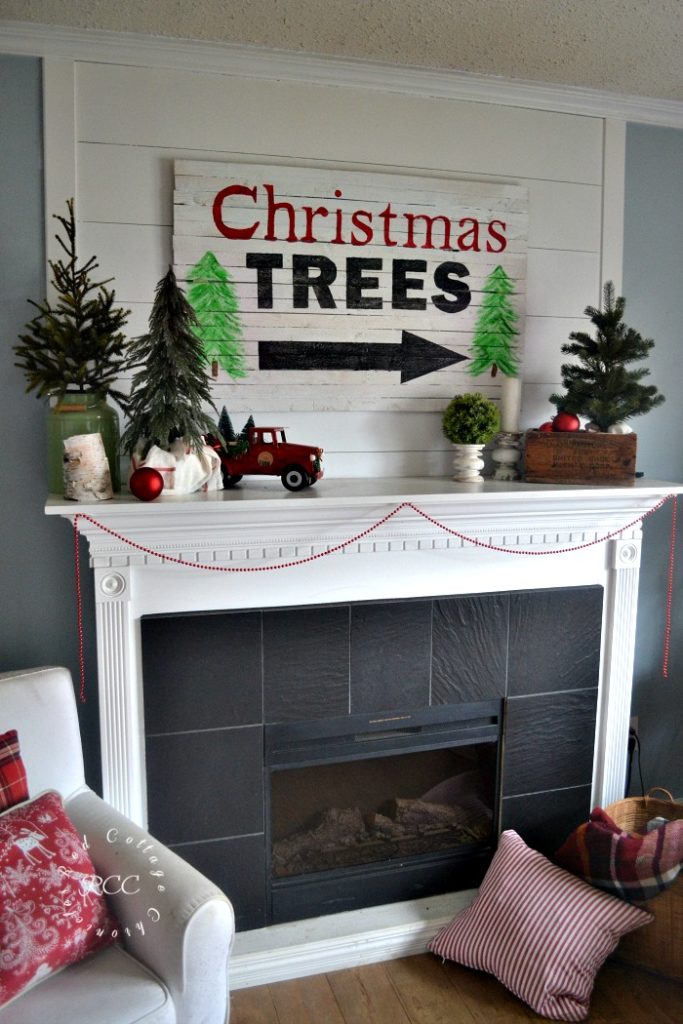 To be honest, I wanted to give the mantel a coat of paint before Christmas. There is a good chance that just before we get our tree set up I will get that done. And, when I decorate the mantel after that I will likely go for something a bit more understated since the tree goes right beside the fireplace.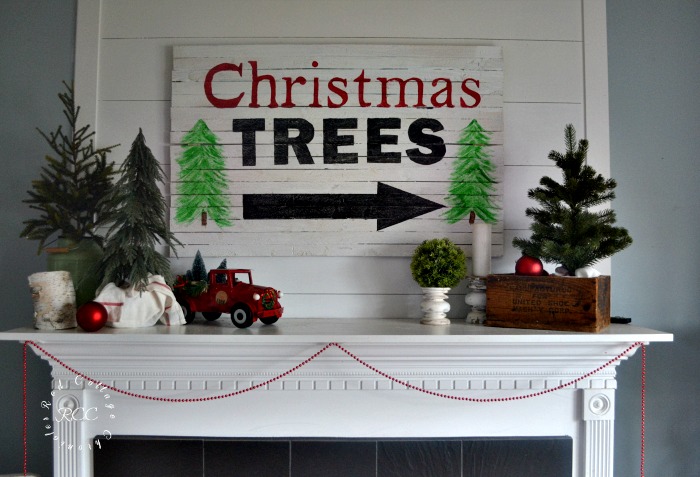 I will keep the sign though! It was super easy to make, and didn't cost me a penny. I will be sharing the tutorial later this week, but I will give you a hint. Make friends with your local lumber yard staff!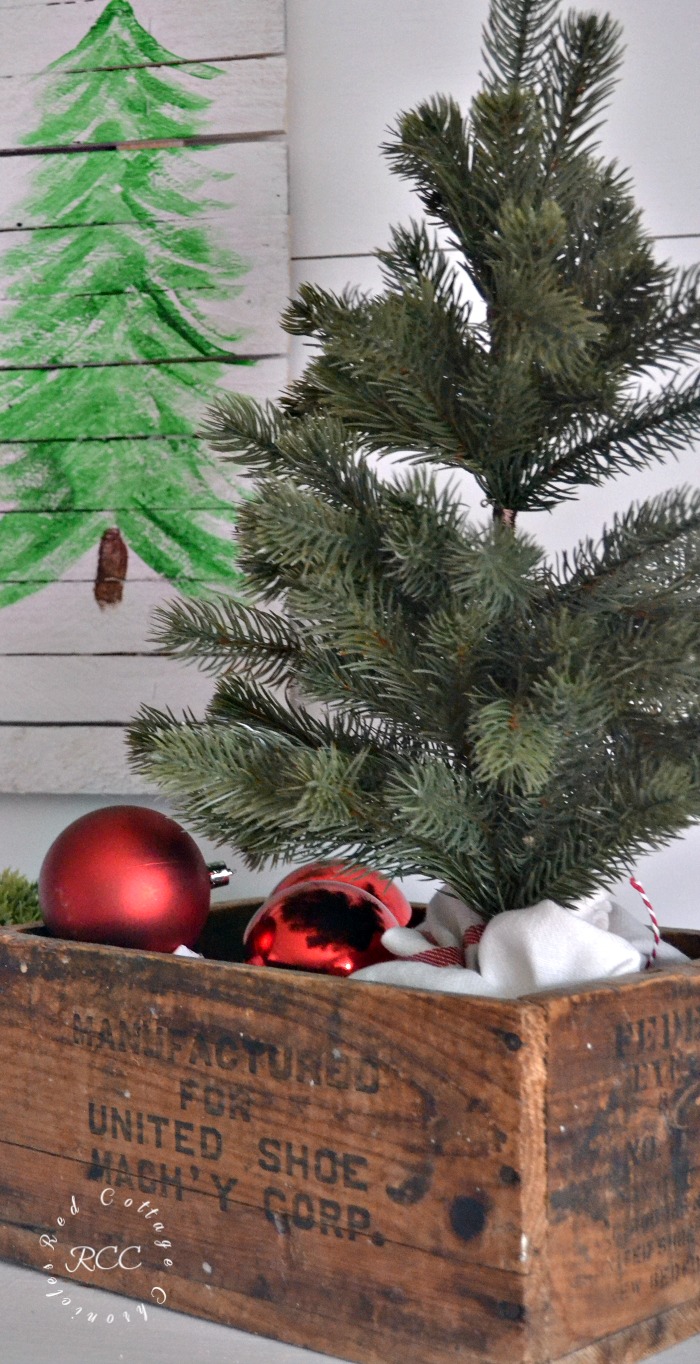 I used different covers for the base of each tree. All of which I already had. A green jug from Ikea, a vintage wooden box, and an Ikea tea towel. Simple and no extra cost.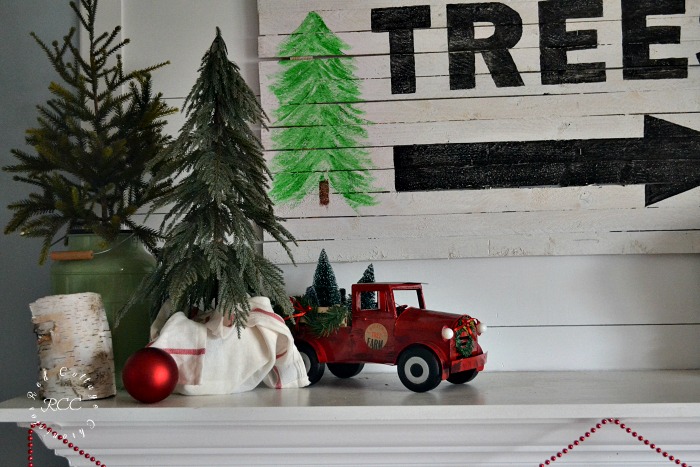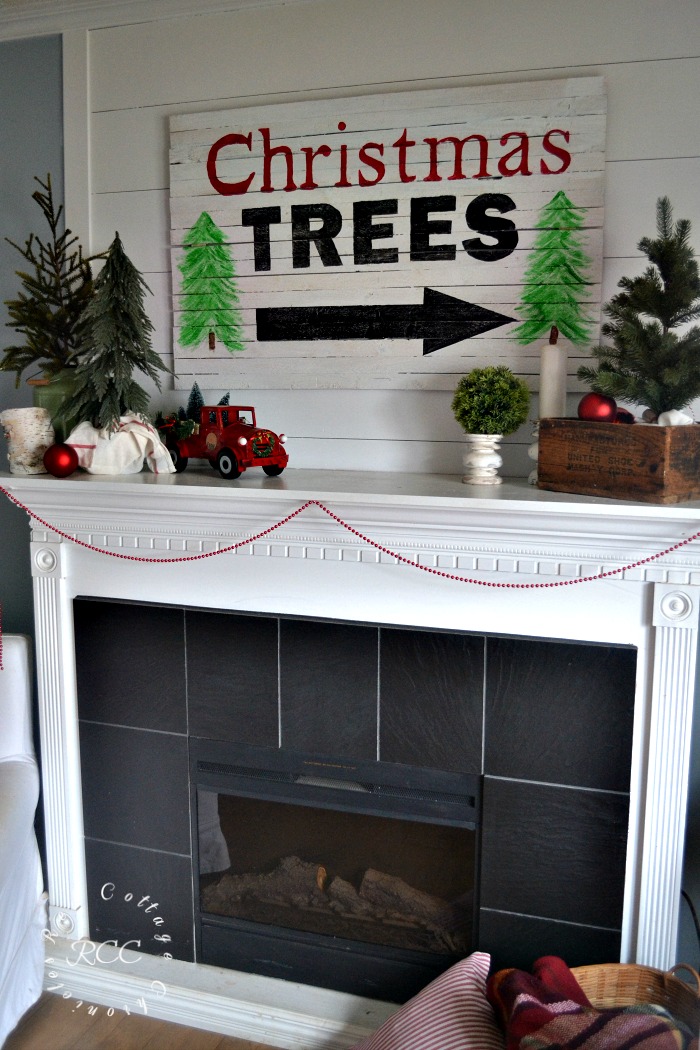 A simple candle and an evergreen ball set on old
upcycled candlesticks
, and some beaded garland from the dollar store complete the look. I looked high and low for red wood bead garland, but there was none to be found. Of course when I am not looking for it, I will see it everywhere I go!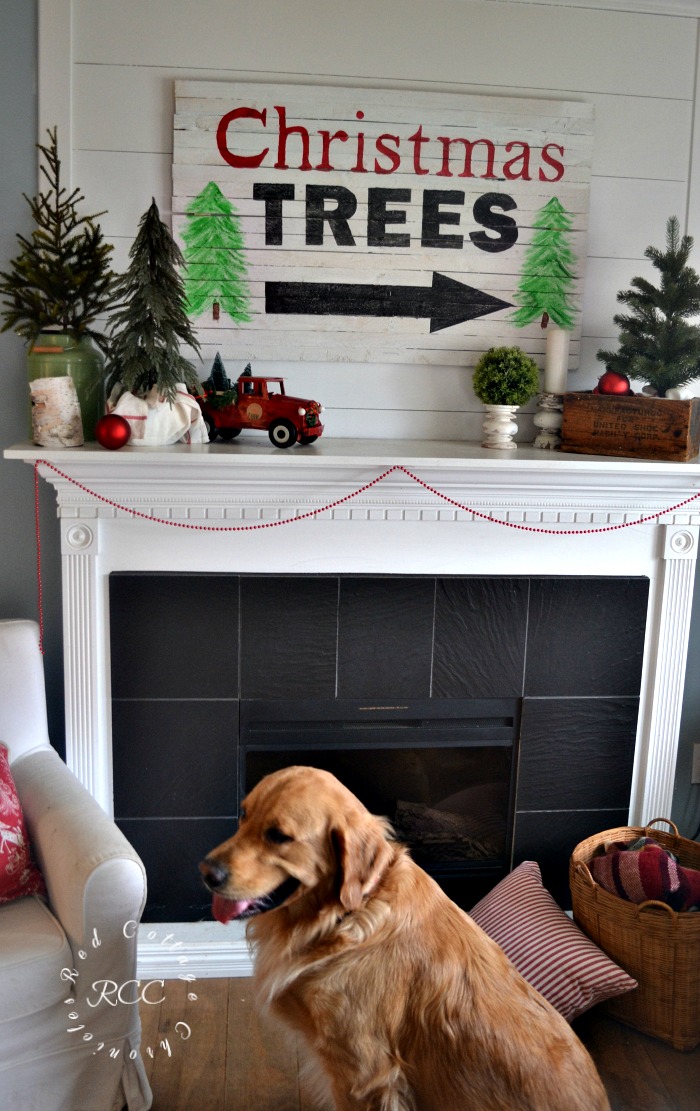 A rare moment when Charlie was actually sitting still! He is such an affectionate dog, who loves to get in on anything I am doing! The dog bed is usually in front of the fireplace, so I think he was a bit out of sorts! I was sure to put it back after I was done taking my photos.
Don't forget to check back on Friday for the and painted Christmas Trees sign tutorial. In fact, why not just
subscribe for updates
and get the password to my VIP Printable Library!
And now onto the Link Party where you are sure to find more Christmas Mantels and other Christmas decor ideas!
Until next time…….

The Creative Christmas Link Party is hosted by Janet of
Shabbyfufu
and the the bloggers of Blogging 50. Please visit all of the talented bloggers below!