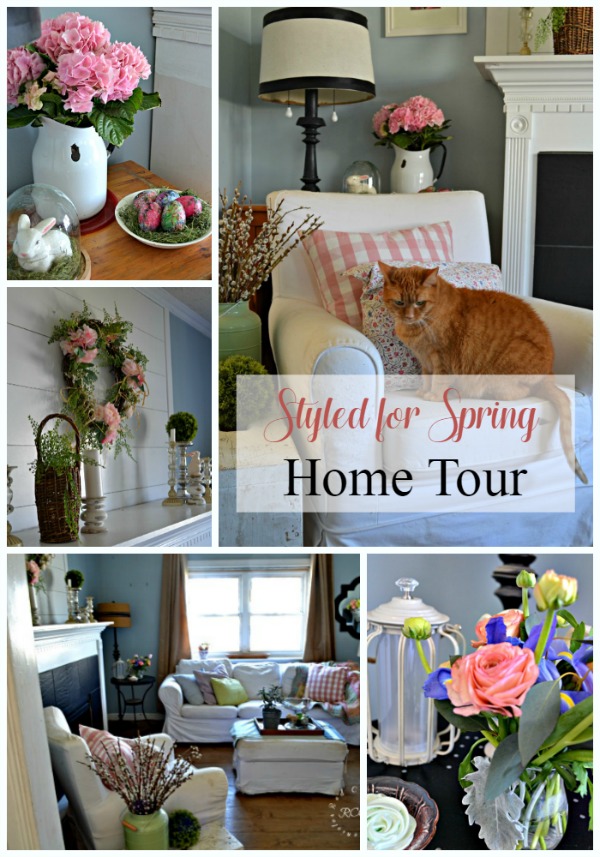 Welcome! I am so happy to be part of the Styled For Spring Home Tour organized by the very talented Jenna from Wife In Progress. If you are hopping over from viewing Brown Dog Vintage's beautiful dining room, so glad you stopped by. If this is your first visit you can learn a little bit more about me here.
When it comes to decorating for the seasons, I am all for it. But, I always like to challenge myself to spend as little money as possible while still making the space stylish for the season.
The arrival of spring means the return to colour! Vibrant, bright colours as well as soft pastel shades.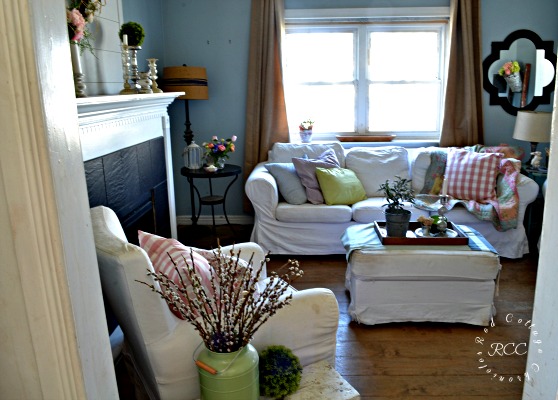 Let me show you around our little living room (which also doubles as our family room). Maybe I should back up a bit for those who are just visiting for the first time. We live in a little "war-time" house that was built in the 1940's to house those working in war related industries. The main floor measures about 550 square feet, and in the case of our home, a basement was added in the 1970's. Until very recently the basement housed two bedrooms for our daughters, but one has since moved out on her own and we will be reclaiming that space to create a family room downstairs.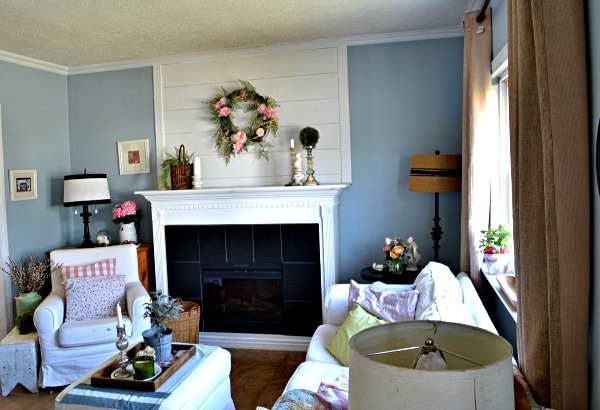 Our front door enters right into the living room. I love the neutral white slip covered sofas because they provide the perfect backdrop for any seasonal décor, and quite inexpensive to replace. While I already had a few springy cushion covers, I supplemented them with run-of-the-mill mismatched pillow cases in pastel shades that I just tucked in my extra pillow forms to create the perfect fit. An antique quilt has all the right colours and is perfect to cover up with as the evenings are still quite cold.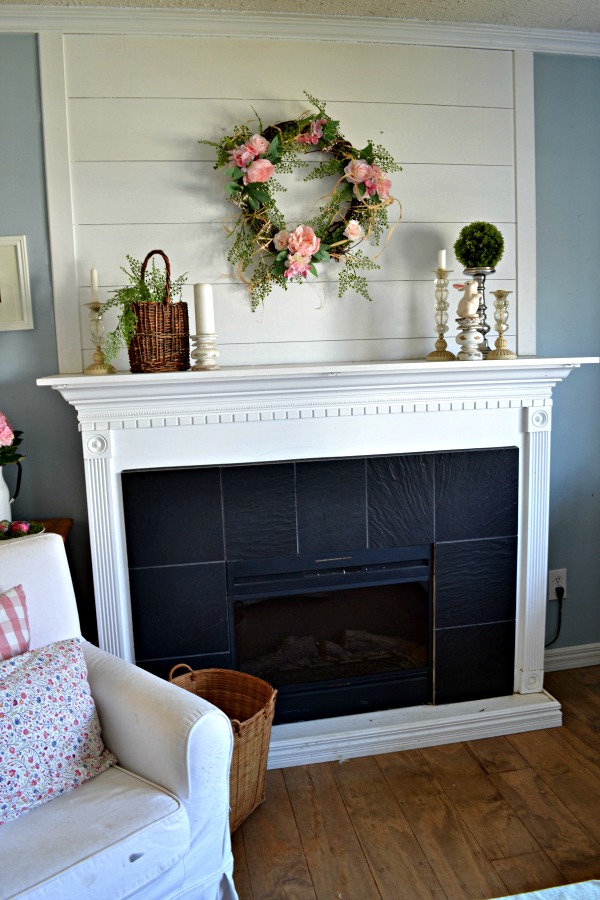 My favorite thing about our living room is the fireplace that my husband built me a few years ago. I don't know what I did without a mantel for so many years. For spring I have kept it very simple. I whipped up a spring wreath to hang above the mantel, and will be sharing that tutorial next week. Most of the other accessories I purchased at yard sales or thrift stores over the years. I stuffed some faux greenery left over from my wreath project into a wicker wine bottle basket I bought at Goodwill for $2.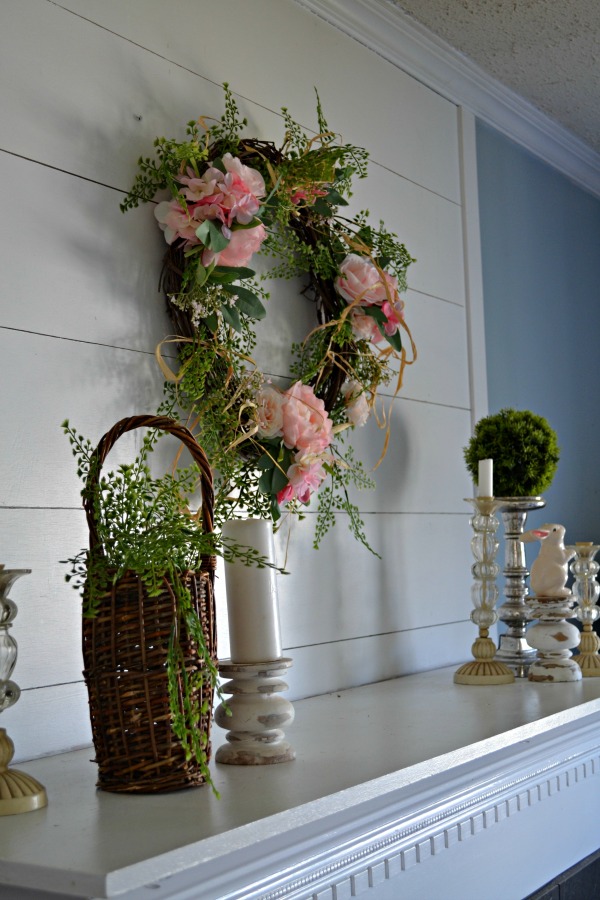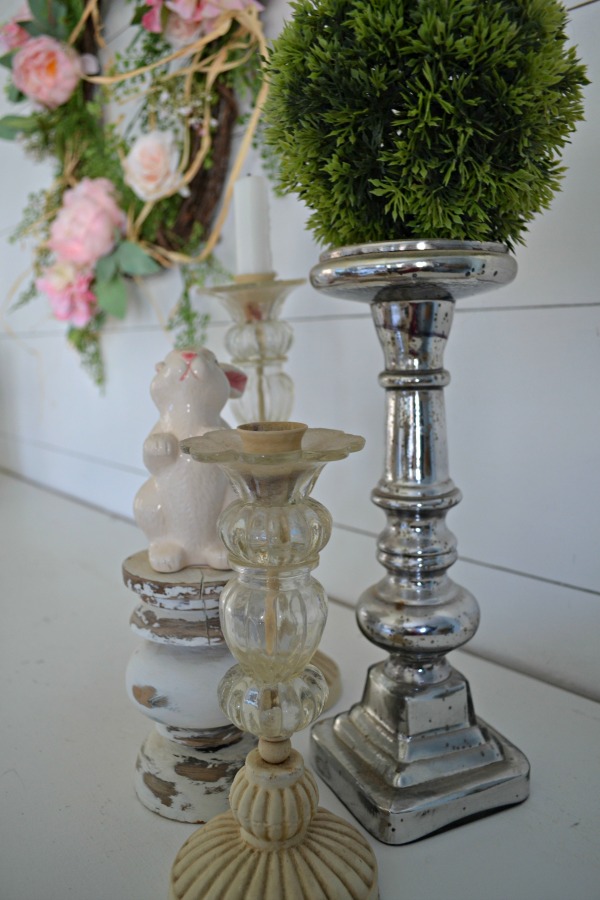 I do plan on customizing two RAST dressers from Ikea for either side of the fireplace, but for now I have the base of an old hutch a friend's father made me 30 years ago. It is the perfect perch our upcycled thrift store lamp, an old enamelware jug filled with a potted pink hydrangea, diy paper mache eggs, and a dollar store bunny tucked in a glass cloche.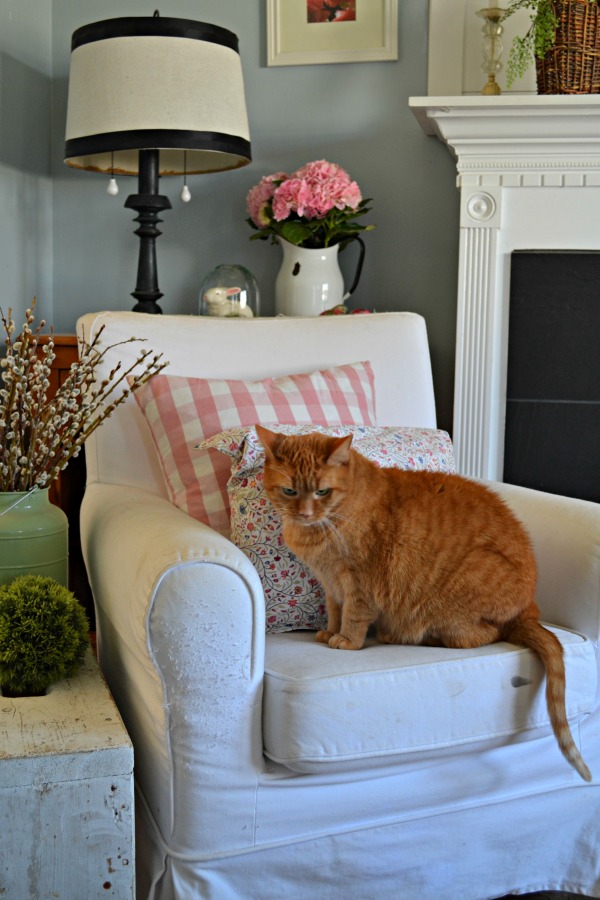 Can you tell the chair belongs to the cat! Thank goodness for slipcovers. They are inexpensive to replace when the cat decides to use them as a scratching post!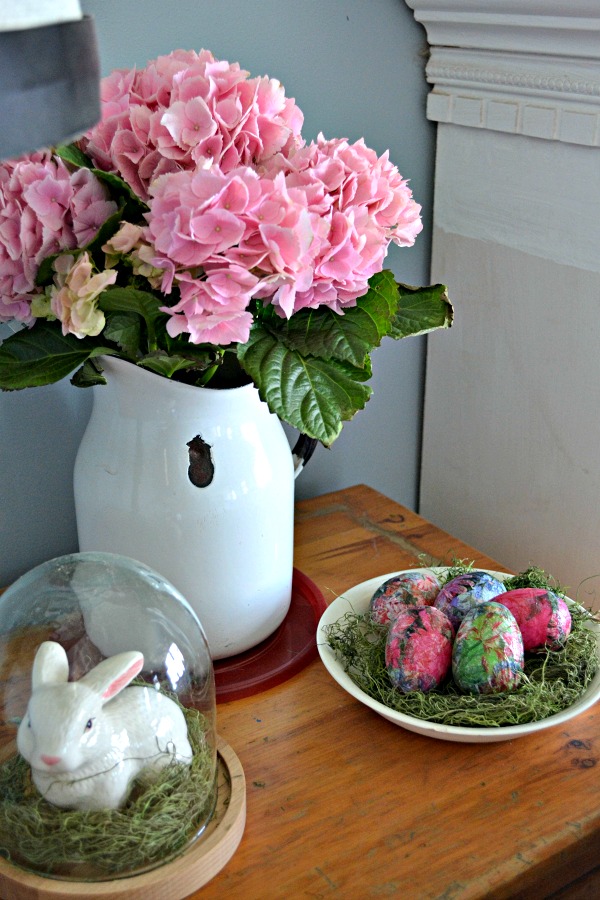 Beside the chair is a tiny little stool-turned-side-table. Some pussy willow branches from the market and a faux green sphere from the dollar store add a touch of spring.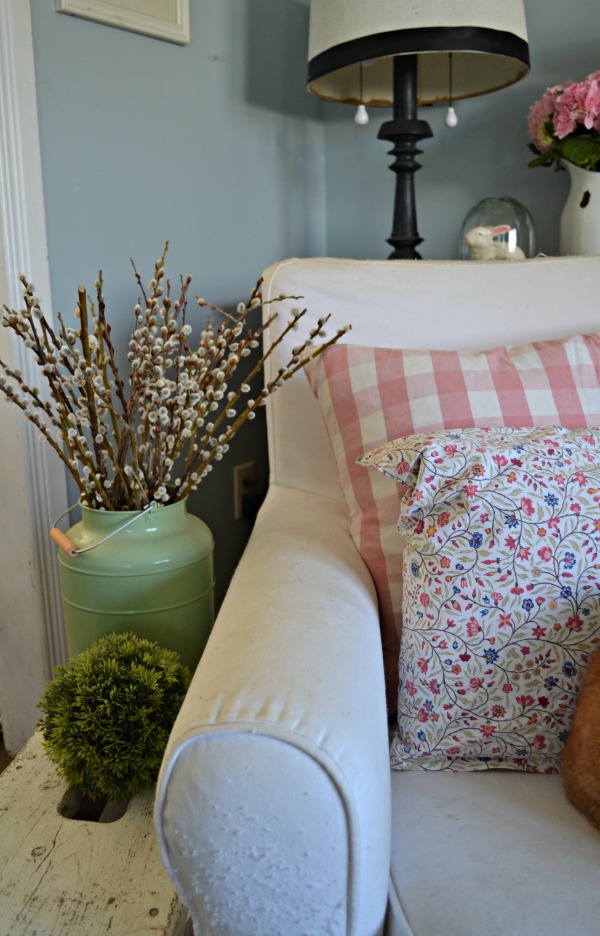 Since we have two rambunctious golden retrievers, we use an ottoman as a coffee table, which is easy to slide over in front of the fireplace when we need the floor space. An old shallow wooden box holds an old metal bucket with a faux topiary, some candles, and dried roses.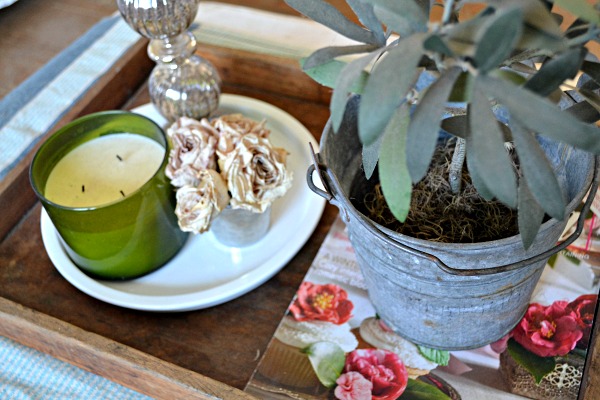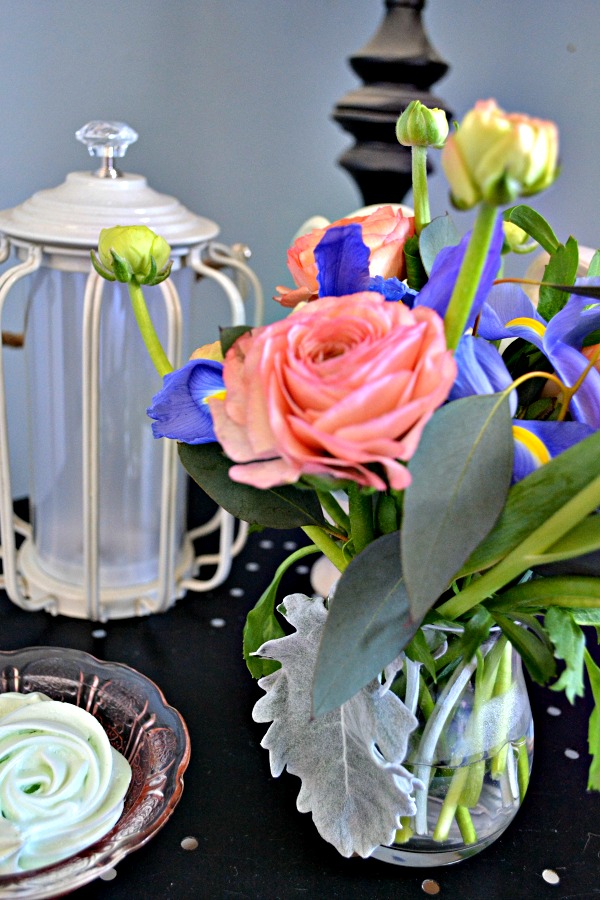 Tucked in the corner is an antique ladder that was a gift from a friend who shares my love for chippy old things. I tied on an old wicker basket and set in last years spring door flower basket to add a pop of color. Sitting atop a distressed Ikea footstool is a blue glass vase with some left over silver dollar eucalyptus branches.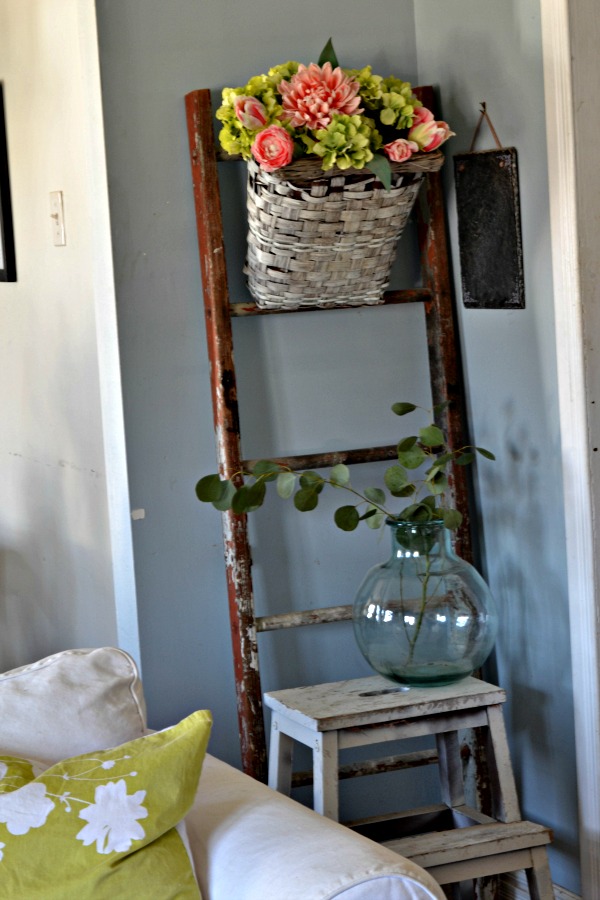 Open to the living room is our little tiny dining room. Last weekend it was all set for spring, but this is how it looks on most days. A vase of fresh market flowers, a stack of plates and napkins, and a simple linen runner. The dining room measures only 8 feet by 10 feet.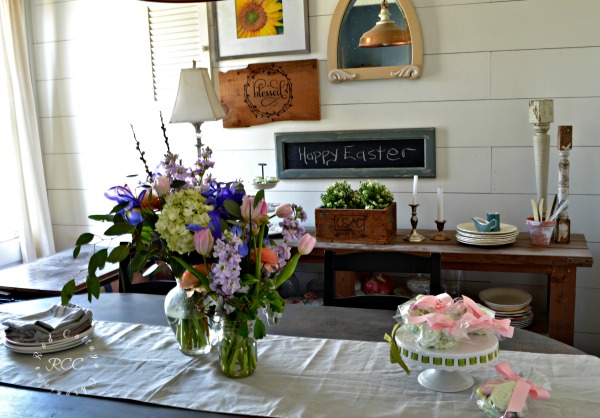 I hope you have enjoyed our spring home tour! Don't forget to visit all the beautiful home tours this week. Up next is Savvy Apron. Follow the links below and hop from blog to blog!
Until next time…

Monday
Wife in Progress // Postcards From The Ridge
Sand Dollar Lane// Lovely Etc. // Noting Grace// Farmhouse For Five
Tuesday
Green With Decor // My Life From Home //Bisozozo
One Mile Home & Style // Create & Babble // My Thrift Store Addiction
Wednesday
Saw Nail and Paint // The Tattered Pew
Brown Dog Vintage // Red Cottage Chronicles // Savvy Apron
Thursday
Aratari At Home // Home Made Lovely
Atta Girl Says // Inspiration for Moms // The Happy Housie // Farmhouse on Boone
Friday
A Blue Nest // Hashtag Blessed Blog
Bluesky at Home // The Frugal Homemaker // A Purdy Little House