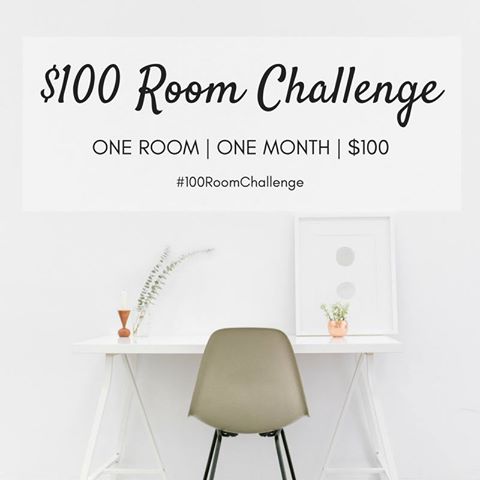 A brand new year, a brand new challenge! And this is one you are not going to want to miss! The $100 Room Challenge was the brainchild of Erin from Lemons, Lavender and Laundry, who like most of us swoon over images of gorgeous rooms on Pinterest and in magazines, but don't necessarily have the budget to create those looks.
Erin has been doing a $100 Room Challenge for a bit now, and opened it up to other bloggers this year and I was certainly up for the challenge. Thank you Erin!!
At first I didn't have a clue what room I was going to do. Being the creative type, I am often wanting to change the look of the rooms in my home. Sometimes in a big way and other times subtle changes that can easily change with the seasons, and that reflect what is going on in our lives at the time.
I had first thought about our back porch. Small enough space that it was doable in four weeks, but in all honesty, it does need some major changes to create more efficient storage which I can't achieve for $100.
I have really been wanting to paint each and every room in our home a more neutral shade. I hate to admit it, but when I renovated the living room in 2014 I really should have chosen a more neutral shade. I tend to get tired of any one colour pretty fast.
Insert Tim's eye rolling here.
Since I have been gravitating towards a more simple lifestyle lately I am really drawn to the easy laid back of the farmhouse/cottage style. I love the look of shiplap painted with a soft shade of white as it gives the room a layer of texture and interest.
So, with this in mind and a plan to slowly transform the kitchen to reflect the farmhouse/cottage style, plus a beautiful light fixture I received for Christmas this year, I decided to do our dining room for the $100 Room Challenge!
Lets have a look, shall we.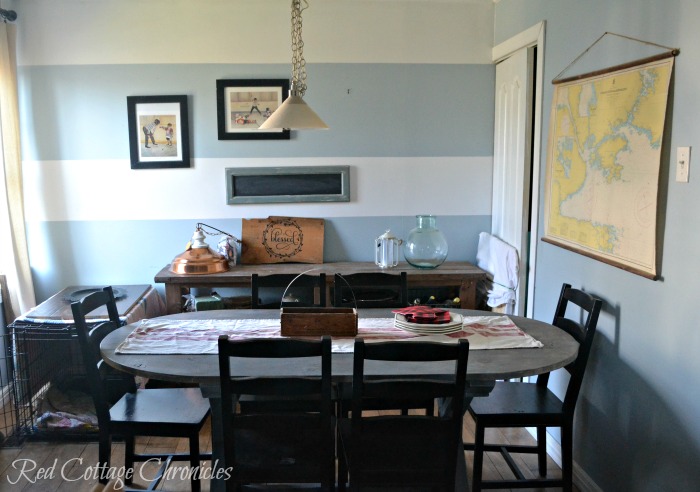 Overall it really isn't bad. It is a small room measuring just 8 feet by 10 feet. In fact, it used to be a little bedroom, but since this is going to be our forever home we knocked out the wall between it and the living room to create a more open space.
It really just needs some decor and cosmetic touches to give it that farmhouse feel. I think my $100 budget is enough to make a big difference in the overall look and feel of the dining room.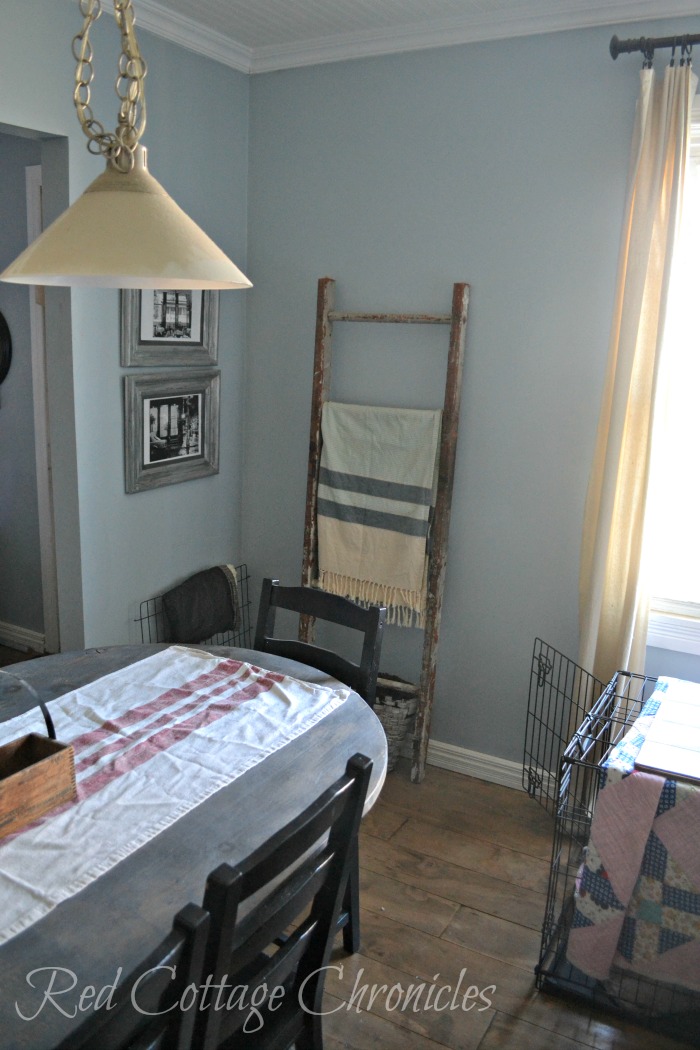 Goals for our $100 Room Challenge Dining Room
Add faux shiplap treatment to the back (striped) wall
Paint the entire room a soft shade of white (which might take me all month to pick!)
Replace the old drop cloth curtains
Replace the light fixture
Introduce more farmhouse style decor
Create a gallery wall
How I plan to stay on budget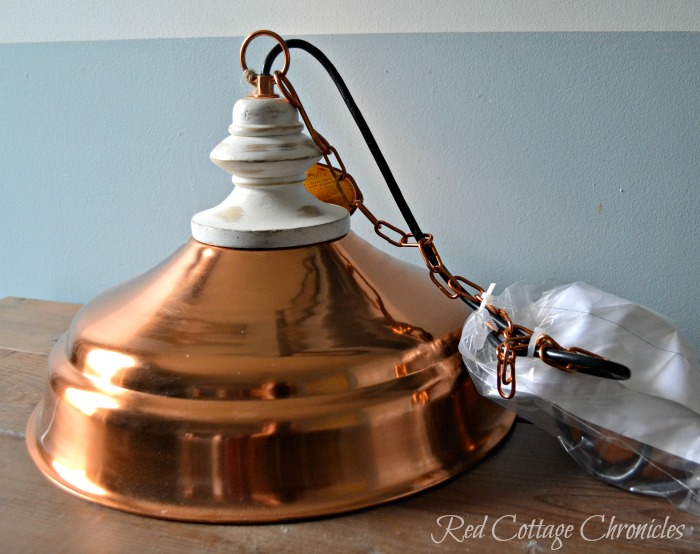 This gorgeous copper and distressed wood light fixture will be a focal point, and I won't have to use any of my budget for lighting, which is a big bonus!
She doesn't know it yet, but I will be enlisting the help of my mom to sew new curtain panels. Thanks Mom! Our local fabric store always has buy one get 2 metres free sales in January, which will significantly reduce the cost of the new curtains
Tim works at a home improvement store which gives him a good discount on paint! Yay!
I have loads of picture frames, and I will utilize printables to help create art to fill the gallery wall.
And, when I was visiting my friend Leslie over the holidays she gave me a pretty rustic sign she had made, which is perfect for that easy farmhouse style!
I hope you are as excited to follow along as I am to be sharing it with you. Most of all, I hope you take away some ideas to start creating the home you want even if you don't have much of a budget to work with!
I will be updating our progress each and every Wednesday throughout January and I invite you to join the Red Cottage Chronicles community by subscribing here so you won't miss a thing! You will receive an email only when new posts go live.
Let the challenge begin!

Be sure to check out even more budget decor inspiration be sure to visit all the bloggers participating in the $100 room challenge this month!