My youngest daughter Samantha turned 24.  She celebrated her birthday in a way that made us so very proud.  She decided earlier this year she would cut her hair to donate to Pantene Beautiful Lengths program, which makes wigs for people with cancer.  Her hair has been at least mid back forever.  The last time she cut her hair short was when she was about 6 years old!
As we approached the salon yesterday afternoon I could sense she was a bit anxious about it, so I told her she didn`t have to do it.  She could grow it out a bit longer and then cut the necessary 8 inches if she was afraid to go too short.  She replied firmly that she could grow her hair back out easily enough and when someone out there is suffering from cancer that a wig made with her hair would make their journey a bit easier to bear, then she had no reason to complain or be worried about cutting it off!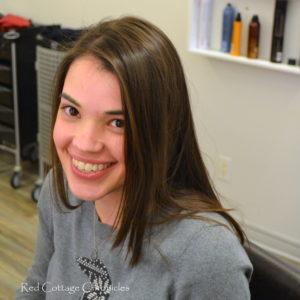 I was way more nervous than she was!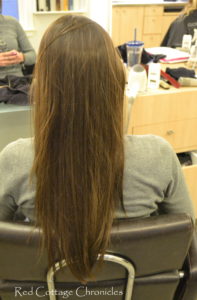 It was so long!!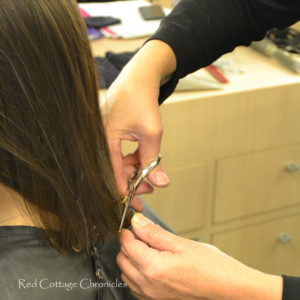 Robin from Renaissance Salon & Estetica made the cut!  She has cut Sam`s hair since the beginning!  My hands were actually shaking and I had no idea how this picture would turn out!  One fun thing about Renaissance is that they actually have a wine bar and if it wasn`t for all the cold meds I was taking you can bet I would have had myself a large glass of Reisling…..or two!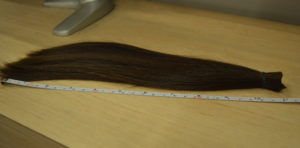 She actually had 11 inches cut off!  Healthy, shiny, virgin hair on it`s way to someone who needs it way more than her!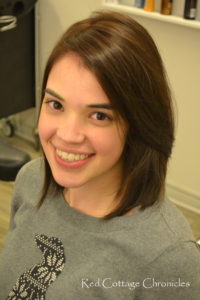 And the after!!  So cute and sassy, just like her!
She had a demi permanent color done as well which gives some gorgeous auburn undertones!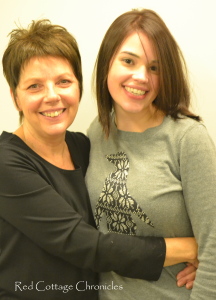 Robin and Sammy!!  I cannot thank Robin and Sarah (who did her color) enough!  Robin knew that Sam was ready for this and supported (and me) wholeheartedly.  And Sarah who picked the perfect color, even though I was nervous it would be too red!
If you happen to be a reader who is local to St.Catharines, I encourage you to check out Renaissance Salon & Estetica!  While we are partial to Robin and Sarah, you really can`t go wrong choosing any one of their stylists on staff!
`Til next time……
Maureen