It has been so long since I have been able to participate in the Thrift Store Upcycle Challenge. I really have missed it. What is the Thrift Store Upcycle Challenge you ask? Well, just a whole lot of inspiration from 25 bloggers for taking an old treasure you may have found at a thrift store, garage or yard sale, or in my case a brass and mirror candle wall sconce from a friend who was "de-junking" before it even got to the thrift store, and turning it into something fresh and new! You will find my Upcycle project and links to all 25 others below!
The Rules:
Upcycle an item(s) from a thrift store, resale store, or garage sale into a new piece of decor.
There's no monthly theme.
There's no budget to stick to.
Meet the Hosts
Amanda | Domestically Creative – Pili | My Sweet Things
Angela | Simply Beautiful by Angela – Jeanie | Create and Babble
Molly | Just a Little Creativity – Colleen | Life on Kaydeross Creek
Marie | The Inspiration Vault – Michelle | Michelle James Designs
Shirley | Intelligent Domestications – Dru | Polka Dot Poplars
Pam | P.S. I Love You Crafts – Gail | Purple Hues and Me
Jennifer | Cookies Coffee and Crafts – Toni | Small Home Soul
Sue | A Purdy Little House – Kathleen | Our Hopeful Home
Victoria | Dazzle While Frazzled – Marie | DIY Adulation
Michelle | Our Crafty Mom – Debra | Shoppe No. 5
Yamilette | The Latina Next Door – Denise | My Thrifty House
Florence | Vintage Southern Picks – Ann | Duct Tape and Denim
Maureen | Red Cottage Chronicles
Make sure you follow our board on Pinterest for more upcycled decor inspiration!
This post contains affiliate links which provides you an easy way to find the products I used for this project. *See full disclosure below!
---
And without further adieu check out what I did with this candle wall sconce to make it a bit more modern and functional for our home!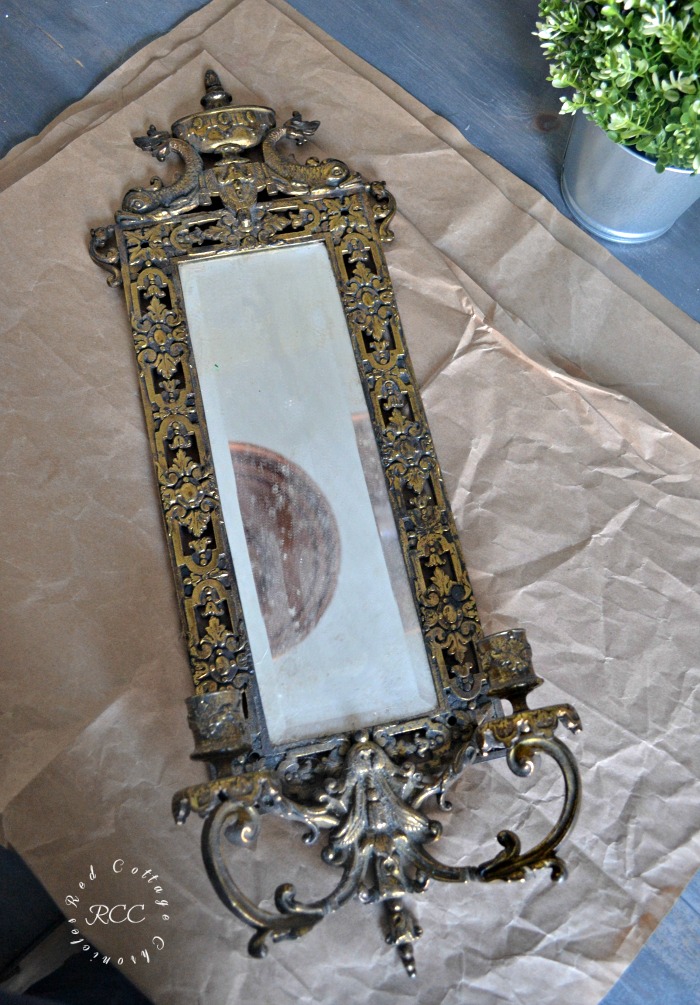 When I first looked at this heavy, ornate, brass mirrored candle wall sconce I actually was going to pass. Completely not my taste. First of all it was brass. Don't hate me, but I really am not a big fan of brass.
Secondly, since we live in a little house I try to be purposeful about what I put in it, even if it is free. But, when I got to thinking about it, I did need a mirror and a place to hang dog leashes, my purse, and other miscellaneous hangy things near the back door.
Oh, but that brass.
I happened to have a tiny bottle of Fusion Mineral Paint (and I mean tiny) that I wanted to try out, and what better way to put it to the test than to paint over brass.
The mirror looked terribly cloudy on first glance, but it turns out it was just really dusty and dirty. A bit of glass cleaner and it was shiny again. I taped off the mirror and got to work on painting. Two light coats is all it took to completely cover the entire frame.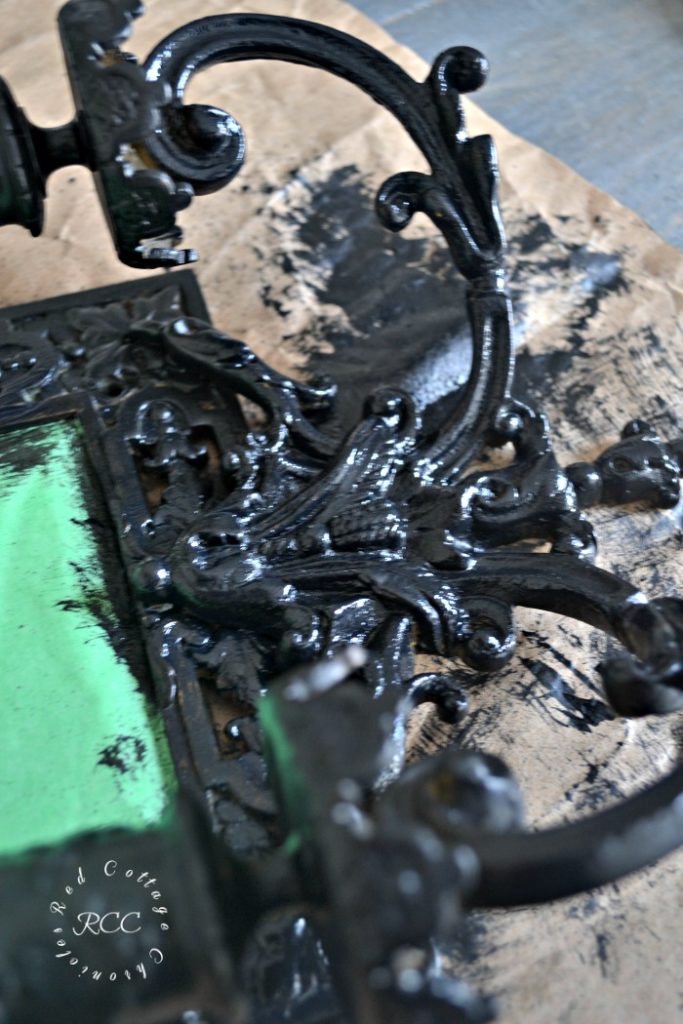 After it was completely dry I really didn't mind the ornate pattern so much as I did when it was brass. I did want to soften the look though, and decided to highlight the pattern using Liming Wax.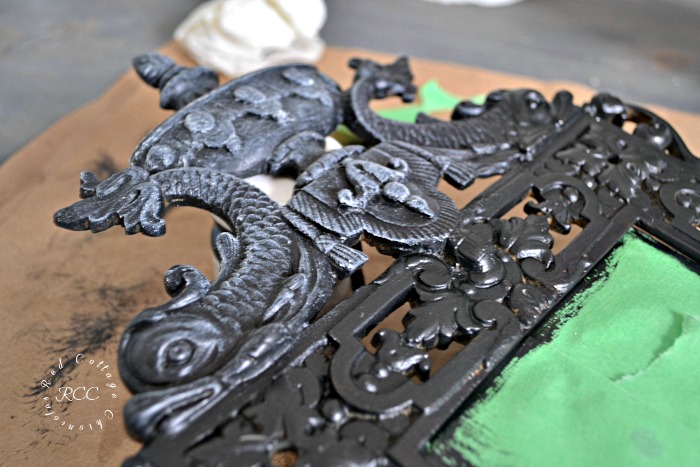 When you using liming wax, use a very light touch. I have an old paint brush just for this purpose. I just run it through the tin of wax and gently brush of excess on a piece of paper. Using a light wispy stroke, bush over the areas that you want highlighted. Finish by gently rubbing off excess with a soft cloth.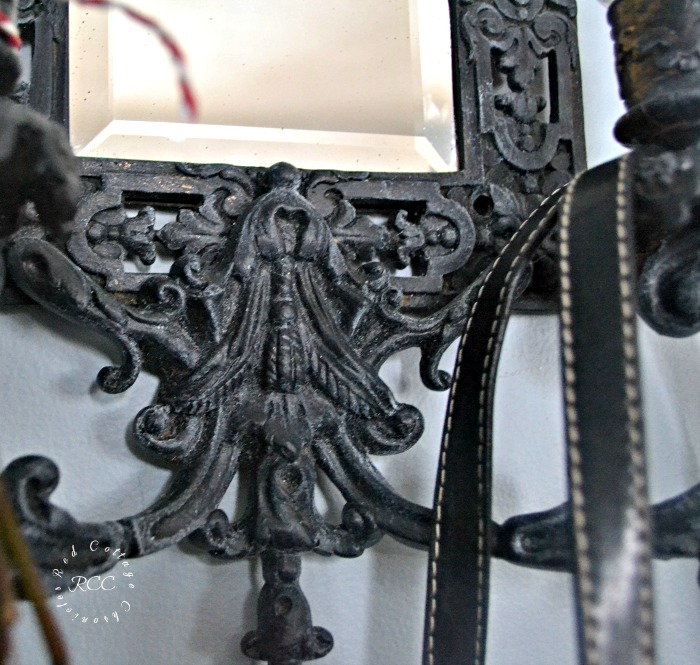 I used this technique over chalkboard paint on this old thrift store lamp, and it is one of my favorite projects.
I was afraid that I didn't have enough of the paint for the job. Turns out I was wrong. I still have half the tiny bottle left after giving this wall sconce two coats!
I didn't want to just leave the candle holders empty so I used two crystal draw pulls (similar) I had, and just used Gorilla Glue to hold them in place.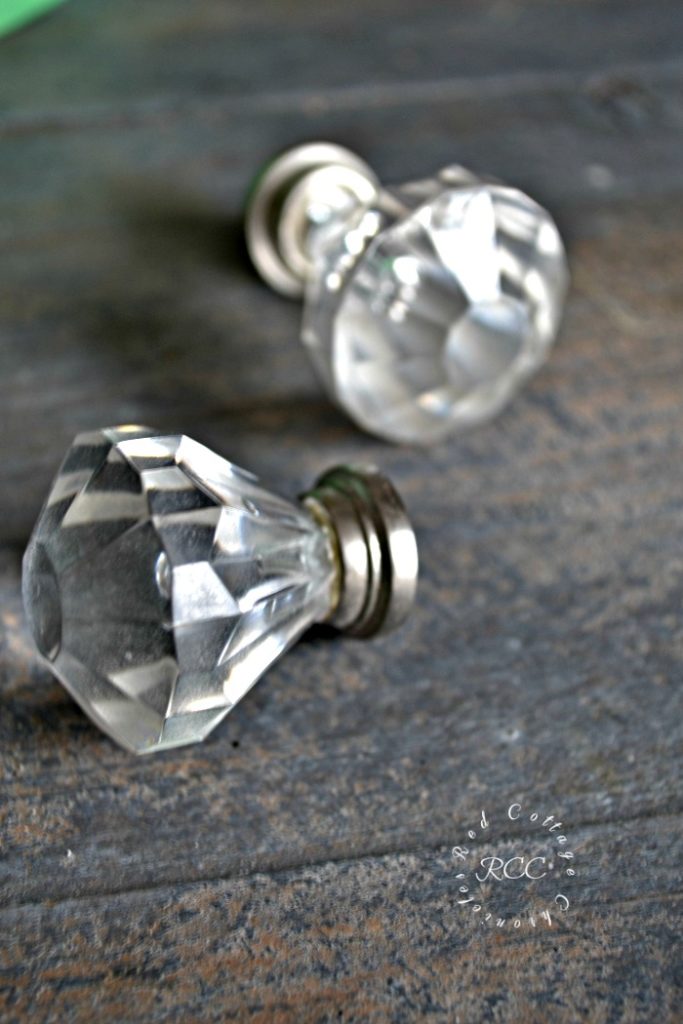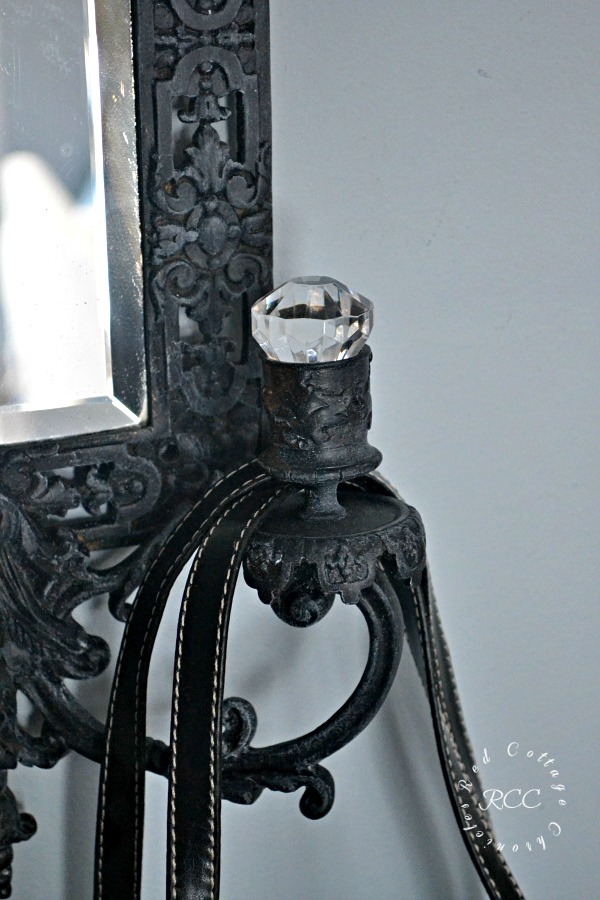 Now, instead of a gaudy brass mirrored wall scone, I have myself a mini "hall tree" where I can coral my purse, dog leashes, scarves or even a bunch of roses in need of drying!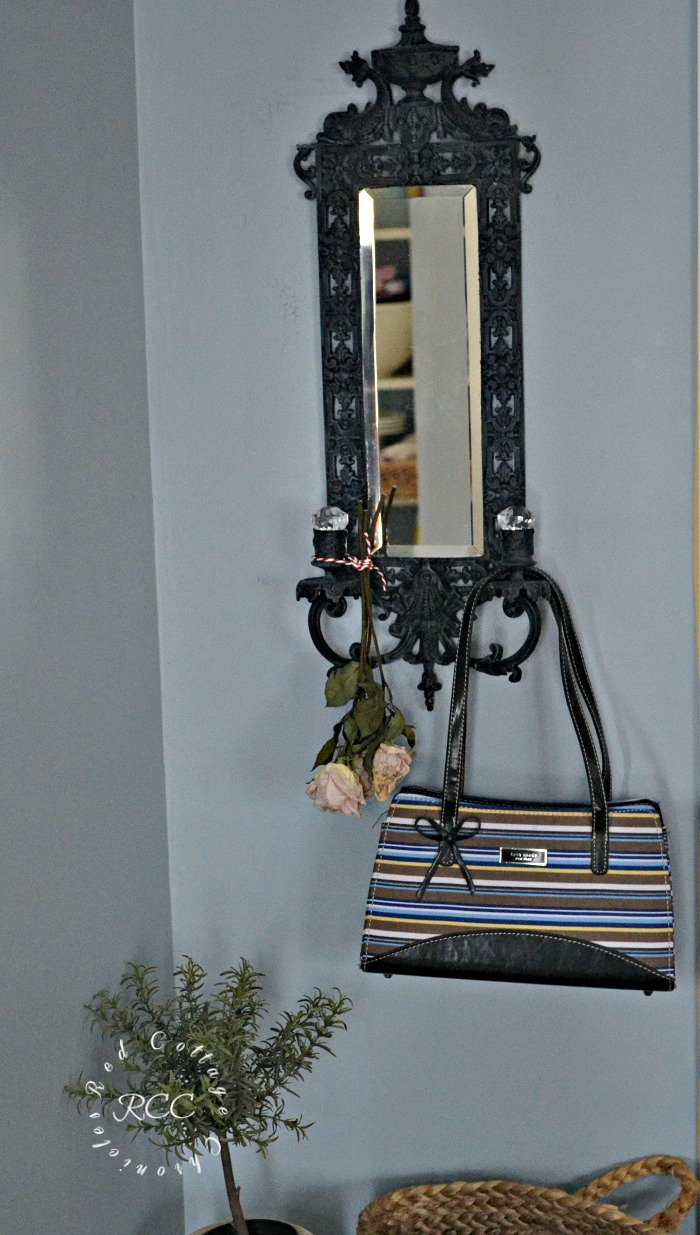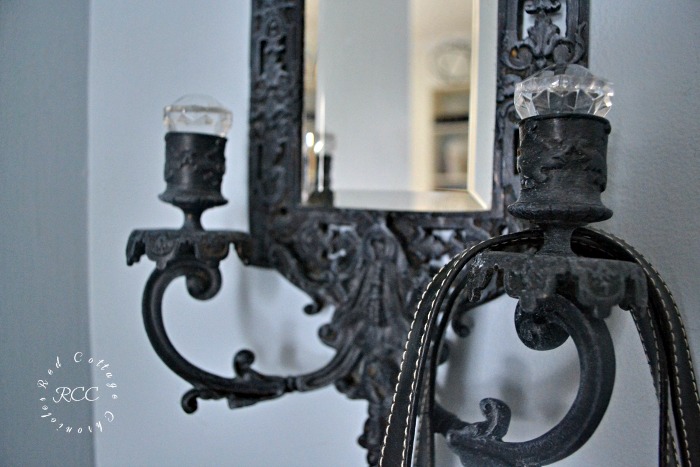 I am really glad I decided to take this off Leslie's hands! She really does have some of the neatest things, many that have been picked up at yard sales, auctions and thrift stores. If you want a glimpse of decorating with thrifted finds, check out this room and this room that I remodeled for her.
And don't forget to check out all the thrift store upcycle challenge links below!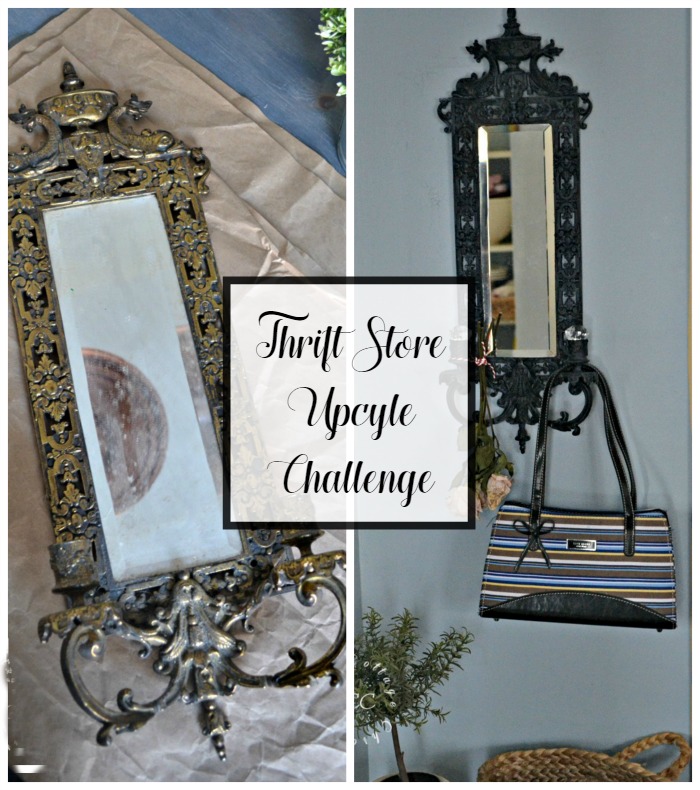 Until next time….

*Red Cottage Chronicles is a participant in the Amazon Services LLC Associates Program, an affiliate advertising program designed to provide a means for sites to earn advertising fees by advertising and linking to amazon.com and/or amazon.ca
---
And now for more thrifty goodness!
Check out what my fellow upcyclers created below!


—