Today I am going to show you how to make sunflower arrangements using green cuttings from your garden and grocery store sunflowers.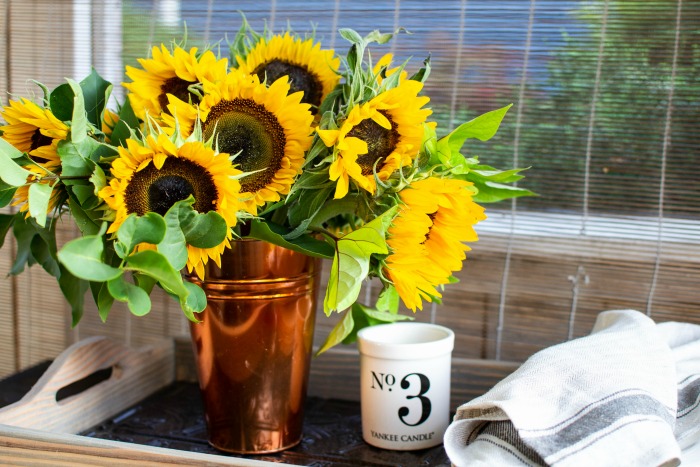 I almost hate to admit it, but there was a time when I turned up my nose at sunflowers. Don't get me wrong, I think they lovely flowers, so bright and full of sunshine. But, all of the sunflower arrangements that I saw were bland and boring.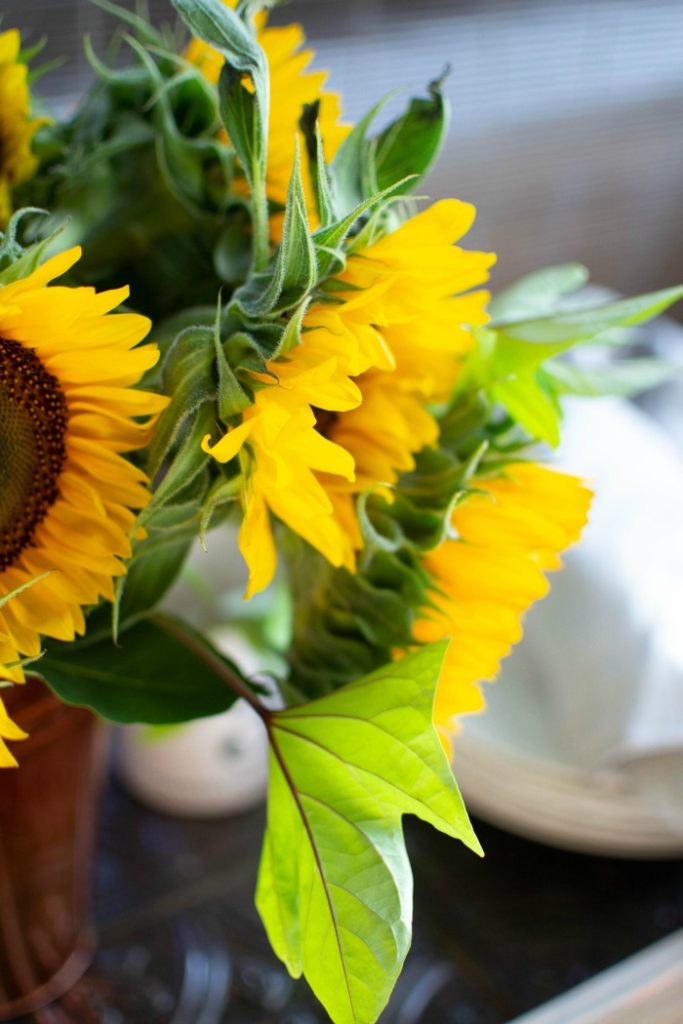 What you will need for sunflower arrangements
Sunflowers can be tricky to arrange since they have long thick stems and very top heavy. The bloom itself hangs over with the flower hanging down, making them predisposed to just leaning up around the outside of the vase.
Luckily you don't need any special tape, chicken wire or floral frog to get a nice shaped arrangement.
You will need:
a sturdy vase or vessel
several clippings of greenery with sturdy stems from shrubs or trees in your yard
garden snips for cutting stems
10 stems of sunflowers (any variety)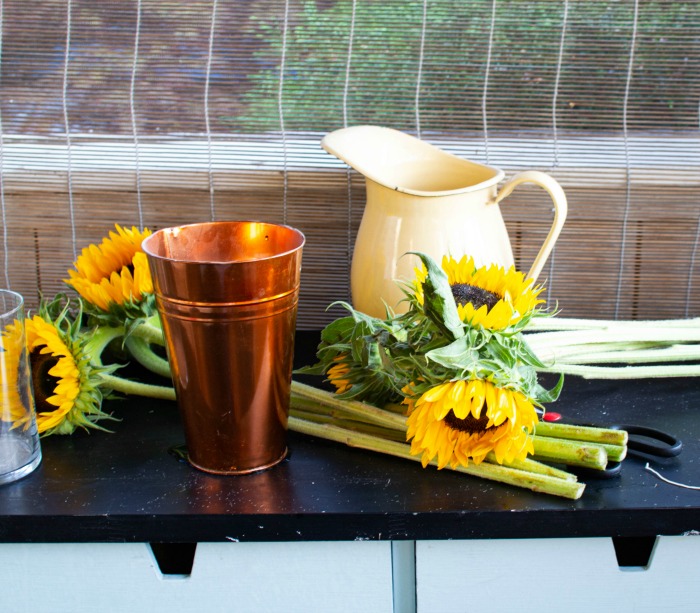 How to create a base for your flower arrangement
I no longer use any floral foam in my fresh arrangements and always use a more sustainable option.
In previous Market Flower Monday posts I shared how I start with filling the vessel with greens to create a nice base to help hold your blooms in place.
I have done the same thing with this sunflower arrangement, this time using greens with thicker woody stems. Clipping them from some shrubs in my yard was quick, easy, and free!
For this arrangement I used a combination of cuttings from our lilac shrub and some sturdy potato vine.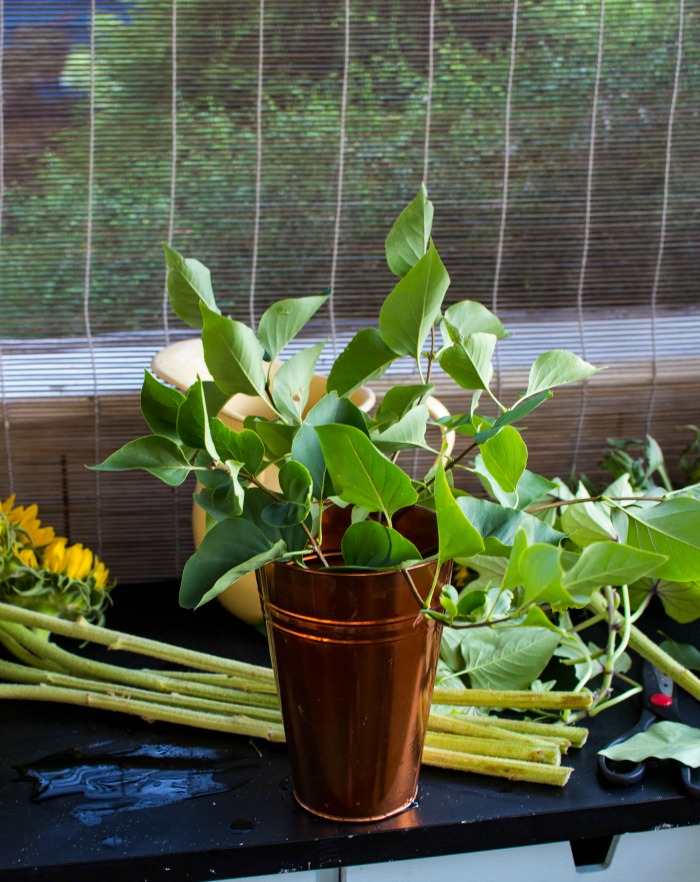 Step One
Start by filling your vessel with clean cool water. Begin adding your branches one at a time, crisscrossing them to create a grid like structure.
It is important to crisscross the stems of greenery to create a web of spaces in which to insert the stems of the sunflowers. The woody branches will also give a strong support for the stem of the flower to rest against rather than just leaning on the vessel itself. Hence, keeping some blooms in the center of the arrangement.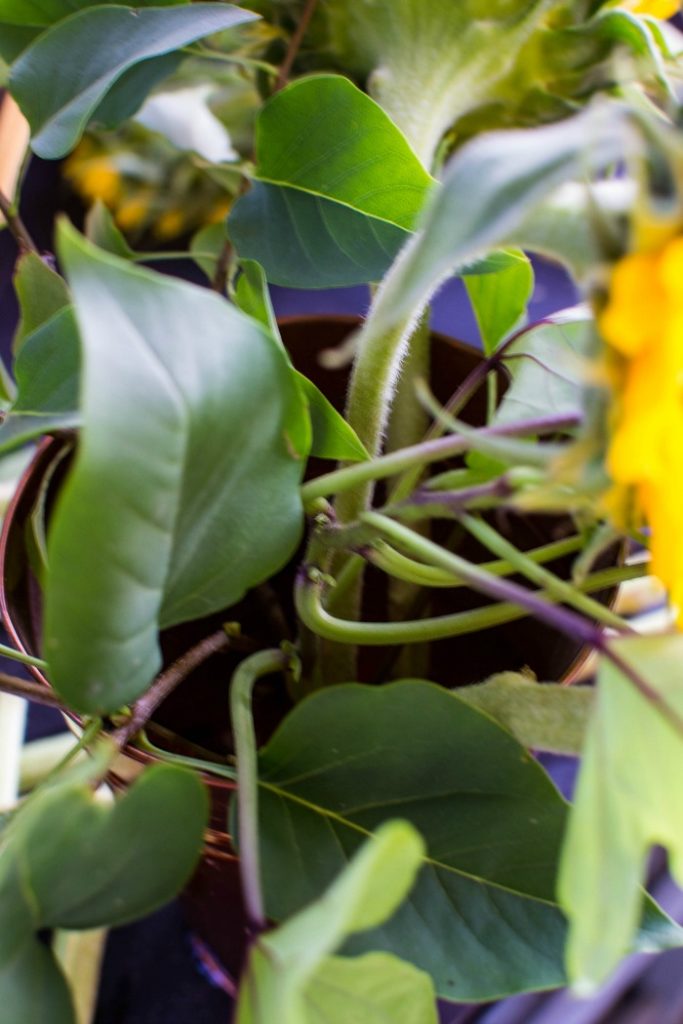 Step 2
After you have a nice, full base of greens that you are happy with, begin to add the sunflower stems, one at a time, also crisscrossing them to further add to the web of stems under the water line.
Cut each sunflower bloom at an angle to the desired length.
Continue adding the blooms inserting them into spaces among the greens and sunflower stems.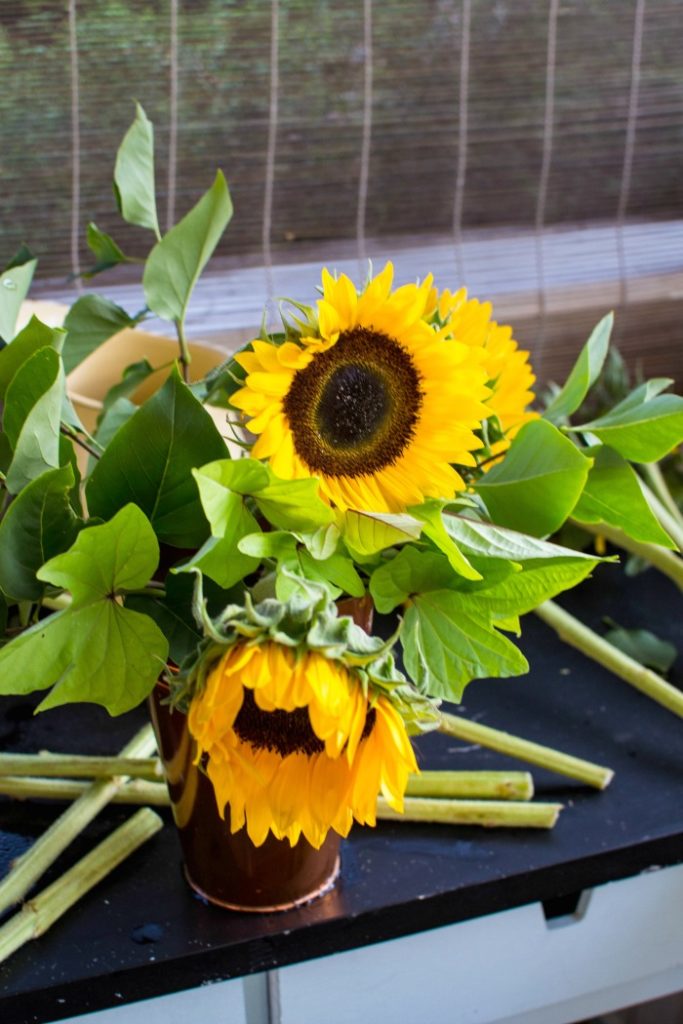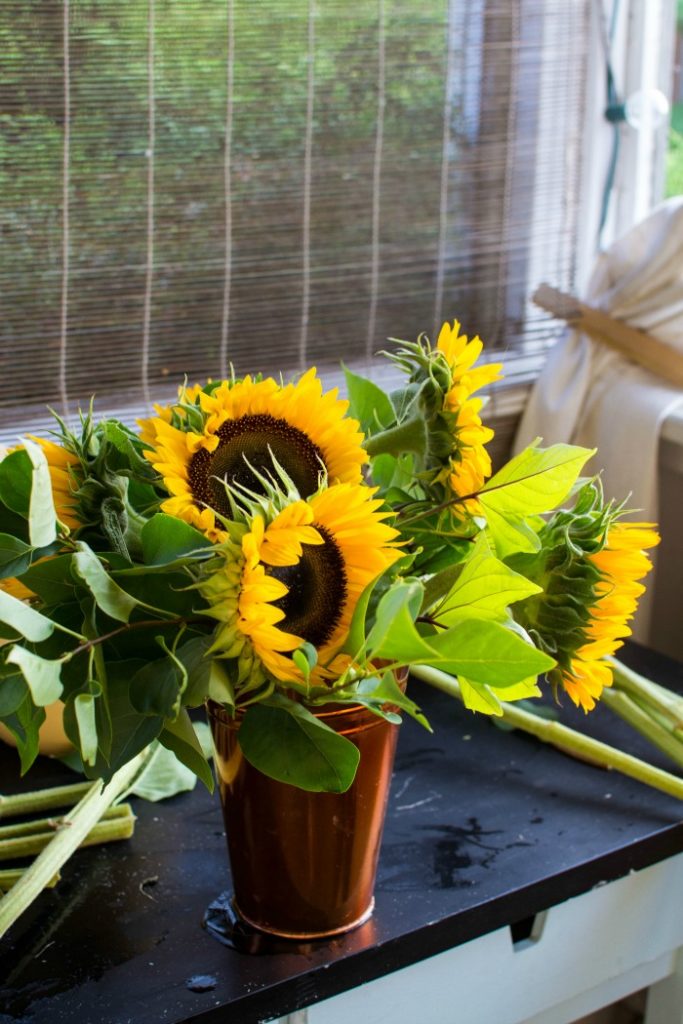 Use the sunflower stems that are particularly hooked (curled over) around the lip of the vase.
You can also very gently manipulate the stems to help the head of the bloom stand up a bit straighter, but if you use the greens to support the blooms within the center of the arrangement, you will find that they do lay very nicely. Plus, you can turn the stem to ensure the face of the bloom is facing upward.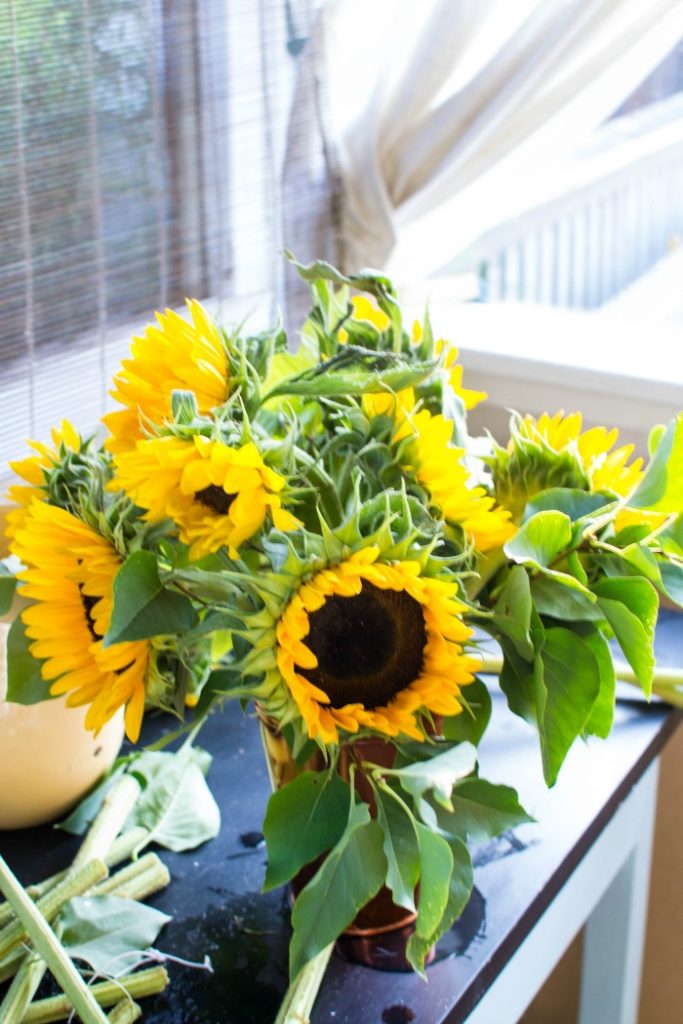 And, that is all there is to it!
How to care for your cut sunflowers
make sure you begin with a very clean vessel
use fresh cool water and add a packet of flower preserve (which will usually come with grocery store flowers)
be sure that there are no leaves below the water line as these decompose quickly creating bacteria in the water
place your arrangement out of direct sunlight to prevent
keep them away from direct cold or hot drafts
replace the water every 2 to 3 days to further extend the life of your arrangement
recut the sunflower blooms with each water change (simply hold the whole arrangement in one hand while giving an angle cut to each bloom before placing the arrangement back into the vessel)
Tips for creating a show stopping arrangement
Instead of a plain glass vase, look around your home for a vessel that will compliment the sunflowers. This is a simple way to elevate your arrangement from nice to WOW!
I pulled out both this copper bucket and an old yellow enamel pitcher and really couldn't decide which one to use.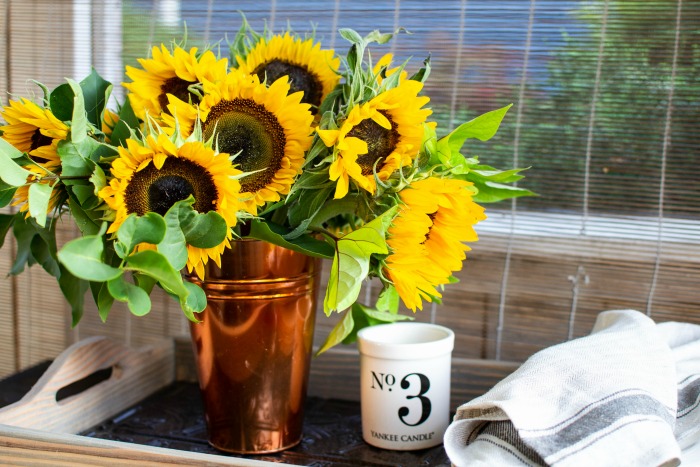 I eventually decided on the copper, but couldn't resist slipping the arrangement into the yellow pitcher to see how it looked.
Since I wasn't confident the dollar store copper vase was watertight, I placed a glass vase inside to contain the water.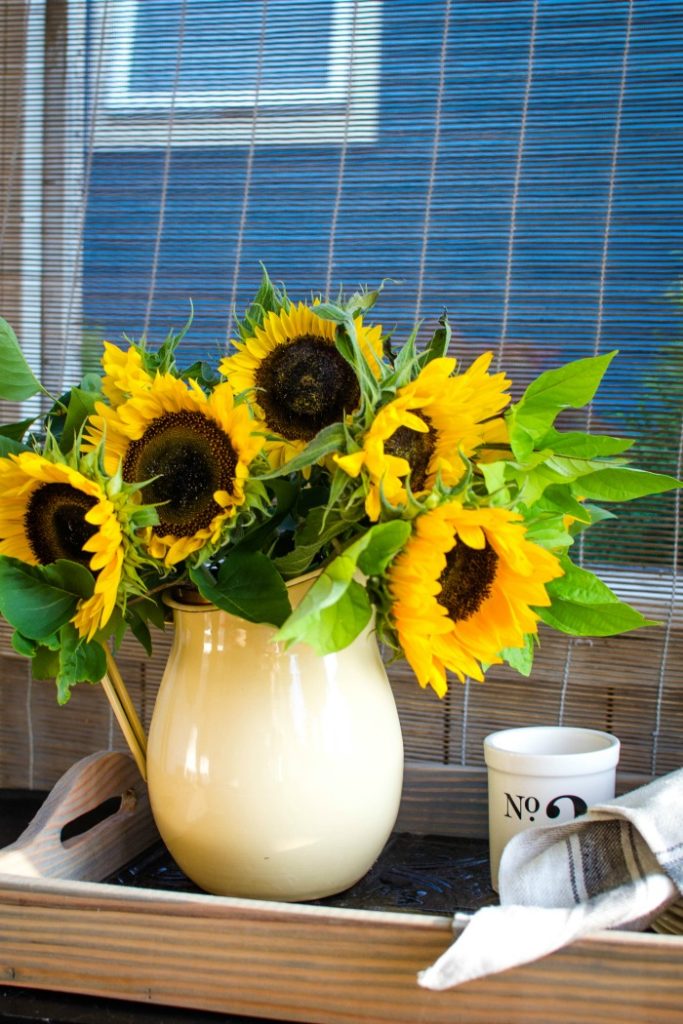 As you can see, either one makes a great base. Both add character and interest to the overall look of the arrangement.
Displayed on my DIY tin lined tray, it looks stunning in my screen porch. Now that we have had a few days without stifling humidity, I have been spending the mornings enjoying a cup of tea and writing my morning pages out there.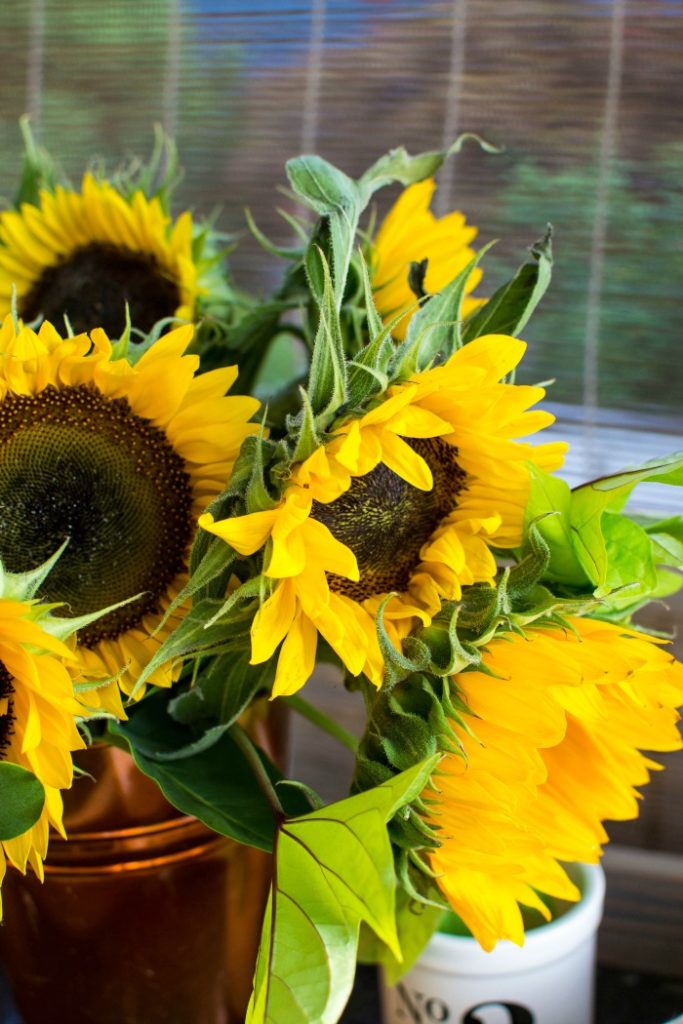 Now, it's time for you to try your own sunflower arrangements!
I would love to see how they turn out. The beauty of floral design is that it is as individual as any type of art. Whether you make one exactly like mine, or one that is wildly different, as long as it speaks to you and makes you smile, then it is perfect!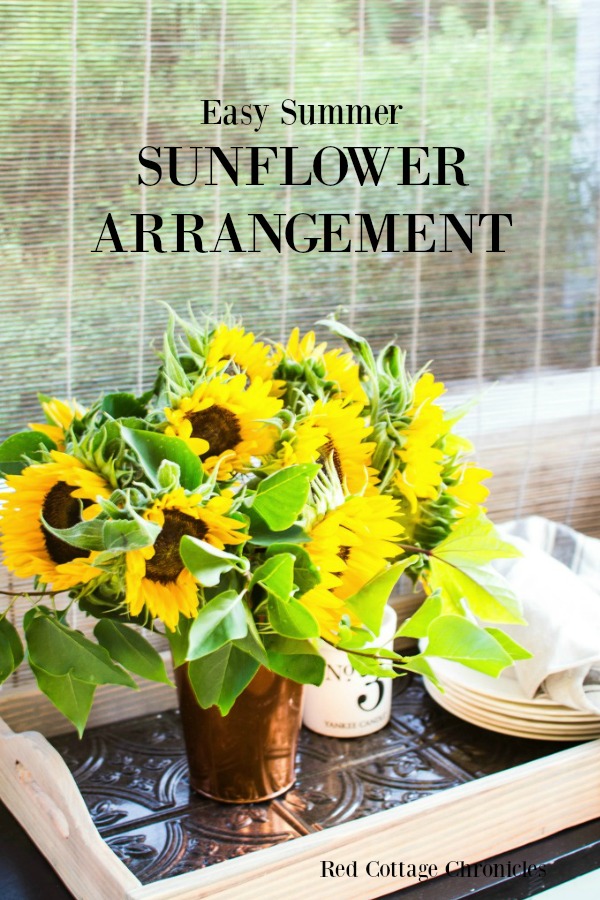 Be in the know! It may be a delicious recipe, a stunning tablescape, or decor tips to make your house a home! Simply click here to subscribe. I never sell or share your information, and you can unsubscribe at any time!
Until next time…..