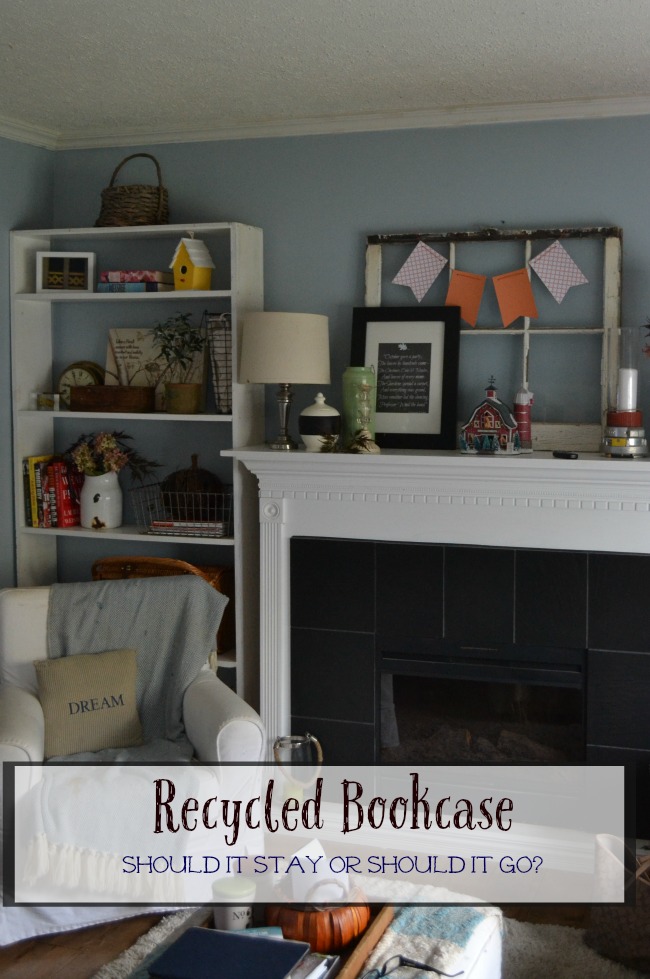 Do you ever have one of those days where you get up in the morning with your day planned.  You now exactly what you want to accomplish, and although the list is long you are not phased.  You got this.
Then you "see something shiny" and so much for your plans!
"See something shiny " – Definition:  To be easily distracted; to quickly change focus; to go off course easily
Well, that is exactly what happened to me the other day.
I had every intention of getting to work on my One Room Challenge project.  The bookcases needed to be dismantled and carried outside to be disposed of so I could paint the ceiling and paint the walls.
But the first order of business was giving the living room a good clean up!  I set to work and it wasn't long before I got to thinking how something seemed to be missing.  I couldn't shake it and did what anyone with a long list of projects to finish would do.
I sat down to take in the space and try to figure out what it was I thought was missing.
Then it hit me!  The living room was lacking a place to store some books and things.  And it happens that I had two bookcase to dispose of downstairs!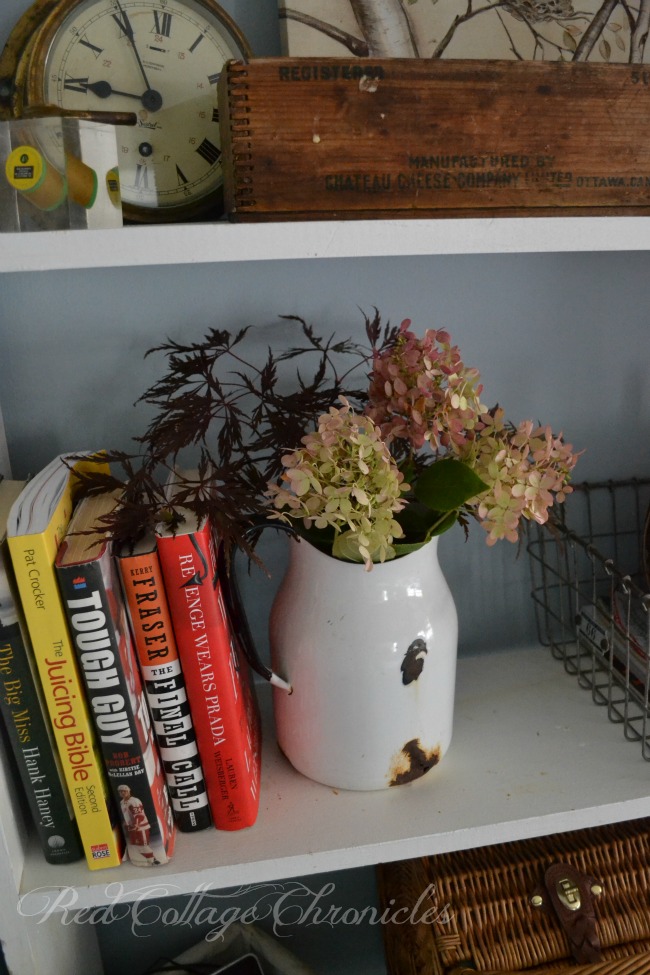 I am all for keeping things out of the landfill so I thought it was a brilliant idea.  A recycled bookcase!
And when I get a brilliant idea like this I need to get it done. Like NOW!
There was  just one little problem…..
…..I was home all by myself.  Anyone who knows me well, knows I do not do hard labor!  Removing a bookcase, carrying it up the basement stairs to the landing, around the corner and up the last few stairs, before hauling it through the kitchen and into the living room was not on my radar.
But, I really wanted to see how it would look in the living room so I decided to give it a try.  Worst case scenario, I leave it on the stairs for Tim to help me with when he got home.
Well, imagine my surprise when I did it!  All by myself.  I was so proud I even posted a picture when it was finally in the living room on Instagram and Facebook!
This is so out of character for me, that this is Tim's response when he saw it….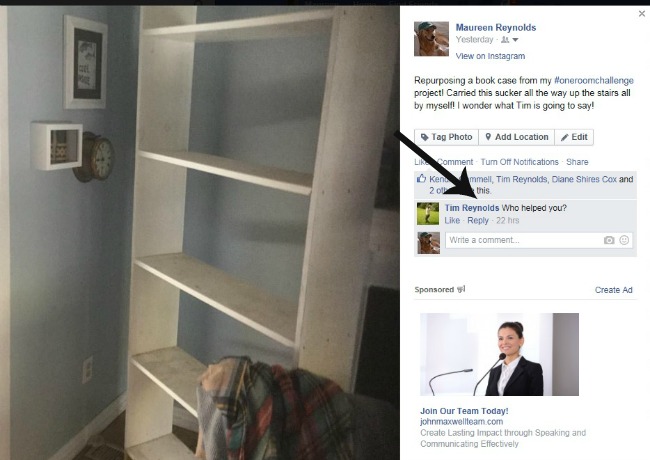 Oh, ye of little faith!
I had to remove some things from the wall and do a bit of finagelling, but it fit like a glove!
I spent the rest of the day styling the bookcase with things that were otherwise tucked away or in other places in the home.
I added things.  I took things away.  I moved things.  I sat down and looked at it.  I moved things again.  Added a thing or two.  Sat down and stared at it a bit longer.  Umm, not sure.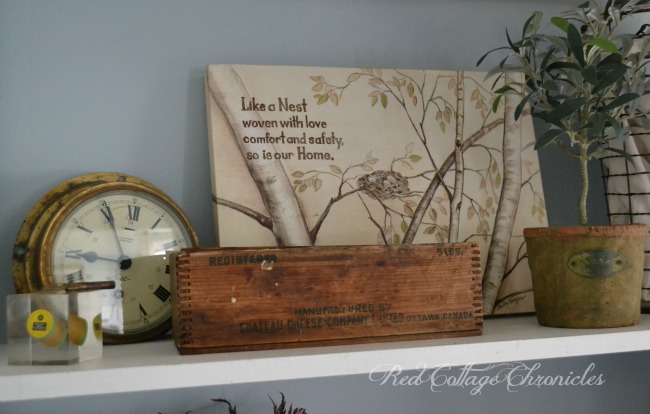 My mom came up for a visit.  She loves it.  Sam came home from work.  She loves it.  Tim didn't even notice it.  I had to point it out!  (He really didn't believe that I had moved it!).  Marlie loves it.
It's growing on me, but I need to live with it a few more days before I decide whether it stays or whether it goes.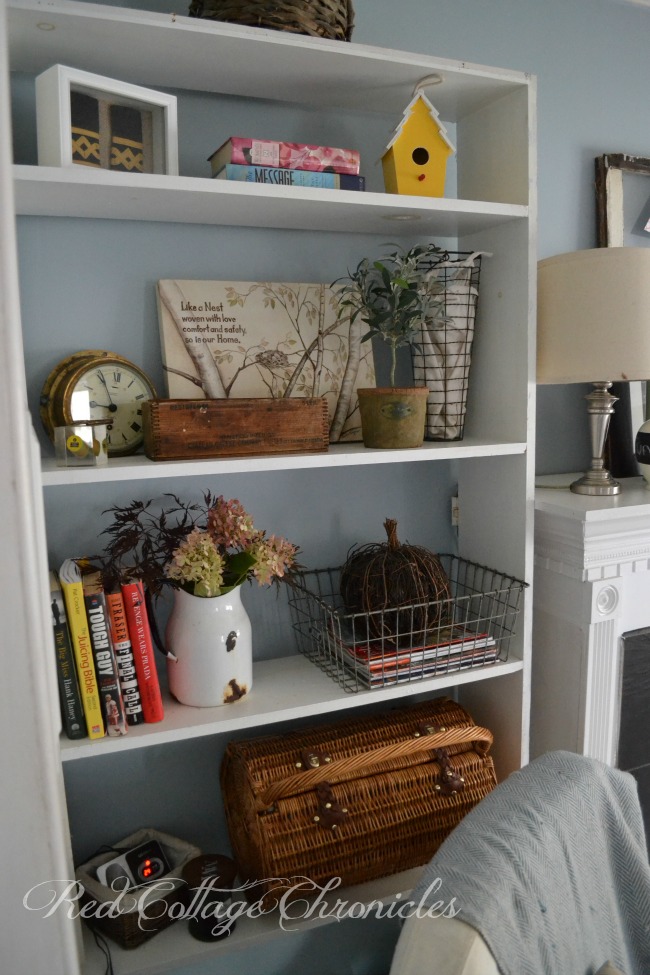 If we I decide to keep it, I will pull it back out, fill some screw holes and give it a fresh coat of paint.  I may add some beadboard paneling to the back as well, to give it some definition from the wall behind it.
I do have a ton more books that could fill the empty shelf on the very bottom.  And, it does make a perfect place to display my new wicker picnic basket.  I would hate to store that away out of site.
And, a recycled bookcase is better than taking it the landfill.
Should it stay or should it go?  What do you think?
Until next time…
Maureen