Pastry 101 – Sweet Pastry
Have you ever embarked on something that you spent many hours envisioning in your head.  And then when you finally get start on the journey it was nothing like you had imagined.
It was way better!
That is exactly what happened when I signed up to take the first class towards my Baker's Certificate program at our local College's culinary institute!  Pastry 101! I had been dreaming of creating those cute little pastry swans you see at fancy bakeries, or elaborate cakes with many layers and amazing fillings!
I don't know what made me think this is what we would be learning, it is just what I had built up in my mind!  You would have thought the 101 in the class title would have been a dead giveaway!  So imagine my surprise when we started with the basics!
Now, I am a bit of an impatient person and have been known to jump ahead on certain tasks, but baking is one of those tasks that make you slow done and take notice of what you are doing!  The perfect pastry, after all, is the basis of many outstanding desserts! While I am no expert, and still going through the process of learning, I thought I would share a some of the basics I learned so far.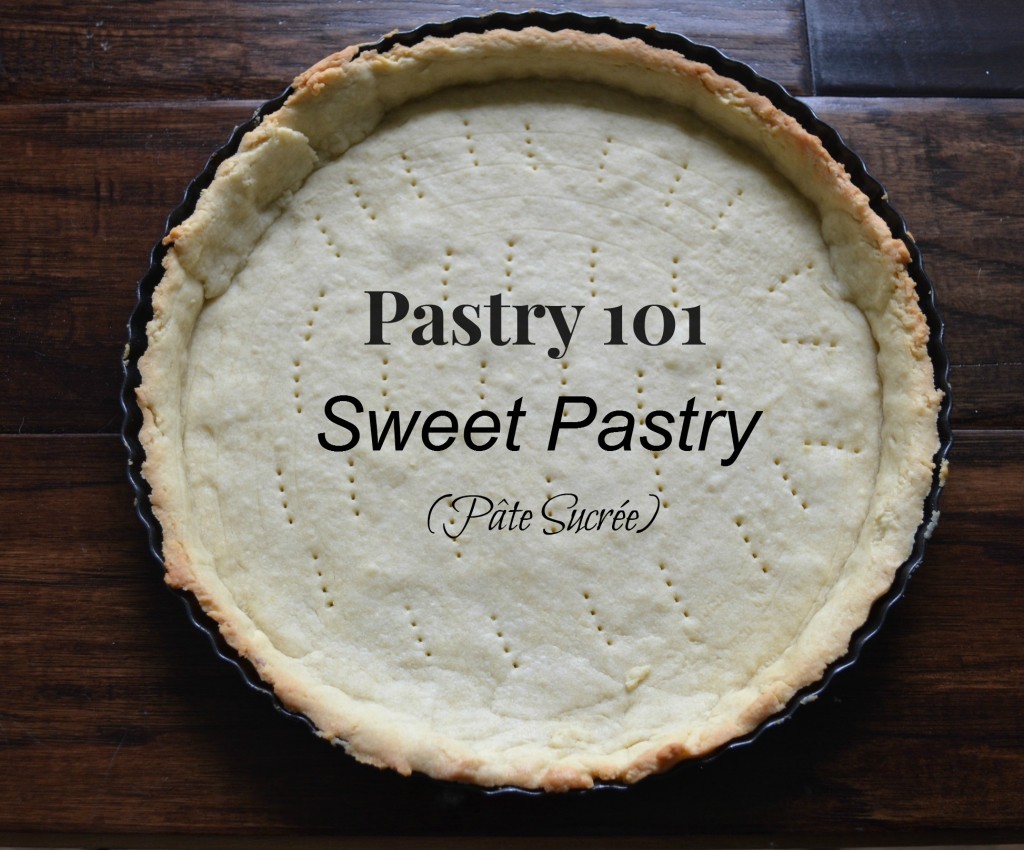 Welcome to Pastry 101 – Sweet Pastry
Or as the French call it Pâte Sucrée!
Let me begin with just a couple of common sense tips before you begin any recipe……..
One of the best things I learned in class was before you even pull out a mixing bowl, READ YOUR RECIPE!  And then read it again.  It seemed a bit redundant at first, but for an impatient person like me, it really helped me slow down and enjoy the process.  It is your guide to the best possible finished product. I would recommend you print out the recipe below and look it over a couple of times before you begin following the step by step photos below.
After you are familiar with your recipe, gather all your ingredients before you begin. There is nothing worse than getting part way through a recipe and find you are missing an ingredient.  Some recipes cannot just be put on hold while you run out to get what you need.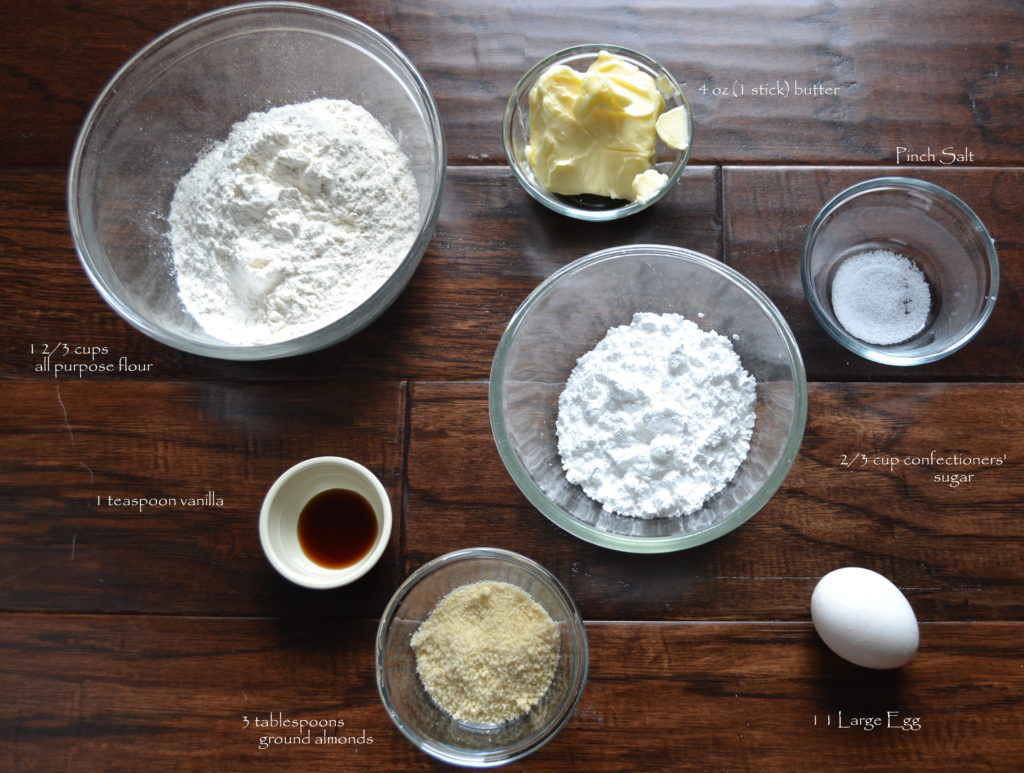 Let's get started…
STEP ONE
Into a mixing bowl add the softened butter and sift in the confectioner's sugar.  Add the vanilla, ground almonds and salt and beat with a wooden spoon until well blended.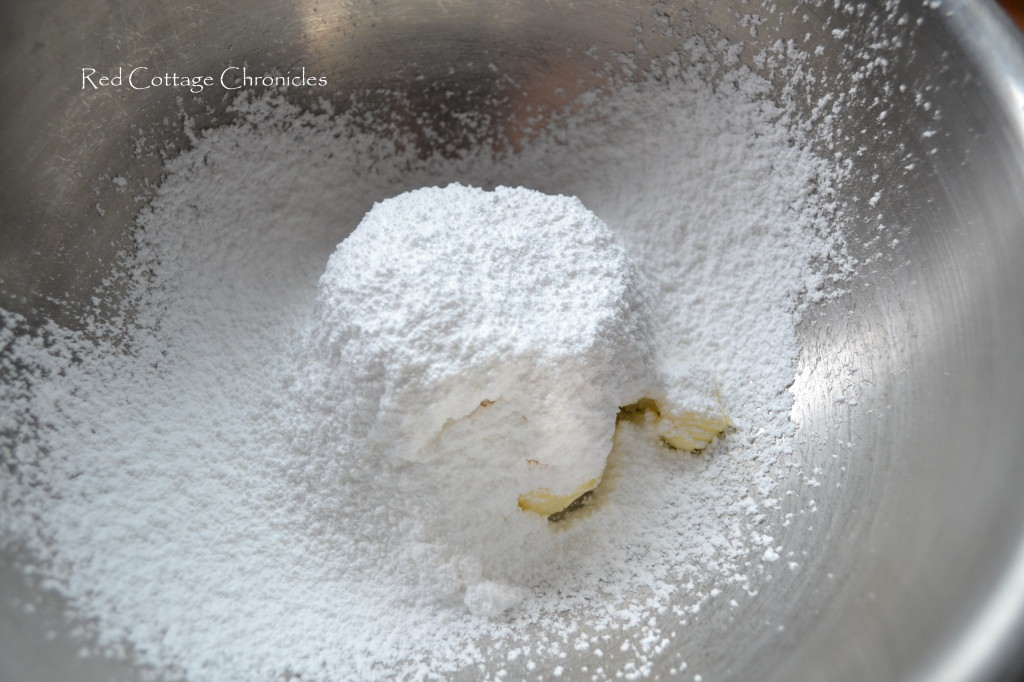 It should look like this at this point.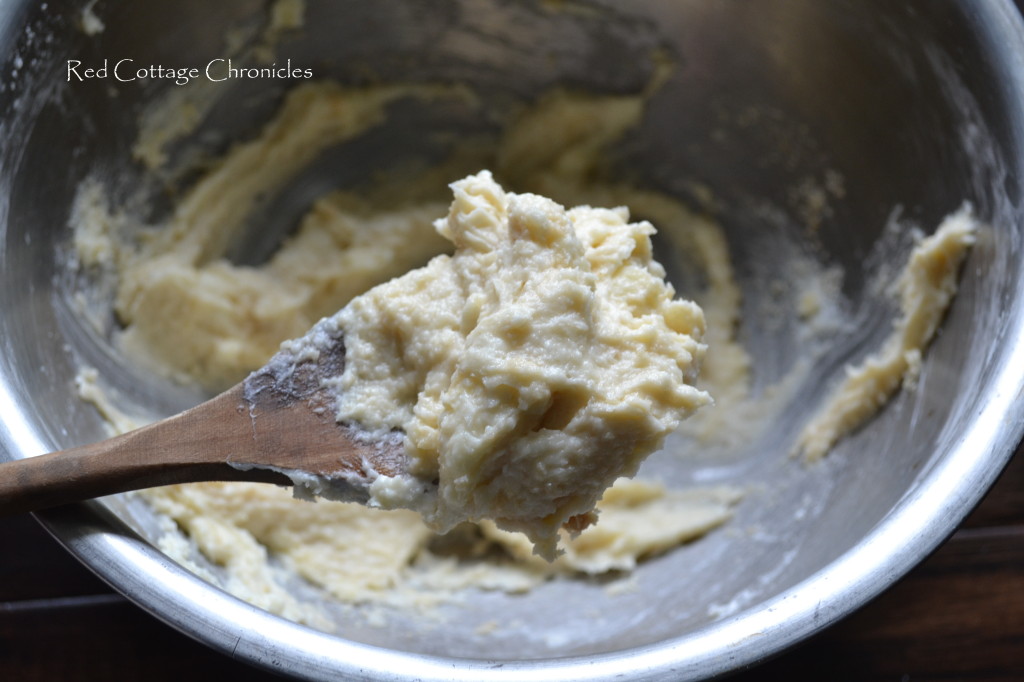 STEP TWO
Add the egg, and beat with wooden spoon until incorporated.  It will be a very wet dough, and almost look like it doesn't want to come together, but it will!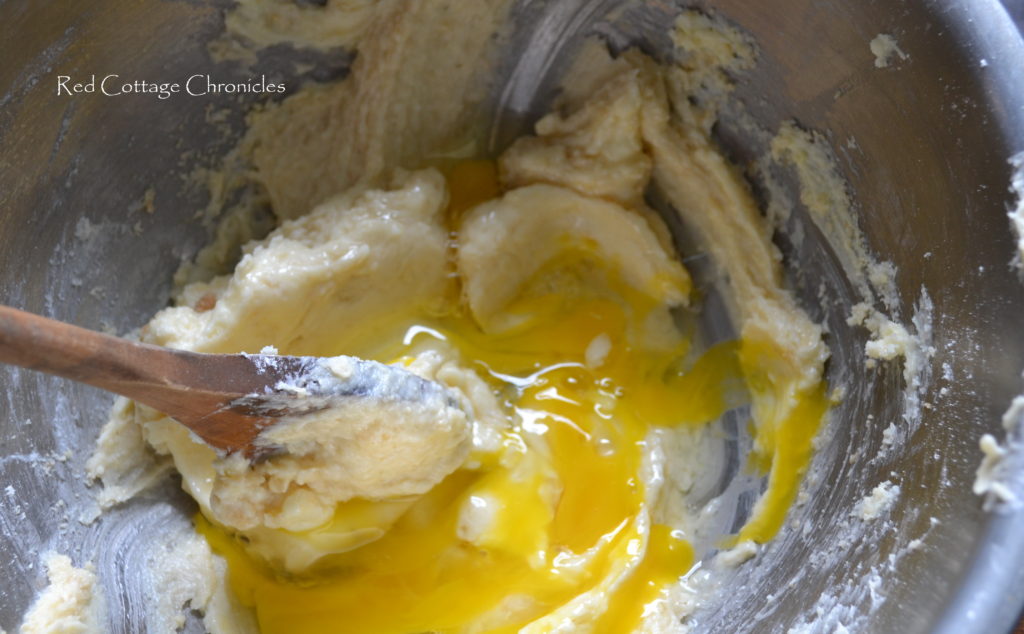 STEP THREE
Sift the flour into the mixture and beat just until the flour is absorbed and dough comes together.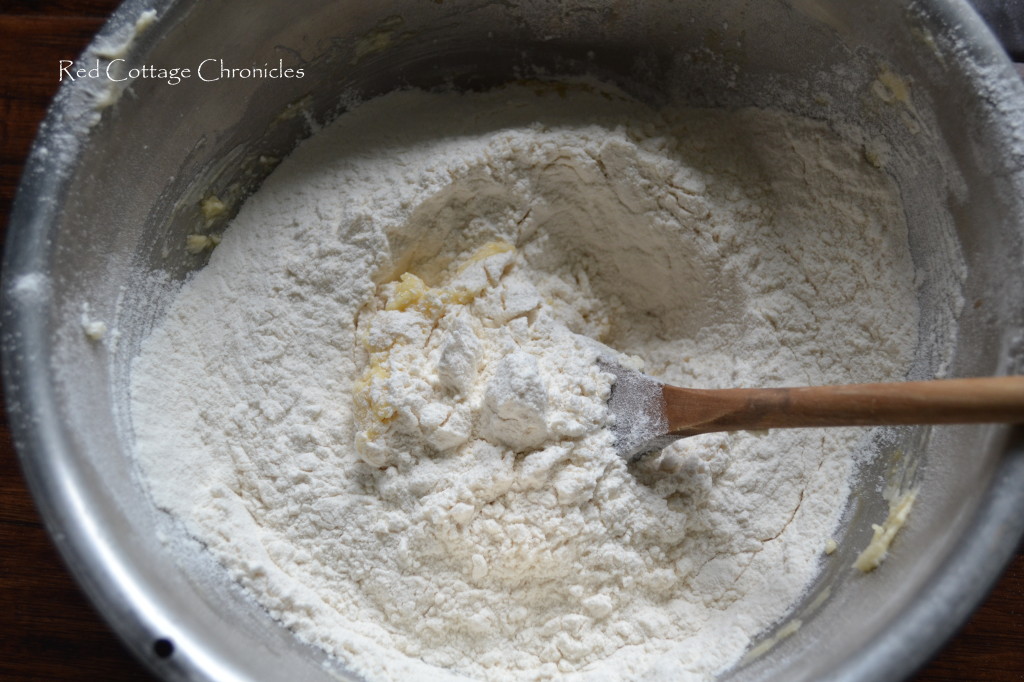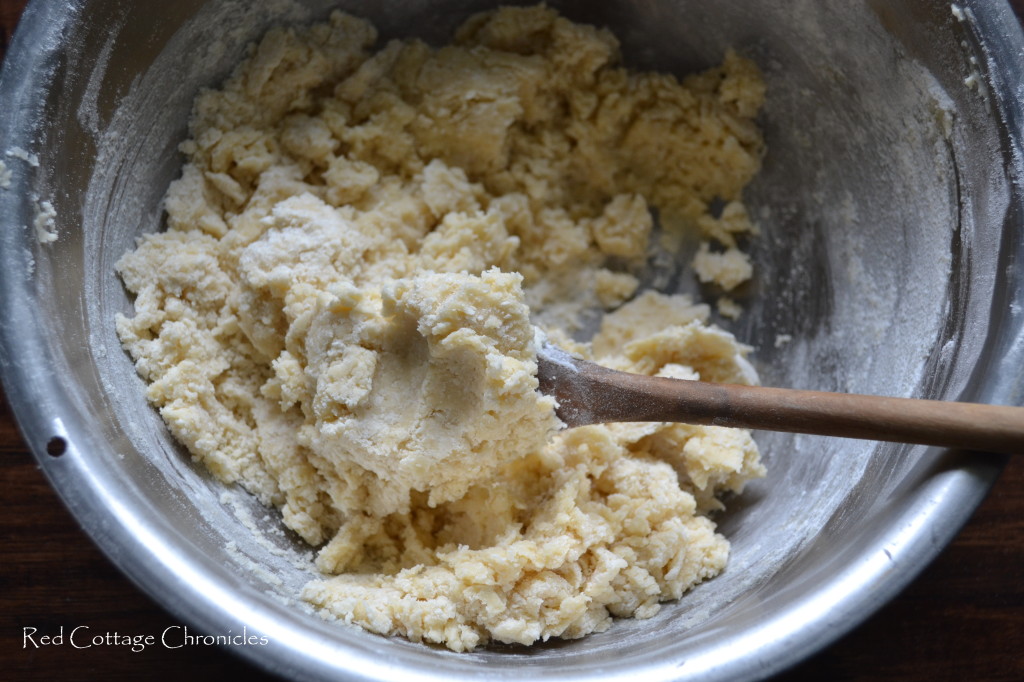 STEP FOUR
Lay out a sheet of plastic wrap on your work surface and turn the pastry dough out onto the plastic, flattening it into a disk.  Wrap well with plastic and chill dough for at least 2 hours.  Or it may be frozen at this stage for later use.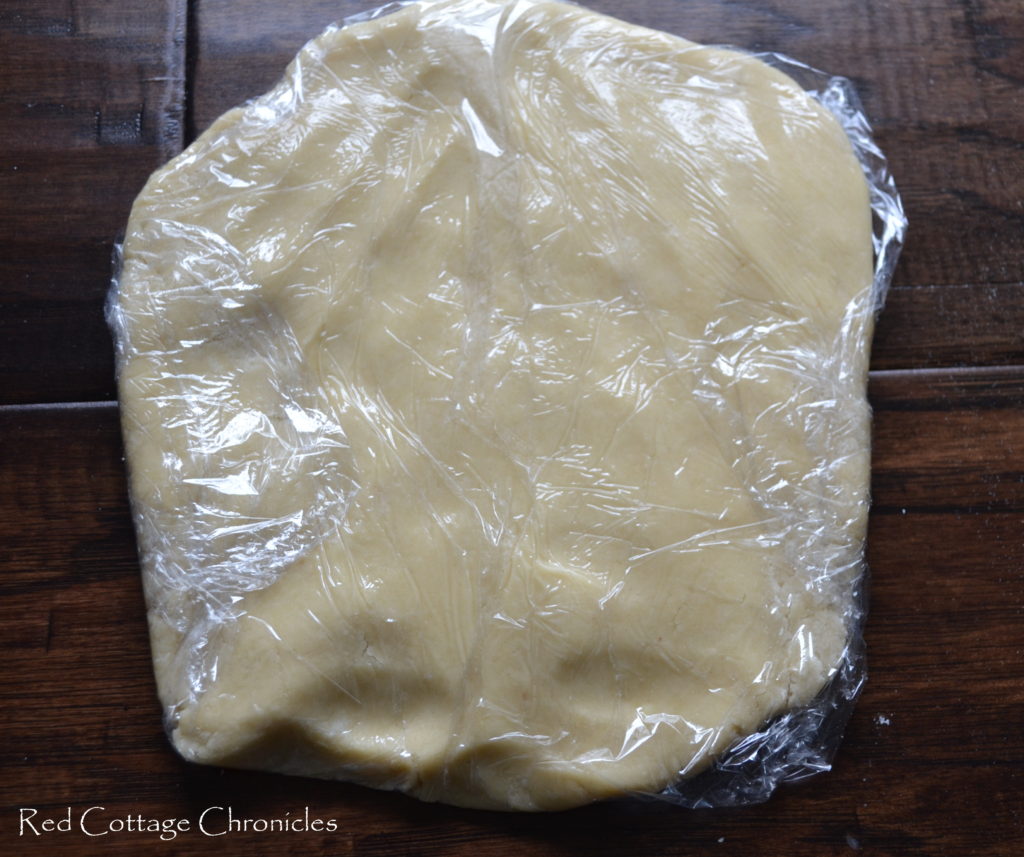 STEP FIVE
After adequate chilling time, allow pastry dough to rest at room temperature for approximately 30 minutes before rolling out to a thickness of approximately 1/8th of an inch on a lightly floured surface.
In the beginning I did measure, but now after a couple of times I no longer need to measure, but this will give you a visual of how thick it should be.  I always over estimated!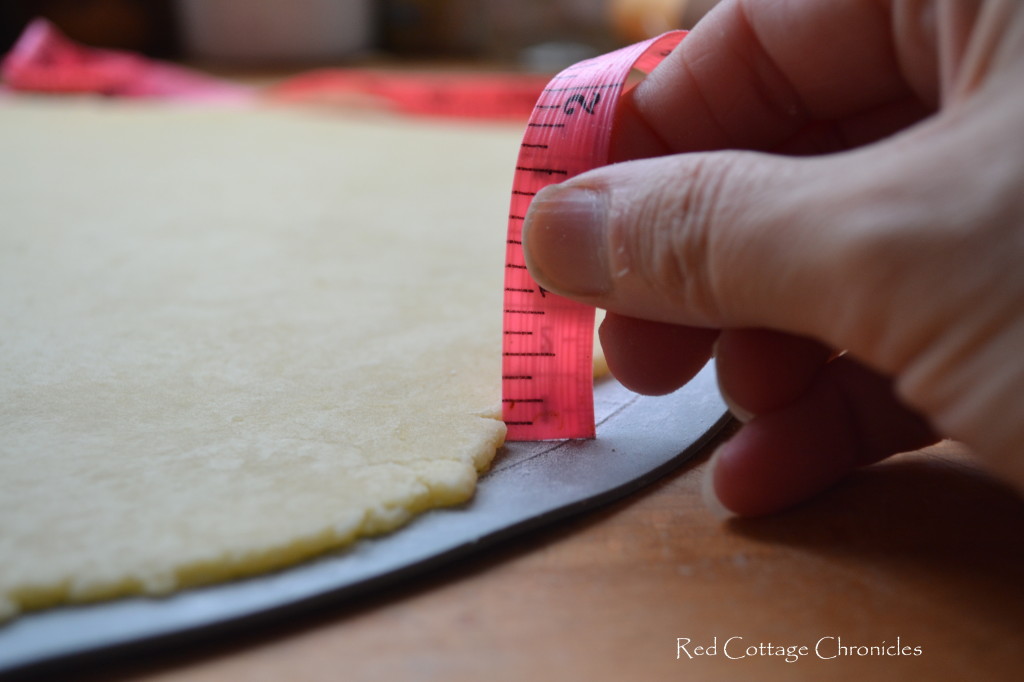 STEP SIX
Transfer the dough to a tart pan with removal bottom, or a tart ring placed on a baking sheet lined with parchment.  Trim edges to flush with the tip of the tart pan.  Prick the bottom of the pastry all over with a fork, otherwise known as docking the pastry.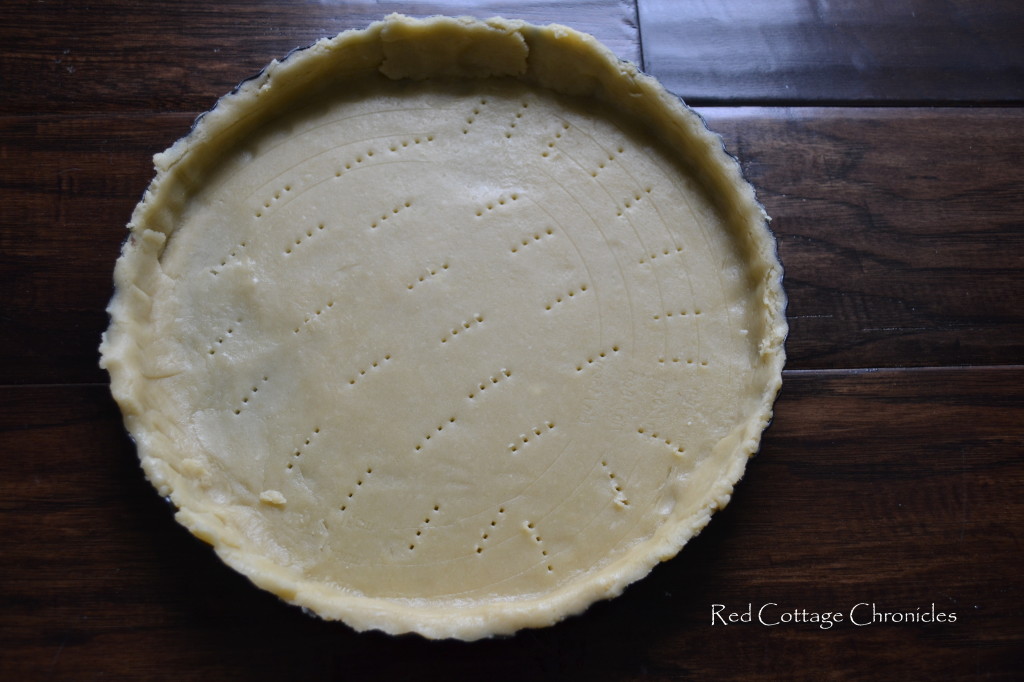 STEP SEVEN
Bake at 350 degrees for 15 to 20 minutes.  In my oven 18 minutes gives it a nice golden edge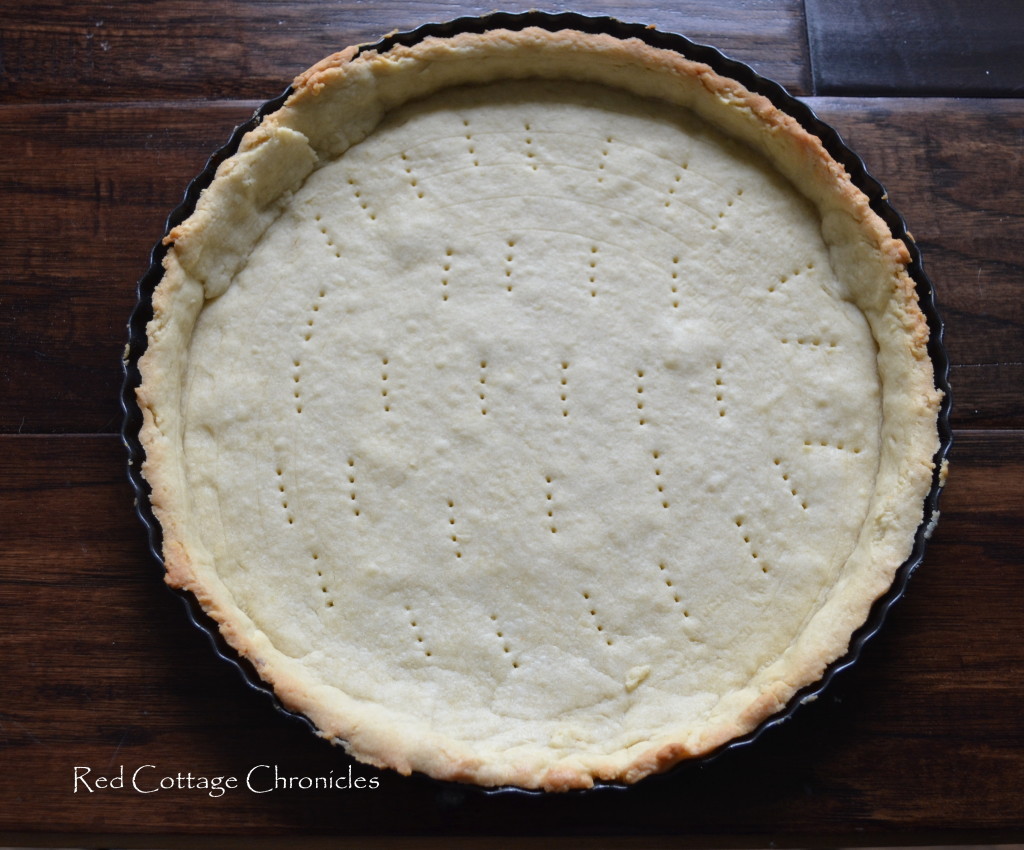 It is now ready to fill however you would like with a variety of fillings such as chocolate, lemon, a light whipped mousse…the possibilities are endless!
Come back on Wednesday to see how I filled my sweet pastry!
ENJOY!
Pastry 101 – Sweet Pastry
Ingredients
1 stick (4 ounces) butter, softened
2/3 cup confectioners' sugar
1 teaspoon pure vanilla extract
3 tablespoons almond flour (ground almonds)
1 large egg
1 2/3 cup all purpose flour
Instructions
Using a medium sized bowl add butter and sift in confectioners sugar
Add the vanilla extract, ground almonds, and salt. Beat with a wooden spoon until fully incorporated and smooth
Add the egg and beat until blended
Sift the flour into the mixture and mix with wooden spoon until the dough comes together
Turn dough onto plastic wrap and pat into a disk, wrap tightly with plastic wrap and chill for at least two hours
After chilling, preheat oven to 350 degrees
Roll dough out to approximately 1/8 inch thickness and transfer to a tart pan with a removal bottom or a pastry ring placed on a baking sheet lined with parchment paper
Dock the dough with a fork and bake for 15 to 20 minutes
https://www.redcottagechronicles.com/baking/pastry-101-sweet-pastry/