Butter Tarts – A Canadian Tradition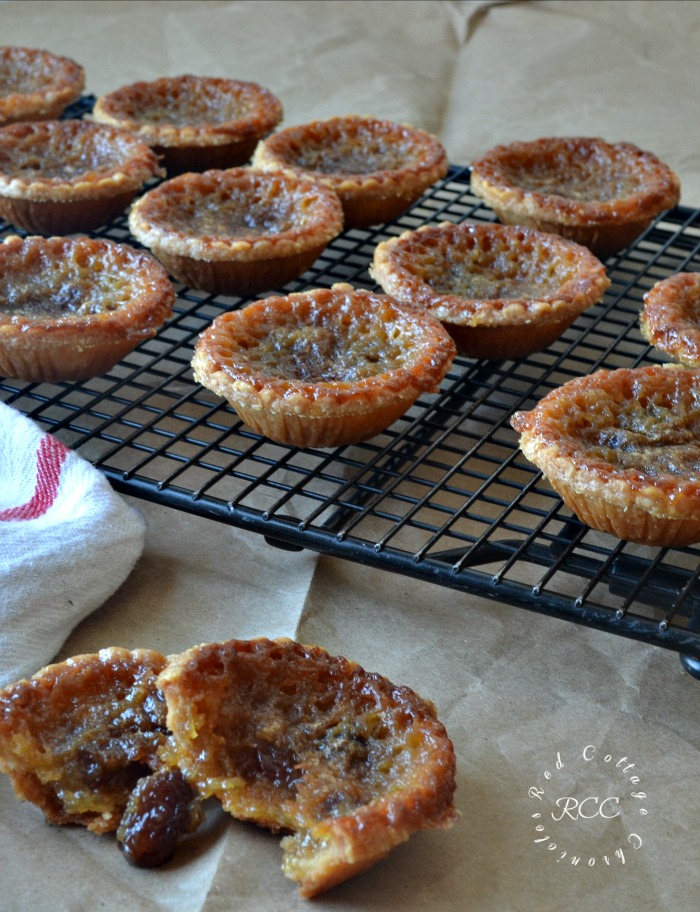 There are three things that Canada is known for when it comes to food. Poutine, Nanimo Bars and the Butter Tart!
You may have heard these sweet, buttery tarts are a bit more popular in Eastern Canada with butter tart festivals throughout "Cottage Country" in Ontario, trust me, they are known all over the country. One of the biggest festivals is in Midland, with more than 50,000 butter tarts being sold every year!
Fresh out of the oven, the filling is bubbly and a bit on the runny side. Once cooled, it sets up to create a deliciously, sweet, gooey filling.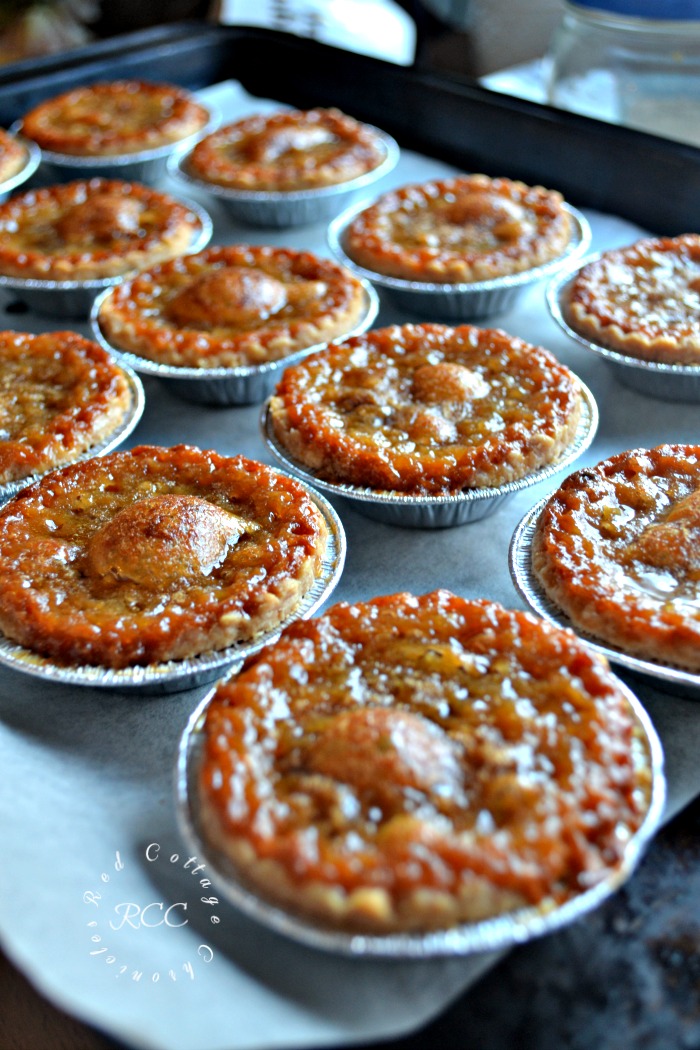 A traditional Canadian butter tart is made with butter, eggs, brown sugar and syrup. Pecans or raisins are often added to the tart shell before pouring in the filling.
While the filling has even been adapted by some to include pumpkin, chocolate, apple or even Nutella, that would make it no longer a butter tart in my opinion!
I prefer to keep it old school and stick with a traditional butter tart recipe. Although, these maple butter tarts are pretty darn good too. We prefer a "firmer" filling, while some like their filling a bit runnier.
Raisins are the most popular add in, but my husband loves pecans added to his tarts. Most weekends that he is scheduled to work, he likes to bring in some baking for his yard crew and these butter tarts are the most requested treat. I am okay with that because I can whip up a batch in no time. Especially using pre-made pastry tarts!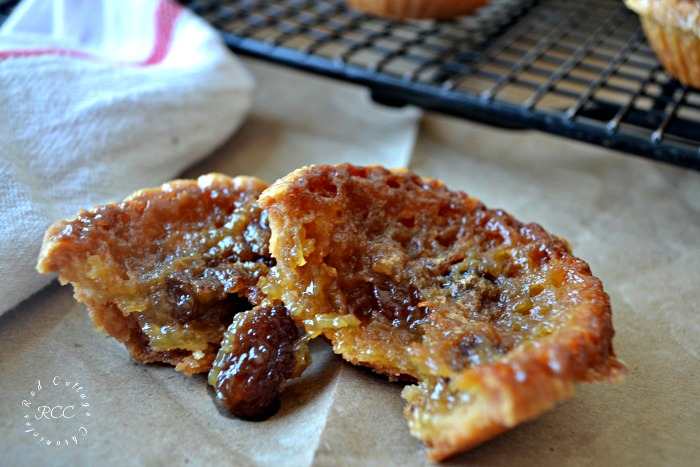 These delicious tarts will satisfy even the sweetest of sweet tooths!
Try them warm straight from the oven with a scoop of vanilla ice cream. Bliss!
Until next time….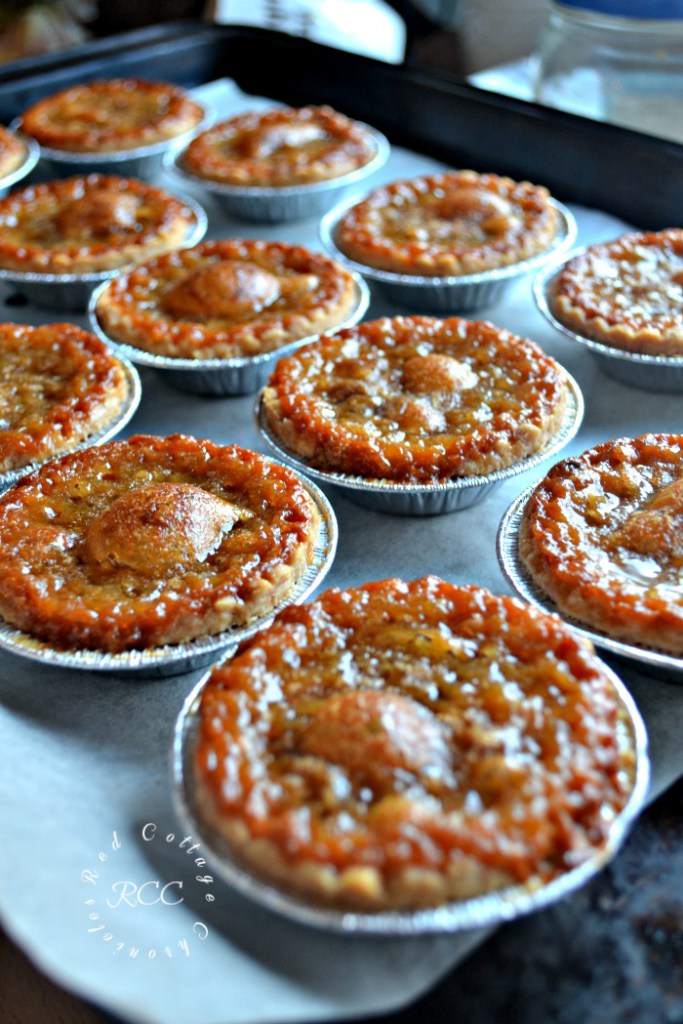 Butter Tarts
2016-04-23 16:56:16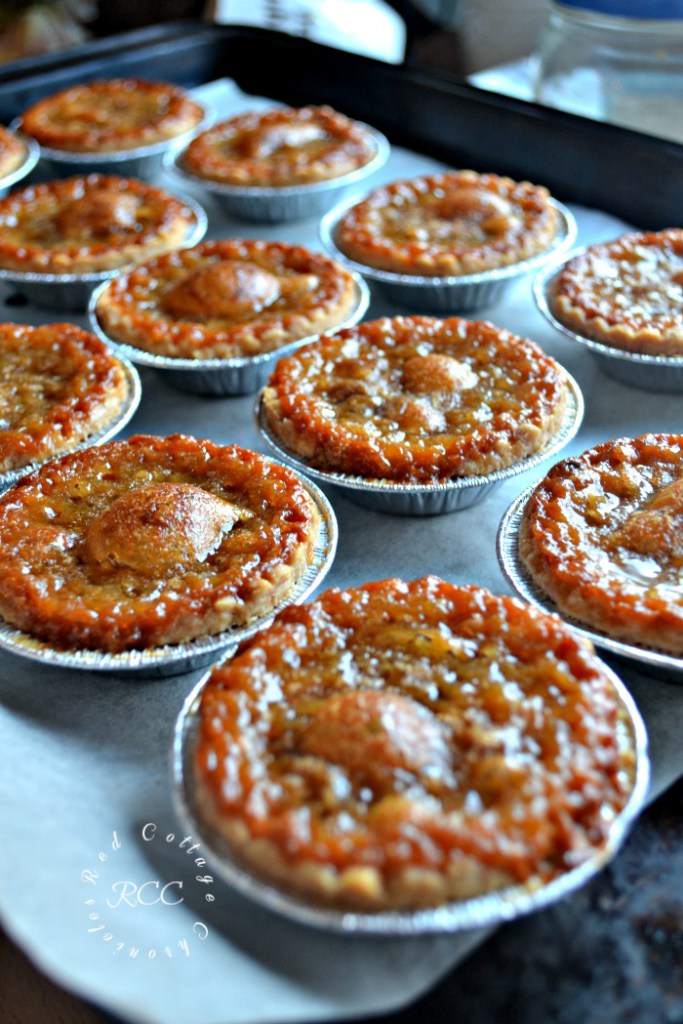 Serves 18
A rich, sweet, buttery tart that is so well loved in Canada, festivals are held in their owner!
Ingredients
18 3" frozen tart shells (thawed)
3/4 cup brown sugar, packed
3/4 cup golden corn syrup
1/2 cup butter, melted
2 large eggs
1 teaspoon regular vinegar
1 teaspoon pure vanilla extract
3/4 cup pecan halves
Instructions
Preheat oven to 400 degrees.
Arrange tart shells on a cookie tray lined with parchment and place a few pecan halves in each.
In a large bowl mix brown sugar, syrup and melted butter with a whisk until well blended.
Add eggs, vinegar and vanilla and whisk until smooth; pour mixture into a large measuring cup with a pour spout.
Pour filling over pecans, filling each tart shell to the top.
Bake for 5 minutes and reduce heat to 375 degrees for 20-22 minutes.
Remove from oven and cool on wire rack.
Notes
You can substitute raisins for the pecans if you wish.
Store in an airtight container for 2 to 3 days or freeze for up to a month.
Red Cottage Chronicles https://www.redcottagechronicles.com/