This past weekend we had two celebrations that called for cake!  First was my birthday and then the very next day Thanksgiving.
My favorite cake is called the Caramel Crunch Cake.  Although it is over-the-top delicious, it is expensive.  When you can find it!
While I have been known to splurge on dessert before, $17.99 for a little cake that might serve 4 (if I am not eating it!), when I needed it to feed 8 just wasn't going to cut it.
After a bit of research I found this recipe and modified it just a bit to suit my taste!  The result was nothing less than amazing.  Lots of compliments from the crowd.
A few tips:
use fresh, room temperature egg whites. I first tried pasturized egg whites from a carton and they just did not whip up into meringue despite a super clean bowl
I used 5 egg whites as the original recommended, but I would increase that to 8 next time to get a higher meringue if I am going to make the same size cake I did this time (9 inch)
I also used the 1/4 cup hazelnuts, ground as per recommendation, but would increase that to 1/3 to 1/2 cup hazelnuts, ground when making a cake this size.
I used a jar of Dulce De Leche instead of caramelizing the sweetened condensed milk.  Saved time, and was about the same cost.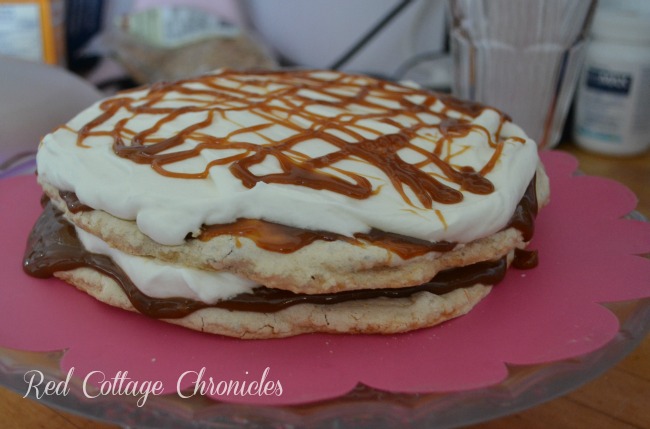 I have the recipe posted below, but first on to another cake!
Up next was Thanksgiving dinner on Monday.  We all gathered at my sisters home and I offered to bring dessert as well.  I wanted to make something easy and since it was going to be another big crowd I made my No-Bake Pumpkin Cheesecake in a Jar.
I knew there might not be enough cheesecakes for everyone, and since carrot cake is a family favorite I made this rustic, simple carrot cake. No recipe required!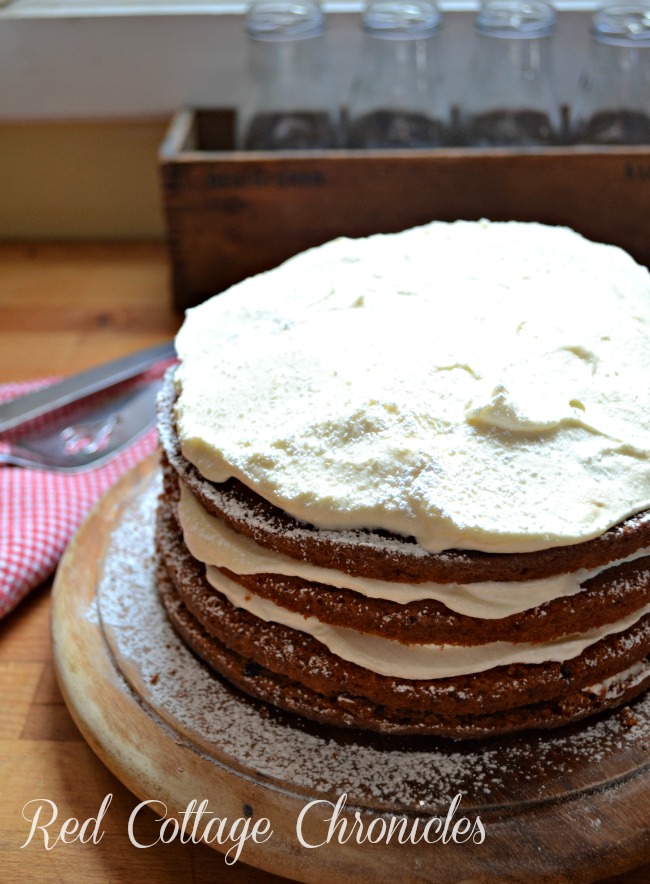 Since it was a busy weekend, I opted to use a boxed carrot cake mix "deluxe" version from Duncan Hines.  Prepare as per package directions and divide batter between two 8 inch pans, bake as directed and allow to cool.
I then sliced each layer in half to create 4 layers out of the 2.  I whipped up a simple cream cheese frosting using 1 8 ounce pkg cream cheese, 1/2 cup softened butter, 1 3/4 cups confectioners sugar and a teaspoon of vanilla.
Simply add cream cheese and butter to mixing bowl and beat until blended.  Sift in confectioners sugar and vanilla and beat on high speed for 3-4 minutes.
Place one cake layer on serving plate, spread a layer of frosting, top with next layer and repeat until all layers and frosting is used up!
Dust with confectioners sugar.  If you wish, you can decorate top with some fresh flowers to make it extra special!
So, there you have it.  My weekend in cakes!
Well, I am off for a long walk after a weekend of celebrations!
But, if you are looking for more cake inspiration, be sure to check out this Triple Lemon Buttercream Cake or Vanilla Lavender Cake!
Until next time….
Maureen
Caramel Crunch Cake
Prep time:
Cook time:
Total time:
Similar to the one found in grocery store bakeries by LaRocca bakery.
Ingredients
Meringue Shells
5 egg whites, at room temperature
3/4 cup granulated sugar
1/4 cup shelled hazelnuts
2 tablespoons corn starch
Caramel
1 jar of Dulce De Leche
Whipped Cream
2 cups heavy cream
5 Tablespoons granulated sugar
Instructions
Meringue
Preheat oven to 250 degrees.
Line a 1/2 sheet baking pan with parchment and draw 2-8 inch circles side by side, turn parchment over.
Grind hazelnuts with the cornstarch in a blender or food processor, set aside.
In a very clean metal or glass mixing bowl whip egg whites to soft peaks. Slowly add sugar and continue beating on high speed until glossy and stiff peaks form.
Using a spatula, gently fold in ground nut mixture until blended.
Spoon meringue onto circles dividing equally between the two. Spread into circles using an offset spatula following the guide you have drawn.
Bake for 1 1/2 hours, until meringues are crispy throughout.
Remove from oven and let cool.
Whipped Cream
Place 2 cups heavy (whipping) cream in a cold bowl. Beat on high with whisk attachment for about 30 seconds. Add sugar and continue whipping at high speed until firm peaks form.
Assembly
Reserve 3 tablespoons Dulce De Leche in a microwavable bowl.
Place one layer of meringue on serving plate and spread with a generous layer of Dulce De Leche, followed by a generous layer of whipped cream.
Repeat with the second meringue layer, another generous layer of Dulce De Leche and whipped cream.
Heat reserved Dulce De Leche in microwave for 30-40 seconds. Drizzle across the top of cake as desired.
Serve immediately or refrigerate until ready to serve.