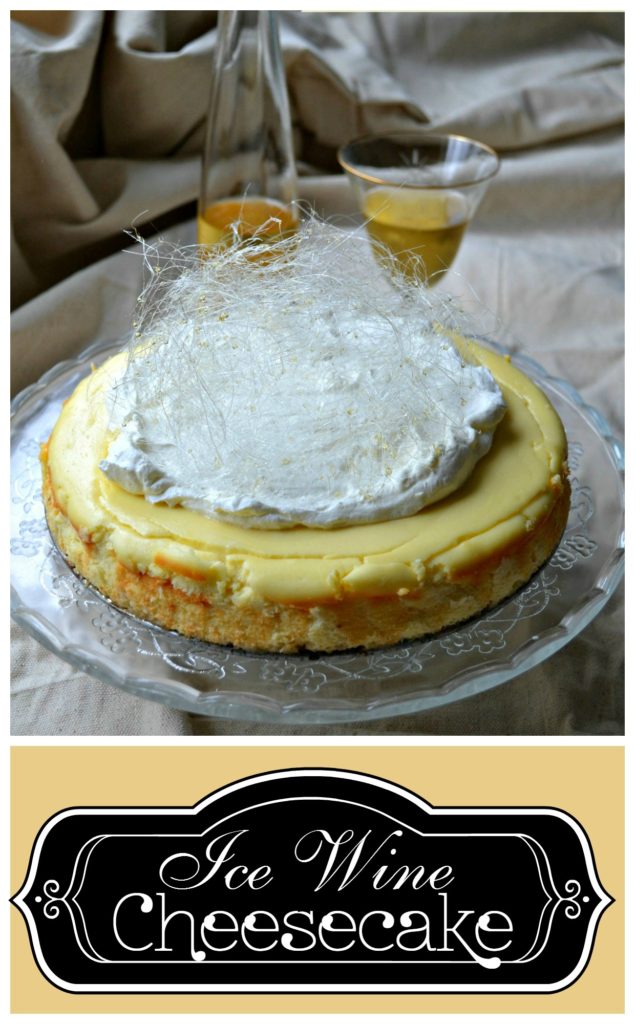 Whether you are celebrating New Years Eve, a special birthday or anniversary, or even if you just can't get enough of this liquid gold known as Ice Wine, this cheesecake topped with golden spun sugar is a show stopping dessert.
The Ice Wine Festival is underway in Niagara, and what a celebration it is.
The festivities began in Jordan Village this weekend and move to Niagara On The Lake next weekend! You can read about last years festivities in Niagara On The Lake here.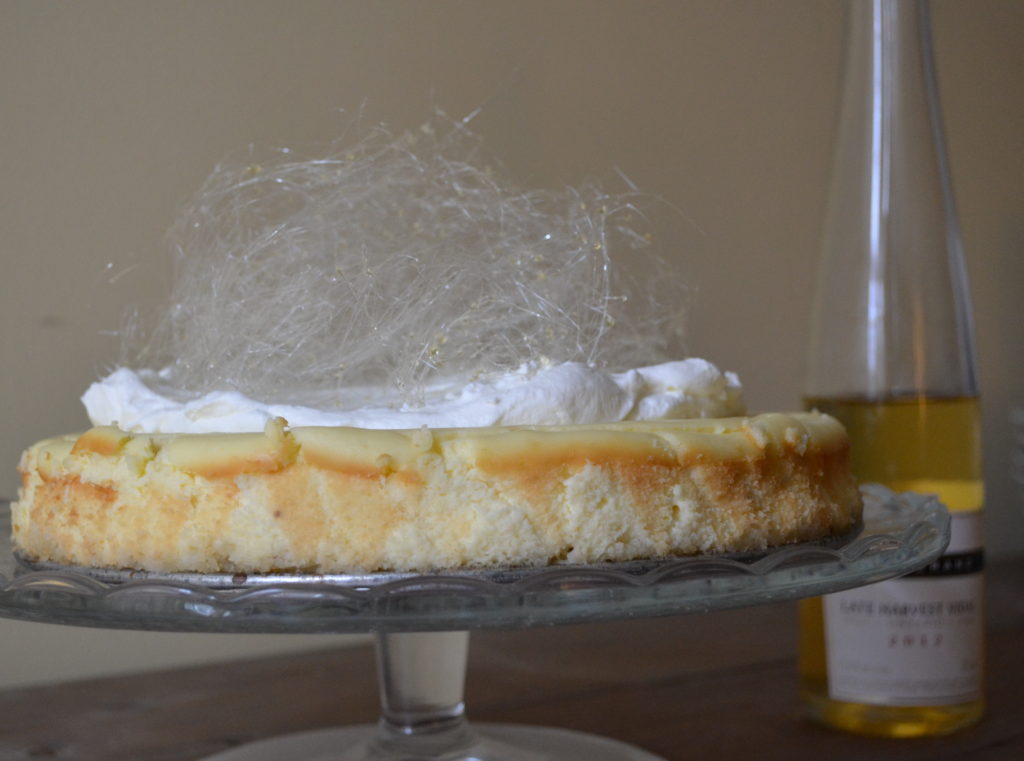 I don't think it will be as warm this year, as they are calling for temperatures below zero! The atmosphere is certainly warm and inviting, with the highlight of the night being a Ice Wine Cocktail competition between all the NOTL wineries!
Now, about this delicious cake…..
….this was my first time making spun sugar, but found it super easy, if not a bit messy! I did not let it get too golden, as I wanted it to appear more like spun glass! I think it turned out very well for my first attempt. And, no burns!!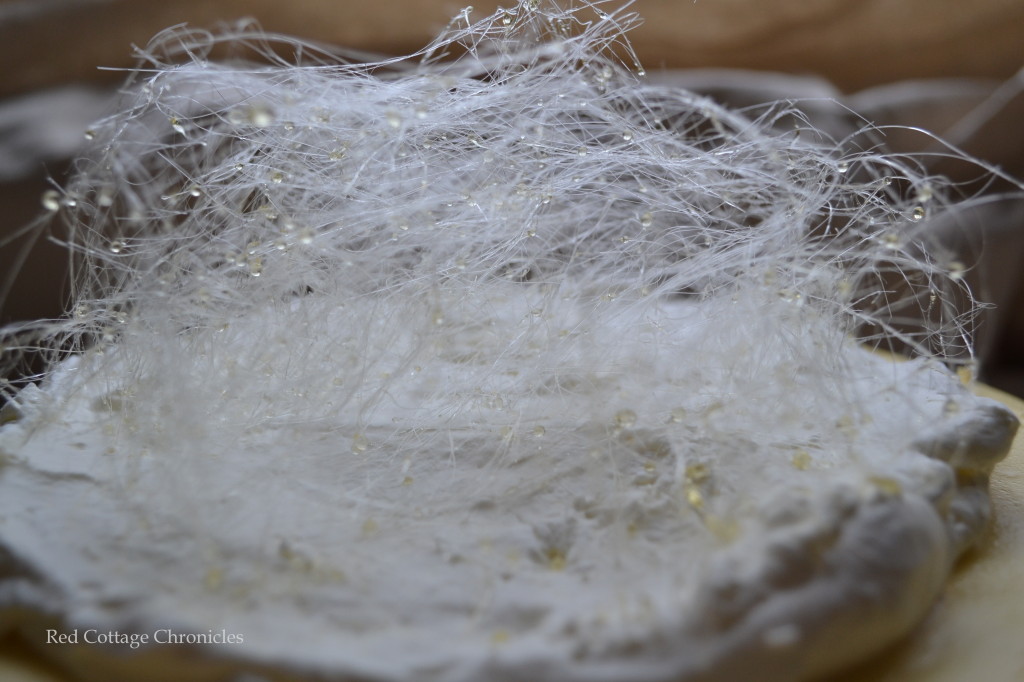 To keep the overall color of the cake light, I made a crust made of ground almonds. I think the nutty flavor of the crust compliments the subtle sweet flavor of the icewine cream cheese filling. The barely sweetened whipped cream adds a nice balance.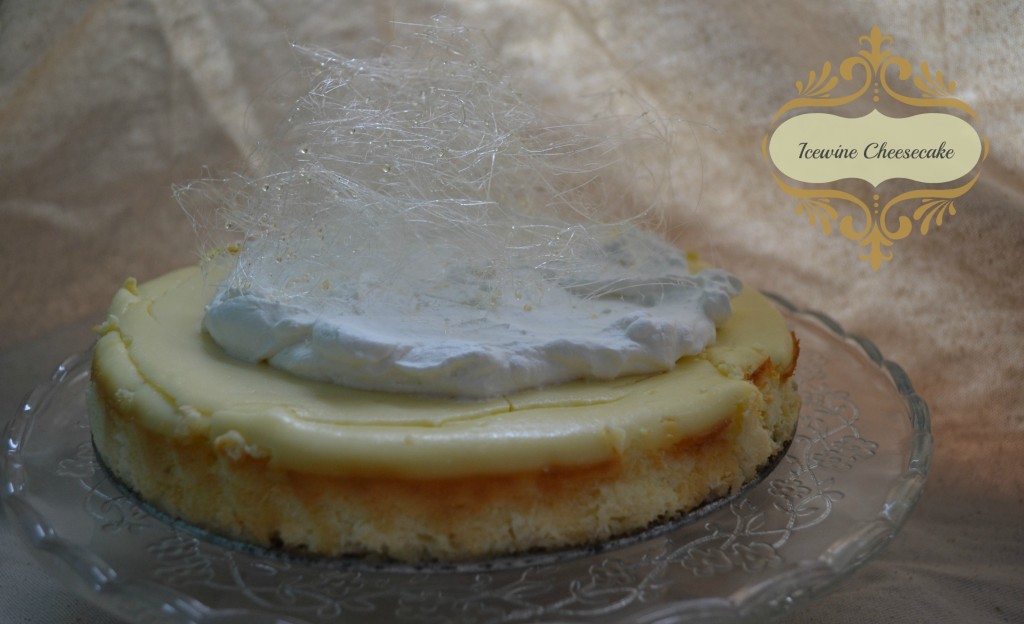 This makes such a pretty cake, but a word of warning. The spun sugar starts to dissolve after a short time. Wait to prepare it no more than about 30 to 45 minutes prior to serving for best results.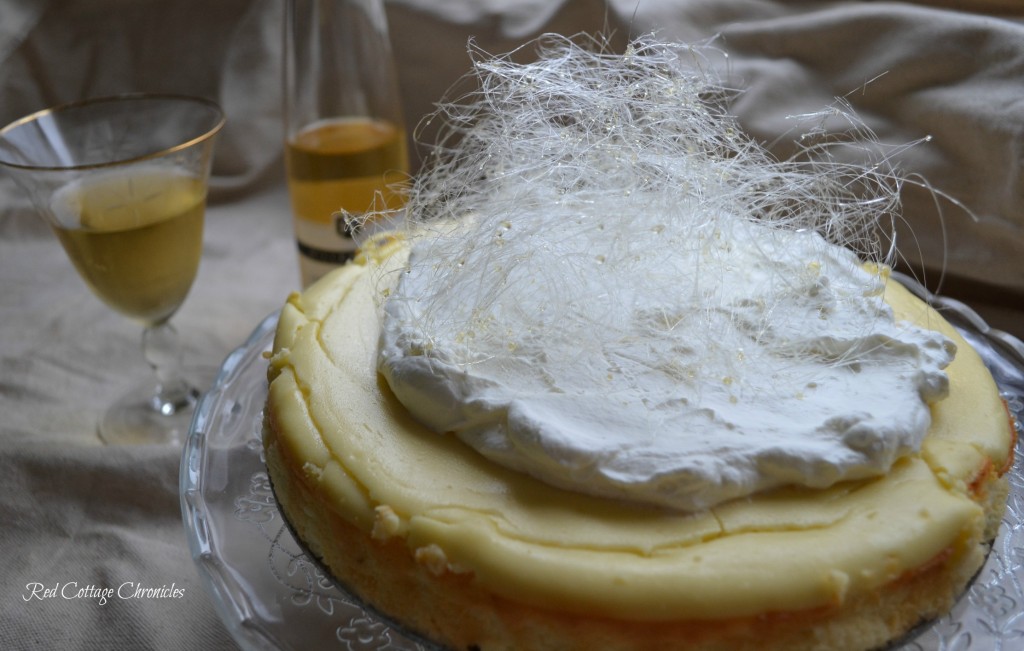 If you can't get to the Icewine Festival this year, I suggest you try your hand at this cheesecake recipe and get in on this "liquid gold" that is sought after the world over!
You can also make this cheesecake with a late harvest vidal, as I did. Hillebrand Late Harvest Vidal 2012 is an excellent choice. The late harvest wines are much more budget friendly than ice wine, while still giving you that sweet dessert wine experience.
You can find a great video tutorial on how to make spun sugar here.
Until next time…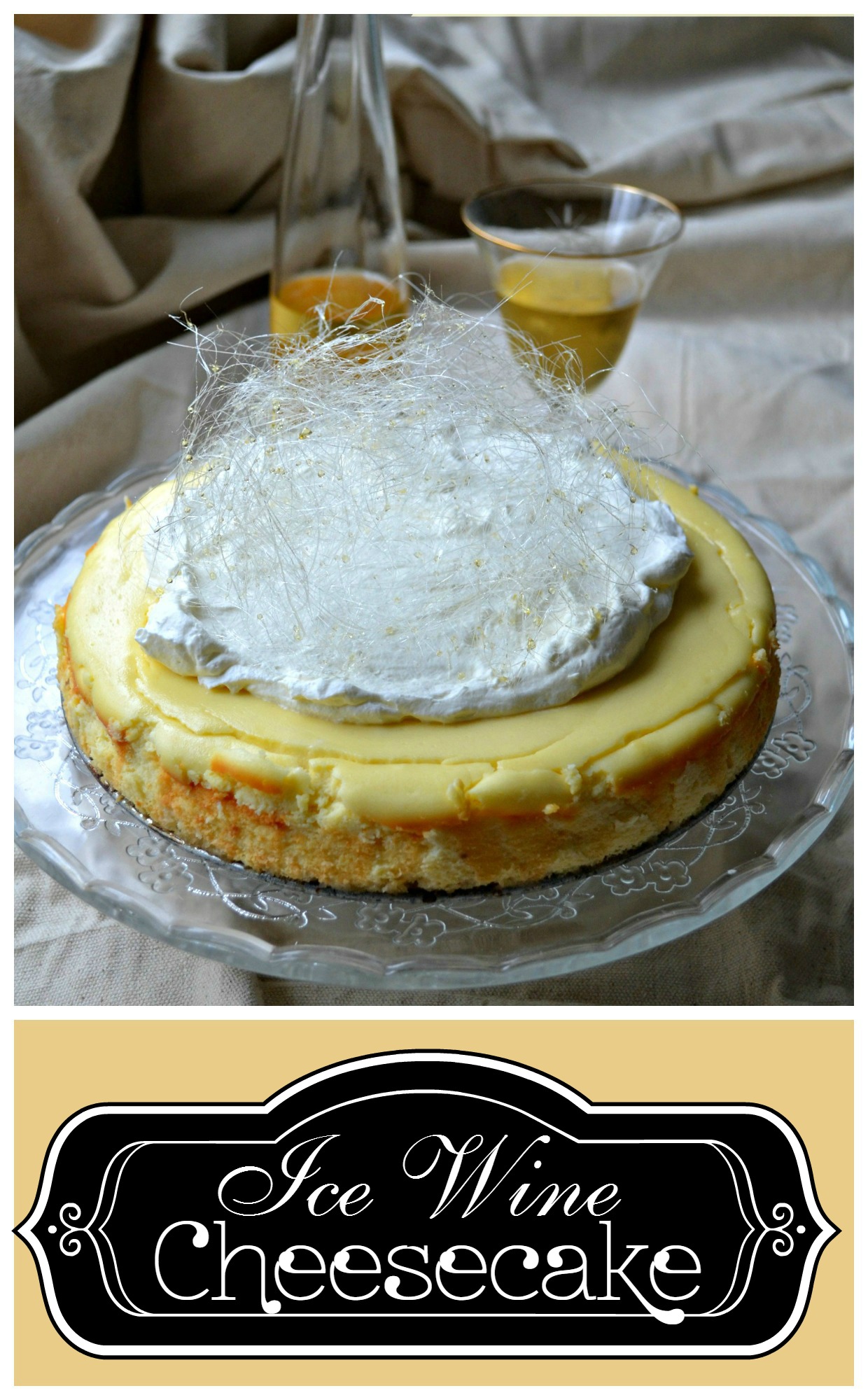 Ice Wine Cheesecake
2016-12-29 05:49:55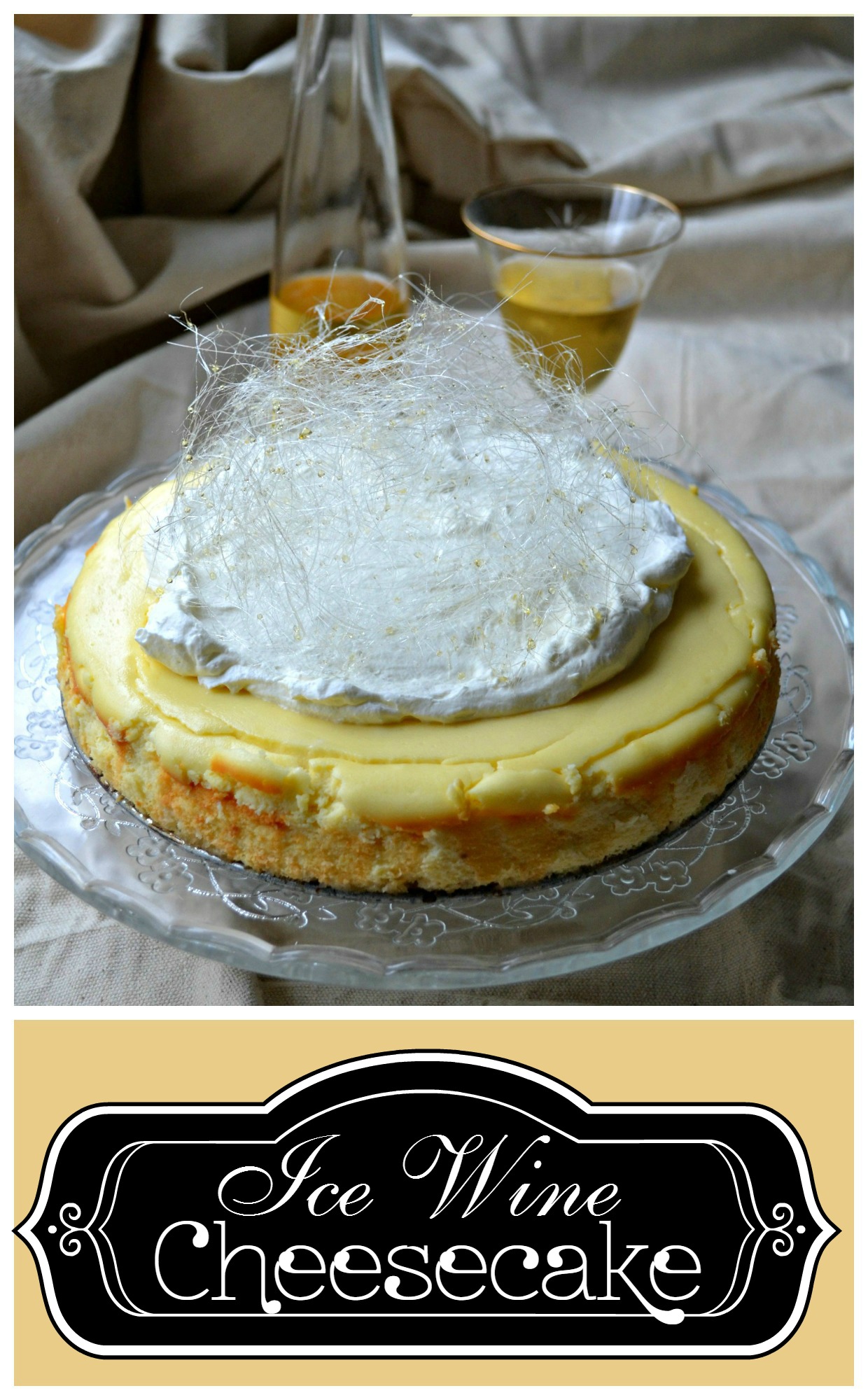 Serves 12
This sweet, desert wine is the star ingredient in this creamy ice wine cheese cake topped with sparkly spun sugar.
Ingredients
1 1/4 cup ground almonds
1/4 cup butter, melted
3 250 gram pkg. light cream cheese, softened
1/2 cup sugar
2 tablespoons all purpose flour
1/4 cup icewine or late harvest wine
3 large eggs
1 cup whipping cream
1 tbsp. sugar
Instructions
Preheat oven to 350 degrees.
Combine ground almonds and melted butter and press into the bottom of a 9" spring form pan.
In the bowl of electric mixer beat cream cheese and 1/2 cup sugar until well blended, scraping sides as necessary.
Add flour and mix well.
Add wine and mix on low until well blended.
Add eggs, one at a time, beating on low after each just until blended.
Pour batter over crust.
Bake at 40 to 50 minutes, until centre is almost set. Remove from oven and run a knife carefully around the edge. Allow to cool completely on wire rack.
Refrigerate cheesecake for 4 hours or over night.
Whip cream and remaining sugar until soft peaks form. Spread into centre of the cheesecake and garnish with spun sugar nest or sparkling sugar crystals
Red Cottage Chronicles https://www.redcottagechronicles.com/
<