Today was budget day at the red cottage.   Putting our financial goals in place, although a daunting task is one I really kind of looked forward to.  I like knowing where every dollar is going.  Working towards our debt free goal also factors in our financial decisions!
With the cost of utilities such as hydro (electricity), gas (heat) and water on the rise, not to mention the cost of gas for the car, it is more important than ever to control the costs of those things that I can.  The biggest money waster in our budget is definitely the food budget.  Yes, food prices are on the rise, but it is poor planning and too many trips to the grocery story that is the cause of our overspending.  We have spent an average of $1000 + on food each month.   Far too many convenience foods, or take-out pizza, stops at Subway all because I just couldn't face the "whats for dinner" question when I really had no idea what I was going to make after a day at work.  Compounding the problem was the food waste.  I would have good intentions and buy fresh produce and such, but they ended up in the compost bucket because I had not plan for them!
Meal planning is now part of the big financial plan.  Planning one trip to the grocery store and farmers market each week is the plan.  How great it would take all the money we have been wasting and use it towards becoming debt free!
I have always tried to bake things with ingredients I have on hand, but there are times when I need to pick up something I would normally not buy.  Usually at the last minute and therefore paying the price.  My baking supplies will be strategically built into my food budget, because I don't want to give up my therapy!
As a reward for all the budget work we did today I whipped up some raspberry cream puffs.  Easy and inexpensive!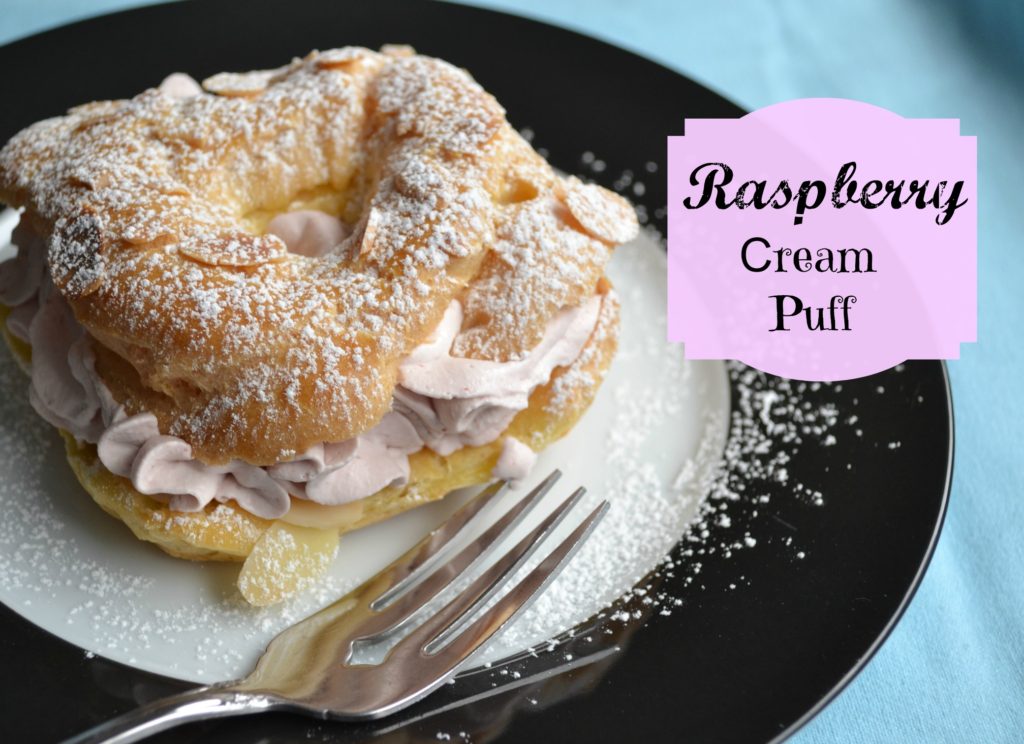 I had an abundance of eggs, half a pint of whipping cream and some seedless raspberry jam in the fridge.  Choux pastry is one of the easiest pastries to make and is so versatile.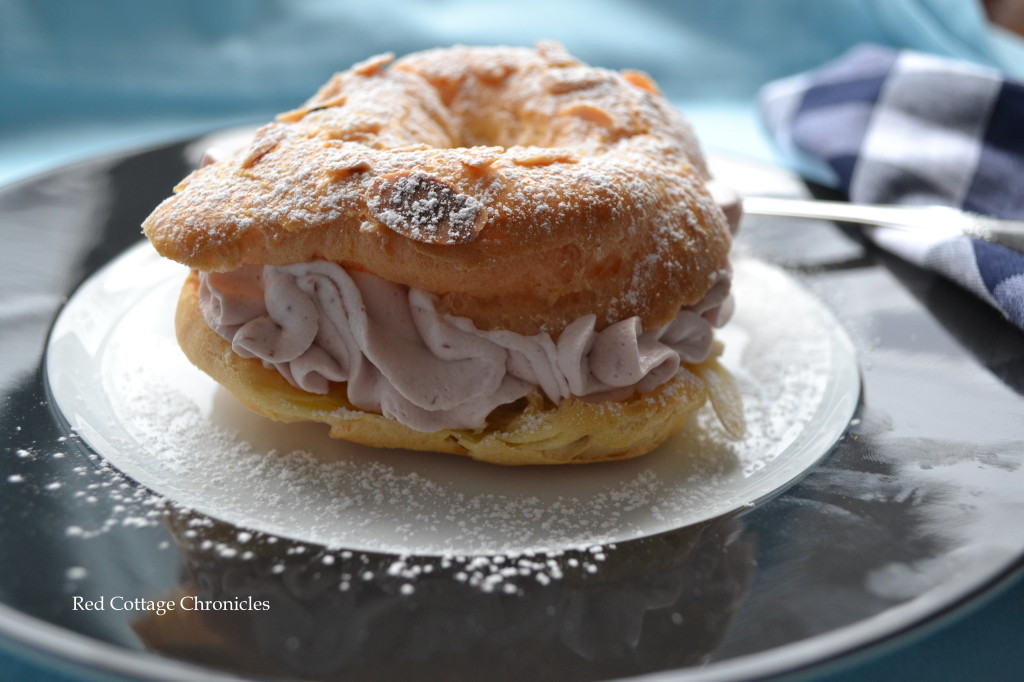 I had a few slivered almonds leftover.  I sprinkled them onto the choux pastry before baking.  They added a nice bit of crunch.  A final sprinkle of confectioners sugar made for a pretty plate!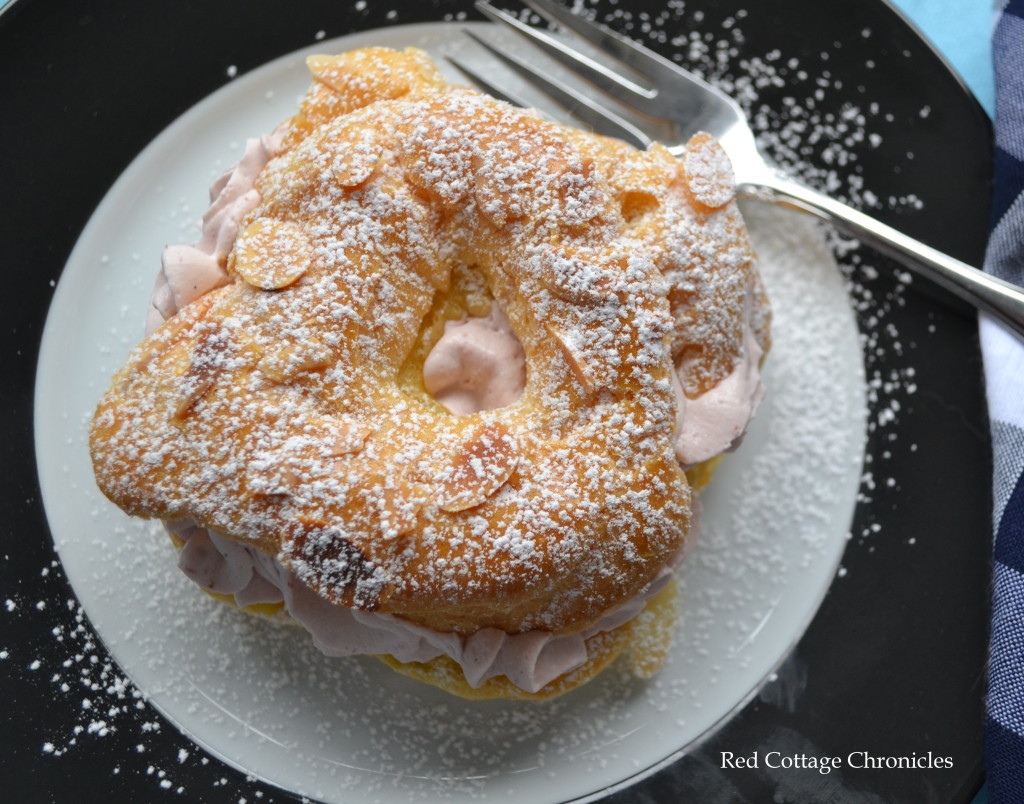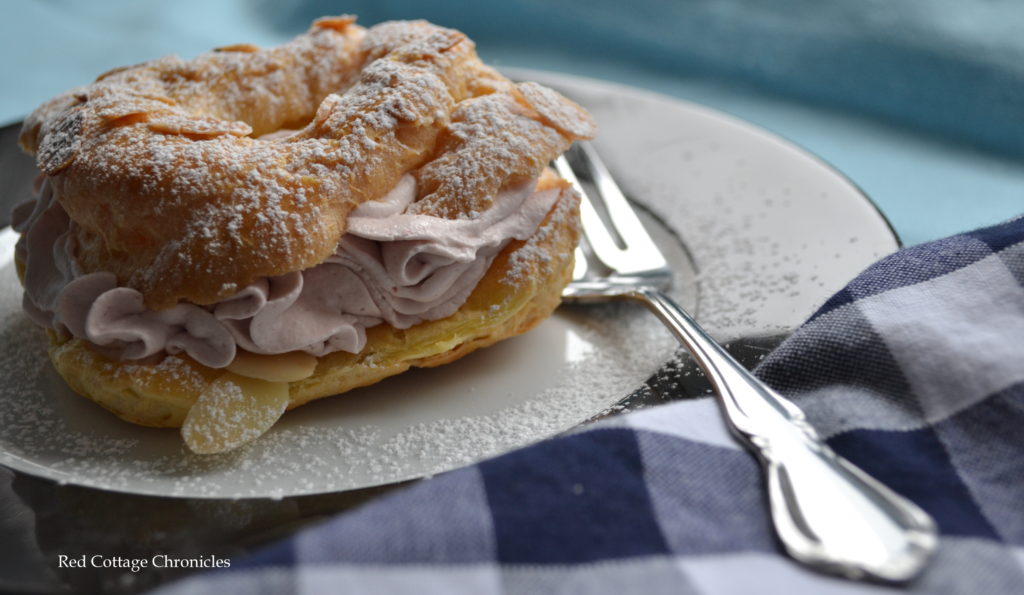 My plan is to share my meal plans with you each week.  Hopefully this will be one more reason to keep me motivated to plan!  I would love to hear from any of you about your meal planning system!
ENJOY!
Raspberry Cream Puffs
Prep time:
Cook time:
Total time:
Ingredients
For Choux Pastry
1 cup water
1/2 teaspoon salt
1/2 cup butter, cubed
1 teaspoon sugar
1 cup all purpose flour, sifted
4 eggs
1 egg white
egg wash
For Raspberry Cream
1 cup whipping cream
1/4 cup seedless raspberry jam
Instructions
For Choux Pastry – Preheat oven to 400 degrees
Line a baking sheet with parchment paper and draw 3 inch circles onto the parchment and then turn the parchment over.
In a saucepan combine water, salt, sugar and butter and bring to a simmer over high heat, allowing butter to melt.
Lower heat to medium and add sifted flour all at one and stir with a sturdy wooden spoon for about three minutes. The mixture will form a ball that pulls away from the sides of the pan, and will leave a film on the bottom and sides as you continue to stir the ball in a figure eight pattern.
Remove from heat and transfer to the bowl of electric mixer. Allow to stand for about one minute to cool slightly.
Turn the mixer on low-medium and add eggs one at a time mixing after each addition.
After adding all four eggs check for correct consistency. Pull the handle of the wooden spoon quickly through the mixture so that it leaves a groove. If the groove slowly closes in on itself you have the right consistency. If not add a bit of egg white and test again.
Fill a large pastry bag fitted with a 1/2 inch plain tip.
Pipe the dough into 3 inch circles mounded slightly so that they are about 1 1/2 inches in height. They do not have to be perfect! Just keep your tip slightly above the parchment as you pipe.
Brush with egg wash, smoothing dough slightly as you go. Sprinkle with slivered almonds.
Bake at 400 degrees for 20 minutes and pastries are puffed and golden.
Reduce heat to 300 degrees and continue baking for 20 minutes.
Cool on rack for at least 20 minutes.
For Raspberry Cream
Whip the cream until stiff peaks form. Whip in raspberry jam to fully incorporate.
Fill a pastry bag fitted with a star tip.
Slice each pastry in half horizontally. Pipe cream on bottom half of each pasty. Add pastry top and sift with confectioners sugar.