One of my favorite things about the Christmas season is how it brings families together, and the kitchen is very often the place where everyone gathers.  These fun Santa Belly Brownies are a great treat to make when the kids want to be in the kitchen with you.  Or host a "craft" night with a baking theme.  Bake up some brownies, maybe some sugar cookies and other treats and spend the evening snazzing them up for the holidays!  (I need to put this idea on my bucket list for next year!)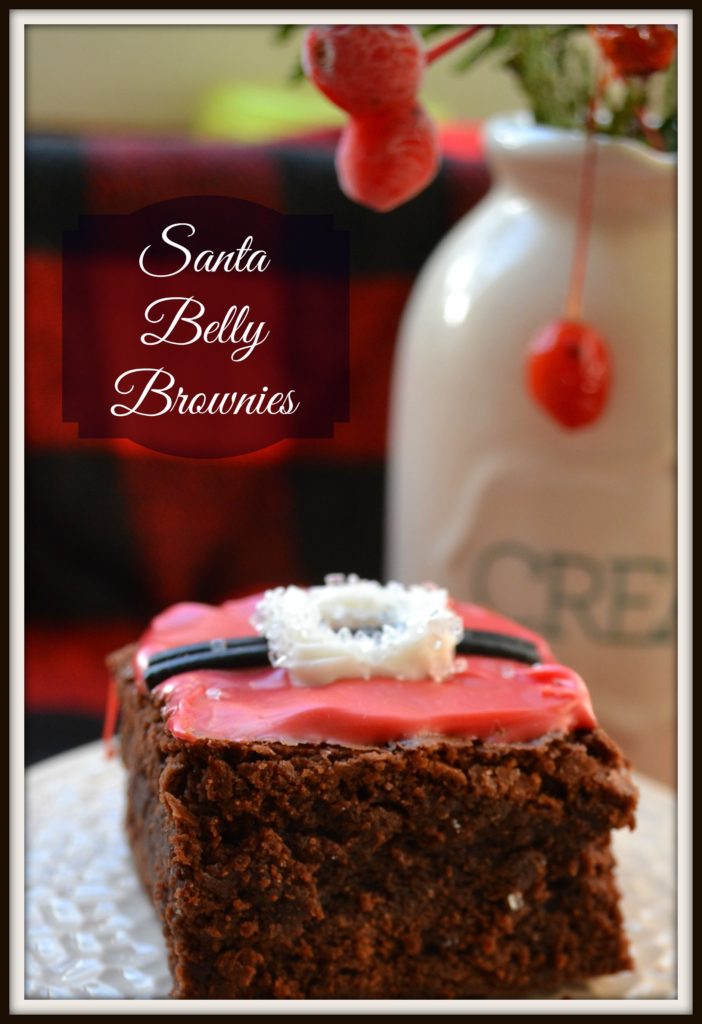 While probably more suitable to older kids, even the little ones can participate simply by stirring the batter and putting the finishing touch by adding sparkling sugar on the belt buckle.  Memories are created in the kitchen!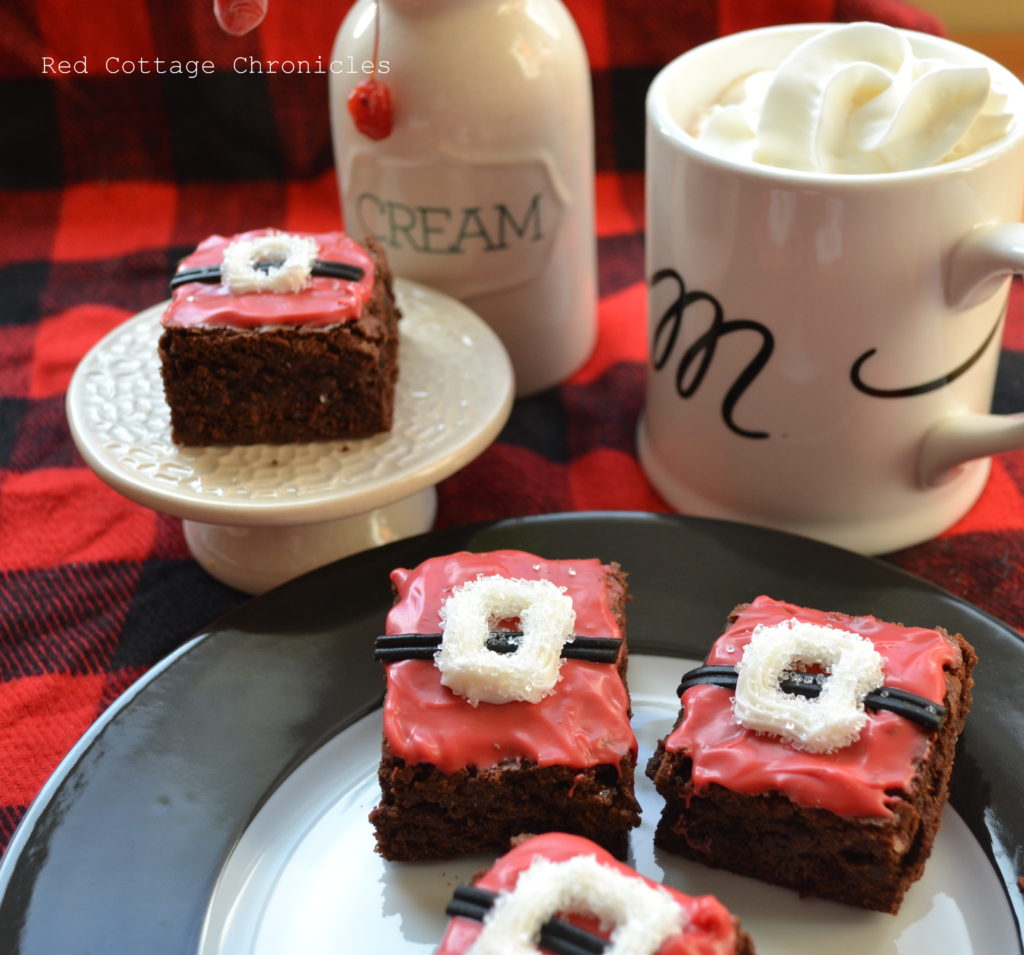 This brownie recipe bakes up nice and high.  They are dense brownie with a very moist cake like texture.  Good quality dark chocolate makes all the difference.  I use a Belgian dark chocolate and have never been disappointed.
I used red melting wafers, and found a flat black licorice for the belts and white icing sprinkled with course sugar.
When the brownies have completely cooled remove from the pan, (lining the pan with parchment paper makes this easy peasy) cut off all the outside edges and then slice with a sharp knife into 16 squares.  The chocolate will cover any cracks that result in the "crust" on top of the brownies.  Melt the red wafers over a double boiler until smooth.  Remove the pot from the stove top but leave the melted wafers on top while you work.  Using an offset spatula spread a layer of melted red "chocolate" over each slice brownie.  Cut your licorice according to the width of your squares and gently place onto slightly cooled "chocolate", be careful not to press too hard.  Leave them to completely set.  Prepare your icing (or used canned icing to make it fast and easy).  Fill an icing bag with icing and using a Wilton #18 tip draw on the belt buckle.  Sprinkle with course sugar!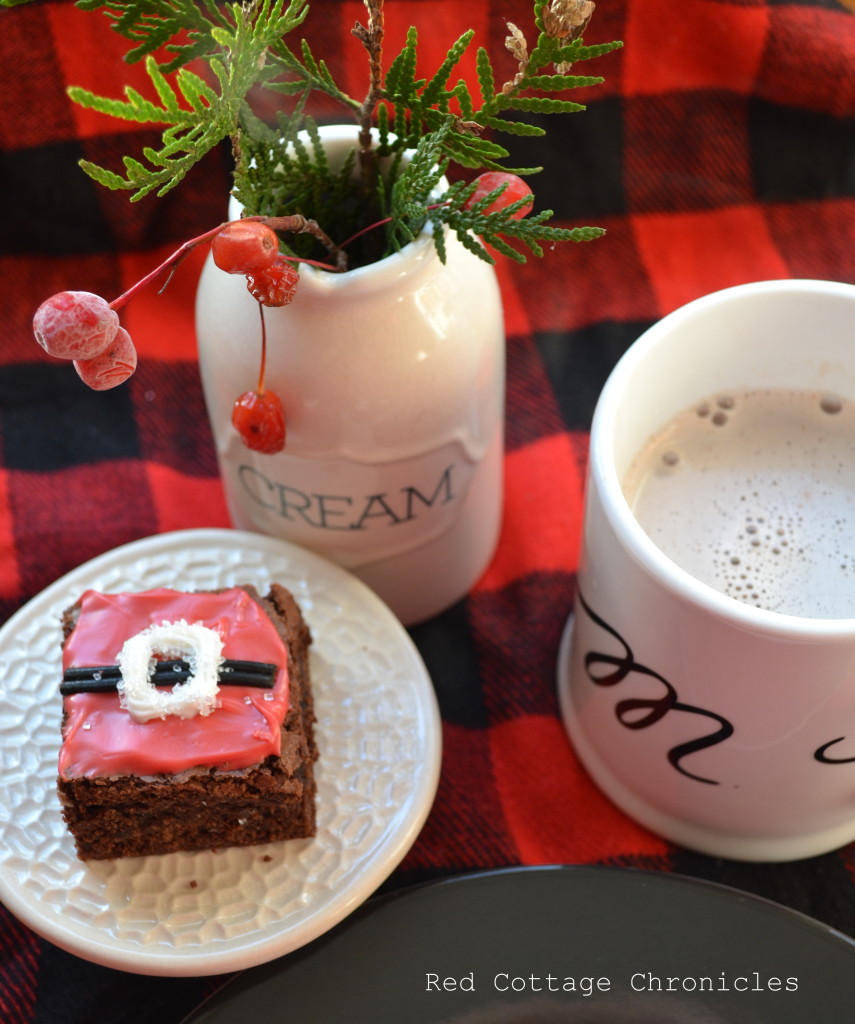 After all your "hard" work in the kitchen, serve a plate full with some steaming hot chocolate.  Put on your favorite Christmas movie and enjoy!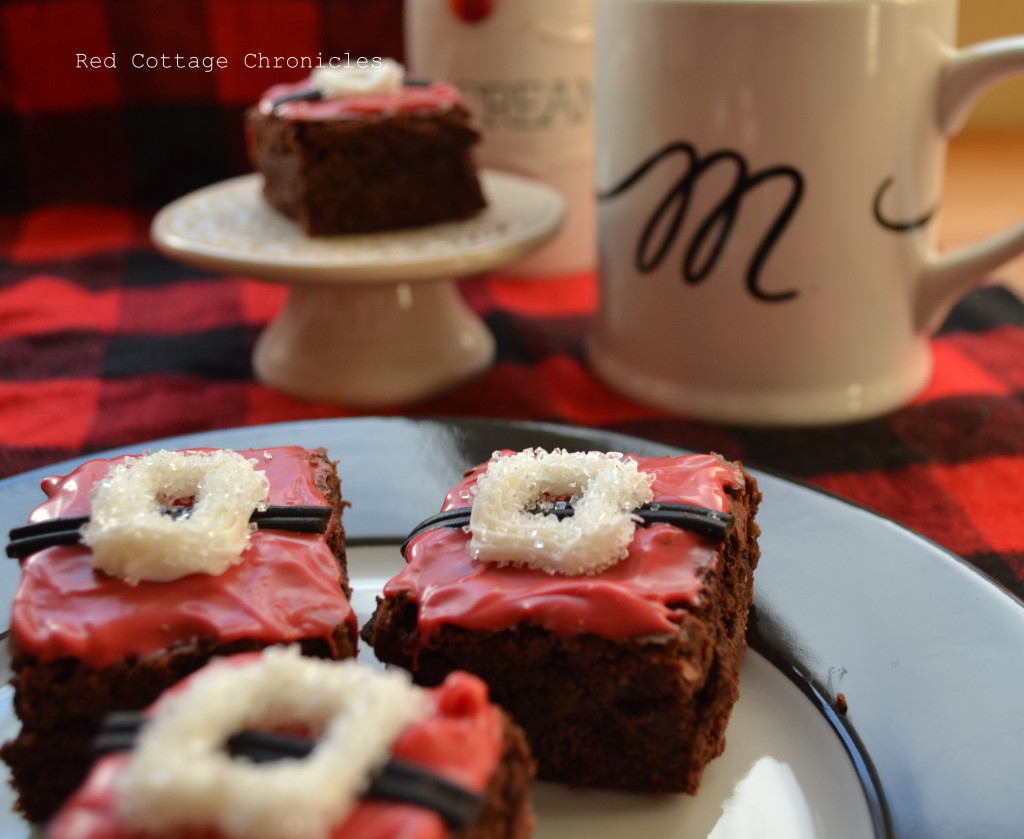 You could wrap them in little cellophane bags, tie with red baker's twine and let your kids share with their classmates.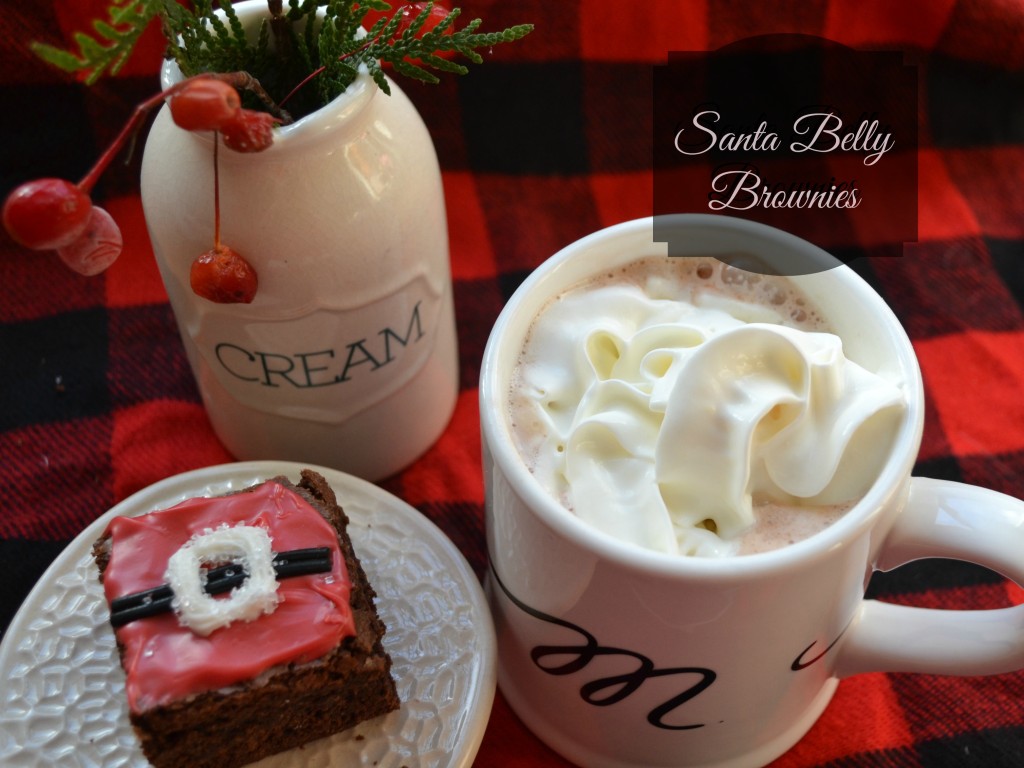 What a special treat left out for Santa on Christmas eve.  But you may want to leave 2 'cause I know he'll want to bring one to Mrs. Claus too!

Santa Belly Brownies
Prep time:
Cook time:
Total time:
Ingredients
250 grams dark chocolate
170 grams unsalted butter
300 grams sugar
3 large eggs
170 grams all purpose flour
1 tsp baking powder
Instructions
Preheat oven to 350 degrees. Line a 9″ square baking pan with parchment paper.
Melt chocolate and butter over a double boiler on stove top. Remove from heat and allow to cool slightly.
Beat eggs and sugar with an electric mixer until light and fluffy.
Fold chocolate mixture into the egg mixture until combined.
Sift together baking powder and flour and fold into chocolate mixture. Do not over mix.
Pour the batter into prepared pan and spread with a spatula to reach all corners.
Bake for 30 to 35 minutes, testing with a knife at 30 minutes. Knife should come out clean, with just a few crumbs.
Remove from oven and cool in the pan on a wire rack.