How To Create a Country Kitchen without Renovating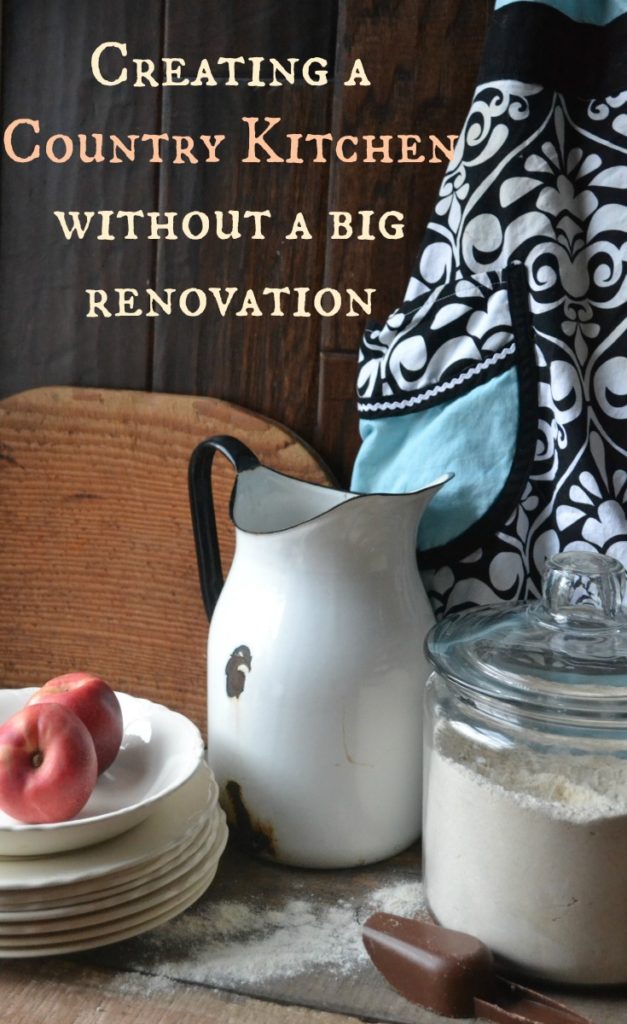 Creating a country cottage kitchen is all in the details. Even if you don't have the time, desire or budget to renovate, you can add little touches that add the cozy and welcoming feeling of a big old country farmhouse kitchen.
One of my favorite retailers is Sur-La-Table.
When we went to Long Island last March I finally got to visit a Sur-La-Table store in person. I was like a kid in a candy store! I can hardly believe I left with nothing.
I was completely overwhelmed with all the amazing things you can find at that store. I just could not make up my mind. It really was too funny when I think back to it now. My family was standing there rooting me on. "pick this", or "this is really cool", "what about this one"! I think they were just trying to get me out of the store, after watching me drool for almost an hour!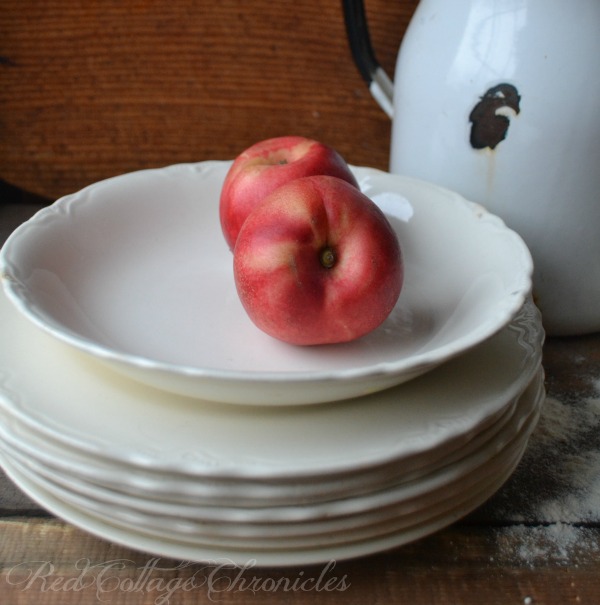 Thankfully, Sur-La-Table has an awesome online store where I can take my time and browse to my hearts content.
They have a great selection of useful kitchen tools and accessories that appeal to many different kitchen styles, but I was impressed with the variety of things available that work well with a country or cottage kitchen.
I am happy to share a few of my favorites today!
Every farmhouse or cottage kitchen needs a of set classic white dinnerware. When stacked in an open cupboard with no doors, or even on the counter top, it instantly feels "country". I love the pearl edge detail of this set.

Pearl 16-Piece Dinnerware Set
There is just something about these glass storage jars that evoke a feeling of an old country general store (in my mind anyway!). I will be picking up several more of these for flour, sugar, K-cups, and cookie cutters just to mention a few ideas!
This ceramic baking dish caught my eye immediately. It looks like some of the old enamelware pitchers I have, all chippy and vintage. But don't be fooled! This dish is oven save ceramic and is perfect for those comfort food casseroles.
Vintage White & Blue Square Ceramic Baking Dish
Instantly add a country farmhouse feel with this three tiered metal basket. Store fresh fruit, onions-, potatoes, or even pots of herbs on the counter top in country style!
The simple check pattern of this table runner is classic and timeless and would be the perfect back drop for a beautiful antique dough bowl on any kitchen table.
I can't put my finger on why I love this pitcher for our country kitchen, but it brings back memories of the summer days I spent on my aunt and uncles farm trying to learn the art of milking the cows using shiny metal buckets. I never did quite master that skill!
The baker in me really gravitates to rolling pins and this one is calling my name. It's classic red handles make it a shoe-in for any country cottage kitchen. Not only does it have the style and feel I am going for, but it is sure to get a workout rolling plenty of pastry for fresh fruit pies!
I mean really, pies cooling in the kitchen window. Does it get anymore country than that?!
These are just a few things that can really add the warmth and charm of a country cottage kitchen without changing anything else in the kitchen.
Removing a few cupboard doors, adding some vintage look shelves or painting the room a classic country off-white colour can certainly help to up the charm factor with very little money or effort involved! Layer on some beautiful (yet useful) kitchen tools and there is nothing left to do except put on a pretty vintage apron and bake something yummy!
While I certainly love finding treasures at antique stores and sometimes even a good yard sale, I also love that I don't even have to leave home to score some really great country kitchen accessories!
Until next time….
Maureen