Simple treats like these easy Shredded Wheat Easter nests bring back all the feel good memories of Easter as a child!
Growing up we were lucky that our mom had an incredible knack for making special treats at Easter, but also all throughout the year. Rarely, if ever was our Easter basket filled with store bought chocolate and confections.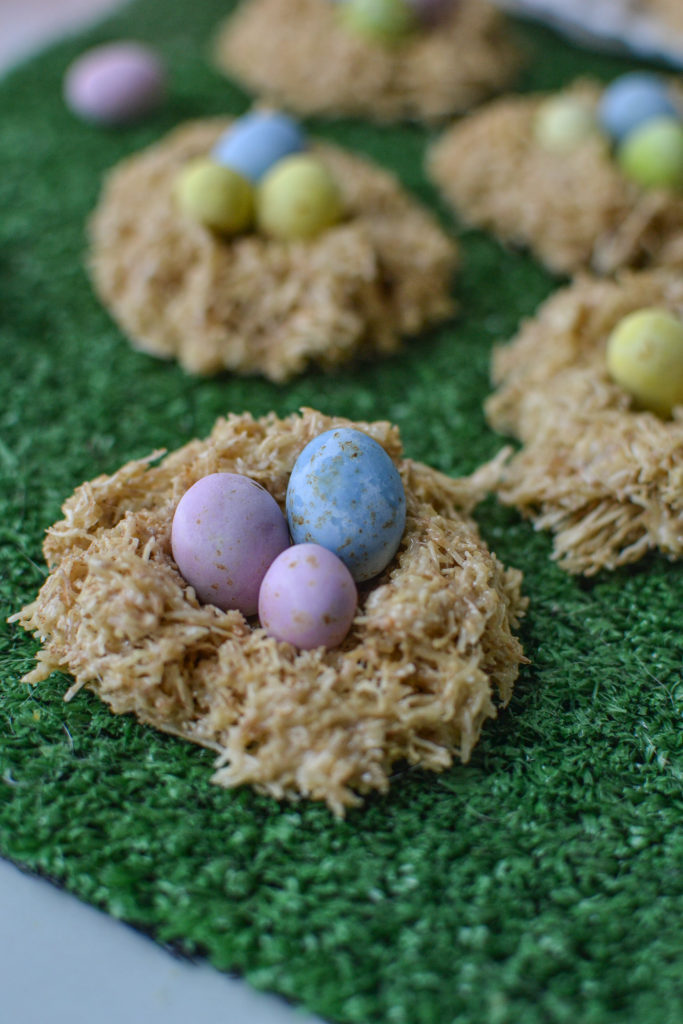 She always made our chocolates by hand. I am so grateful I had the chance to spend the day with her while she taught me how she made these incredible chocolate covered cherries.
There were always chocolate bunnies with baskets decorated with flowers that she would pipe with frosting. Creamy filled eggs, and other treats that I never saw her make, yet they appeared on Easter morning!
These Shredded Wheat Easter nests always made an appearance. She often made them for us to take to school for class parties. Back then she would use jelly beans instead of the candy coated chocolate eggs that are available today.
This post contains affiliate links. Should you choose to make a purchase I may receive a small commission with no increase in cost to you!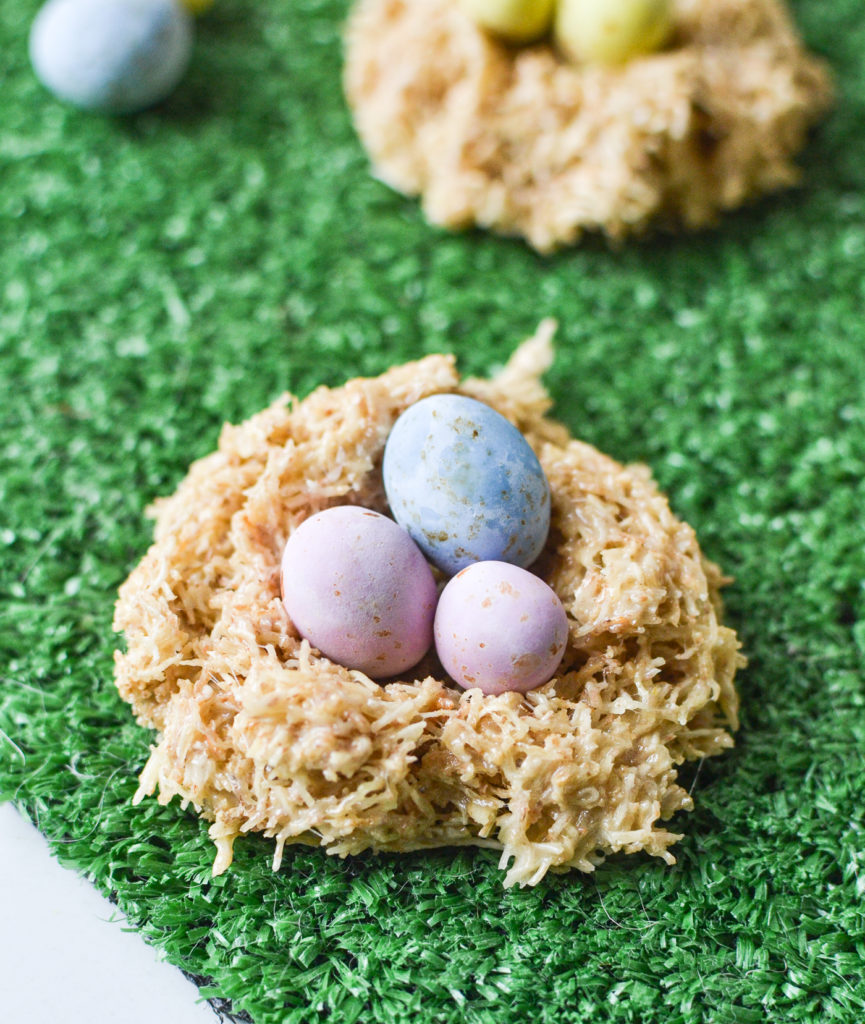 Why you will love these easy Shredded Wheat Easter nests
(Full recipe below)
they are very easy to make and take only about 20 minutes
kids will love them
Shredded wheat is high in fibre with no added sugar or salt, and low in fat
they are delicious, and not too sweet
4 simple ingredients
What you will need to make these edible nests
3 to 4 cups crushed Shredded Wheat (about 6 pieces)
candy covered chocolate eggs or jelly beans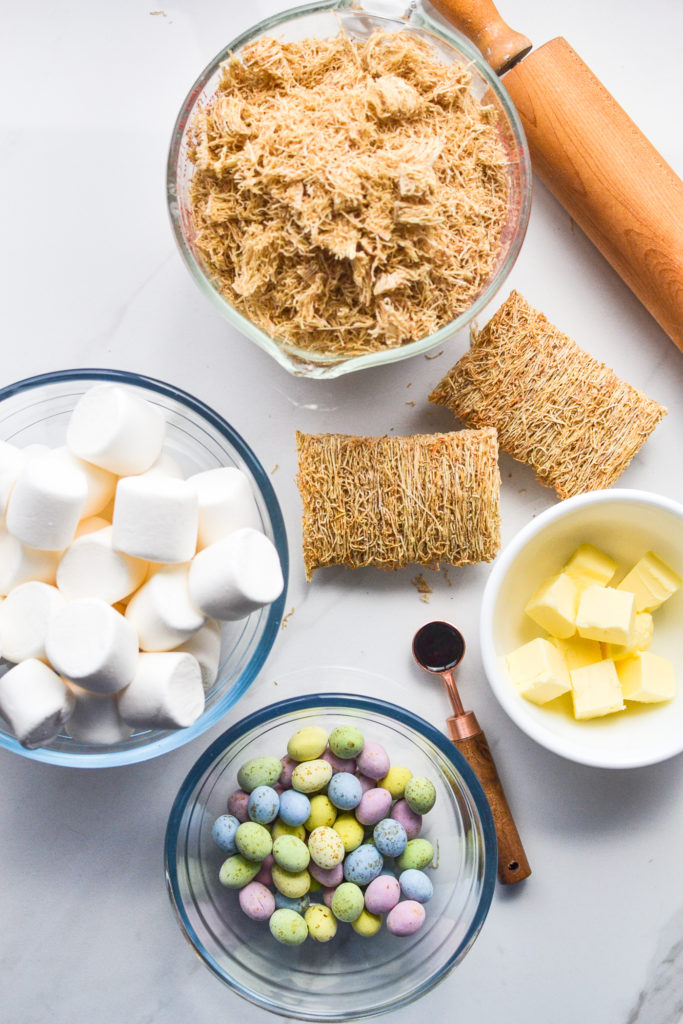 Easy as 1, 2, 3!
Step One – melt butter in a large sauce pan over medium heat, add marshmallows, stir to coat with the melted butter. Continue stirring until marshmallows are smooth and completely melted.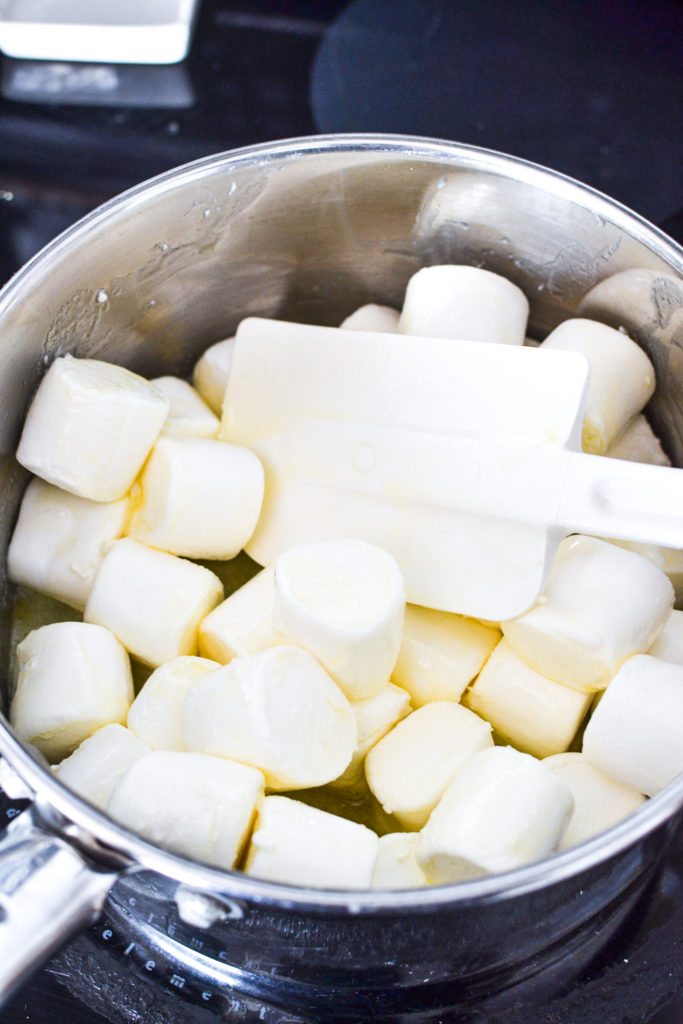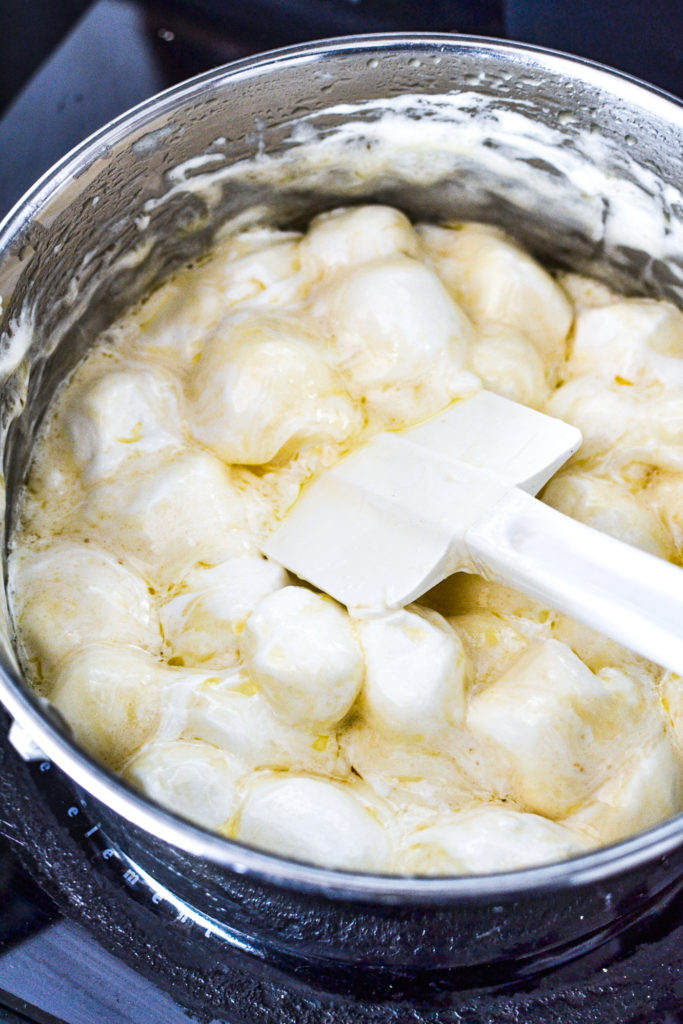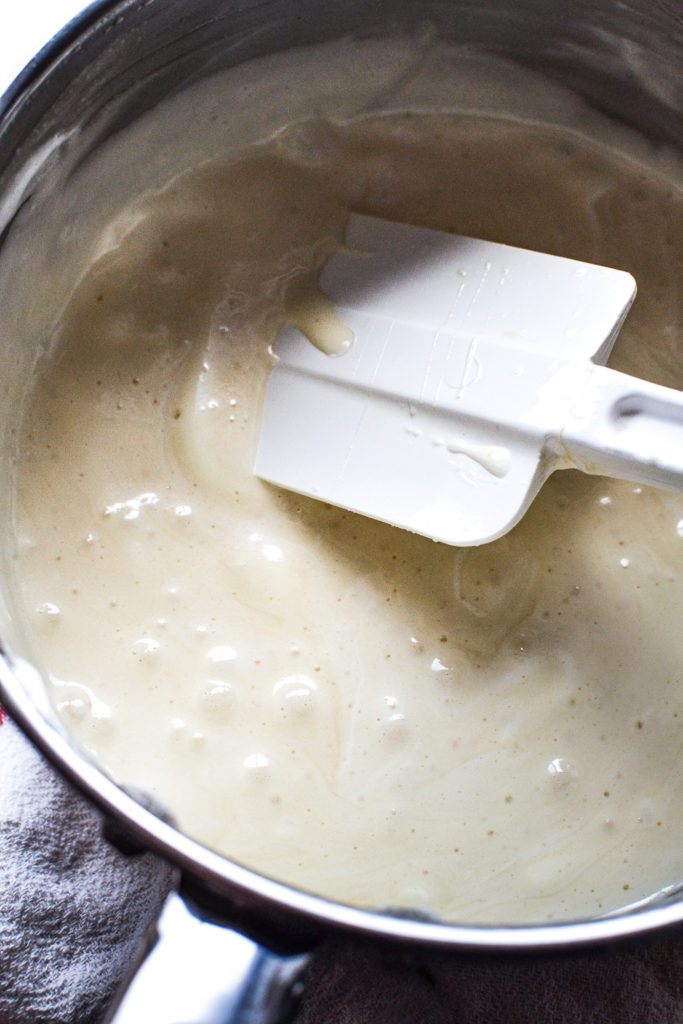 Step Two – remove from heat and add crushed shredded wheat, stirring with a spatula until fully blended.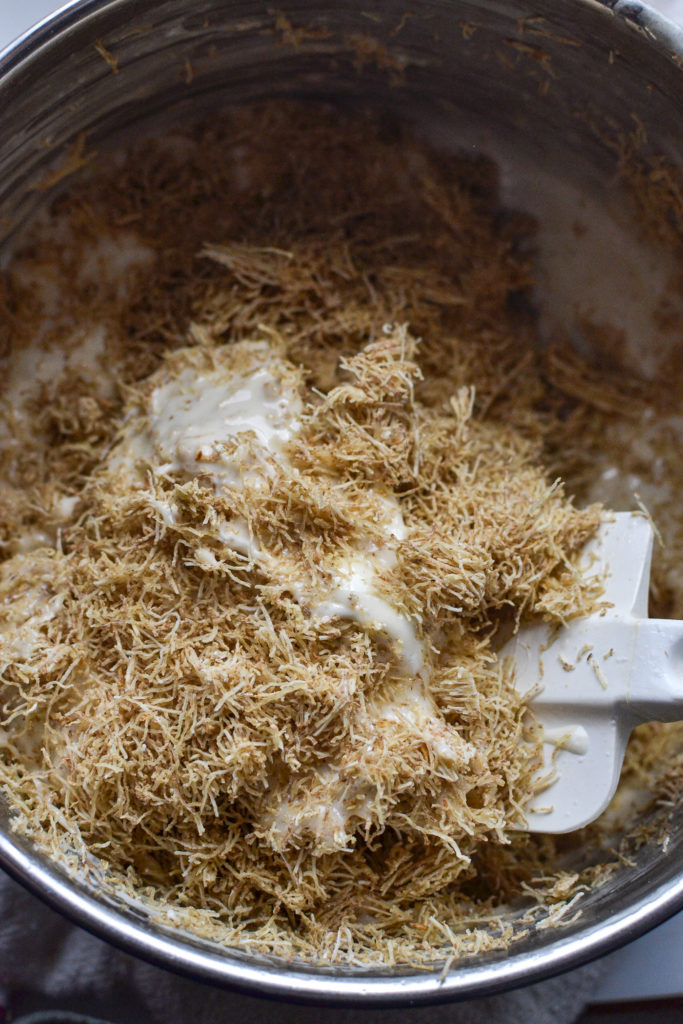 Step Three – Allow to cool for a minute or two and then drop onto parchment lined baking sheet by heaping tablespoon fulls. Go back and shape into nests, using the back of a measuring spoon to form an indent. Be very careful as the mixture an be very hot at first.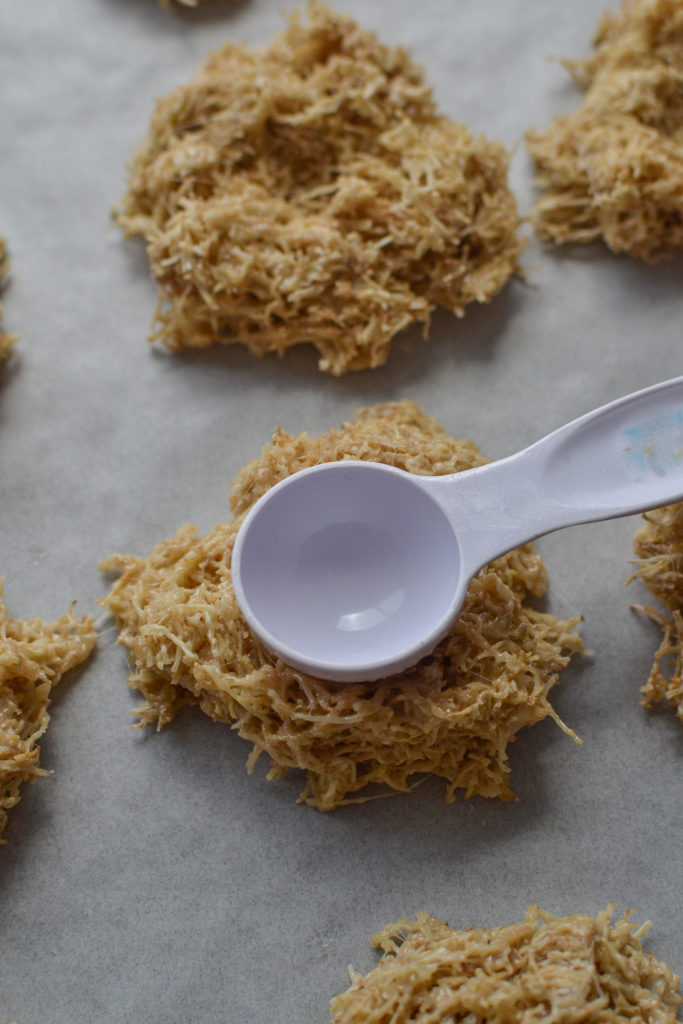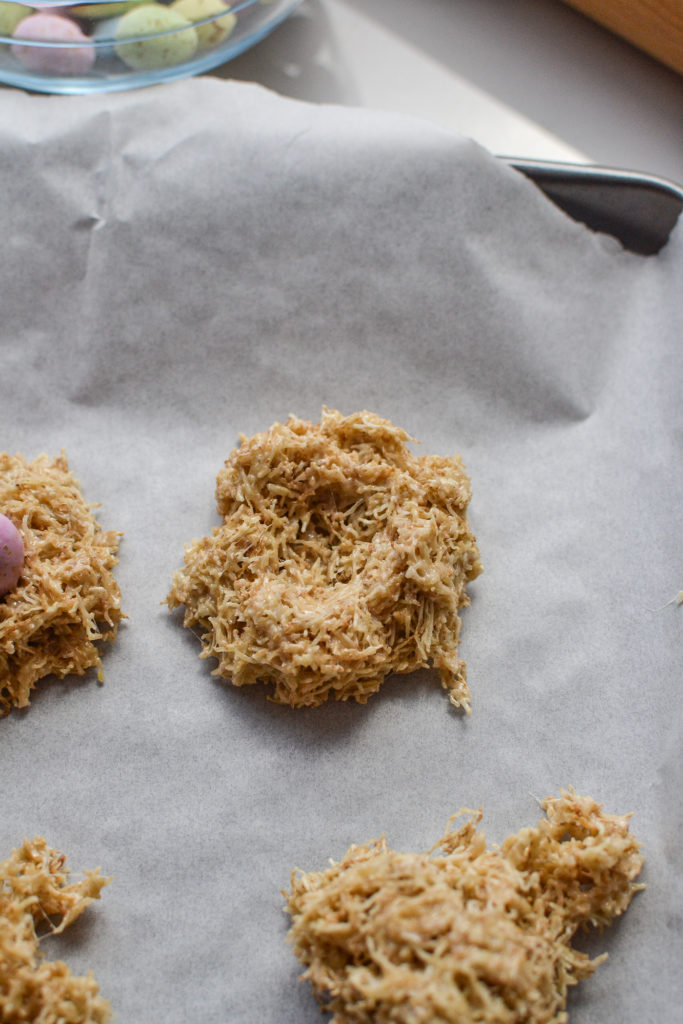 And, now they are ready for chocolate eggs, jelly beans or even M & M's! Whatever you choose, press them firmly into place and then refrigerate several hours until set!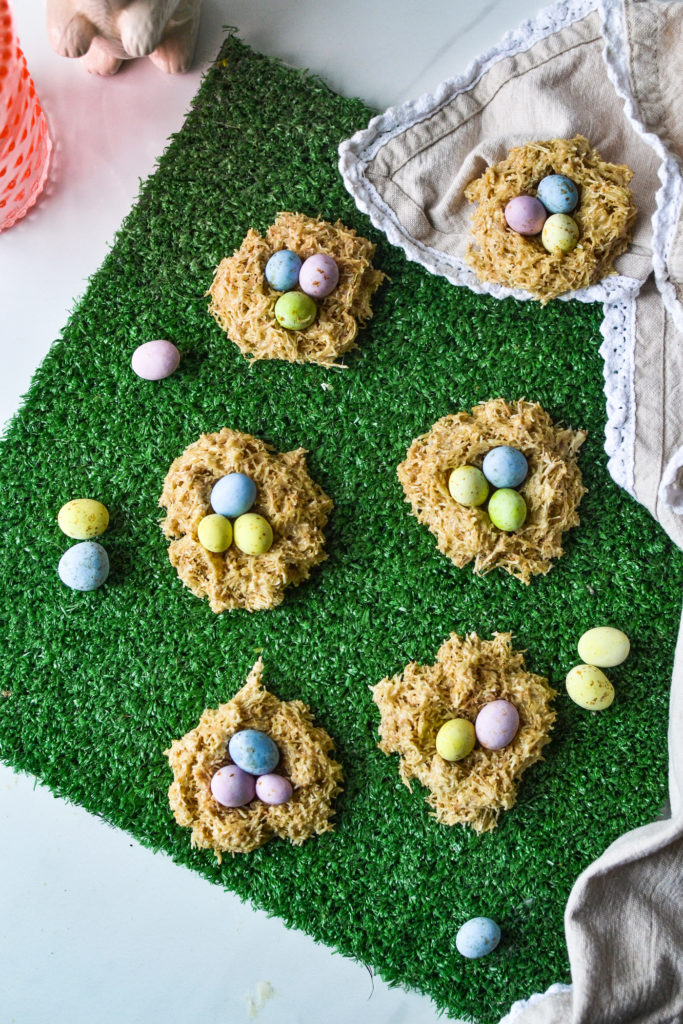 How cute are these?! Perfect for Easter baskets or Easter brunch!
I will be making a batch of these Shredded Wheat Easter nests for Easter dinner with family.
How to make a vegan version of these edible nests
Since the plant based eaters are starting to out number the meat eaters in our family, I will make a vegan version of these as well. The two youngest members of our clan (3 and 5) are vegan and I would hate for them to miss out!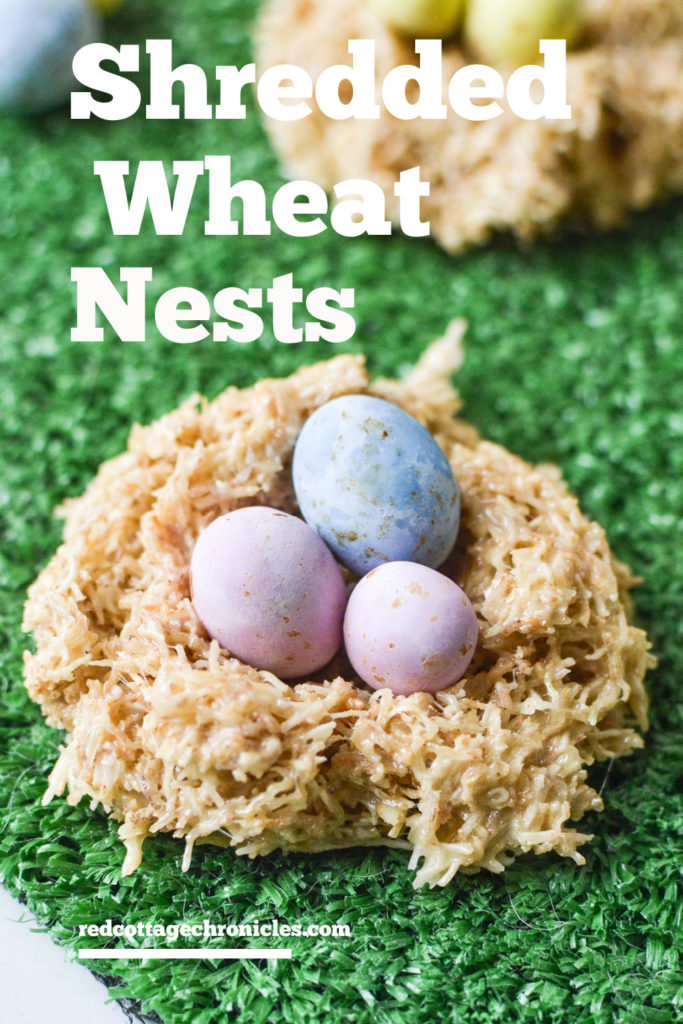 I will just sub out the marshmallows for vegan ones, use plant based butter and dark chocolate Easter eggs! Easy peasy!
Other Easter Desserts you might like
Vanilla, Coconut, Chocolate or Banana Cream Pie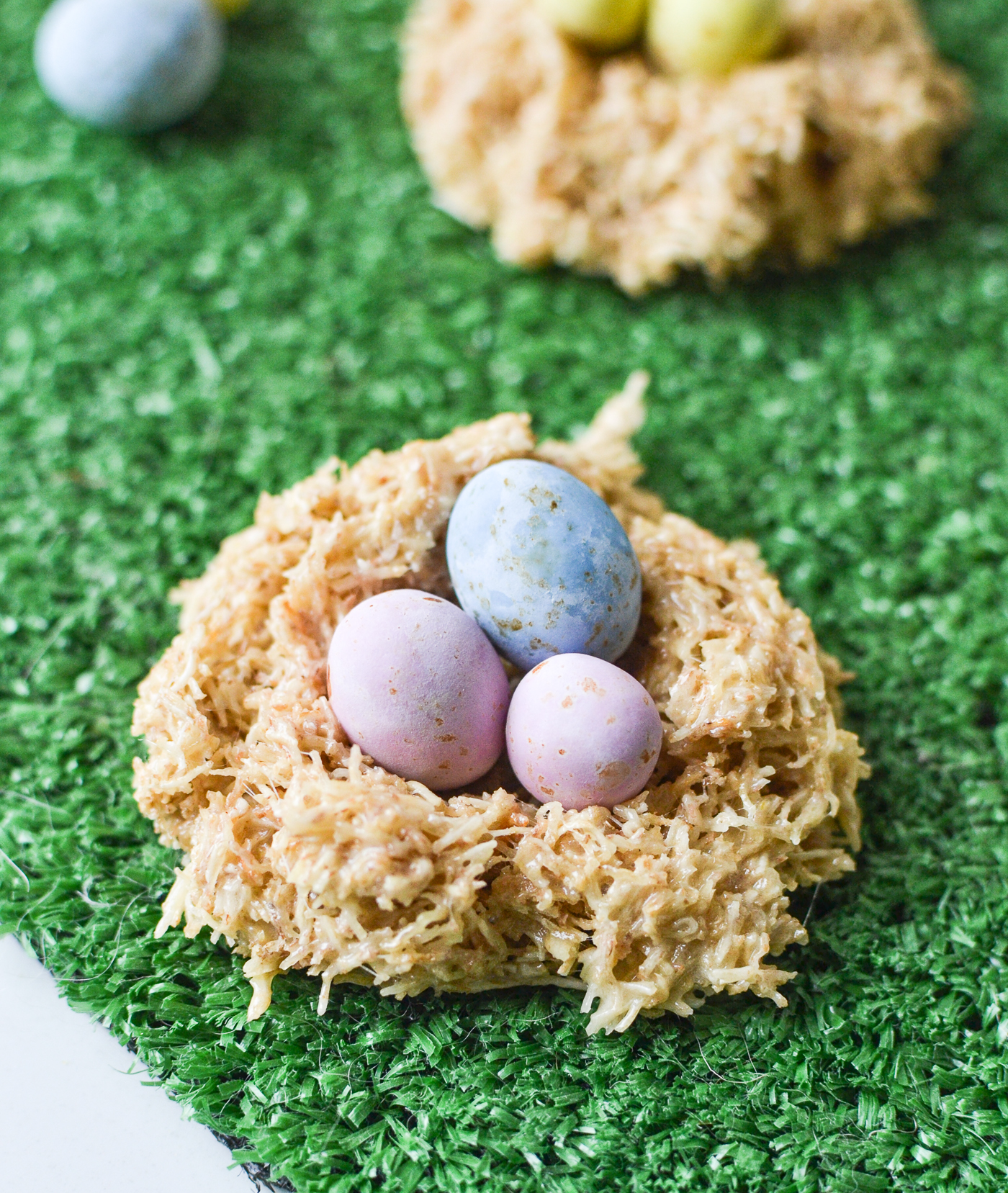 Easy Shredded Wheat Easter Nests
These adorable Shredded Wheat Easter nests are the perfect treat for Easter Baskets or Easter Brunch! Or, any springtime gathering!
Ingredients
3 to 4 cups crushed Shredded Wheat cereal (about 6 pieces)
1/4 cup unsalted butter
1/2 teaspoon vanilla
40 marshmallows
Instructions
In a large sauce pan, melt butter over medium heat. Add marshmallows and stir to coat. Continue stirring until completely smooth and melted.
Remove from heat and add crushed shredded wheat, stirring with a spatula until completely combined. Allow to cool for a couple of minutes before handling.
Scoop heaping tablespoons on to baking sheet lined with parchment, Shape into circles and use the back of a round measuring spoon to create an indent in the centre of each.
Firmly press candy covered eggs, jelly beans or M & M candies into the nests and place the baking sheet into the refrigerator to set for several hours or overnight.
Notes
The mixture will be very hot, so allow to cool for a few minutes both before you scoop out onto baking sheet and also before shaping them into nests.
Use cooking spray to coat the spatula before combing the cereal with the melted marshmallow to help prevent sticking.
Best when refrigerated overnight.