Welcome! If you are visiting Red Cottage Chronicles for the first time you are in for a real treat! Today kicks off a week long Spring Tablescape blog hop where more than 20 bloggers share their vision for the perfect spring table! Several times during the year this very creative bunch feature seasonal and holiday themed tables. Many thanks to Chole from Celebrate and Decorate for bringing us all together!
I have created a page where you can find all my tablescapes in one spot!

Awww Spring! This is the time of year when I start to imagine all the possibilities the year has to offer. The air feels fresh with promise. The promise of longer, warmer days. The promise of foilage and flowers. It's the time when I start to think of the world in colour again!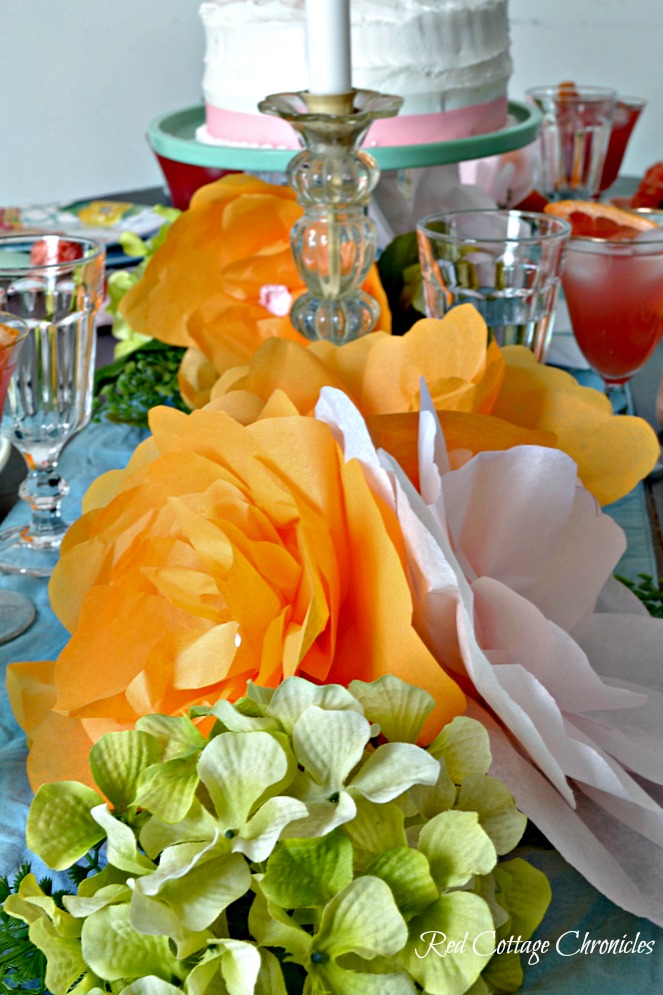 And colour is the theme of my Spring tablescape this year! Oh, I had such fun creating this pink and orange tablescape for you. Hints of blue and mint green compliment the bright orange and pink tissue paper flowers.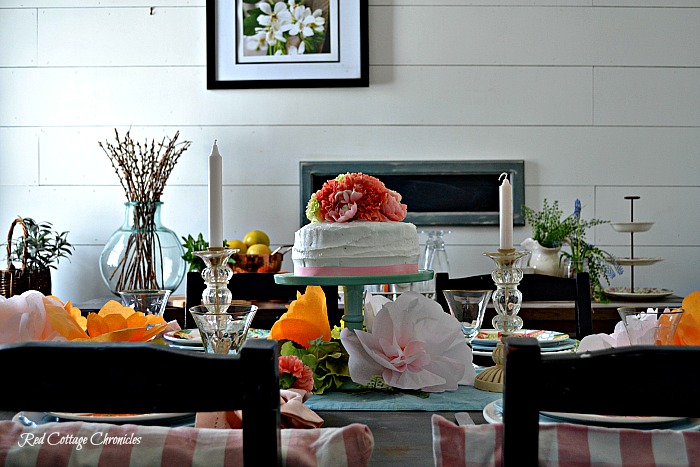 After I had finished styling my table I couldn't help but get a craving for rainbow sherbet!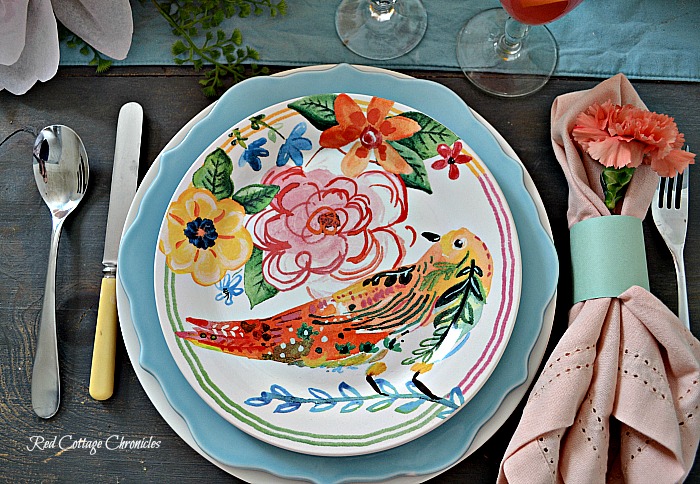 It has been a while since I bought anything other than flowers for my tablescapes. I headed to Homesense since they usually always have such pretty seasonal salad plates, but all the dishes they had were Easter themed. I couldn't resist picking up some for my Easter table, but I didn't find any that suited my vision for this spring table.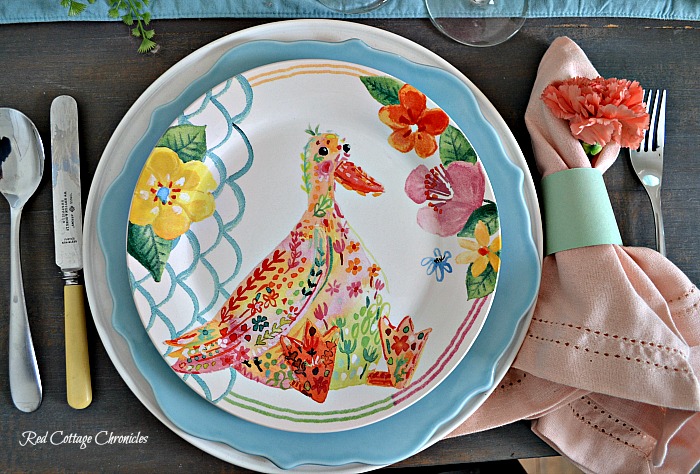 Next stop was Pier 1. I don't often shop there since they are on the spendy side, but I am really glad I went in. I picked up this beautiful set of plates that could not be more perfect! Plus I had a 20% off coupon that was about to expire and I certainly didn't want to let that happen!!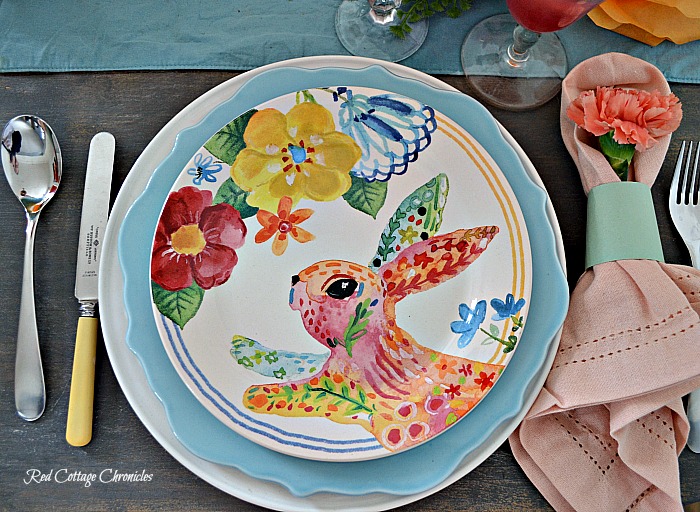 Aren't they just perfect for my pink and orange tablescape! The colours are so vibrant and fun. I can imagine I will get a lot of use out of these through spring and summer!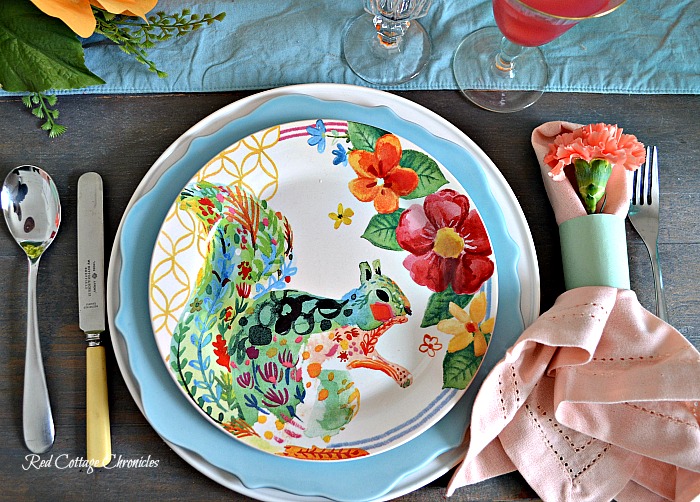 I stacked them on top of a large plain white dinner plate and a blue scalloped edge dinner plate that are part of a set I purchased at Target a couple of years ago. They are actually our everyday dishes.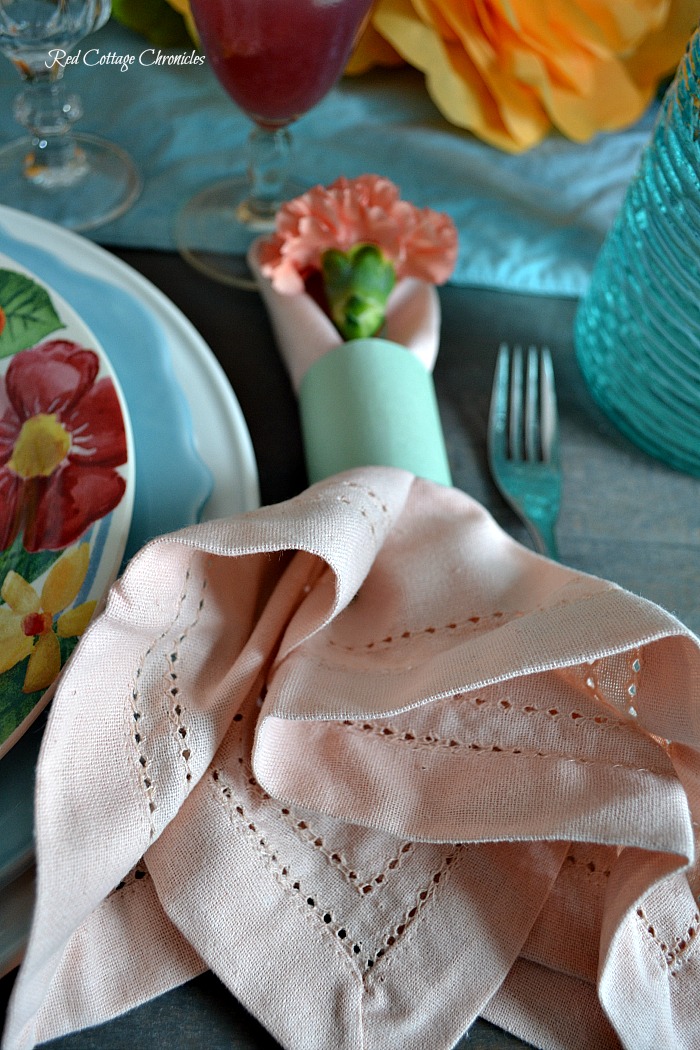 While I didn't find plates at Homesense, I did find these pretty blush pink hemstitched napkins. They are the perfect shade of pink! I cut napkin rings from green card stock and tucked a peach carnation into each one.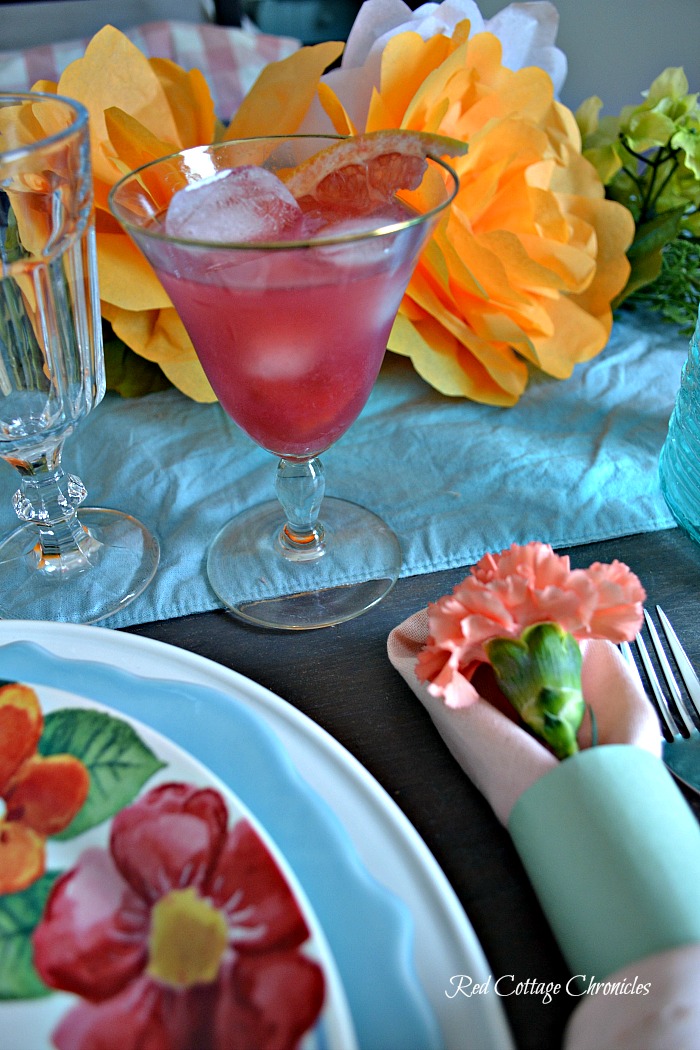 I made the most delicious cocktail (which I will be sharing the recipe for next Saturday!). It is light and refreshing and just perfect for spring brunch. I served them in gold rimmed wine glasses. Simple Ikea water glasses also adorn each place setting.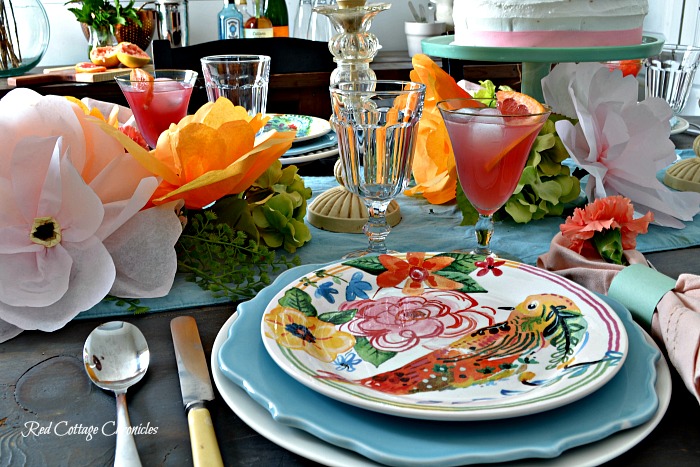 Instead of a floral centrepiece I decided to decorate a cake with florals. Dessert, flowers and a centrepiece all in one! I used a mix of fresh and faux flowers on top. I show you how easy it is to do in this post.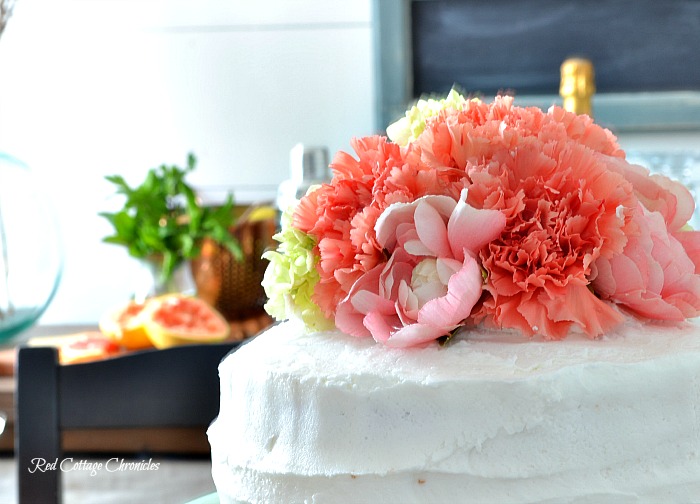 Dessert plates are at the ready for the cake to be cut!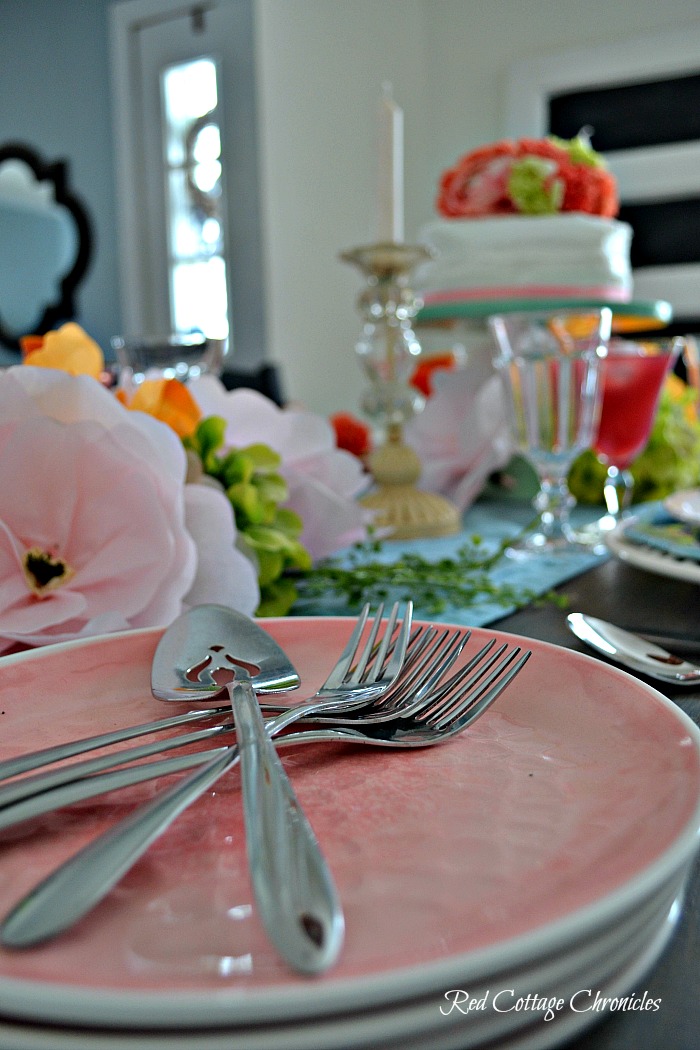 The tissue paper flowers were a fun and easy project. I arranged them down the centre of the table on top of a pastel turquoise table runner. The table runner has a pattern embroidered on it, but I simply turned it over to expose the plain underside.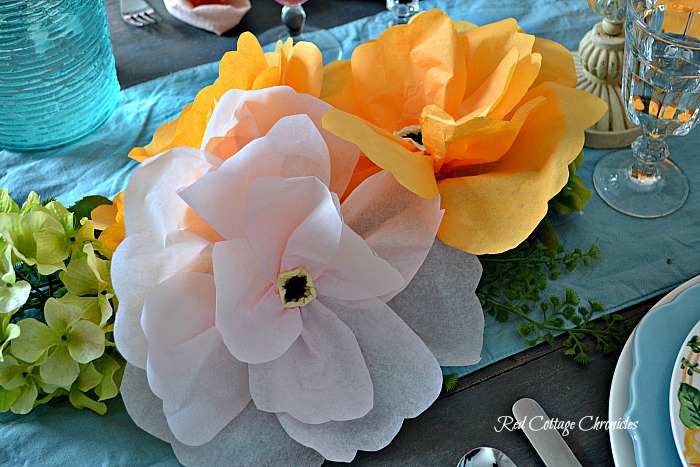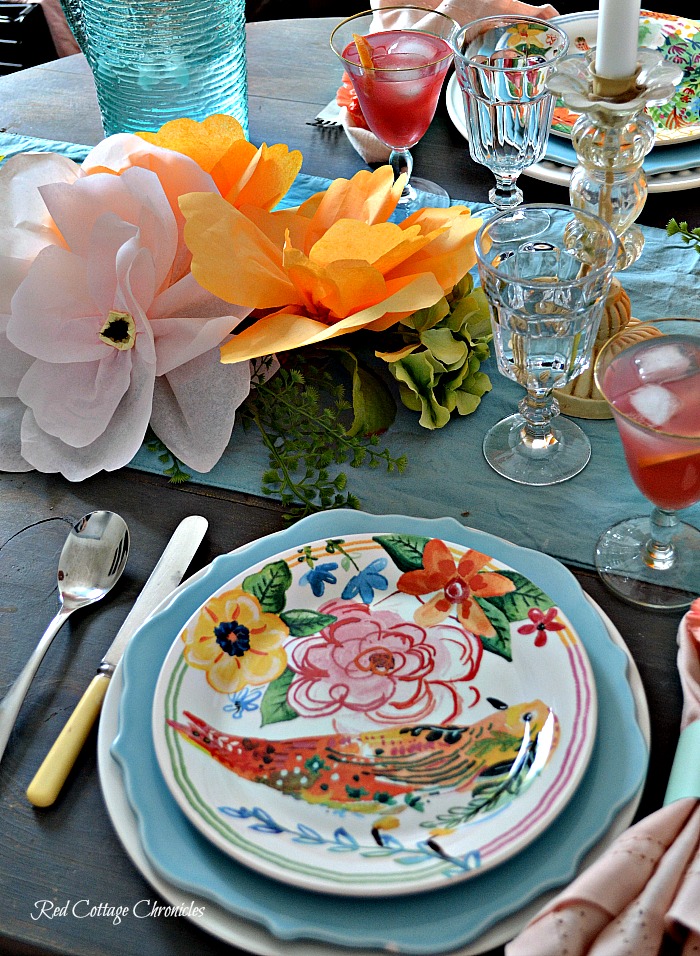 I used some faux greens and hydrangea blooms to accent the pink and orange flowers.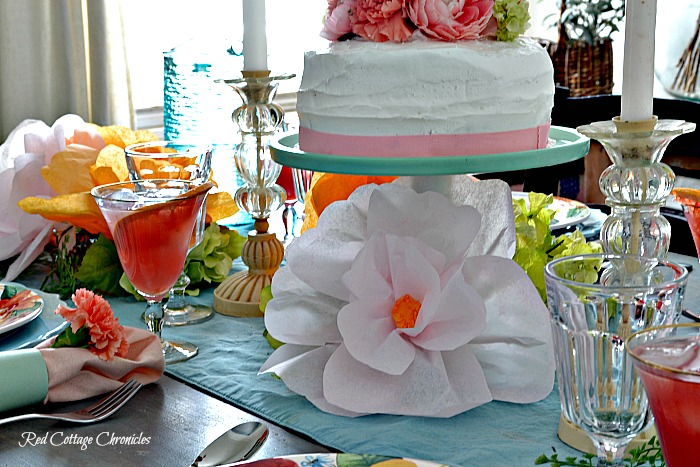 There is just something about this pink and orange tablescape that makes me happy! I can't imagine anyone coming away from the table without a smile on their face!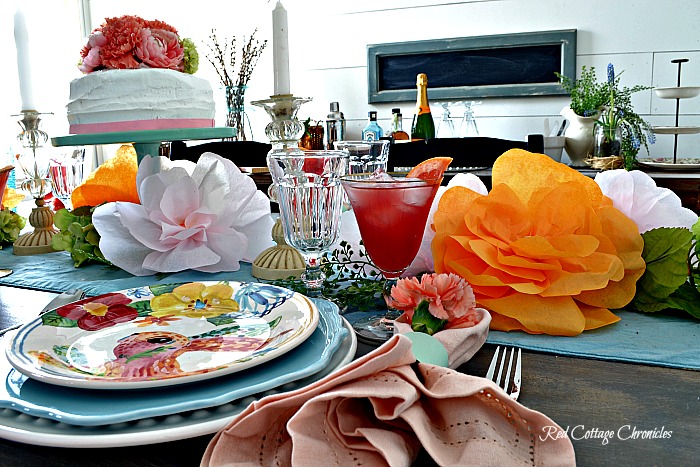 Add some good food, great company and you have the perfect recipe for a lively spring get-together!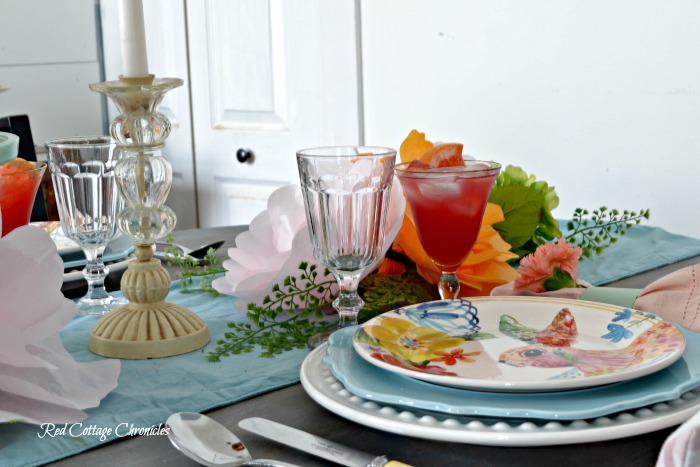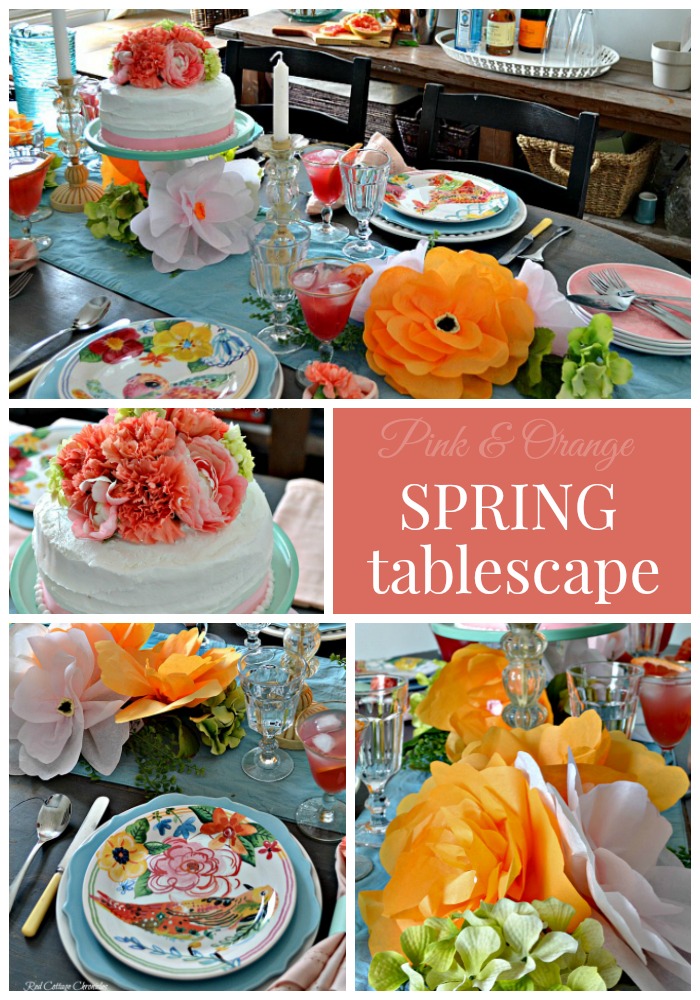 I am delighted to be joining my best tablescape blogging friends on this week-long blog hop! All the Monday participants are live today, and be sure to Pin this post and check back as new links go live each and every day this week! You will find links to all the participants below!
Oh, and I would be honored to have you subscribe to Red Cottage Chronicles! You won't want to miss the upcoming floral cake centrepiece tutorial, the yummy spring cocktail recipe, or the how-to for the tissue paper flowers, all coming up in the days to come!
Until next time….

Monday
Tuesday
Wednesday
Thursday
Friday