You probably already know that owning a Cricut cutting machine opens up a whole world of crafting projects, but did you know it is also very handy to create custom home decor? And, Cricut's Smart Materials make it so easy to make your house and home!
This post is sponsored by Cricut, however the project idea, tutorial, thoughts and opinions are as always, all my own!
Lately my go-to model has been the Cricut Joy! I love it because it is compact, goes anywhere and is perfect for smaller projects using the Cricut Smart products.
You may know how much I love to style a beautiful tablescape no matter what the occasion. And, in my opinion the impending arrival of fall is definitely an occasion this autumn loving girl needs to celebrate!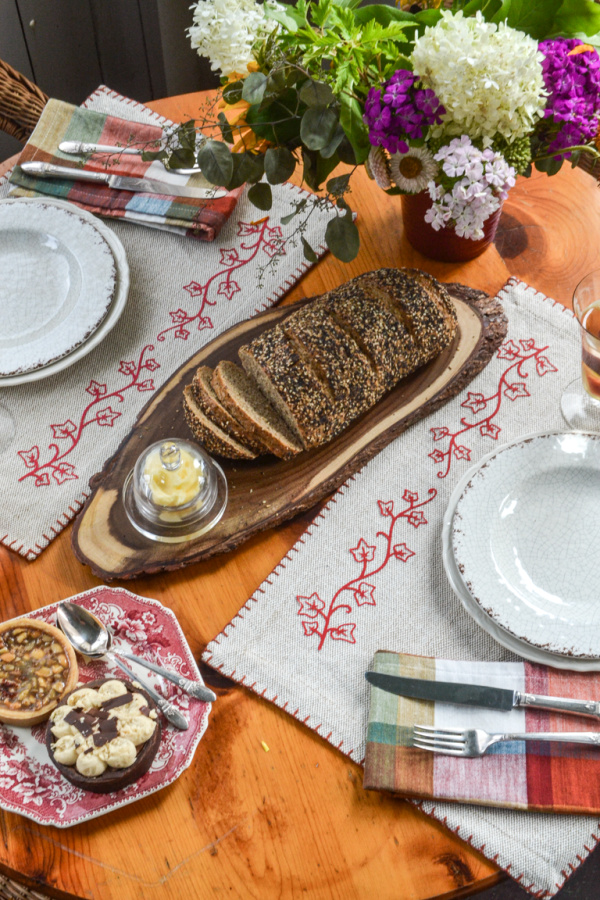 Taking the opportunity to enjoy the dining table in our screen porch, I decided to set the table for just the Mr. and I. Being empty Nestors has provided lots of opportunity to enjoy unwinding at the end of the day over a simple meal together.
Plus, I have made "elevating the everyday" my motto lately!
I have lots of table decor in my closet, but wanted to create something new that gave a nod to the coming change of seasons without being overtly in-your-face fall!
There is no better way to add style to an everyday dining table than with seasonal linens! But, when I popped into my favourite store, all the fall table linens were plastered in pumpkins! And, while cute, just too overbearing for what I had in mind.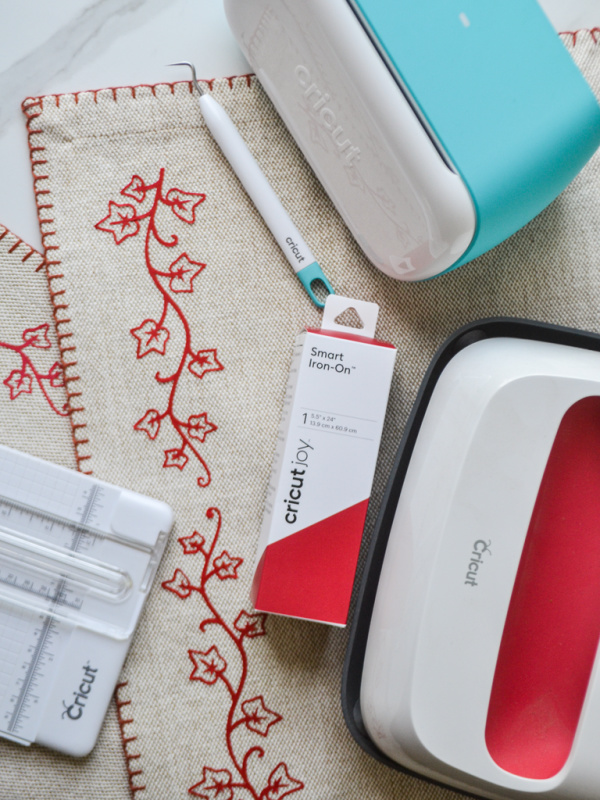 I did find these basic place mats in a subtle off-white colour, and a really nice woven texture. As always, I started in Cricut Design space and my Cricut Access membership to find a simple design that more represents early autumn.
I have created a video that shows you how to use the Cricut Joy and Smart Iron-On to create these cute autumn placemats yourself! But first I have created (affiliate) links to the materials you will need to create these projects.
What you need for this Home Decor Cricut Joy Project
Cricut Design Space
Cricut Joy cutting machine
Cricut Joy Smart Iron-On
Cricut Easy Press 2 and Easy Press pad or towel
Plain place mats or table runner (check your local dollar store or Home Sense)
Cricut Weeding Tool
Cricut Portable Trimmer (optional)
The how to:
Design your project in Cricut Access
Cut the image using Cricut Smart Iron-On – Make sure to mirror your image before cutting!!!
Follow the prompts to begin the cut
Weed your vinyl using the weeding tool, removing all the vinyl that you do not want ironed on to your project
Consult the Cricut Heat Press Guide to determine the temperature and time for your Easy Press and proceed to iron on your image as per the guides recommendations
Enjoy your beautiful new custom project!
I am so happy with the way they turned out! Creating custom table linens for any occasion is a Cricut Joy project I will be doing again and again! Next up for me are some monogrammed napkins for the upcoming holiday season!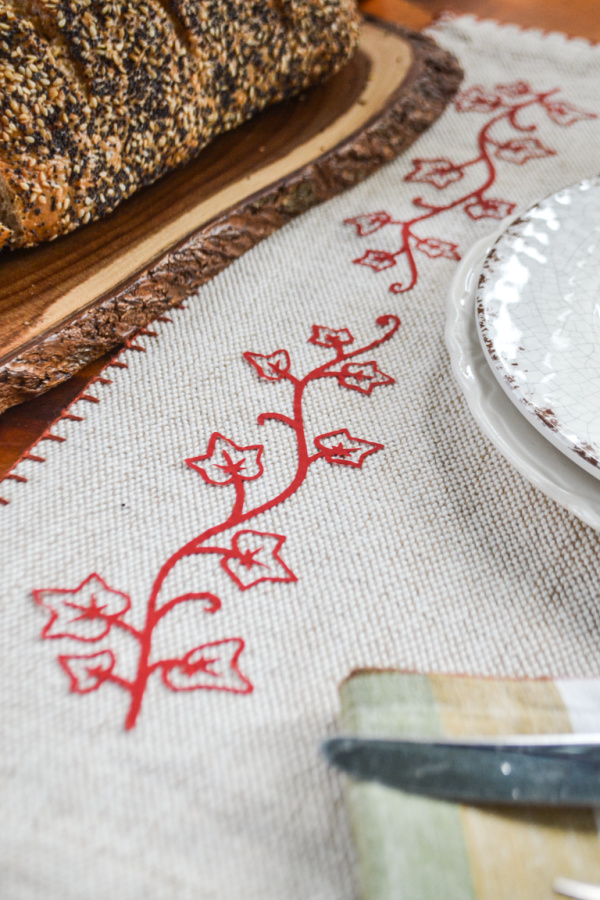 Even with the nubby, textured fabric, the Smart Iron-On vinyl really adhered well, to create a nice clean image.
The benefits of Cricut Smart Materials
The beauty of the Cricut line of Smart materials is that you can create cuts without the use of a mat! And, since you can buy rolls for the Joy from 18 inches long up to 75 inches in length, (depending on the type) the possibilities are endless! Plus, the convince of not requiring a mat makes crafting a breeze!
Whether you choose Smart Vinyl, Smart Iron-On or Smart Paper, Cricut has taken custom crafting to a whole new (easier) level!
You can make those extra-long home decor projects like lumbar pillows, table runners, wall quotes and more!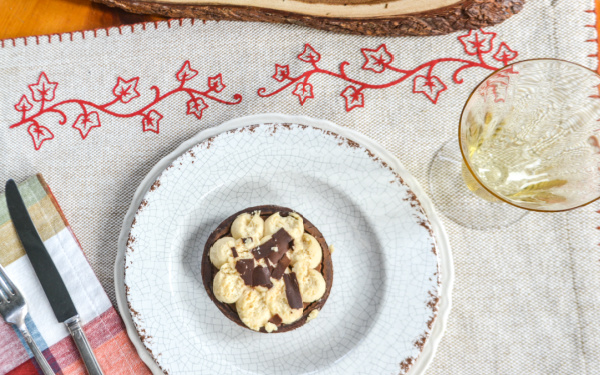 The placemats are definitely the star of my early autumn tablescape, but a few added touches elevate the style!
To complete the tablescape I used plaid napkins in shades of red, orange, green and taupe. Melamine lunch plates were stacked on vintage plates with a decorate edge. Yellow water glasses and my grandmothers silver complete the place setting.
Quick Tip – don't store away your good silver or good china to use "someday"! Keep it out and use it often!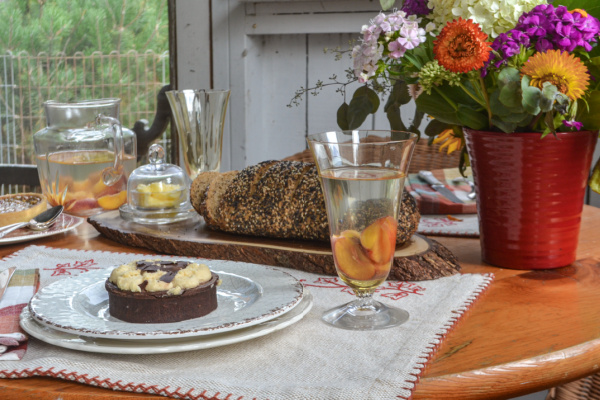 A delicious loaf of Everything Sourdough bread and yummy tarts were just part of our delicious meal. Water flavoured with fresh peach slices was the perfect refreshing beverage!
A simple centrepiece of garden flowers set off to the side add colour and charm, while allowing a free flow of conversation!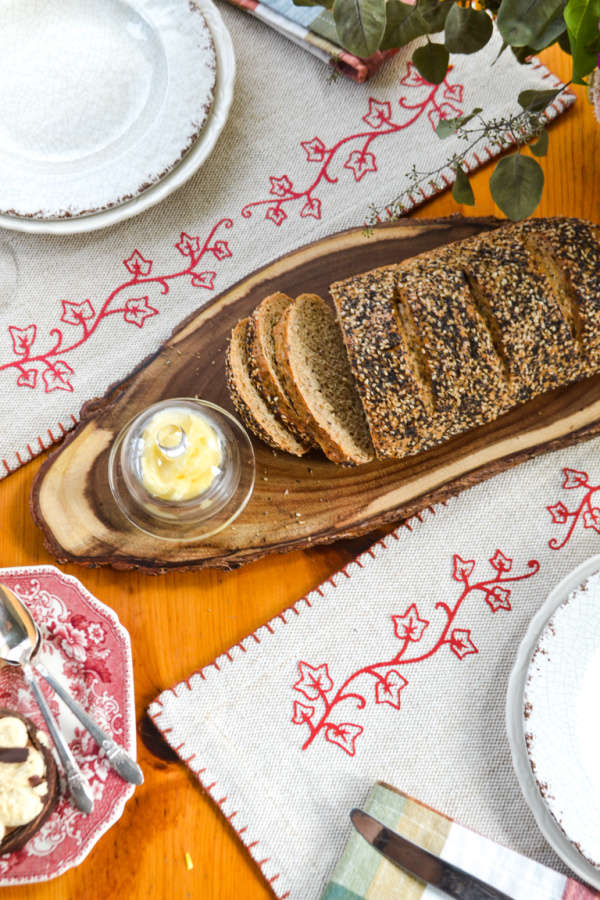 I just love how the simple design created in Cricut Access dresses up the otherwise boring beige linens!
You might enjoy this Valentine's tablescape that features a paper table runner that was customized using one of my other Cricut cutting machines! Or this custom decorative Christmas pillow cover.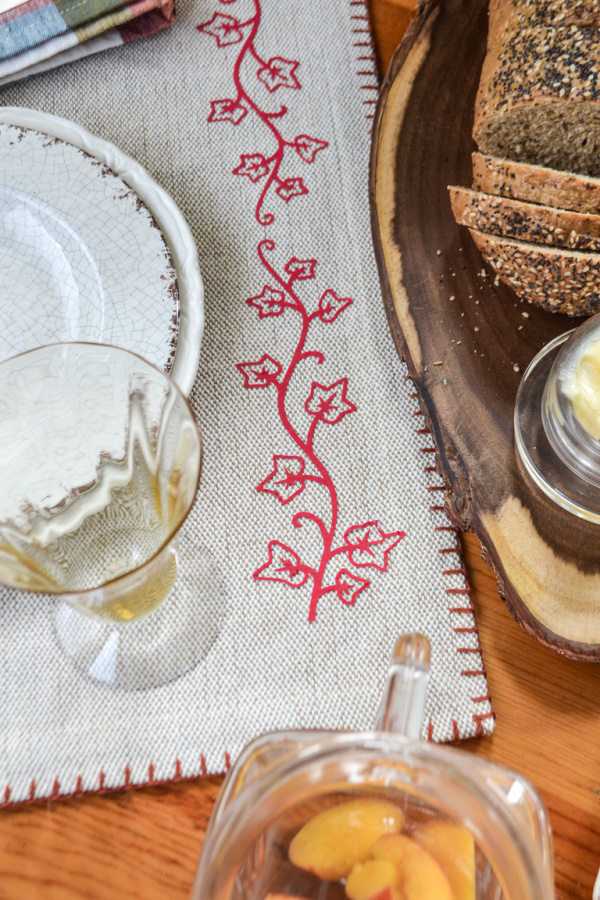 Did you know Cricut has just released brand new cutting machines and an expanded line of Smart materials?
Yes, they did! Cricut recently released two new cutting machines, perfect for creating larger projects without the need for a cutting mat!
The Cricut Maker 3 and the Cricut Explore Air 3 along with a whole new range of Smart Materials gives you so many more options when it comes to customizing your home!
Visit the Cricut blog for more inspiration and tutorials!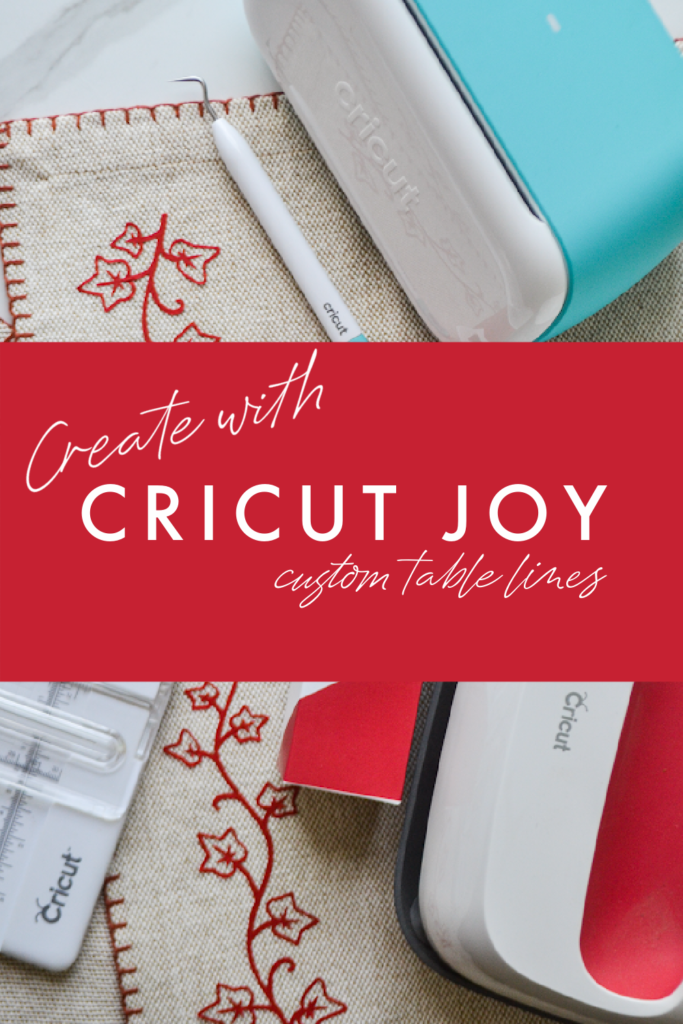 What are you waiting for? Are you ready to "elevate the everyday"?
Just imagine the possibilities when it comes to creating custom home decor when you own a Cricut cutting machine!
Until next time….