Thrift Store Decor – Picture Frame Edition
It's time for another Thrift Store Upcycle Challenge!! I've paired up with an amazing group of talented ladies to bring you a monthly thrift store challenge. Each month we will create a new home decor piece from an item(s) we've found at a thrift store, yard sale, resale shop etc. There is no budget or specific theme so we are free to let our creativity run wild!
Meet the Hosts
Amanda | The Kolb Corner Chelc | Inside the Fox Den Erlene | My Pinterventures
Kim | Made in a Day Sara | Twelve on Main Debra | Shoppe No. 5
Shirley | Intelligent Domestications Marie | DIY Adulation Lindsay | Crazy Organized
Michelle | Our Crafty Mom Julie | Live From Julie's House Colleen | Life on Kaydeross Creek
Maureen | Red Cottage Chronicles Pili | Sweet Things Sherry | Savvy Apron
Ann | Duct Tape and Denim Dru | Polka Dot Poplars
Megan | C'mon Get Crafty Jennifer | Hydrangea Hippo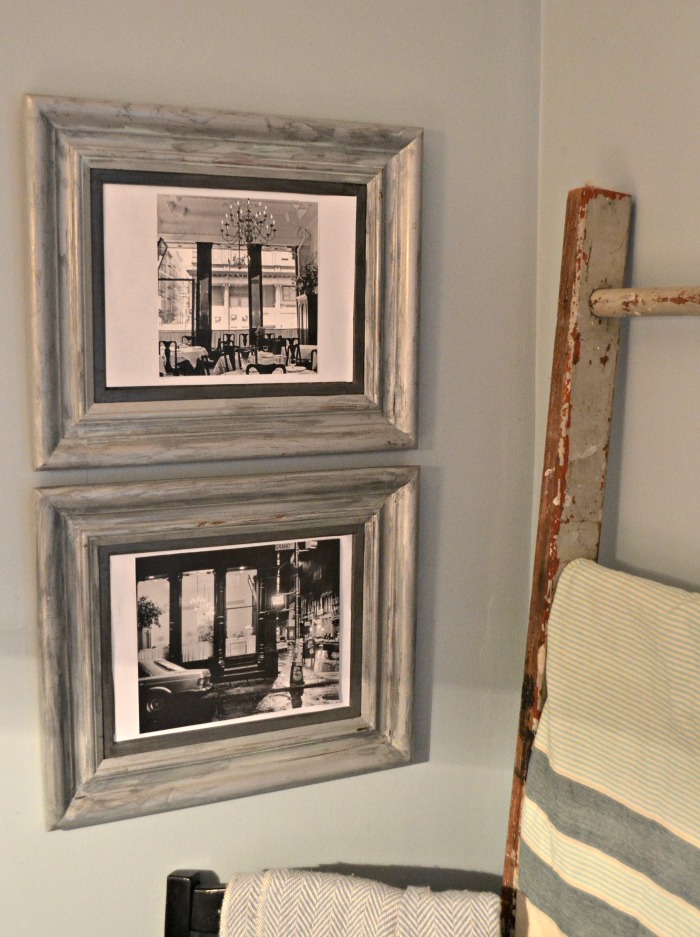 2 Old Frames + 1 Gorgeous Cookbook
Ever since I started photographing different rooms of my home for the blog, I realized I am completely lacking when it comes to art. I tend to style everything else and overlook the walls. Although I do hang or prop things up on the walls in strategic places like over the fireplace or the buffet in the dining room.
I have decided it is high time I start to fill in all the blank wall space. When I headed out to find something for this months Thrift Store Decor Upcycle Challenge I went right for the picture frames.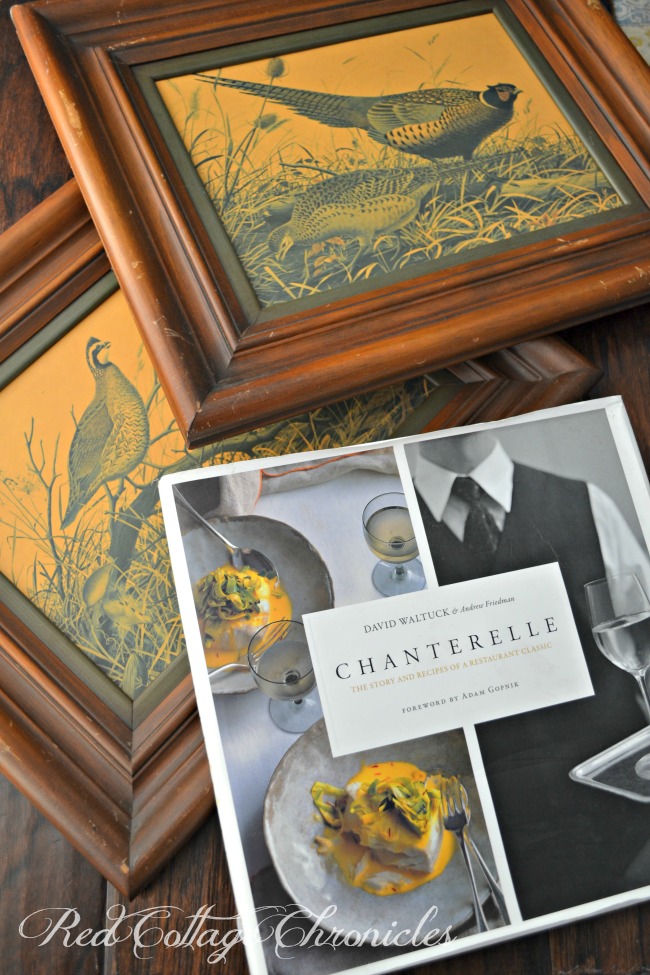 Sitting right there on top of the bin were these two beauties. Well, maybe not beauties but they were matching. Good enough for me! Wasn't quite sure what I was going to do with them yet, but I had a start.
A sideways glance to the left I saw a HUGE bookcase full of books. The light bulb went off in my head and I found myself searching through the masses to looking for coffee table type books that would have nice sized photos.
Me being me, I gravitated to the cookbooks, where low and behold I found one that really was more like a work of art. It is called Chanterelle, The Story and Recipes of a Restaurant Classic. Flipping through it I realized not only did it have some striking photographs, but some pretty special recipes and a wonderful back story.
After I spent an hour reading through the Chanterelle Story chapter I came to realize that this restaurant was a highly regarding destination restaurant that routinely received 4 stars when reviewed by the likes of New York Times! My curiosity got the best of me and it didn't take long to find out that for almost 30 years it was 'THE" place to dine in New York City. Until it closed in 2009 the menus were hand written every week by Karen, who co-owned Chanterelle with her husband and chef David Waltuck.
How I wish I had known about this restaurant on one of our many trips to New York City.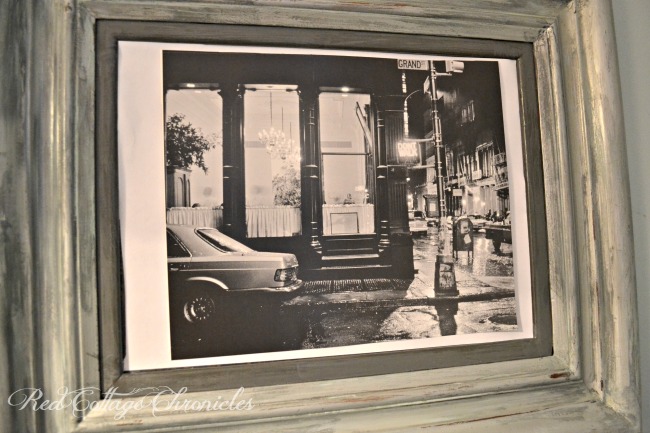 Since the photographs were food and fine dining themed I knew exactly where I would hang them. There is one little corner in the dining room that could use some character!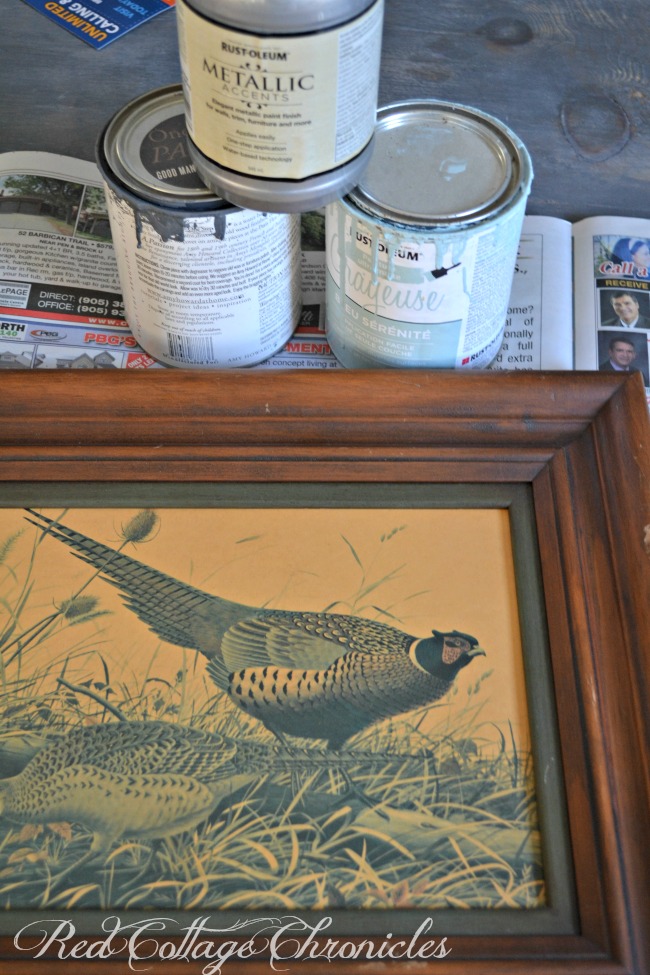 I used Rust-Oleum Metallic Accents in Sterling Silver for the base coat. This paint is so pretty. It is so fluid and goes on like liquid silver.
After the base coat dried I used Amy Howard At Home One Step Paint in A Good Man Is Hard To Find and randomly brushed it here and there around the frame. I quickly used a paper towel to smudge and blend the edges so it didn't look patchy. I also used the AHAH one step to paint the little edge that was just inside the frame as well.
Finally, I used Rust-Oleum Chalky Paint in Serenity Blue, again randomly brushing it on and blending it with a paper towel. In some areas I rubbed a little harder and brought it right down to the wood.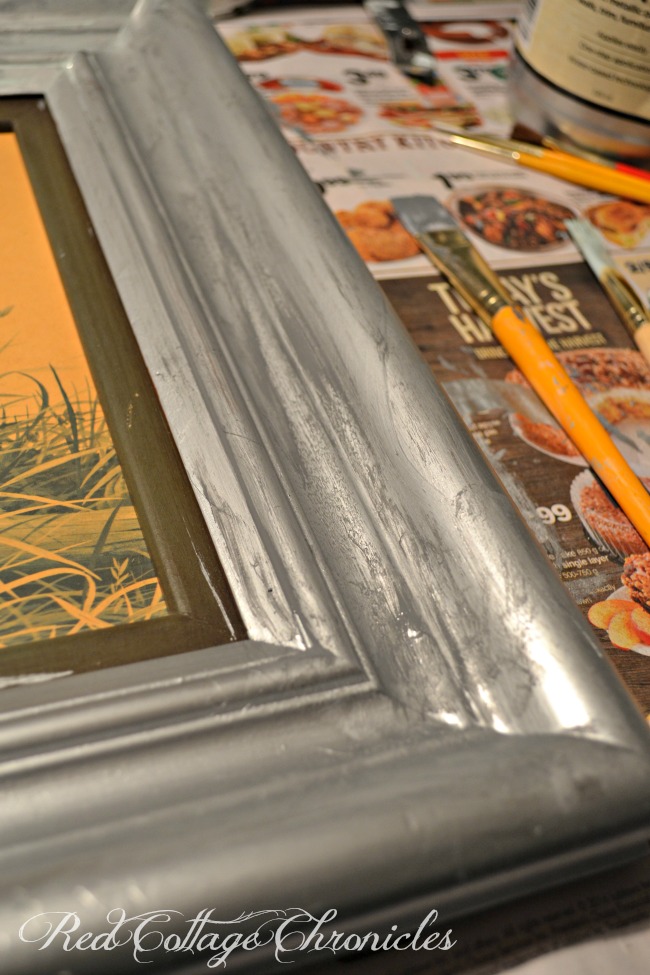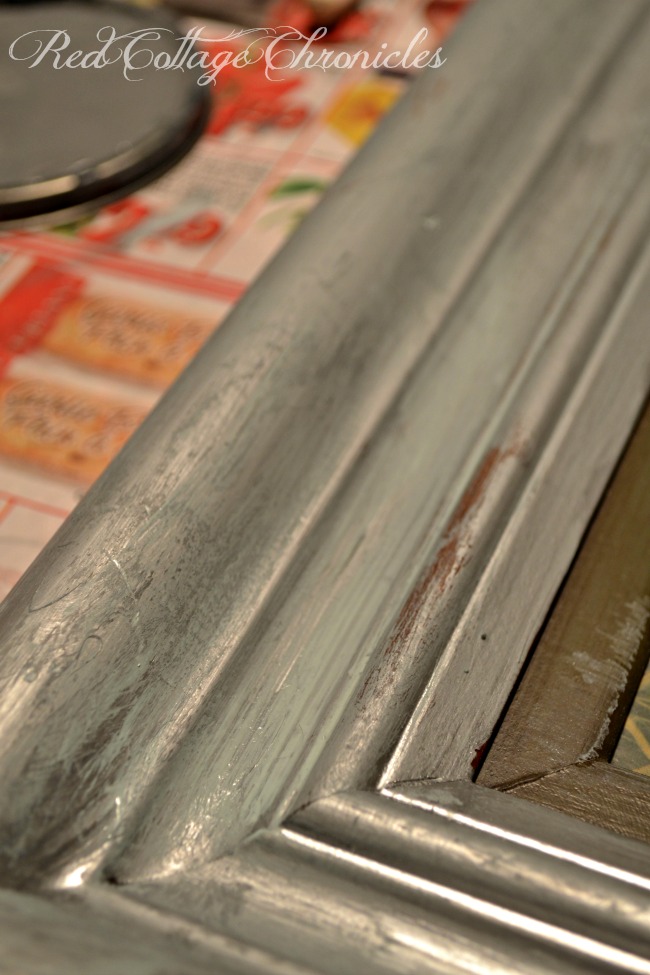 I had planned to use liming wax to add a bit more character and to seal it, but someone didn't put it back where it belongs and it has gone AWAL! No worries though. I used Rust-Oleum's chalk paint sealer, and in the end I am glad I did. It added a really nice sheen.
My total cost for this project was $12.00! I used paint I already had on hand and Rust-Oleum kindly provided me with a sample of their Metallic Accents to try.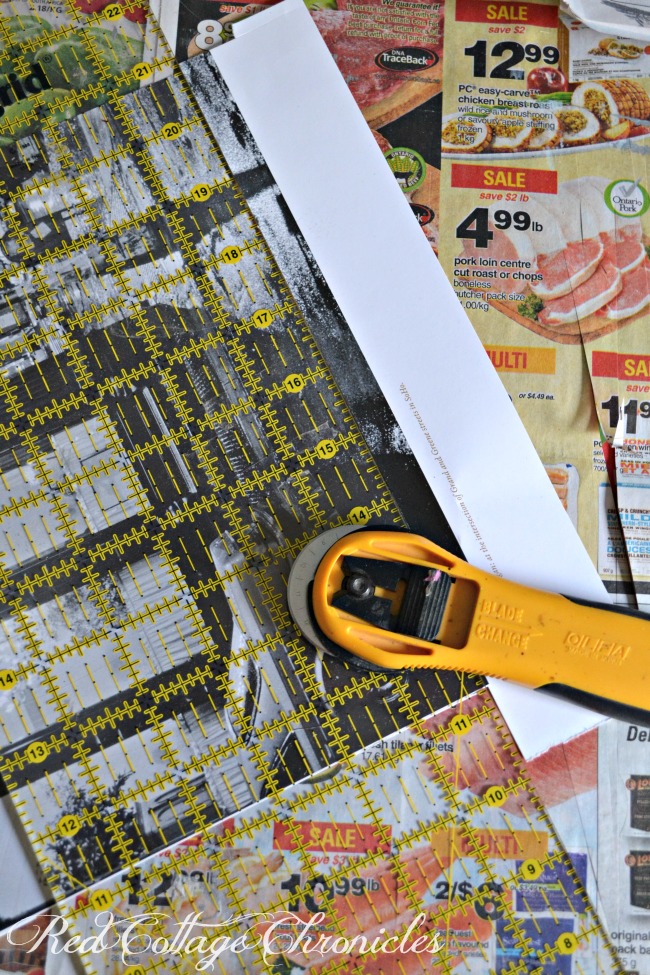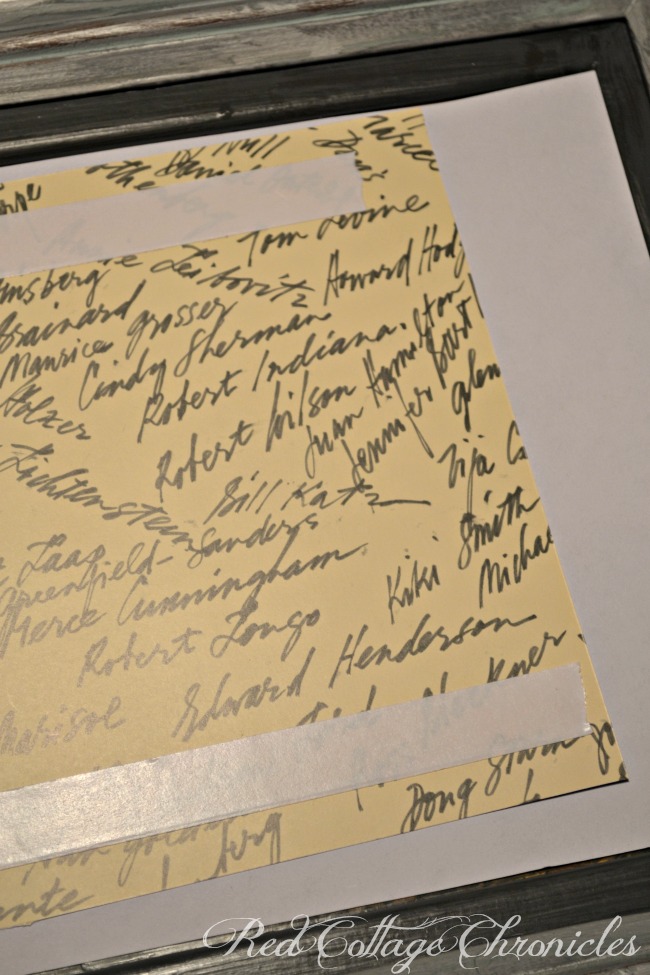 Instead of glue, I used two way tape to attach white card stock over the old picture and then after trimming photographs of the restaurant from the book, I used the two way tape to attach those to the white card stock. I didn't want to use glue in case it bled through, and the two way tape allowed both the card stock and the photograph to remain completely flat.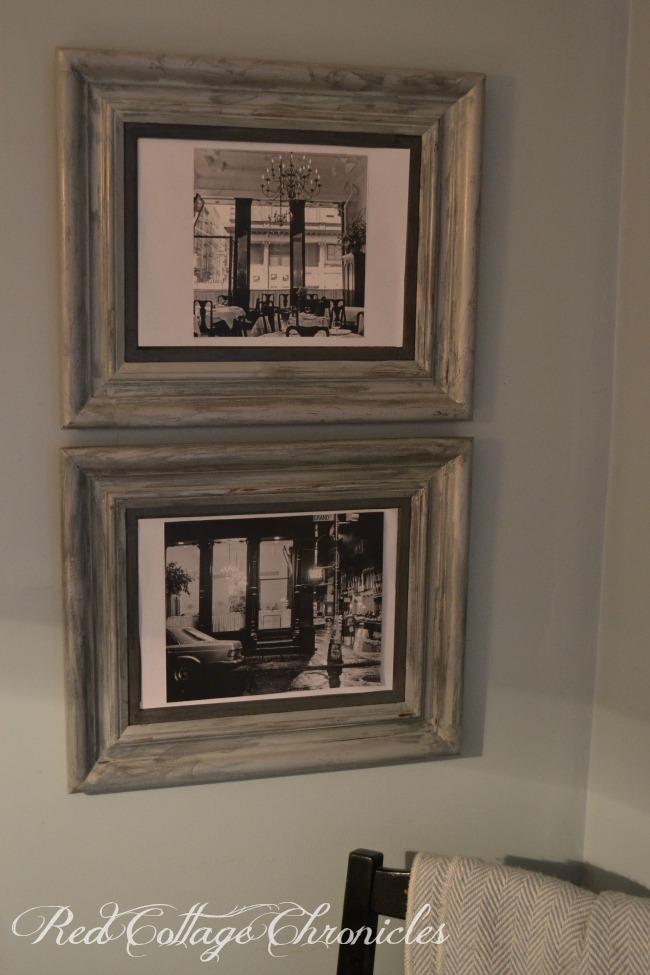 I really like how the frame compliments the black and white photographs and allow them to pop.
The little corner of my dining room where I decided to hang them makes getting good lighting pretty tricky, especially on a cloudy day in the late evening! They certainly do brighten up that space though!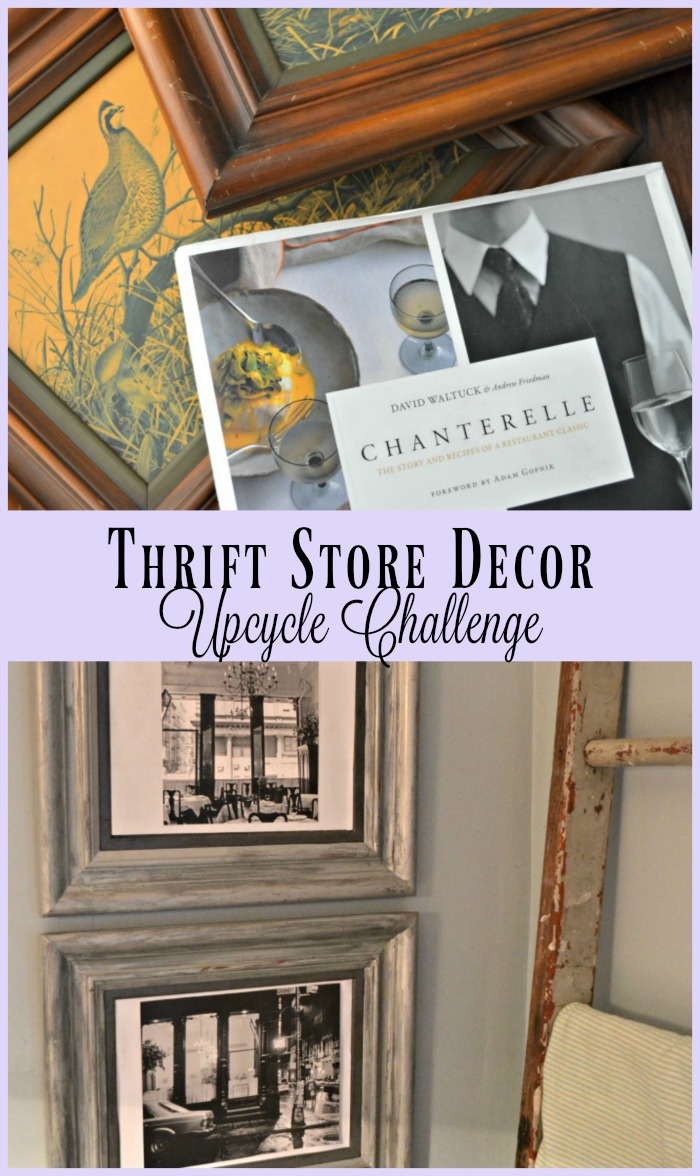 Another successful Thrift Store Decor Upcycle Challenge if I do say so myself!
For $12 I got two pretty pieces of art that gives me a glimpse into the glamorous New York City restaurant Chanterelle, and I have a cookbook with some amazing recipes created by a chef with a passion for good food and fine dining!
Until next time….

Be sure to check out all of the other creative upcycle projects my fellow bloggers have come up with!
You can also follow our board on Pinterest for more upcycled thrift store decor inspiration!