Without fail each and every Sunday on Labor Day weekend involves making smores around a campfire in my mom's backyard before we move to the front porch to watch the town's annual firework's display. In honor of this annual event and to celebrate the unofficial end of summer I decided to make a campfire cake!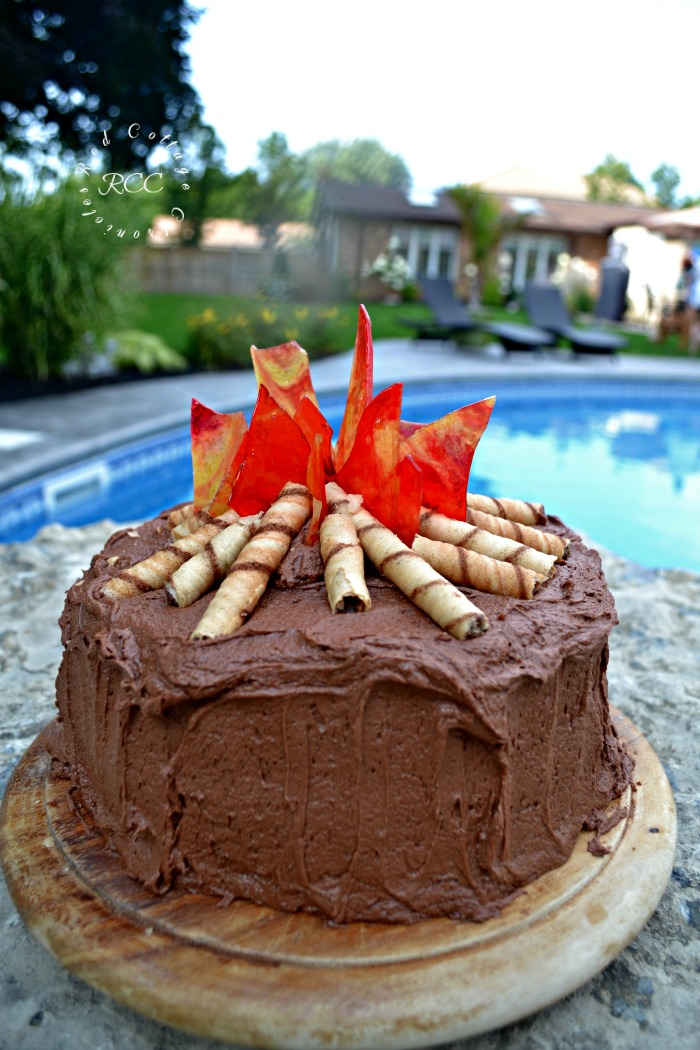 In our town Labor Day has always been a big deal. The local Lion's Club hosts a carnival, fireworks, and the "Grand Parade" on Monday. It has traditionally been a weekend where all of our family gathers together for one final weekend of barbecues and summer fun.
Through the years, even though the "kids" are starting to spread out, we have tried to get everyone together for the campfire at my mother's house. With two nephews no longer living in the area, (one clear across the country), and another travelling with friends, our gathering will be smaller, but I sure am going to miss them!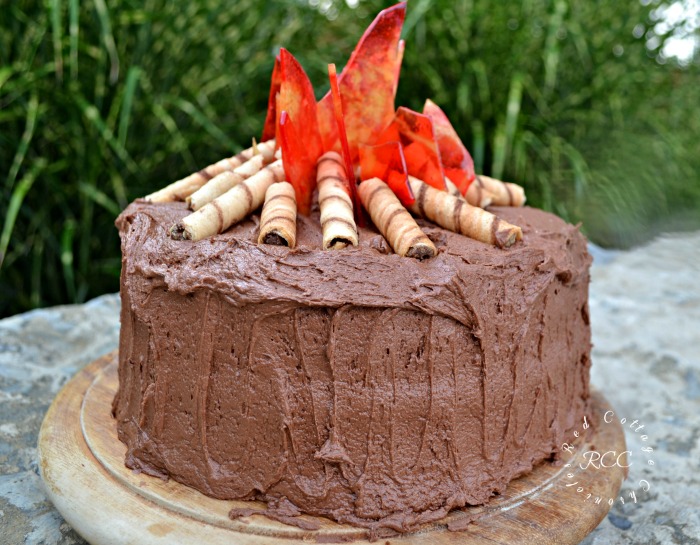 Even though the parade isn't anywhere as entertaining as it used to be, it is one I just can't miss. Something about sitting on the main street watching the groups parade by, listening to the bag pipes, while I try very hard not to cry, I always feel as if my dad is right there with us, even though he has been gone four 14 years.
While I look forward to Labor Day every year, truth be told I loath campfires! My family thinks I am ridiculous but it doesn't matter where I move my chair, the smoke follows me. I cannot abide the smell of my clothes and hair after sitting around a fire. Ugh! I do put on my big girl panties on this one weekend, and sit around the fire though. I might even indulge in a s'more. If someone else makes it for me!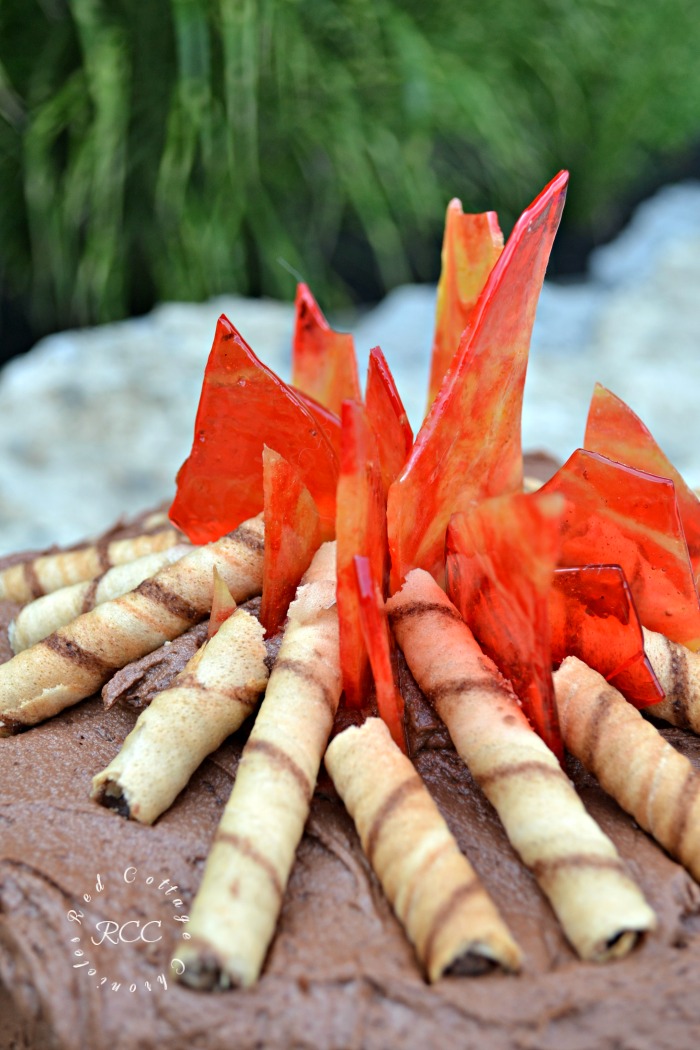 Just give me a campfire cake and I would be a very happy camper!
How to make a Campfire Cake:
Prepare a chocolate cake according to package directions for two 8″ layers
Your favorite chocolate frosting recipe for an 8″ layer cake
About 30-40 cherry Jolly Rancher hard candies
A small handful lemon lifesavers
Frost cake, swirling frosting as you go. Put about a tablespoon or two of frosting in the centre of the cake to support cookie "logs". Arrange cookies around the centre of the cake to resemble a campfire.
Preheat the oven to 350 degrees F. Line a rimmed baking sheet with foil. Sprinkle the red and lemon candies into roughly a 7-by-10-inch rectangle, alternating colors.
Bake the candies until completely melted, 8 to 10 minutes. Immediately run a knife through the yellow candy to swirl it into the red (be careful-the candy will be very hot). Let cool completely on the baking sheet. When completely cool, break into small flame like pieces.
Arrange the 'flames' in between the cookies to resemble a flaming fire.
Today myself and a group of like minded foodie bloggers are sharing recipes to celebrate summers last hoorah! While the days are getting shorter and school will soon be back in session (already is for some!) I hope you take this last long weekend of the summer to try one of these recipes and share with your family and friends!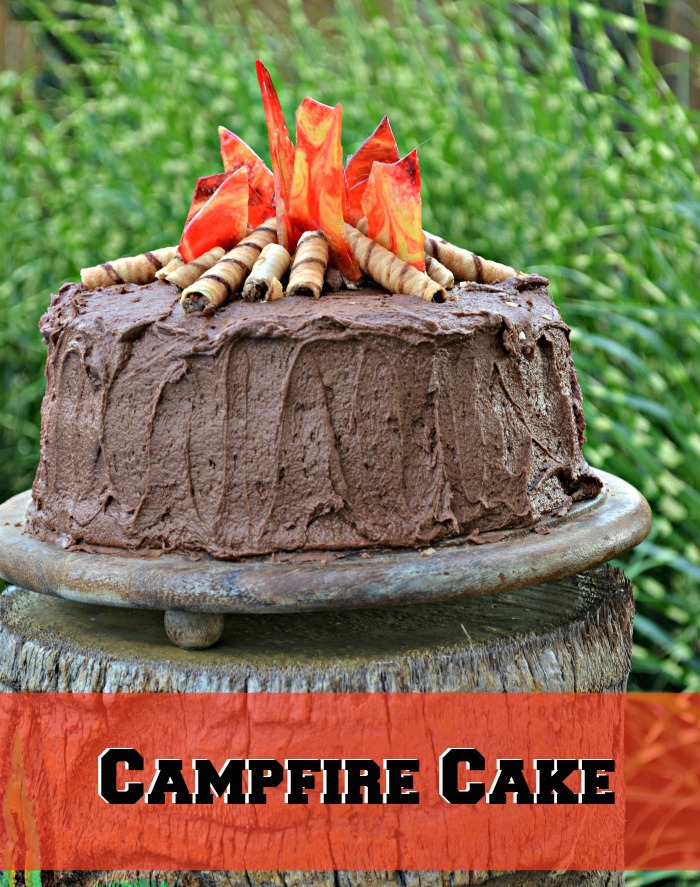 Oh before I go, I would love to know. Are you a fan of campfires or would prefer to have a campfire cake?!
Until next time…..