How to Style a Small Porch for Summer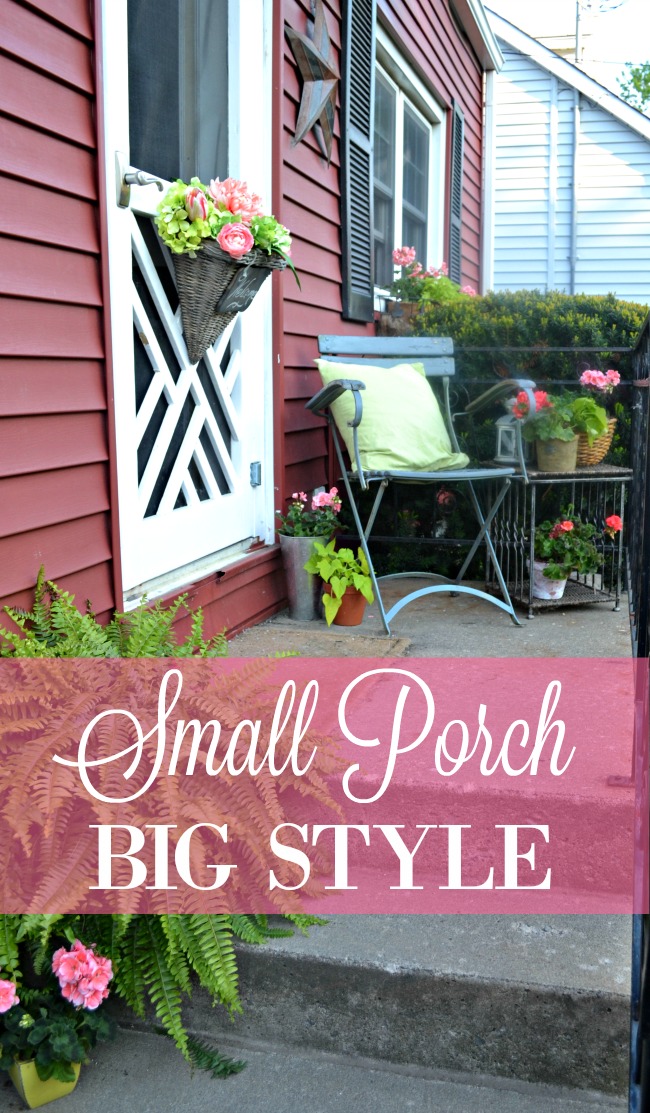 Summer is in full bloom, and after a long Victoria Day Weekend spent in the great outdoors, I can finally sit back and enjoy my tiny porch.
Having a small porch doesn't mean you have to skimp on style. Even the smallest stoop can use a few pots of bright summer blooms.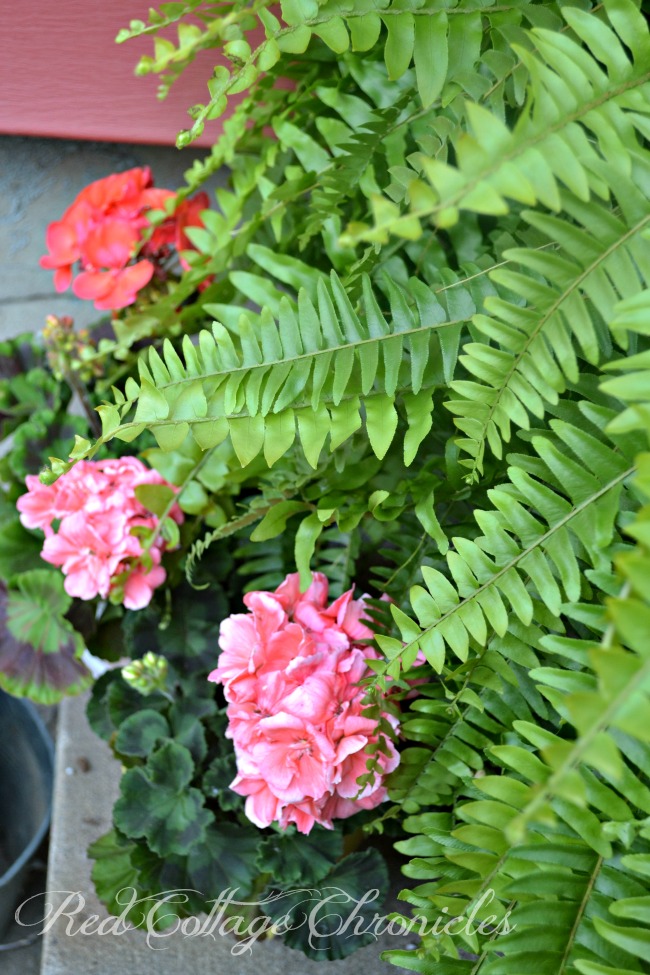 Ever since I made this flower basket for the front door earlier this spring, I knew exactly how I wanted my porch to look this summer.
As luck would have it my mom's church held a fund raiser earlier in May selling flats of geraniums, so I picked up a flat of coral and salmon colours.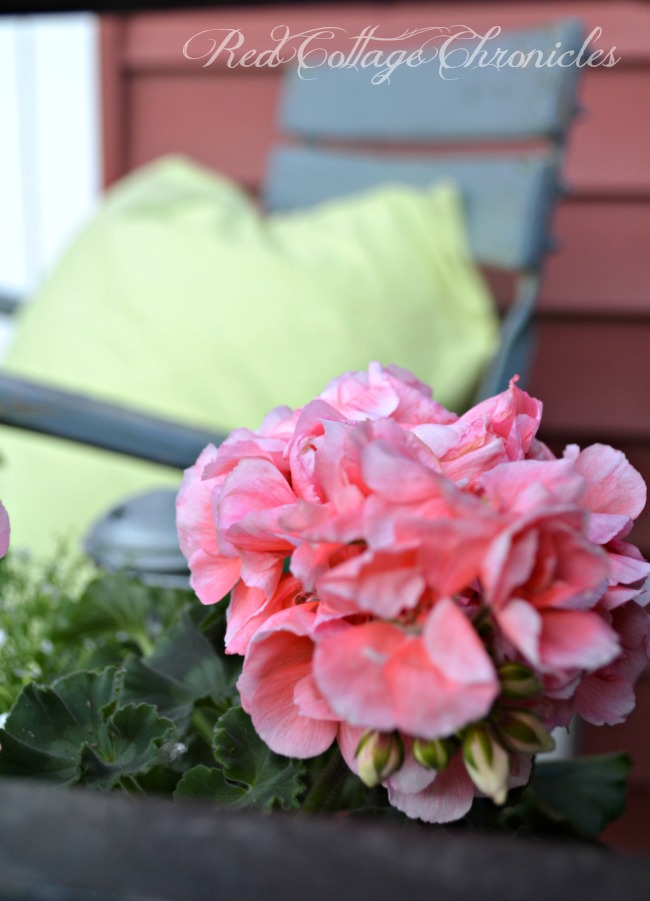 I hit the garden centre for a few more annuals and I love the lime green of the potato vine and how well they fill out and trail down the front of the pots and window boxes.
I also picked up a dainty little white annual, the name of which I have no idea. Somewhat random, but pretty just the same.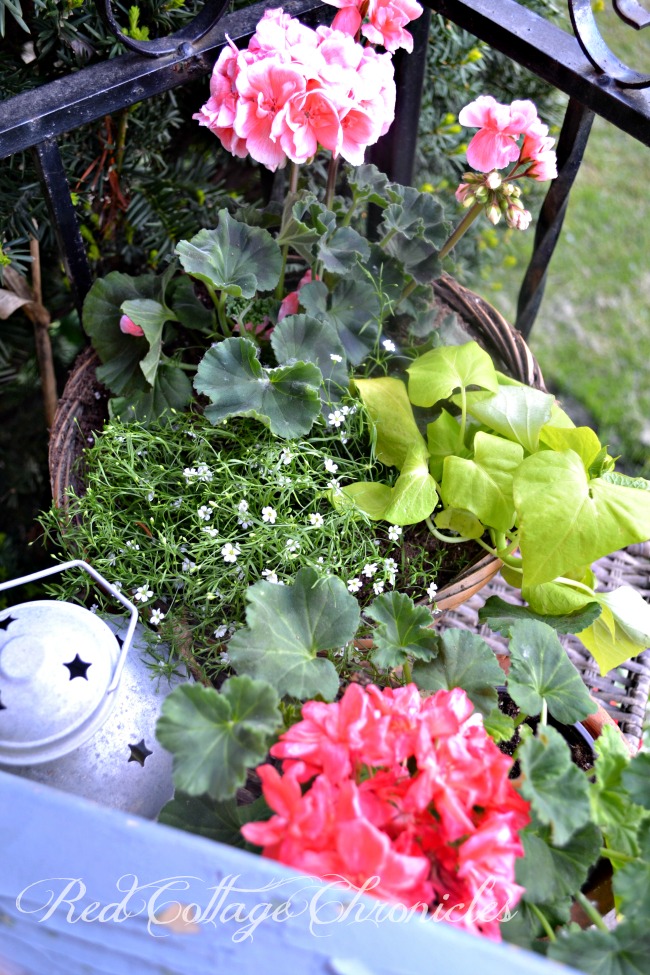 I headed out to the shed and found some clay pots. I painted them with some chalk paint, smudging and blending to make them look a bit aged. I also found some metal buckets, as well as an old wicker basket that is meant to be a hanging.
I brushed vinegar onto the metal buckets in hopes they will develop a more worn patina with being out in the weather.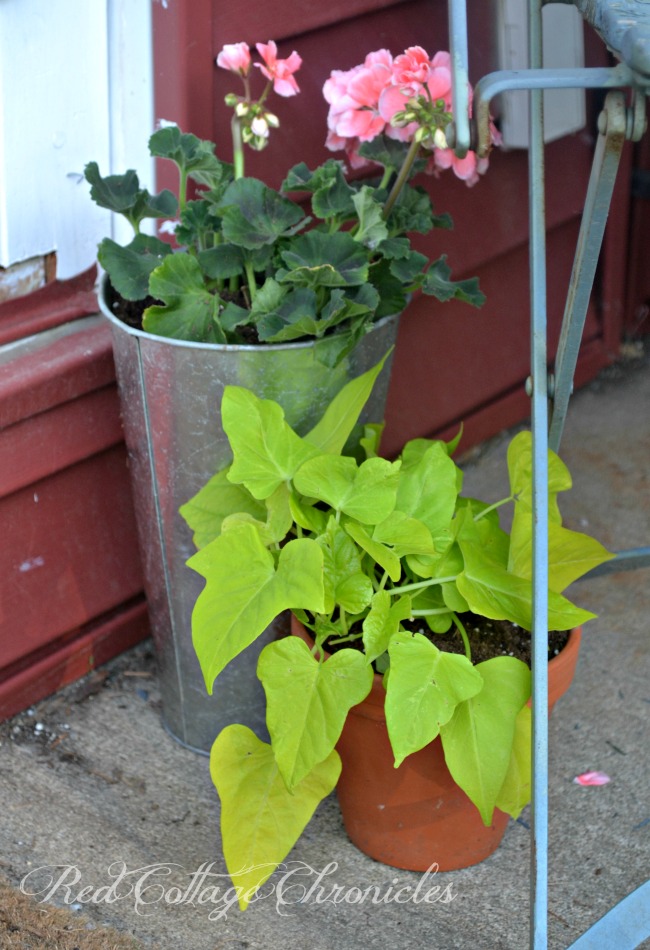 I like the look of mixed pots and containers. I don't like things to look too formal. And, it gives me the opportunity to move things around as the season evolves.
The little bistro chair is one of a pair that my friend Leslie gave to me when she was going to chuck them out! A fluffy pillow with a lime green pillow case found in the linen closet makes it a comfy perch!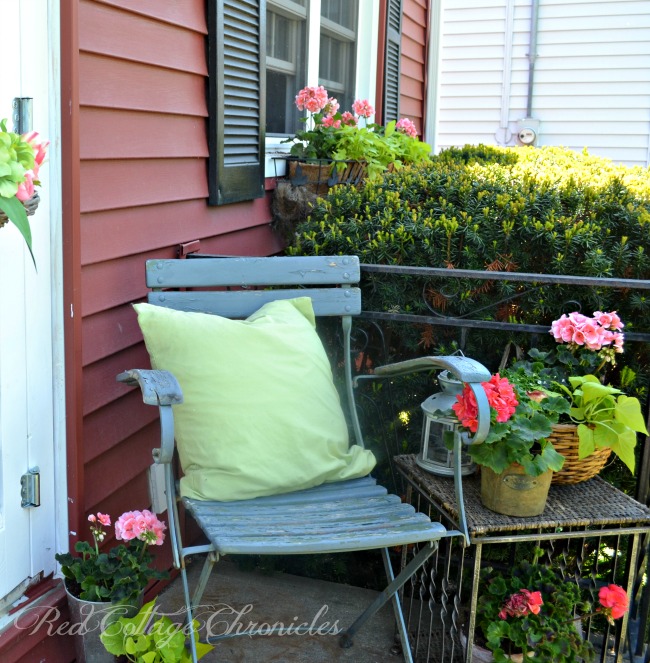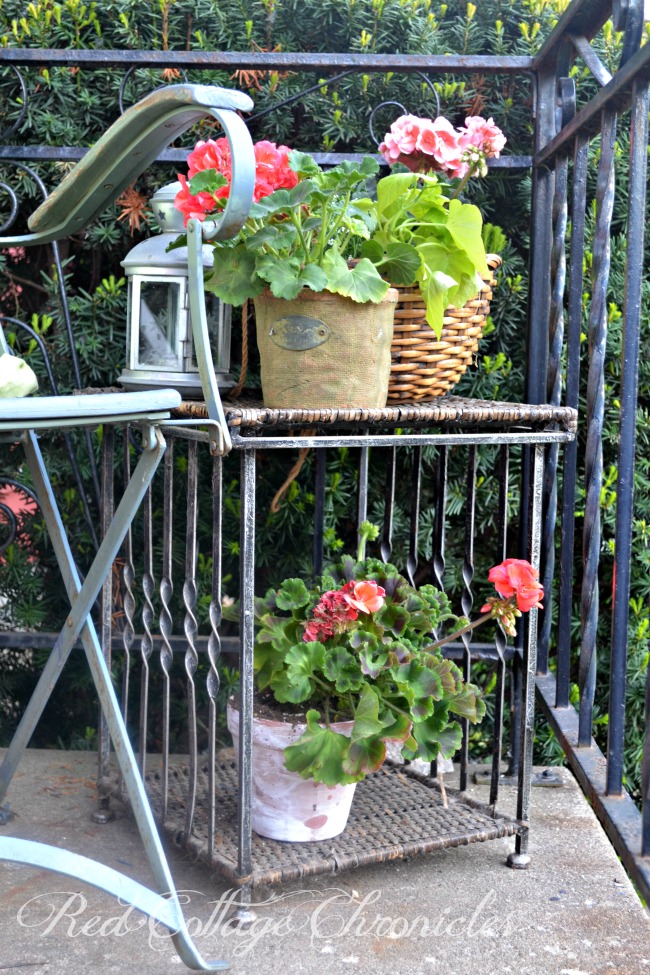 The tiny table I "inherited" from my old office at work that also was going into the trash if I hadn't rescued it.
Add in a Boston fern and a pot of lavender (which will go into the garden soon) and I have a peaceful place to sit and read or just enjoy the fresh air.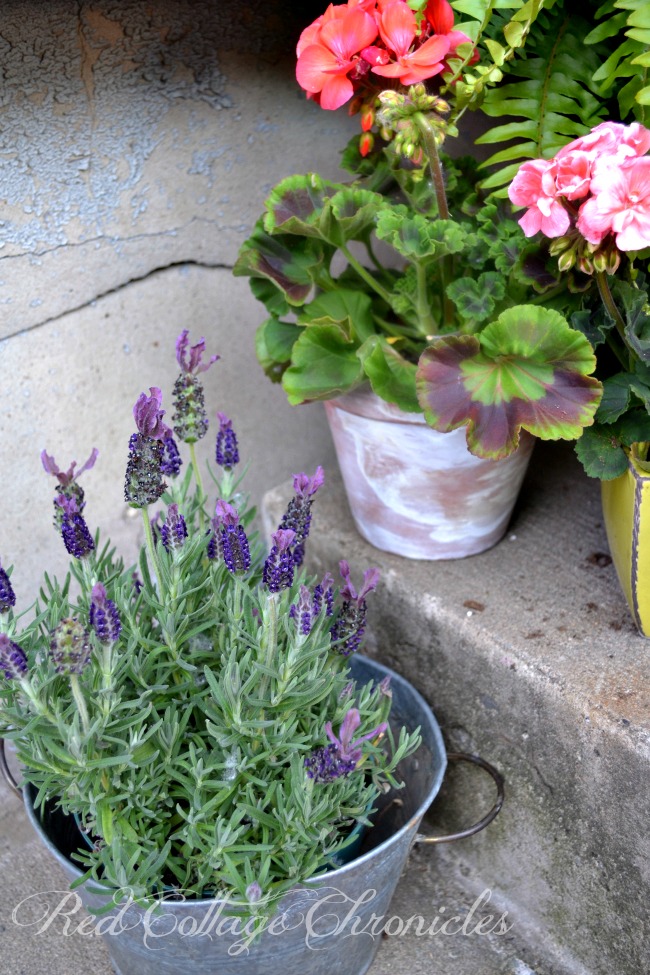 I had enough geraniums and potato vine to fill my window boxes too.
Although it seems like an odd colour combination, I think the salmon/coral/lime green combo actually looks pretty good against our little red cottage!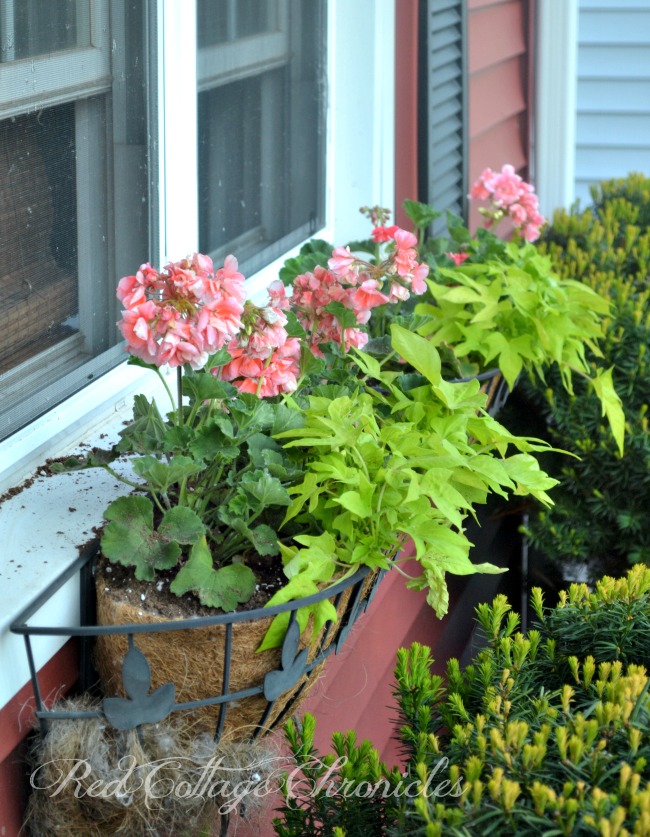 While you might be lusting over photo's on Pinterest of gorgeous sprawling front porches with rocking chairs and room to spread out when in reality you have a small porch with barely enough room for a single chair, (oh wait, maybe that is just me!), I think I spent about $40 for all the plants on the porch and in the window boxes. Since I change it with the seasons, low cost curb appeal is a must! You can see my tiny Autumn Porch decor here!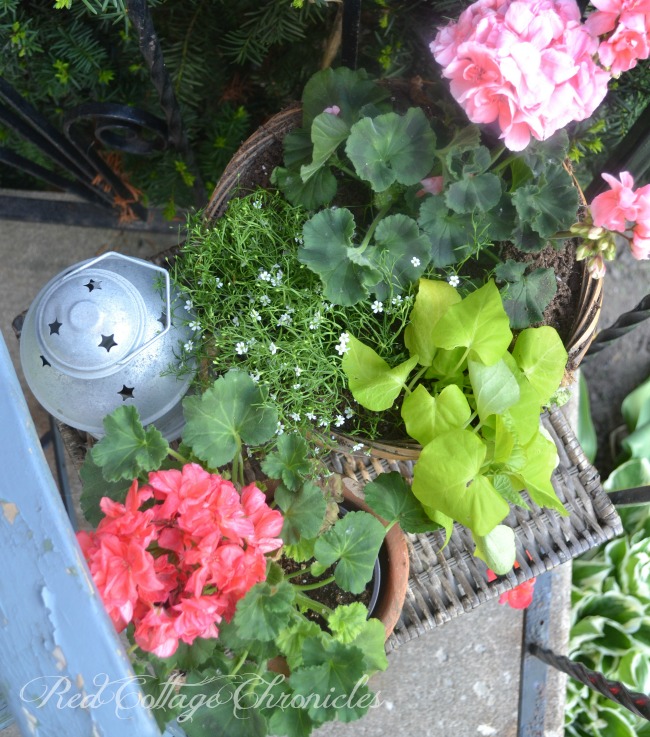 See, having a small porch does come with it's benefits. Small porch equals small price tag!
Until next time….