Thrift Store Upcycle Challenge – French Country Style Cake Plate
It has been awhile since I have participated in the Thrift Store Upcycle Challenge so I thought I would jump in this month and see what I could come up with. I think you are going to love this French Country Style Cake Plate. Which by the way, was anything but French Country when I bought!
I actually had an entirely different project planned, but another shopper at a local Goodwill quickly put an end to that idea when she decided she needed every wooden picture frame on the shelf at the precise moment I was bending down to pick one of them up!
Not to worry. I had another idea up my sleeve when I spotted this beauty. For only $3!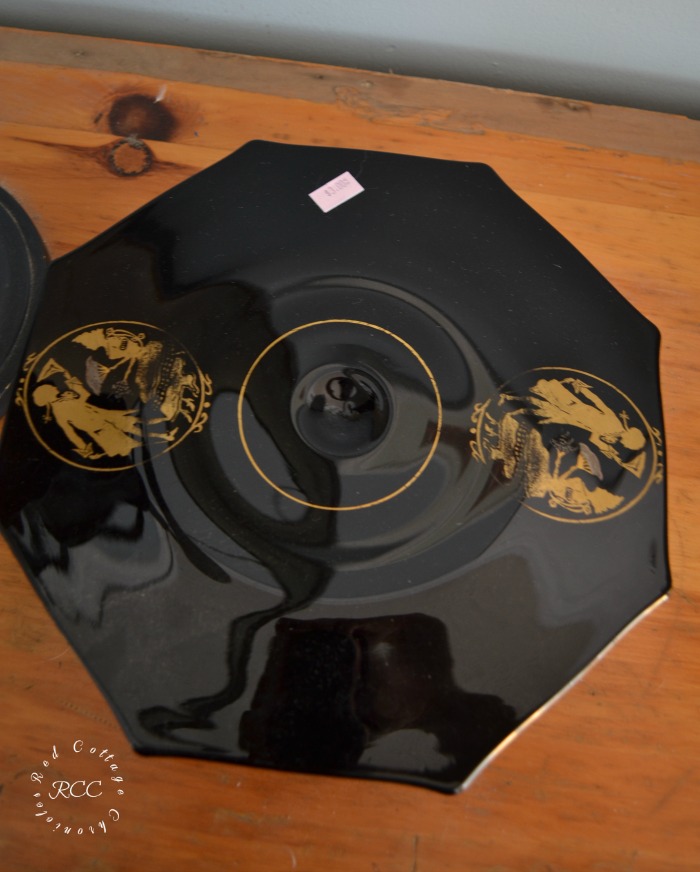 Lately I have been leaning towards a French Country style. I just find it so warm and cozy, and rustic yet refined at the same time. When I spotted this glossy black cake stand I just knew that deep down inside it really wanted to be French Country! Who am I to deny its' wish!
I stopped at the cutest little shop, Victorian Porch that stocks Fusion Mineral Paint. I once took a chalk paint class with them and created this pretty chalkboard.
I bought a little bought of Champlain, a neutral warm white with a very French Country feel. I already had a pot of black at home, and I knew that my friend Leslie had the perfect stencil for the job!
A light sanding, wipe down with alcohol and two coats of paint later it already is looking better…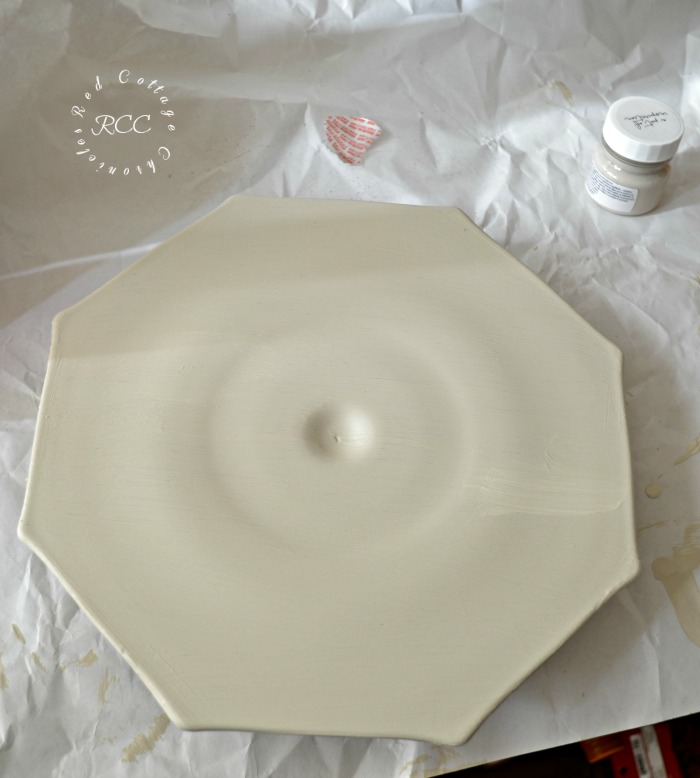 After I had applied two coats, I wasn't sure I was happy with the brush strokes. (I hadn't thought to buy a proper paint brush and just used one that wasn't really meant for the job). But, after it was dry I really liked that those marks provided the "rustic" component of French Country style while the stencil I was going to apply provided the "refined!
This is where I fail miserably. I forgot to bring my camera with me to Leslie's house to record the stenciling. In all honesty though. It is very straight forward.
The stencil that Leslie has actually has a slightly sticky backing. Thus it sticks to the piece without the need for tape. Using Fusion Mineral Paint in black, lightly "bounce" the stencil brush over the stencil, applying it light layers, building the colour as you go.
Remove the stencil when you are happy with the saturation of colour. That is it. Super simple.
I then lightly brushed a coating of liming wax on the entire top of the cake plate to provide a bit of a sheen and protection.
This cake plate will be a decorative piece, so I am not worried about wear and tear.
If I do say so myself, I love the transformation!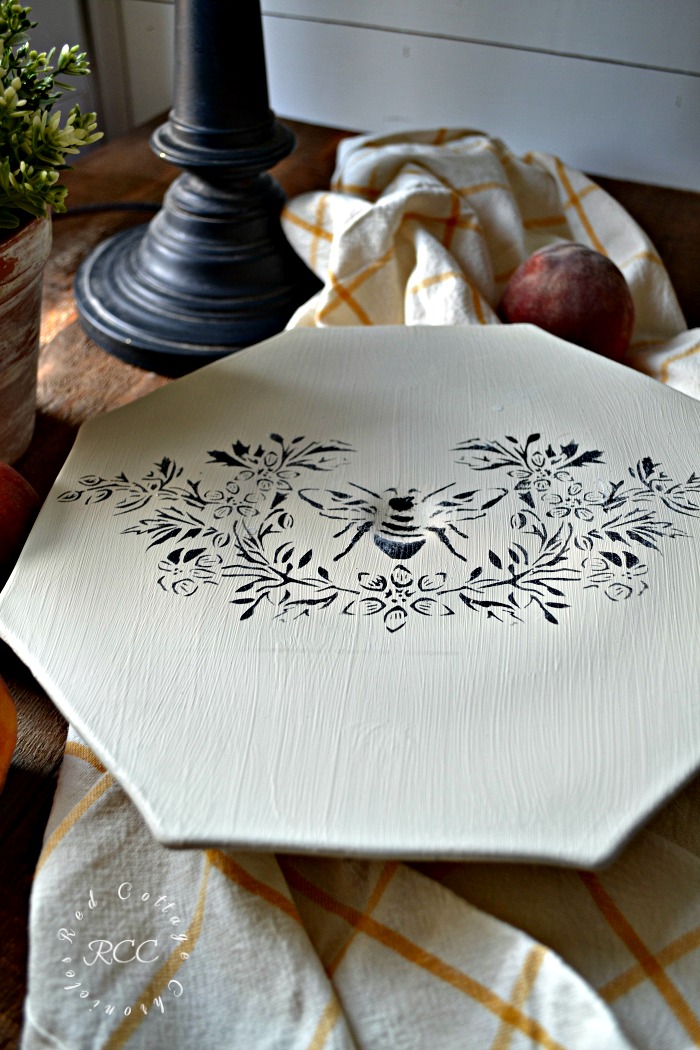 My camera really picked up the brush lines more than you can see them in real life. As I mentioned, I think they just add to the French Country feel.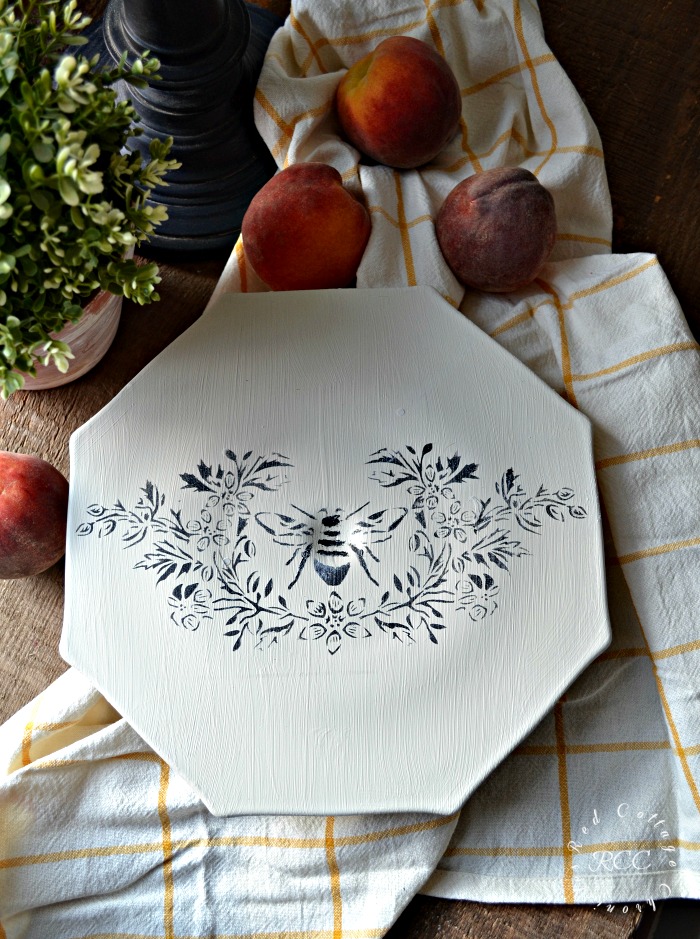 Would you ever guess that this used to be a shiny black cake plate with gold decoration.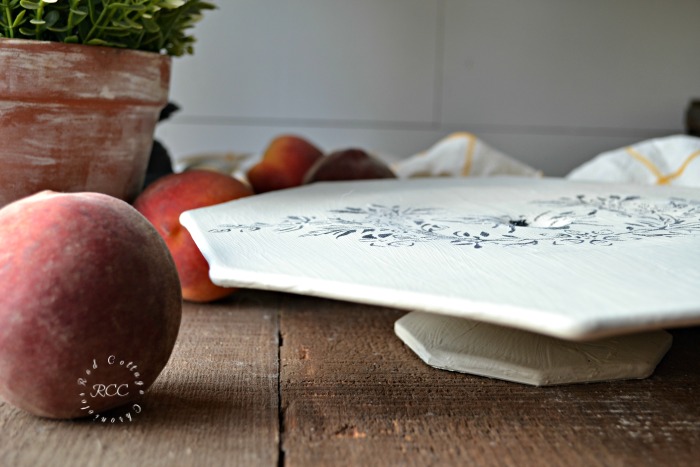 I think it is going to fabulous next to these mini cake plates. They were my very first thrift store upcycle project and I use them all the time!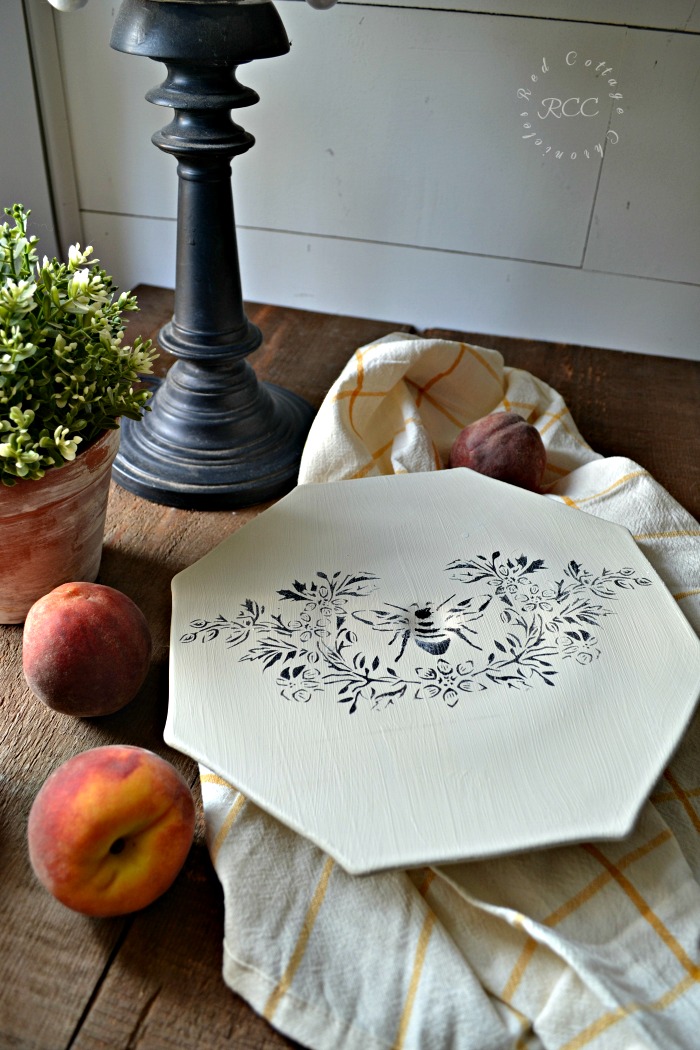 Make sure you go visit all the projects featured in this month's challenge! All the links are down below and will give you inspiration on your next trip to the thrift store!
Until next time…..

The Rules:
Upcycle an item(s) from a thrift store, resale store, or garage sale into a new piece of decor.
There's no monthly theme.
There's no budget to stick to.
Meet the Hosts
Make sure you follow our board on Pinterest for more upcycled decor inspiration!
---
And now for more thrifty goodness!
Check out what my fellow upcyclers created below!