Today I am super excited to bring you another farmer's market bouquets! Since Canada is celebrating 150 years this year I was thinking about our upcoming July 1st Canada Day holiday. It is always a great day to host a barbecue and relax with family and friends.
In a recent issue of a magazine called Sage that I pick up at the local health store for free every month, they had a bunch of gorgeous floral arrangements that had a vegetable in a complimentary color suspended down into the vase.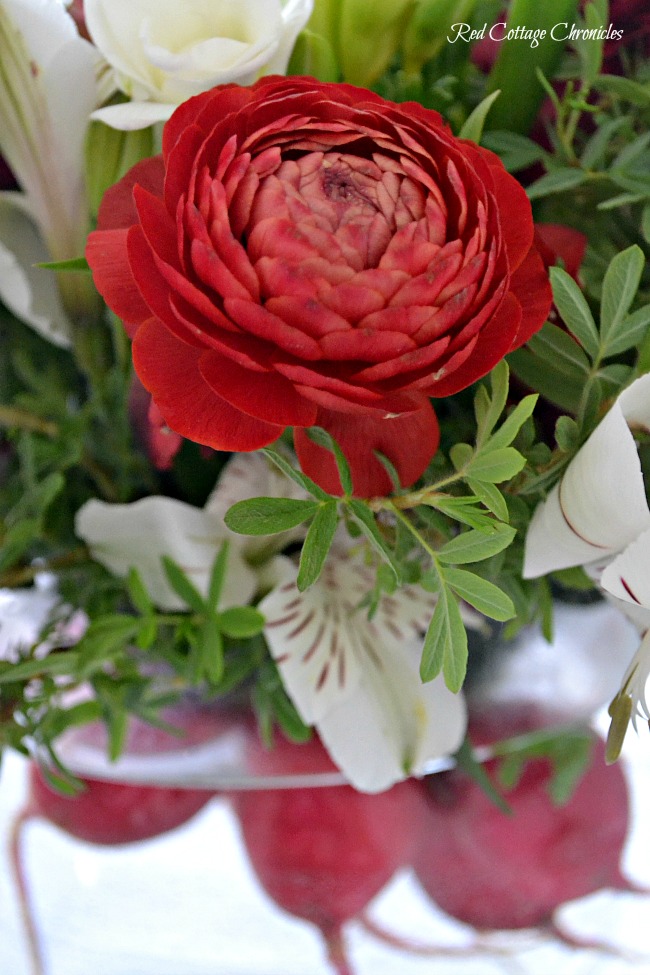 I must have studied the images for an hour trying to figure out how the heck the vegetables were suspended in the water, with a beautiful arrangement of flowers spilling out the top of the vase, but you couldn't see the floral stems.
Since I really wanted to try to re-create a similar arrangement I decided to just wing it and see how things turned out.
I picked up fresh radishes, red ranunculus, white and red alstroemeria, and white freesia from the market. At the dollar store I bought a piece of floral foam for wet arrangements and I round white vase.
This post may contain affiliate links for your convenience in finding products I use. No extra cost to you, and I may receive a small commission if you decide to make a purchase!
All in I spent under $20!
After soaking the floral foam, I pressed the vase into it so I had a guide for cutting. I carefully cut around the lines, cutting only about two thirds the way through. You want "wings" on either end to balance over the edge of the vase.
This can be a wet and bit of a messy part of the process, so I worked on a rimmed baking sheet to contain the water and bits of foam.

After trimming a bit, and then trimming a bit more, I cut a hole in the middle using my apple core tool. I gently enlarged it a bit with a butter knife.
I punched up all the radish leaves and carefully pushed them through the hole, being careful not to break off the "wings" on the foam. It took some gentle pushing and pulling to get it through without enlarging the hole too much, as it is important that the hole is smaller than the greens. This is what holds the radishes in place without falling through.

Once this messy step is over you will have something that looks like this…..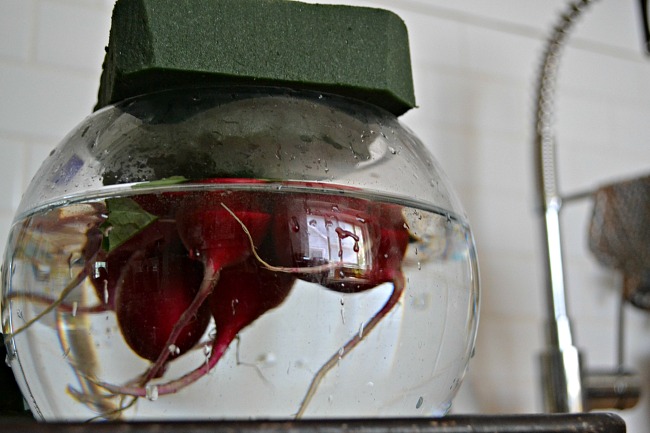 I now had a block of wet floral foam in which to arrange my flowers, but it was small enough that once the blooms were in place you wouldn't see the foam!
I started with the ranunculus……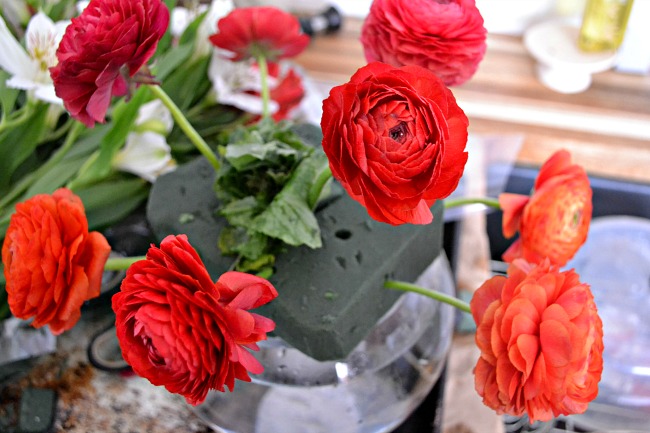 Added some white alstroemeria……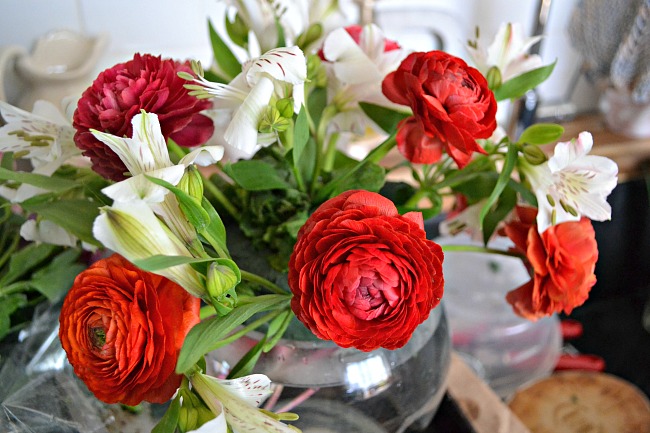 And then the red alstroemeria and white freesia (which smells amazing!)….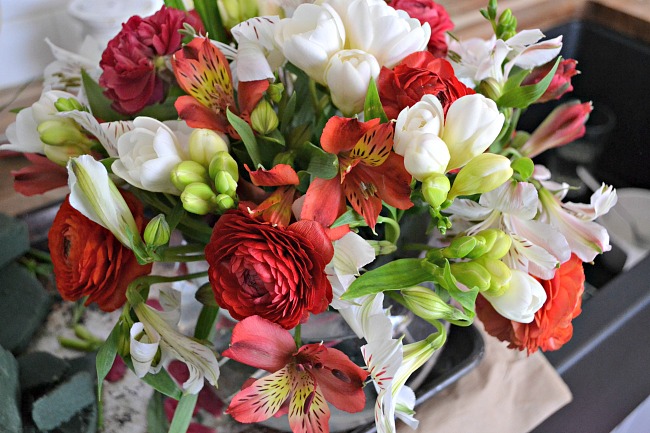 But, I still could see the foam. I hadn't purchased any greenery at the market, so I headed out to the back yard with my clippers and came back with a few snips from one of my Japanese Red Maple's and a bit of green from a shrub whose name escapes me right now!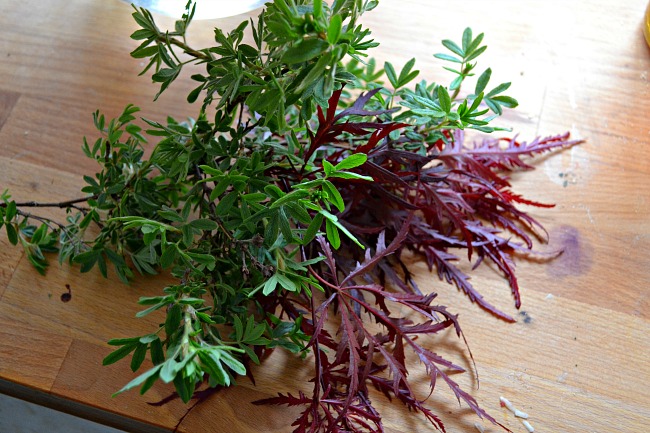 It was all I needed to fill in the empty spots!
I stood back and had a good look, and overall I am quite happy with the way it turned out. In the original inspiration photo there weren't as many flowers in the arrangement, and I still have no idea how they did theirs.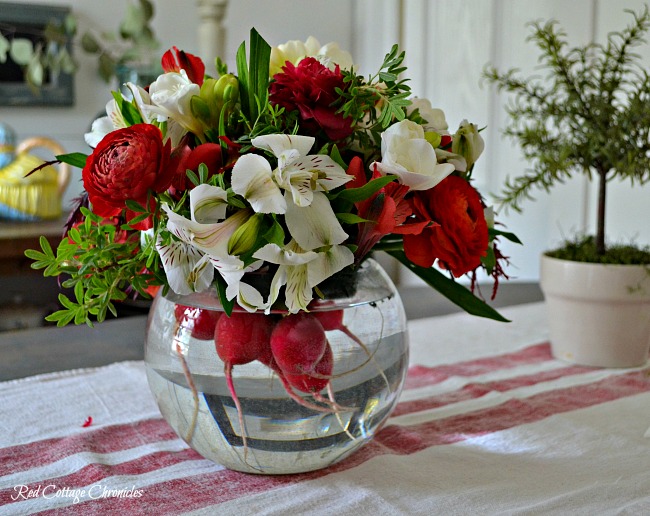 My favorite thing about creating market flower bouquets, they are kind of freestyle and anything goes, yet they still always come out looking great!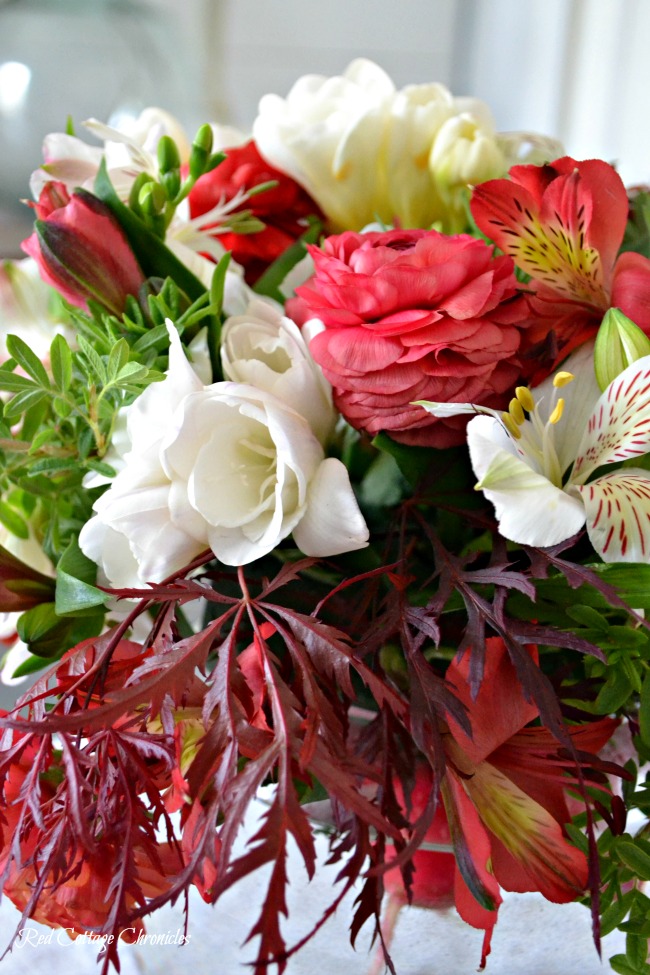 Adding the radishes gives it a whole other visual interest, don't you think?!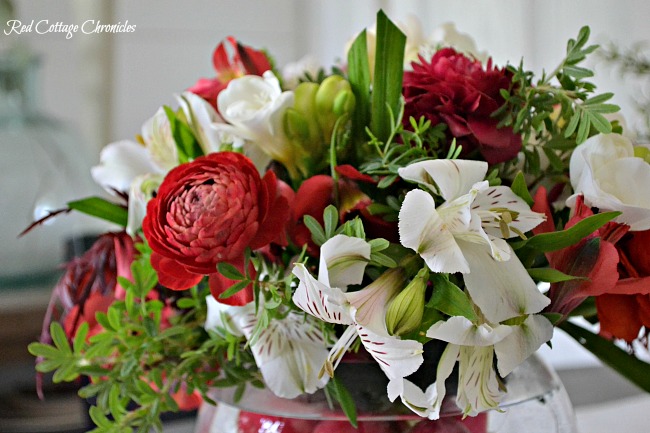 I am so glad the vendor at the Farmer's Market has found a local year round supplier of ranunculus! I just love these deep red ones. Come Canada Day on July 1st, we will be celebrating in style.
Our table will be set with patriotic market flower bouquets, great food, and surrounded by family and friends! Does it get any better?
A few tips I found helpful when creating this arrangement:
place the entire vase in the kitchen sink and allow water to flow over the floral foam to keep it wet and then carefully lift off the foam and change the water every day
a butter knife is all you need to cut through the floral foam, but whatever tool you choose, be sure to keep safety in mind at all times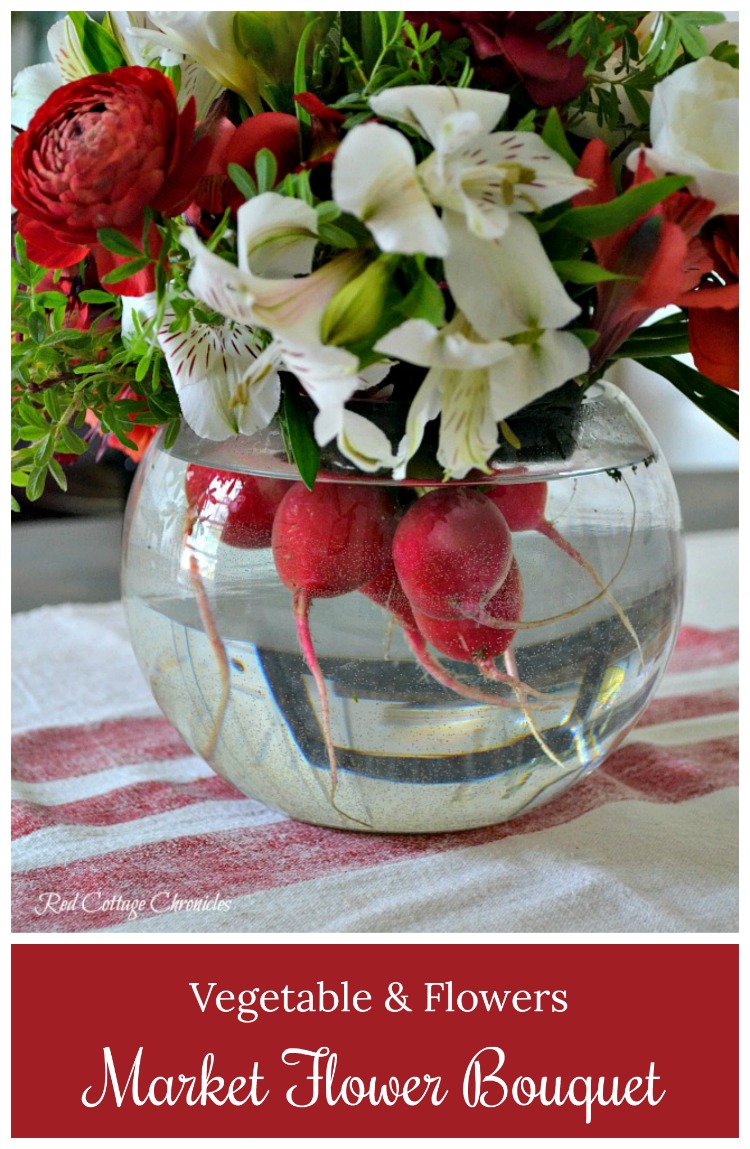 Now that I have tried radish's I can't wait to try carrots in the fall, maybe some green onion mid summer for cool and classic look!
If you are looking for some more ideas, check out my other market flower bouquets here and here
Until next time…..