Spending a lazy sunny Sunday close to home is high on my list these days! I am blessed that we have such a beautiful community and I highly recommend if you ever get the chance, to come for a picnic in Niagara On The Lake!
Welcome! Today I am delighted to be joined by two lovely blogging friends who share my affinity for pretty picnics. Be sure to visit Decor to Ador for some tips to create a sweet summer picnic and Simple Nature Decor for some cute picnic ideas with Southern Charm! You will find links to both of these posts down below!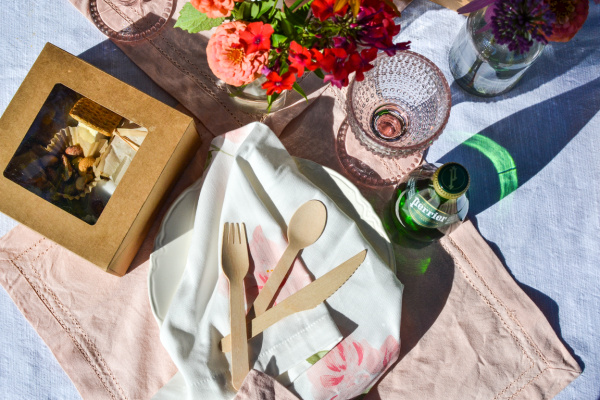 If you know me at all, you know how much I love a beautifully set table. So, when I am packing for a picnic in the park, I also pack some pretty things to make it extra special!
Sunday was a glorious day here in Niagara. The sun was shining, a light breeze was blowing and the temperatures were perfection. And, no humidity!!
If you are coming for a picnic in Niagara on the Lake plan to get there as early in the day as possible, especially if you prefer a picnic table or bench, as tourists flock to the town and the tables are snapped up pretty quickly.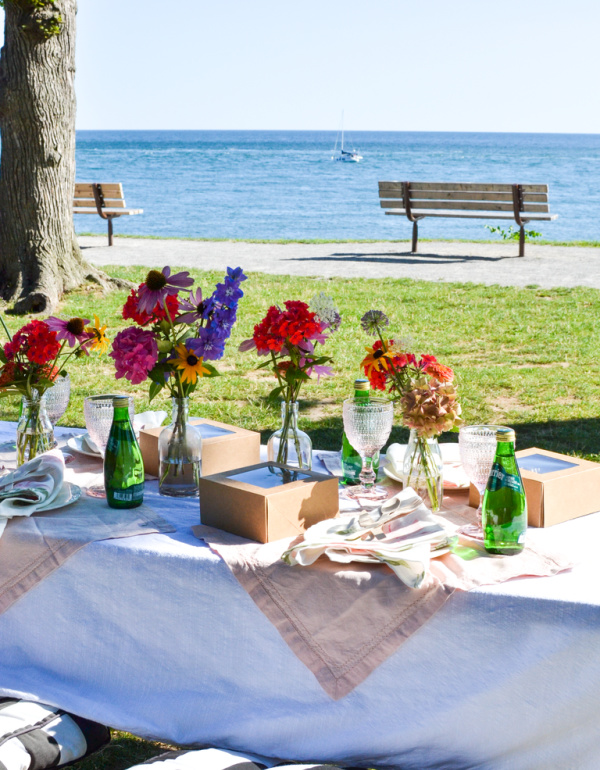 We often walk through this park with the dogs and stop on the benches to enjoy the view, and today we got there just in time to snag a perfect picnic table. This is Queen's Royal Park and it is the best place with a view of the Niagara river as it meets Lake Ontario, and Old Fort Niagara across the river in New York.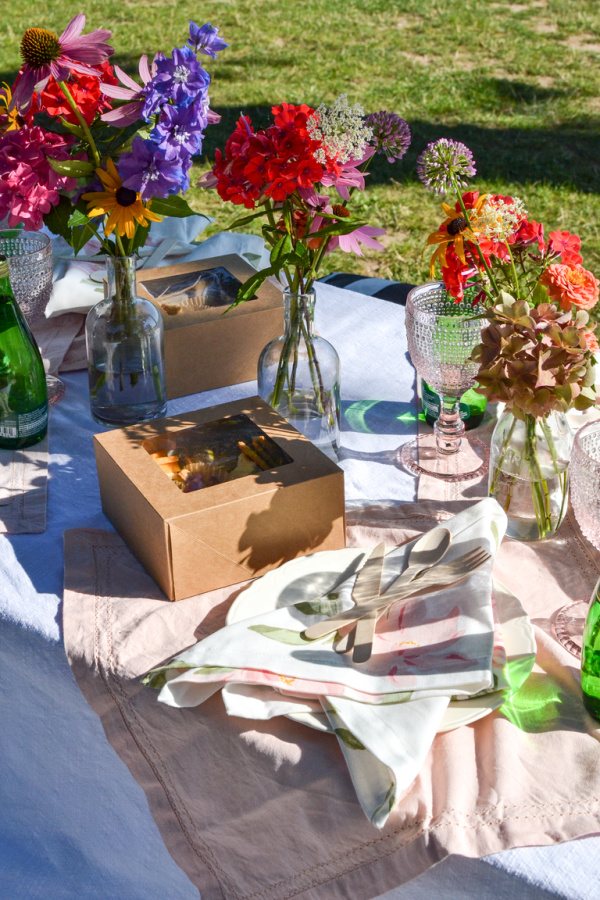 This post contains affiliate links to help you find the products I use. Should you click a link and make a purchase I may receive a small commission at no extra cost to you!
What to Pack For a Picnic
So, what exactly do I take along with me on our summer picnics?
I don't want to be lugging around too many coolers, etc. so I do keep it simple, starting with my favourite picnic basket. It is quite large and I can easily pack 4 plates, glasses, napkins, and cutlery for four.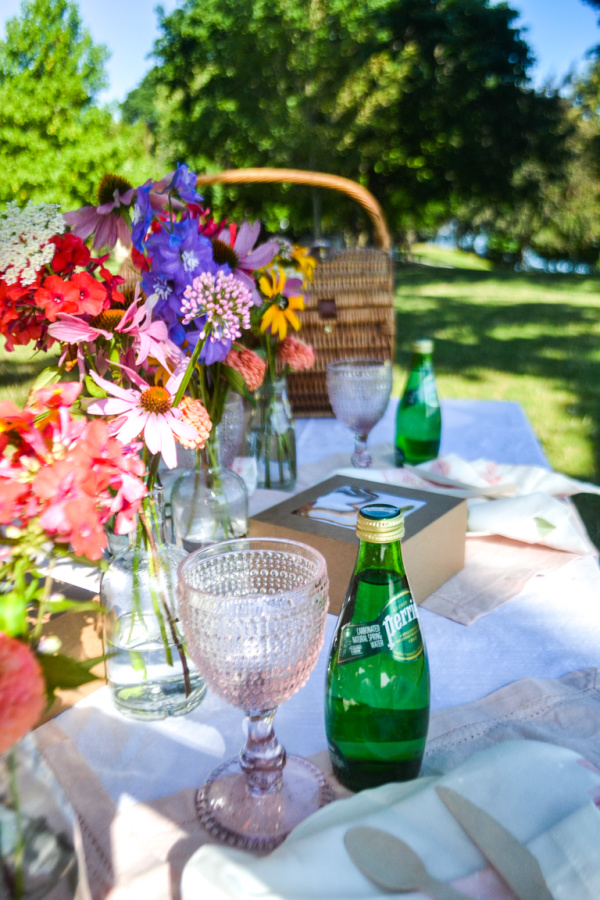 To carry the food, drinks, table cloth and flowers and vases I use a sturdy square tote with a handle. It holds a lot of weight and the square shape makes it easy to pack it full!
As far as picnic food goes, this is where I keep it really simple! Today for instance, I packed up these boxes with some easy to tote picnic fare:
Chickpea and Dill Salad Sandwich
A selection of three cheeses that I had on hand including Five year aged cheddar, mild cheddar and a wedge of brie
A little jar packed with some fresh peaches that I diced and cooked up with a bit of brown sugar
A couple of different types of crackers
Mixed nuts contained in a cupcake liner
A big Empire Cookie (my favourite) and a little vanilla lace cookie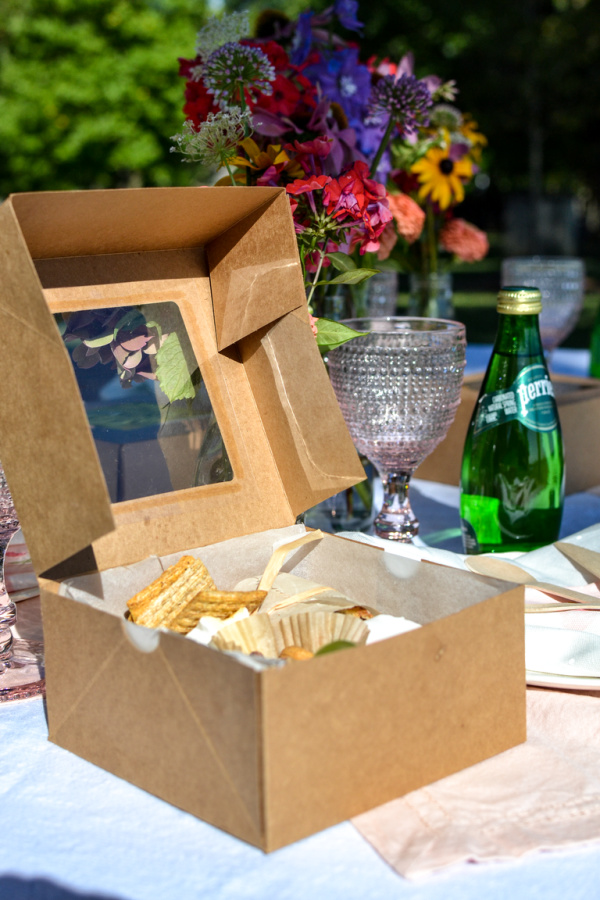 One could easily pack a large salad to accompany the "charcuterie" boxes, but on their own they are very filling!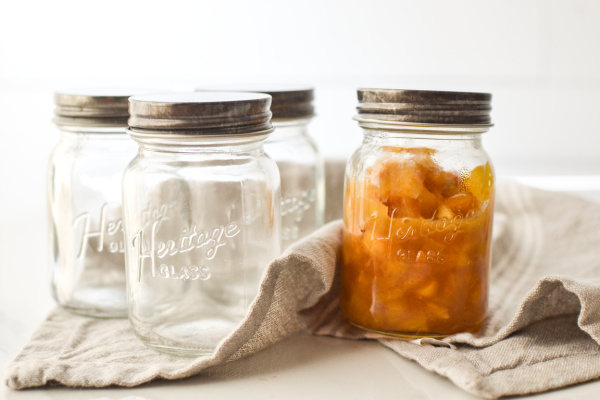 I prefer individual bottles of sparkling water over larger bottles. They add to the decor of the table and everyone has their own! Plus, the glass is recyclable.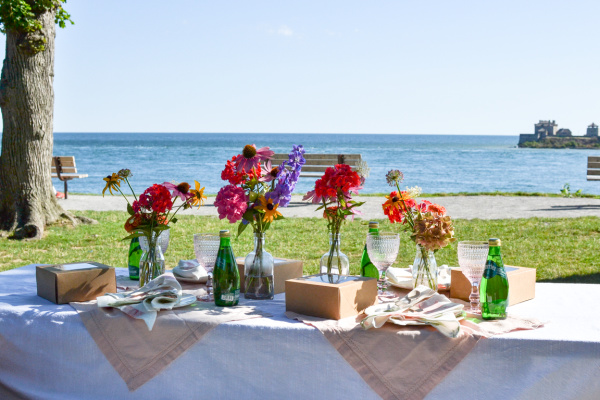 When setting a picnic table, I keep things very simple and with the exception of vibrant colourful blooms, the green bottles and pink placemats add a hint of colour. I love how the flowers pop against the blue water of the lake and the sky!
The flowers are all from my garden. I wrap the ends in a wet paper towel and wrap them in newspaper. Bring a small wine carafe or a mason jar and add plunk them in with some water!
And, if you ever question whether it is worth the effort to bring flowers to a picnic, the answer is a resounding yes! One simple way to elevate the everyday!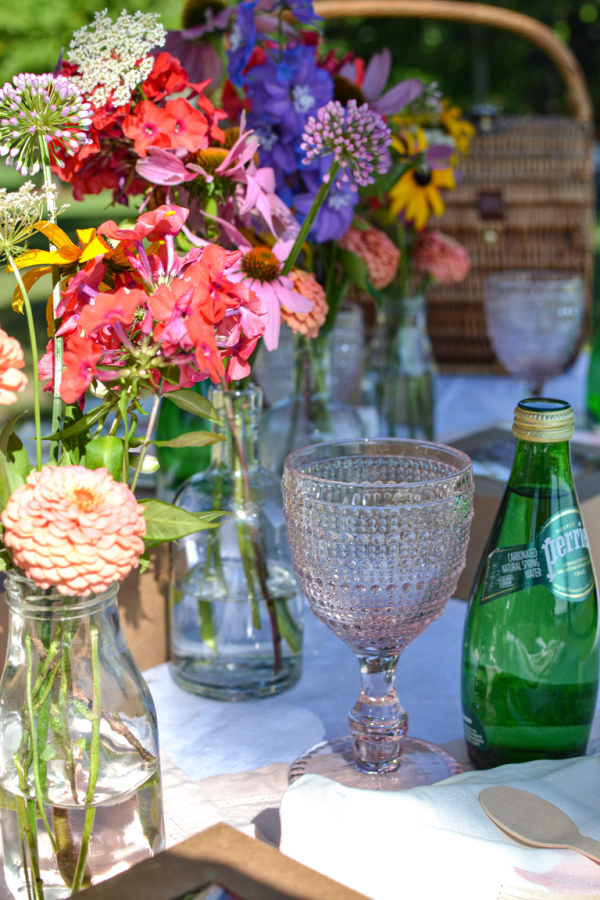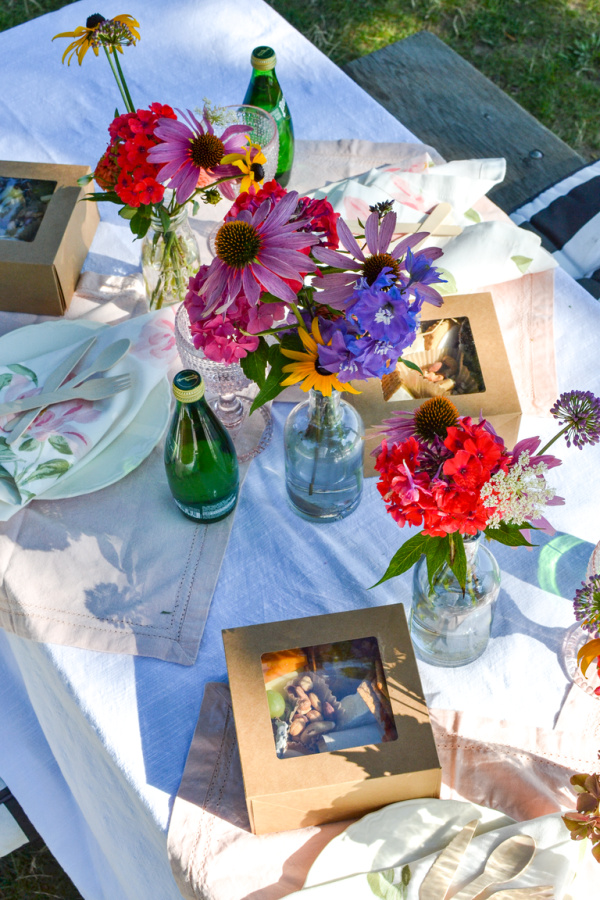 Tips For a Waste Free Picnic
Whenever we head out for a picnic, I always make sure that we leave no waste behind. Here are a few tips to have your own waste free picnic
Use reusable dishes, glasses and cloth napkins
Wrap the glasses in the napkins to prevent breakage
Pack food in compostable cardboard boxes or reusable glass/tupperware containers
If using cardboard boxes, line them with compostable parchment paper and you will be able to use them over and over again
Bring along a small compost bag and put all the leftover food and compostable waste right into the bag to bring home and pop into your green box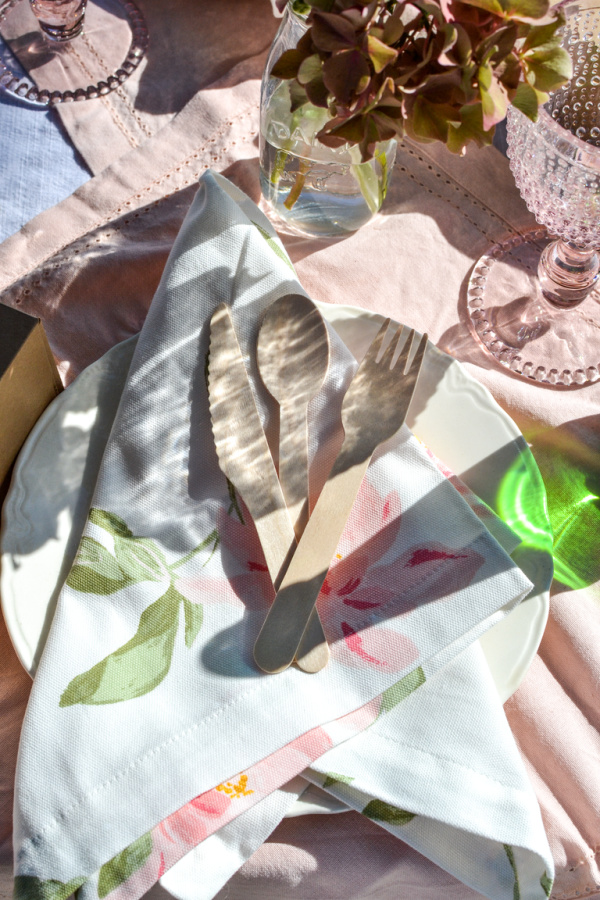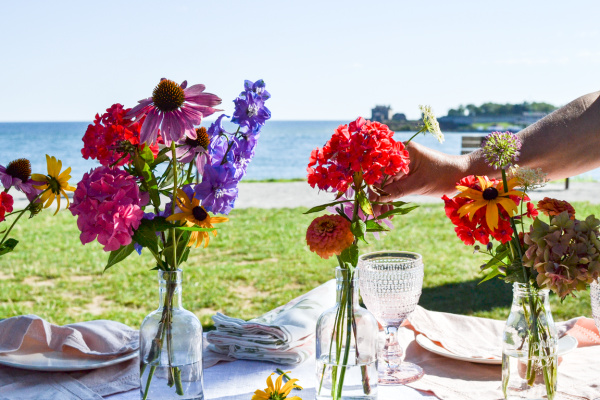 I really encourage you to make your own picnic a relaxing place to spend the day. Bring a blanket or two to cushion the bench or to lay out and relax on after lunch.
I have to admit our picnic table is always a head turner! So many people wandered by and commented on how pretty it is, or how they wish they were sitting at our picnic table!
How wonderful it would be if it inspires them to elevate their next picnic experience! It is after all, the little things!
I posted these tips for a simple picnic a while ago and it is another example of an uncomplicated picnic that really elevates the everyday!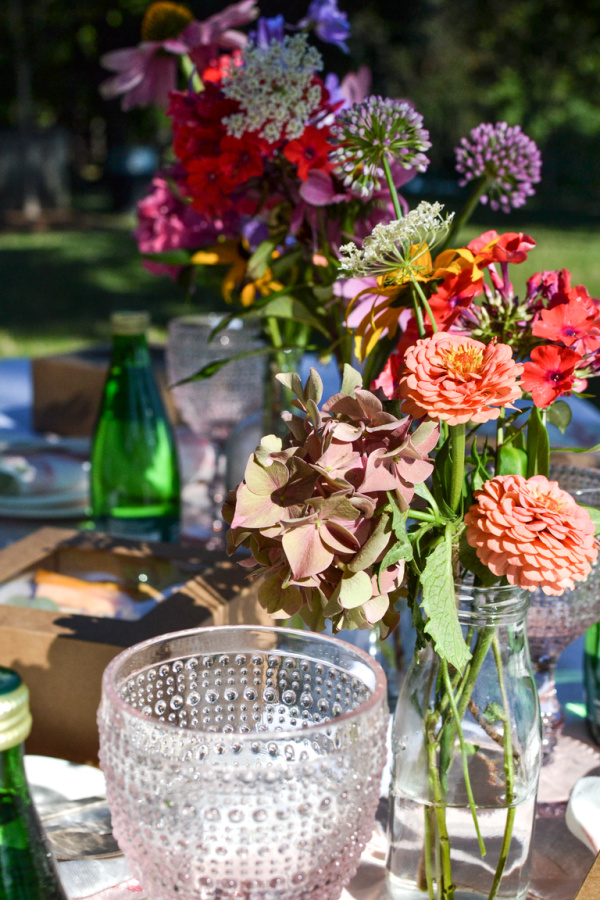 I really hope that I have offered you some tips for a relaxing and stylish picnic experience. There is nothing better than spending a sunny afternoon at the park enjoying food, fun and family!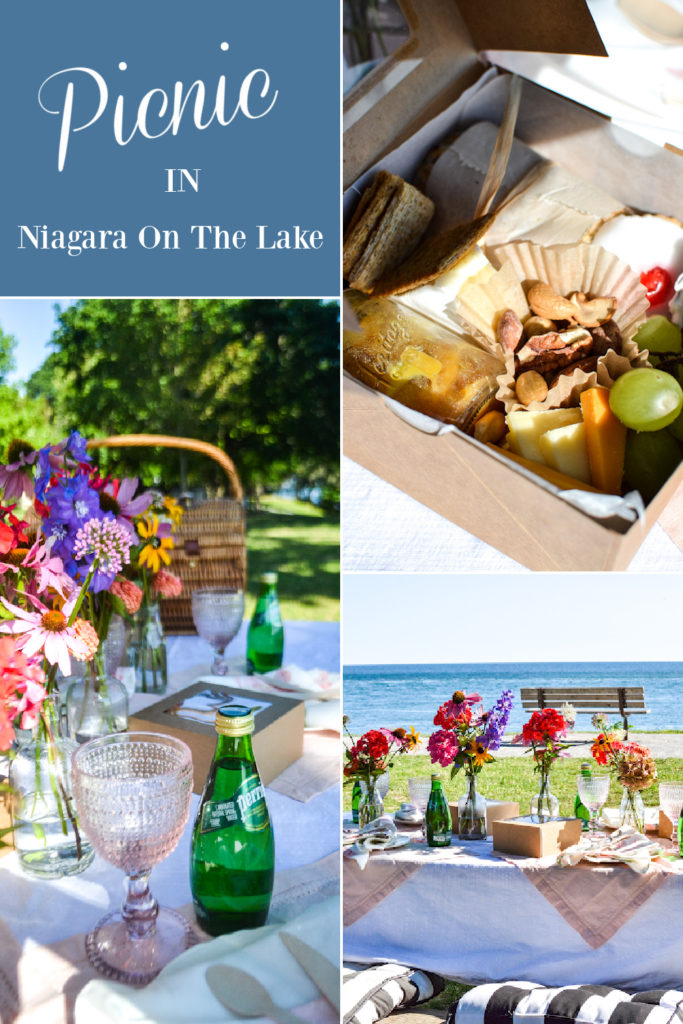 Now, on to visit Laura and Maria for even more summer picnic inspiration!
Decor to Adore * Create A Sweet Summer Picnic
Simple Nature Decor * Cute Picnic Ideas With A Southern Charm
Until next time…