As much as Fall is my favorite season, I am just as exciting to see the arrival of spring! It marks the return of vibrant colours, lighter linens and just a freshness that only warm sunshine can bring! Every year I look forward to setting our Easter tablescape and this year was no exception.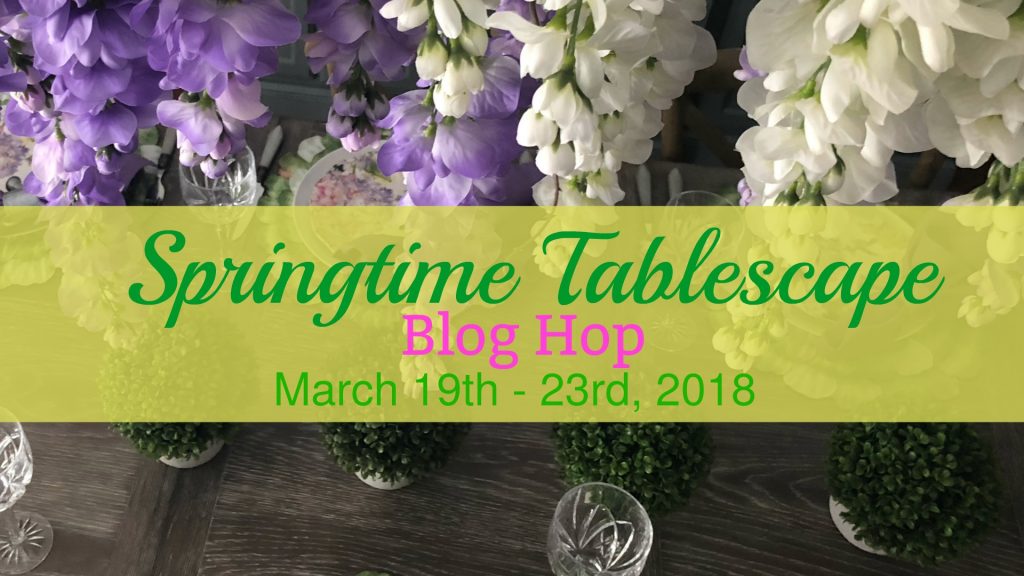 This year I am joining the very talented Chloe from Celebrate and Decorate as she hosts our Spring Tablescape Blog Hop. It is special ladies like her who have inspire me to not only create special occasion tablescapes, but also to celebrate the ordinary with everyday tablescapes like this one!
This is a week long blog hop, so make sure you check back as the links are updated to reaveal new tablescapes each day this week!
This post contains affiliate links which means if you make a purchase after clicking a link I will earn a small commission but it won't cost you a penny more.
Now, on to our Spring tablescape….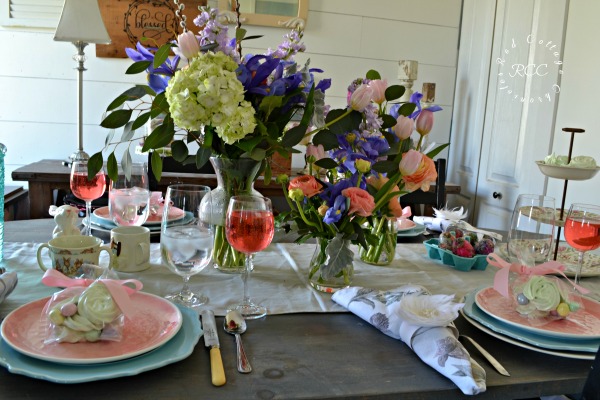 I really lucked out with the fresh flowers this week! I bought one big bunch of creamy peach rununclus, a couple of hydrangea stems, some bell flowers, and a big bunch of iris and tulips! I will admit a spent a little more than usual this week on flowers, but I was just so happy to see how the arrival of more spring blooms!
I borrowed a page from this book and arranged the flowers in several different clear glass vases, and then just grouped them together. Not only does it create a beautiful, full display, but it makes it easy to move them out of the way when it is time to serve your meal! If you love to entertain, I highly recommend this book.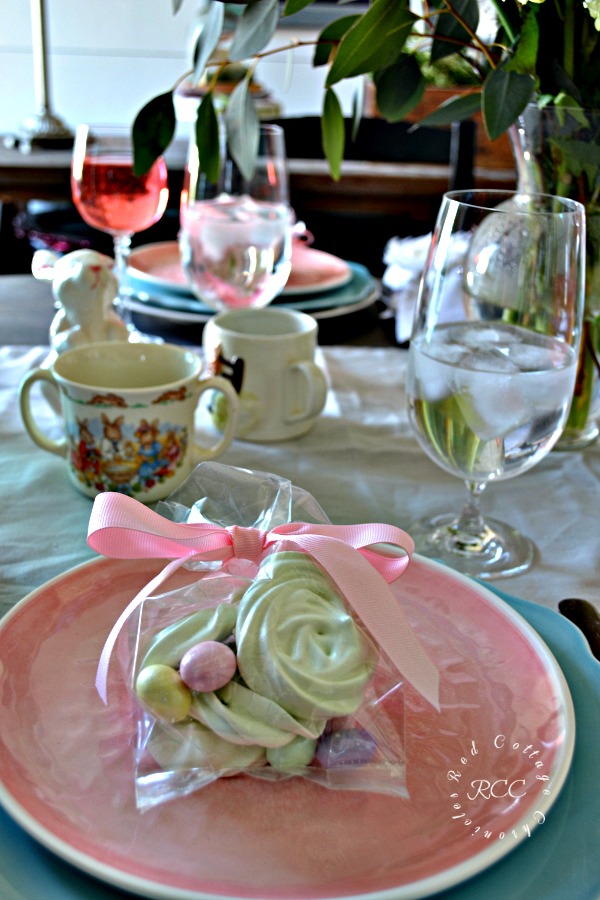 I made a batch of meringue cookies and put them into to cellophane bags with a few pearly chocolate covered almonds. All the colors of spring in one neat little package!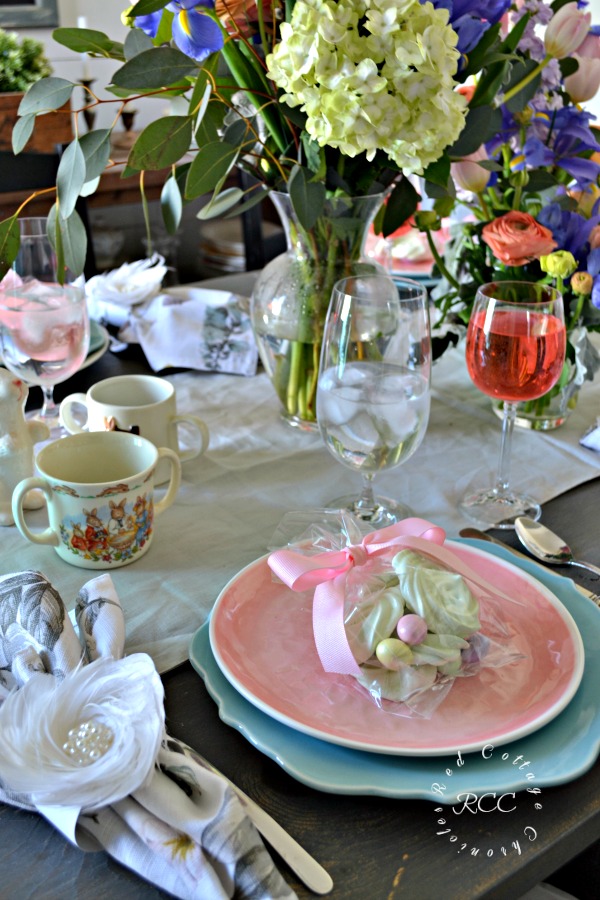 The blue plates are from the Threshold line from Target. I topped them with white rimmed pink luncheon plates I picked up at the grocery store for only $2.49 each. The best part is that they are melamine, so we will get lots of use out of them this summer.
The napkins are not new, but I did get them from Home Sense. I made the napkin holders for less than $10 when I couldn't find any ready made that I liked and were within my budget! You can see the tutorial here.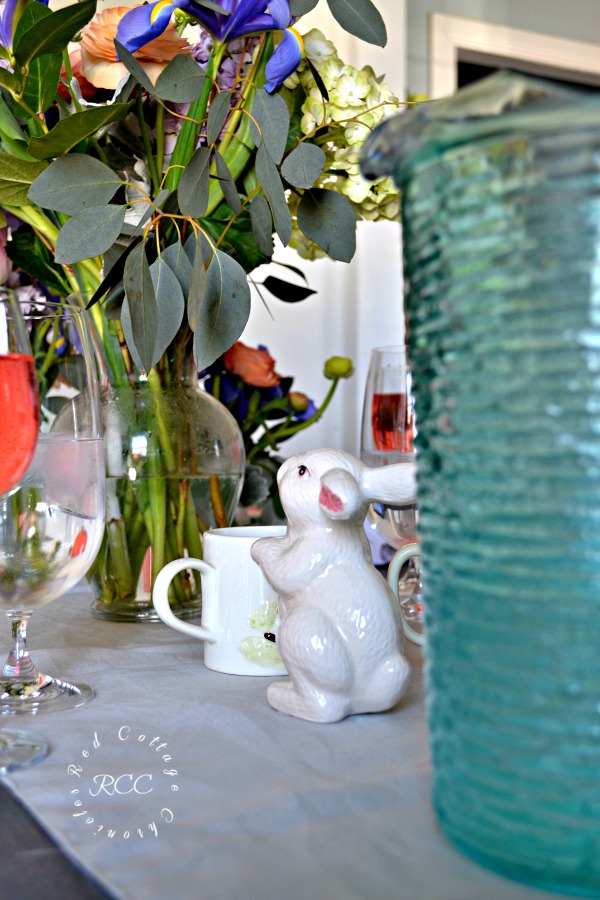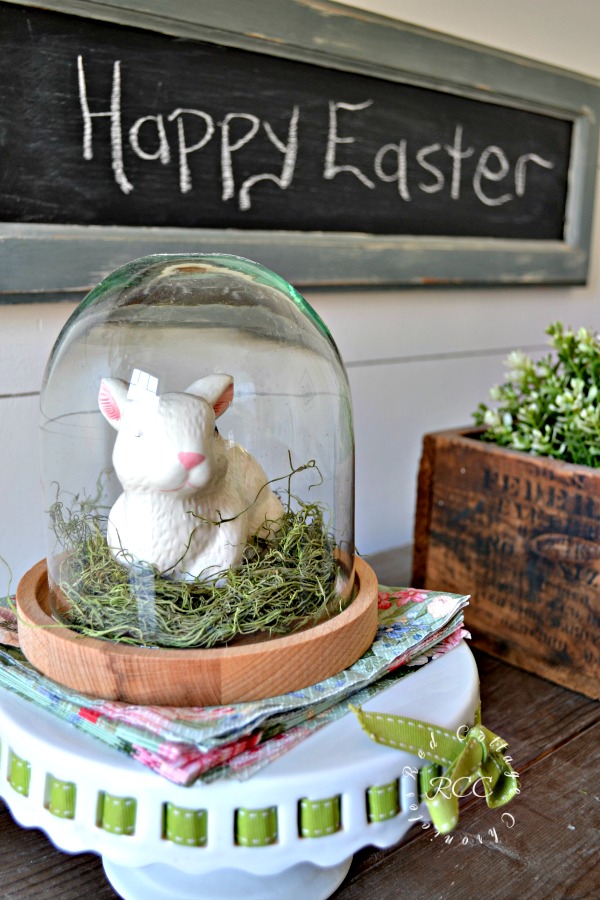 Ceramic bunnies from the dollar store add a touch of whimsy and give a nod to the Easter season ahead. I put one of them with little faux grass inside a cloche to add a bit of charm.
Paper mache eggs are in a ceramic egg carton and are waiting to be cracked open after dinner. I have a little treat tucked inside each one.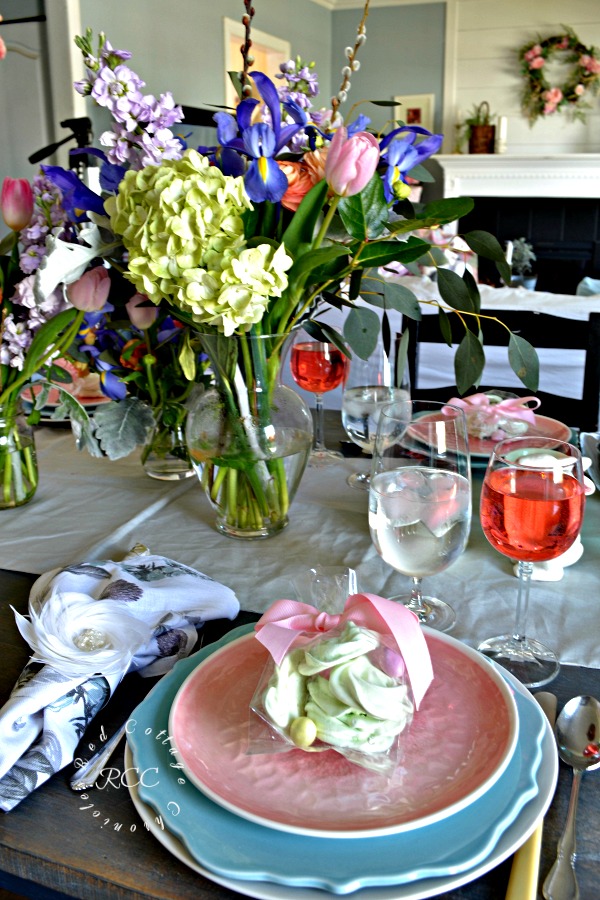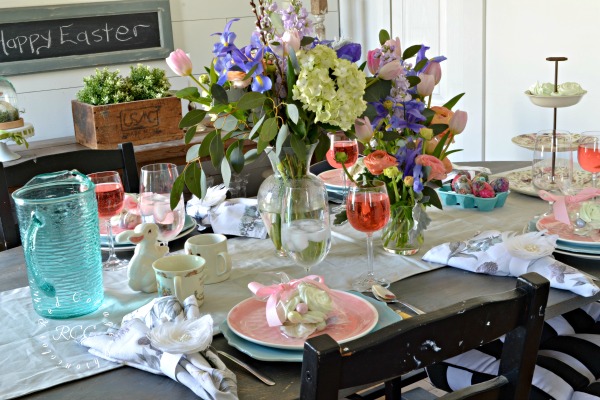 Don't you just love this turquoise water pitcher? It was a gift from my friend Leslie. I was only planning to borrow it, but she insisted I keep it! Not only do love the color, but it is larger than it appears in the photo, which eliminates the need for trips to the kitchen for refills!
The water glasses are a staple at our table. Just like the pitcher, they are hold lots and are perfect for everyday. These are from Crate & Barrel, and are called Oregon Water Goblet.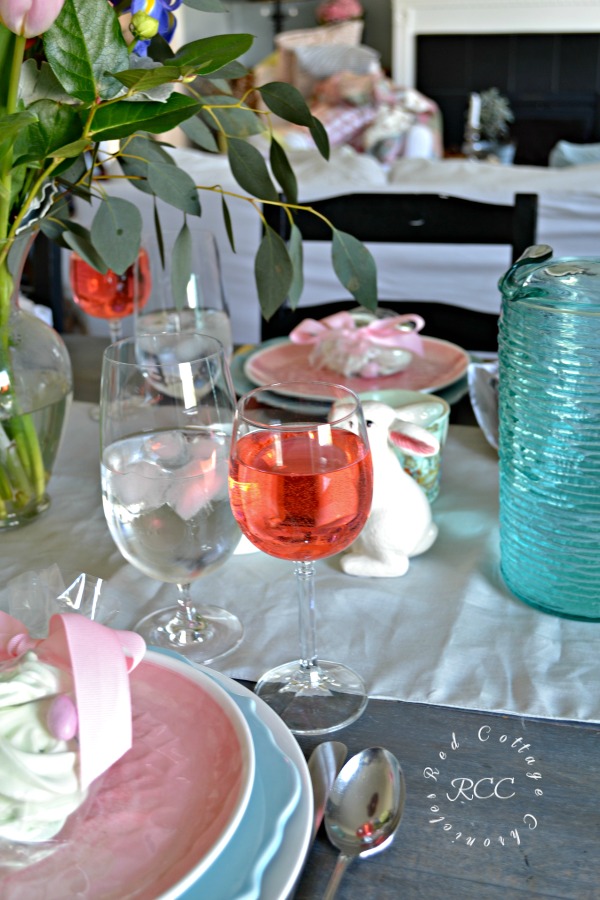 Love this Spring Tablescape…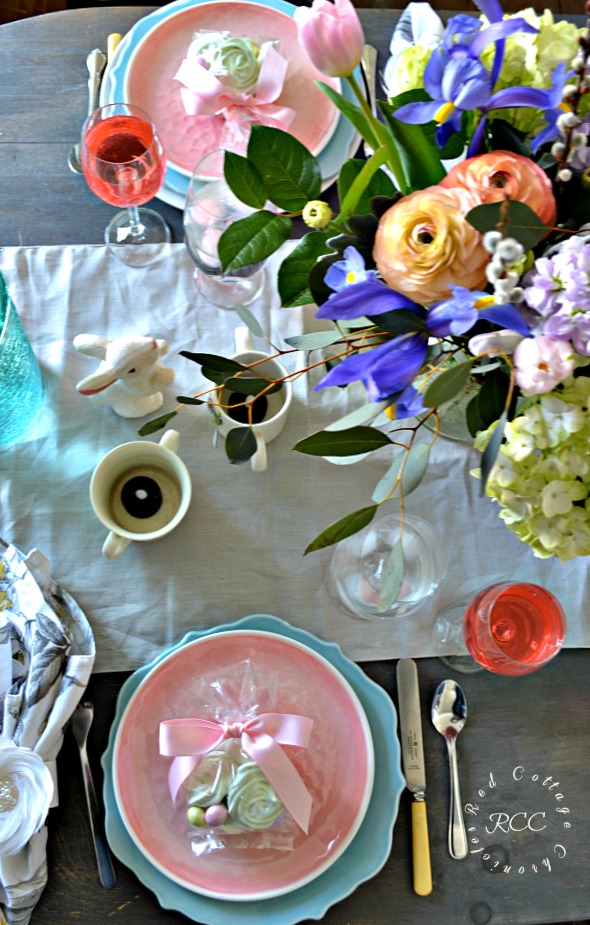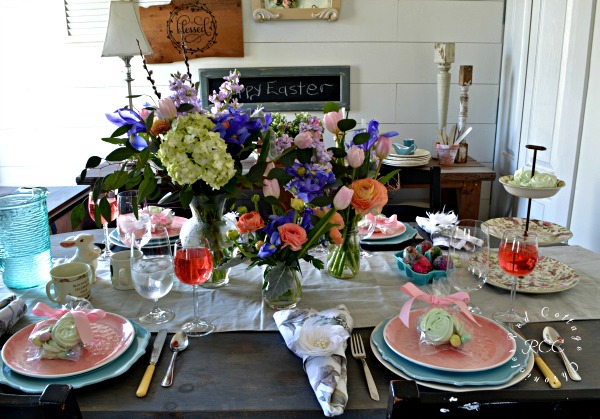 Thank you so much for stopping by today. I hope I have inspired you to celebrate the arrival of the new season with a spring tablescape of your own! For even more inspiration be sure to visit all the bloggers this week. The best part is that everyone participating this week has their own unique style that is reflected in their tablescape designs!
Until next time…..

Monday
Red Cottage Chronicles | Everyday Living | Belle Blue Interiors | Home is Where The Boat Is
From My Carolina Home
Tuesday
Life and Linda | Our Crafty Mom | Corner of Plaid and Paisley | The Little Yellow Corner Store
Wednesday
Bluesky at Home | A casa di Bianca | The Painted Apron | At Home with Jemma | Knock it Off Kim
Thursday
Panoply | My French Twist | Around my Table | Loveland Lodge
Friday
Rustic & Refined | Celebrate & Decorate | Living With Thanksgiving | Me and My Captain