Welcome to our final week of DIY/Christmas Home Décor Series. This week we are all sharing a little piece of our homes dressed for the holidays.
If you missed the first posts of our series, you can find them here, Week One, Week Two, Week Three and Week Four.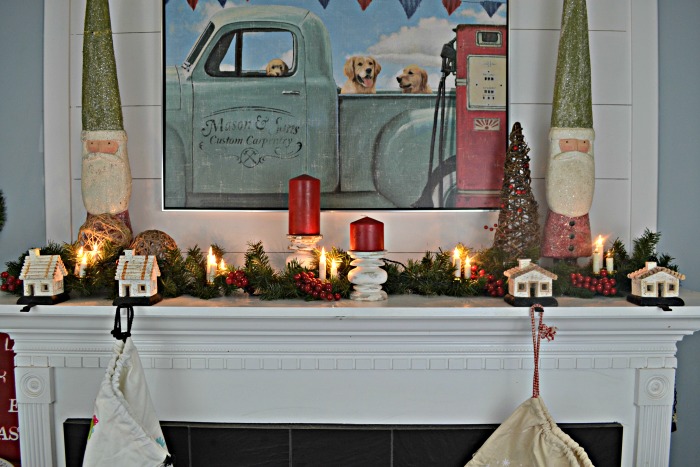 I am sharing our Christmas mantel since it is my second favorite thing to decorate. Our Christmas tree is first on my list! We get a fresh tree very year, our tree isn't up yet. We did go out to the Lion's club tree lot today and picked up a really nice one, but for now it is in our screen porch until we bring it in to decorate later this week.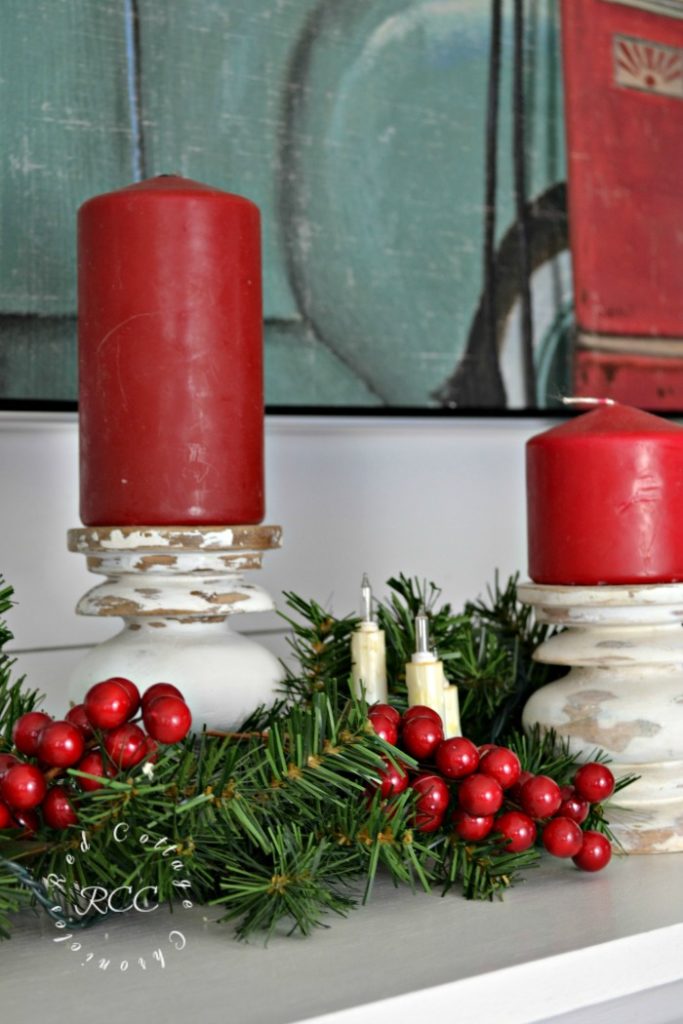 I have a confession to make. I rarely have a plan when it comes to my Christmas mantel. I generally fly by the seat of my pants, no matter what season I am decorating for.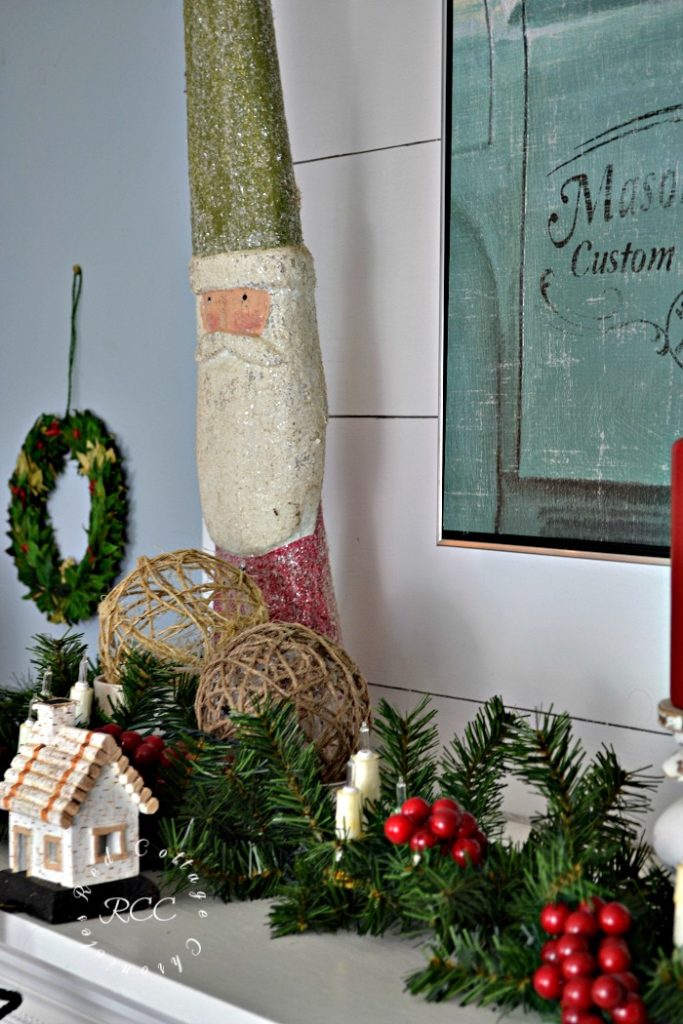 This mantel was no different. The best part, I didn't spend an single extra penny this year. Since we are planning to build a family room in our basement this winter I am being mindful to cut spending in other ways. And, since I already have bins of Christmas "stuff" I simply used what I have.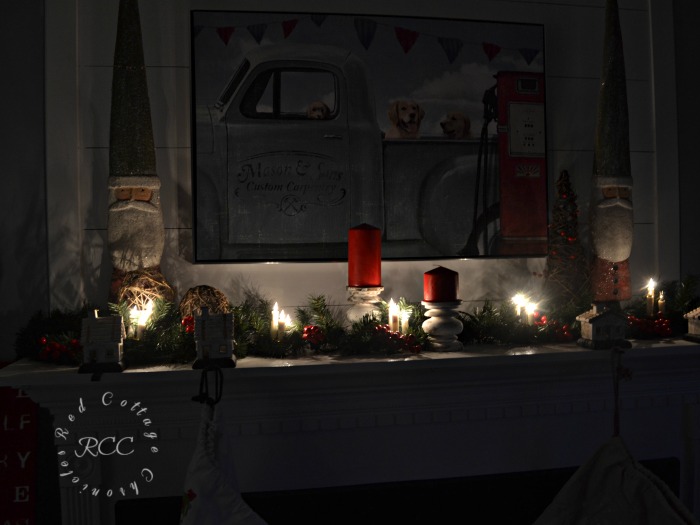 Sitting here on the sofa watching Christmas movies this evening, the fireplace on and the candle lights nestled amongst the faux green garland twinkling, even without the tree up it really feels like Christmas!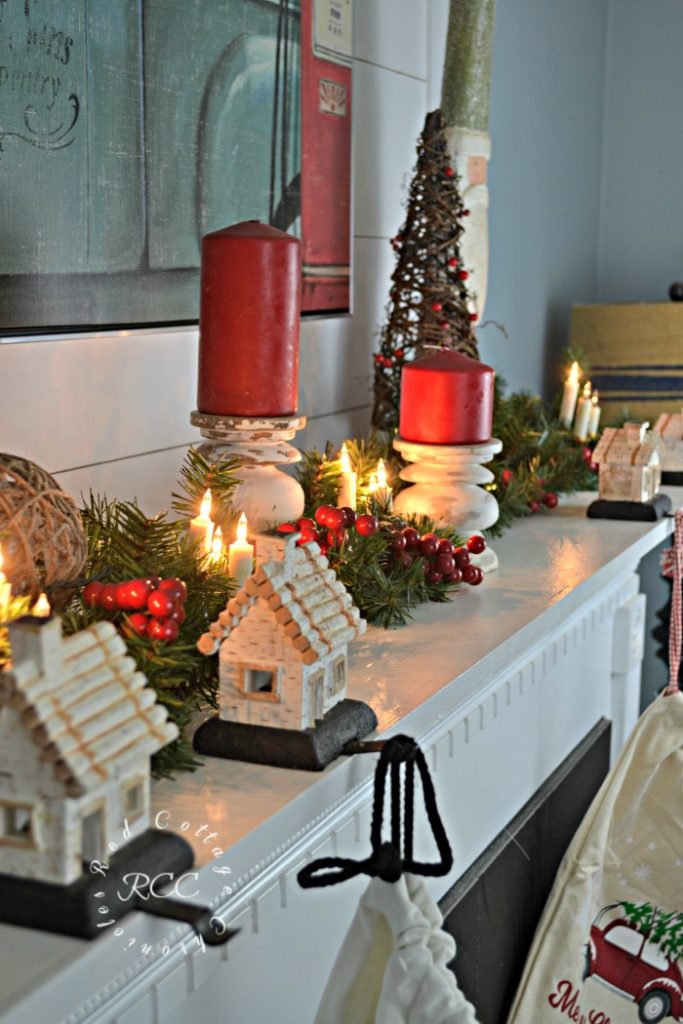 The cabin stocking holders I purchased years ago at HomeSense when the first came to our area. This is actually the first year in a while that I have used them on the mantel.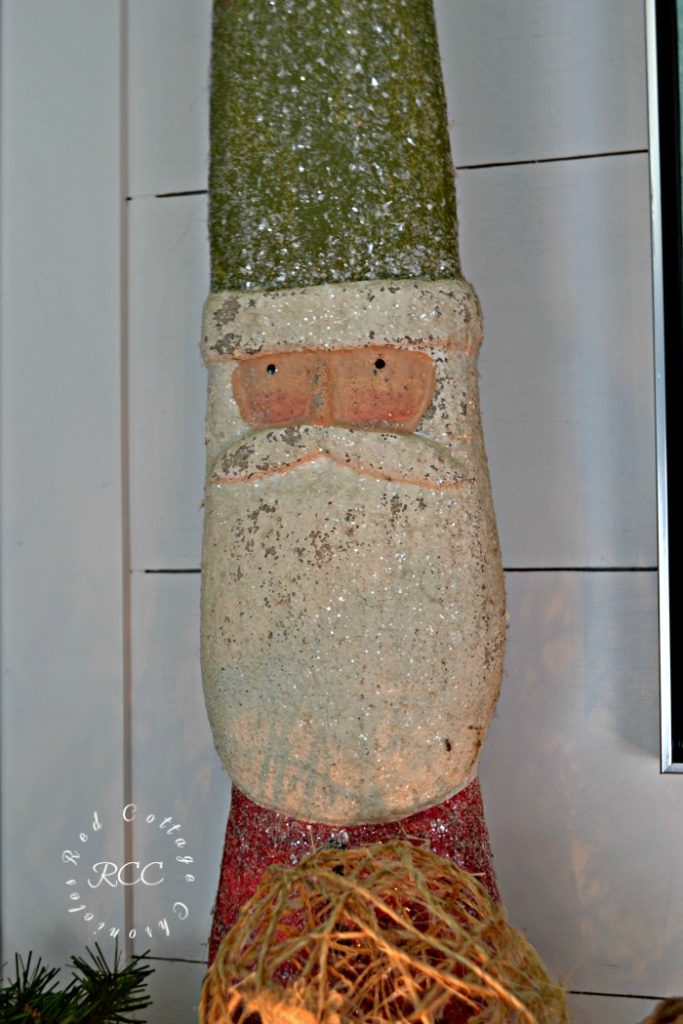 We bought the tall Santa's at the same time. They have seen better days, but we love them just the same! I had toyed with the idea of sanding off all the sparkles and old paint and refinishing them, but I actually like the worn patina!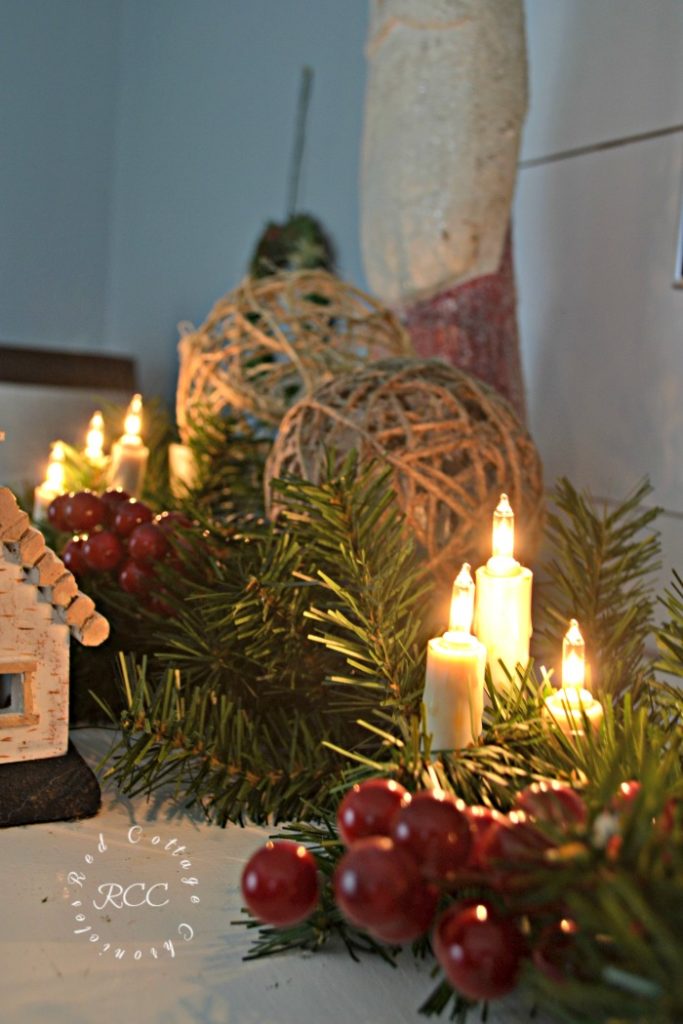 My daughter made the jute spheres earlier this fall. She just dipped jute twine in craft glue and wrapped it around balloons. After it was hardened, she popped the balloon to create these fun little décor accents.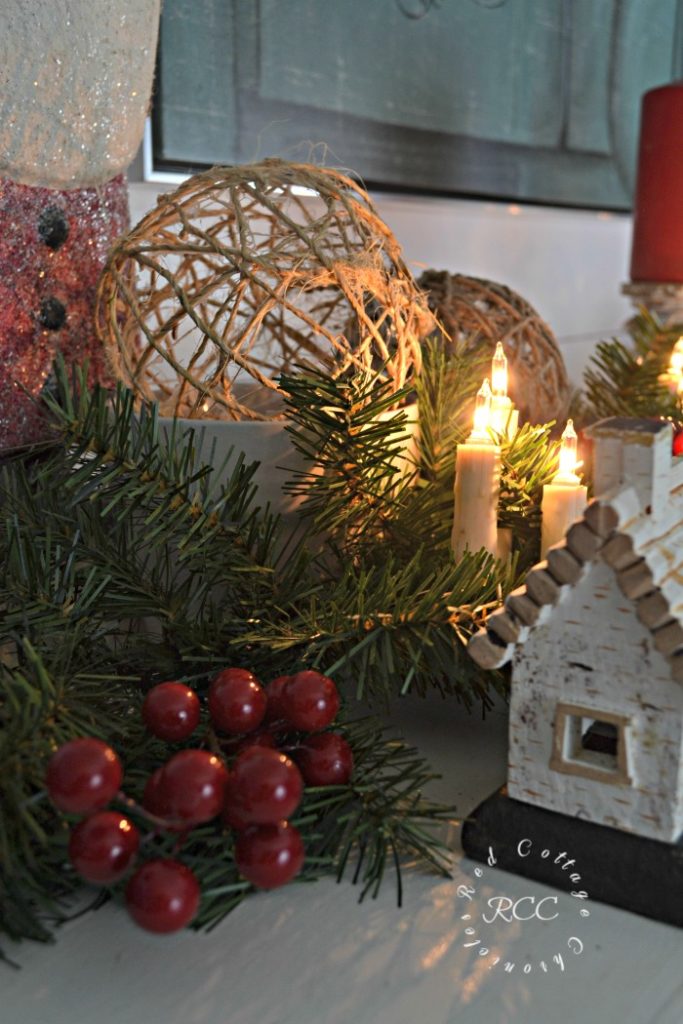 The red berry stems I bought a few years ago, and I always find a place to use them. This year it is to accent the faux garland from Michaels. I wasn't sure the cute little candlestick lights were going to work. They have to be nearly 20 years old and I haven't used them in a couple of years!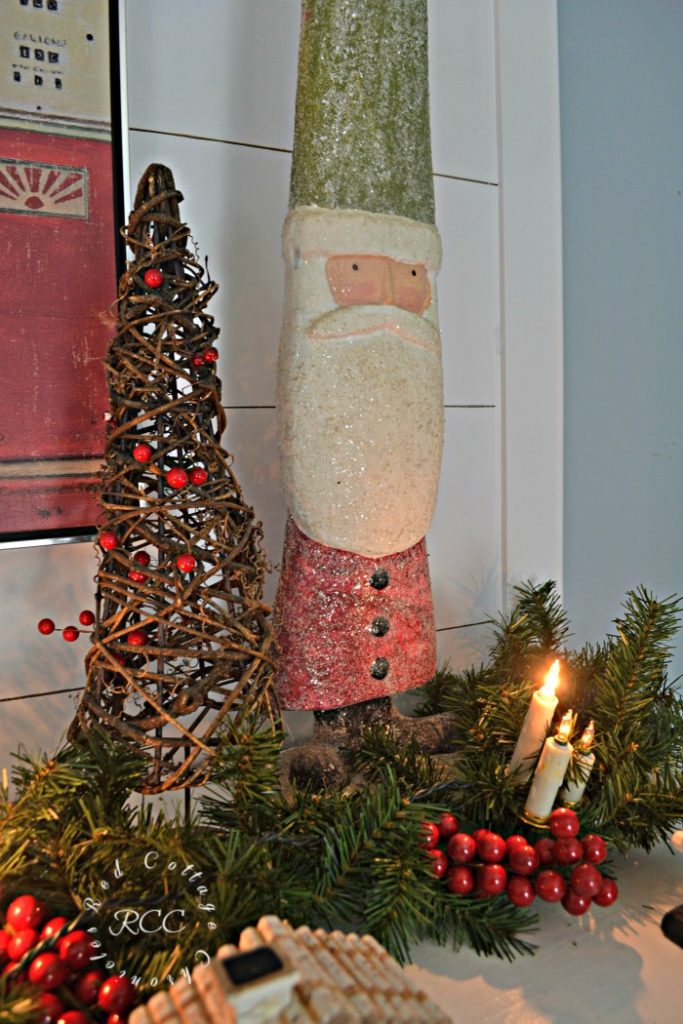 The wicker Christmas tree was a dollar store find last year!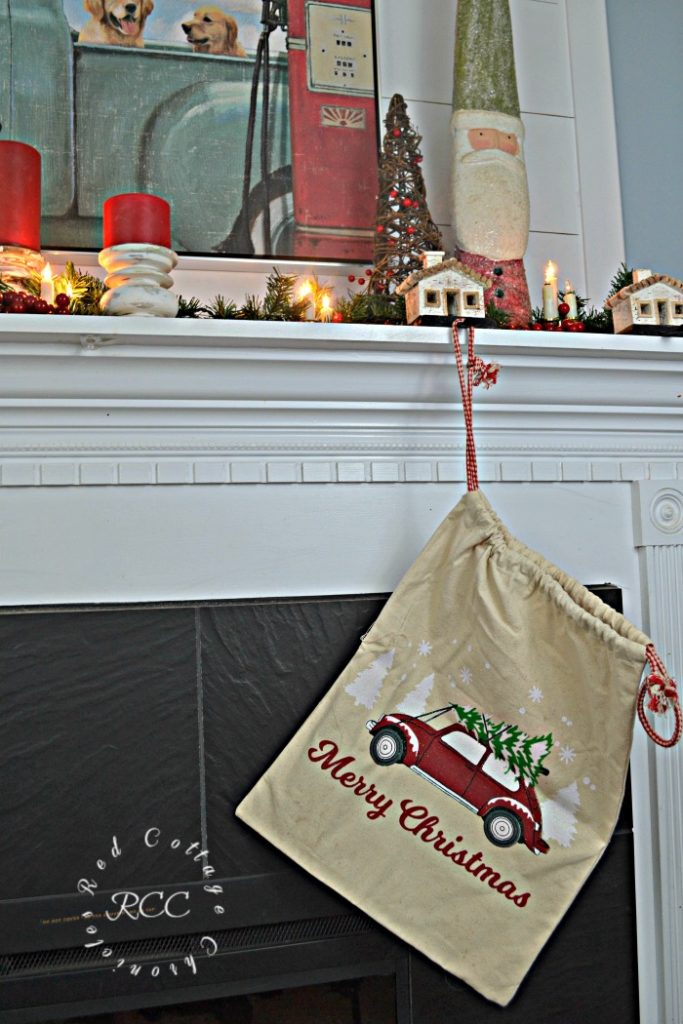 We traded stockings for burlap Santa Sacks last year. Santa always seemed to fill the stockings too full and things were spilling out the top! Everything fits nice and neatly into these drawstring bags!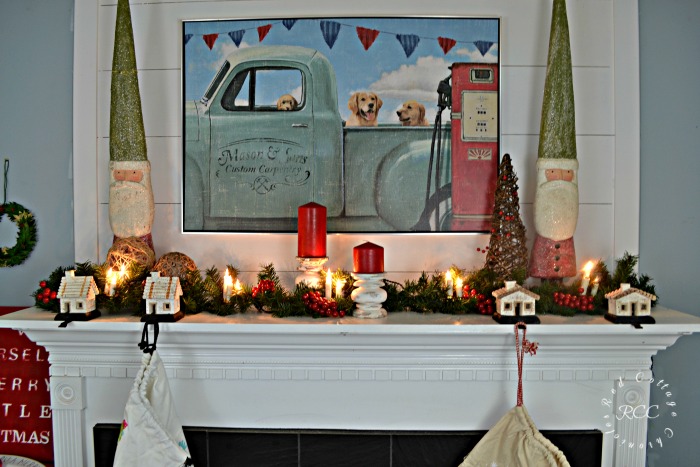 Before you go check out all the other Christmas Home decorating posts, I have one more confession to make. There is a very good chance I may end up changing this mantel again before Christmas. Not that I don't love the way it is now, but once the tree it up and decorated I will have to see if I love how it looks since the tree goes right beside it!
Until next time……