Our bedroom is simple. It's the place I look forward to escaping to at the end of a busy day, but it is also a quiet place to read a book or do some journal writing. Winter is my favourite season to snuggle up in bed, but in the summer your bed can be just as inviting.
Our tiny bedroom has nice enough space for our queen size bed, two night tables, and a chest of drawers. We created some extra storage in some found space behind the wall.
Having a cozy bed makes drifting off to dreamland so easy. I love a soft bed, and it took us no less than 6 months of searching to find just the right mattress. Truth be told, I think I just confused myself in the end. I had tried so many, at so many different stores, I didn't know which one to pick.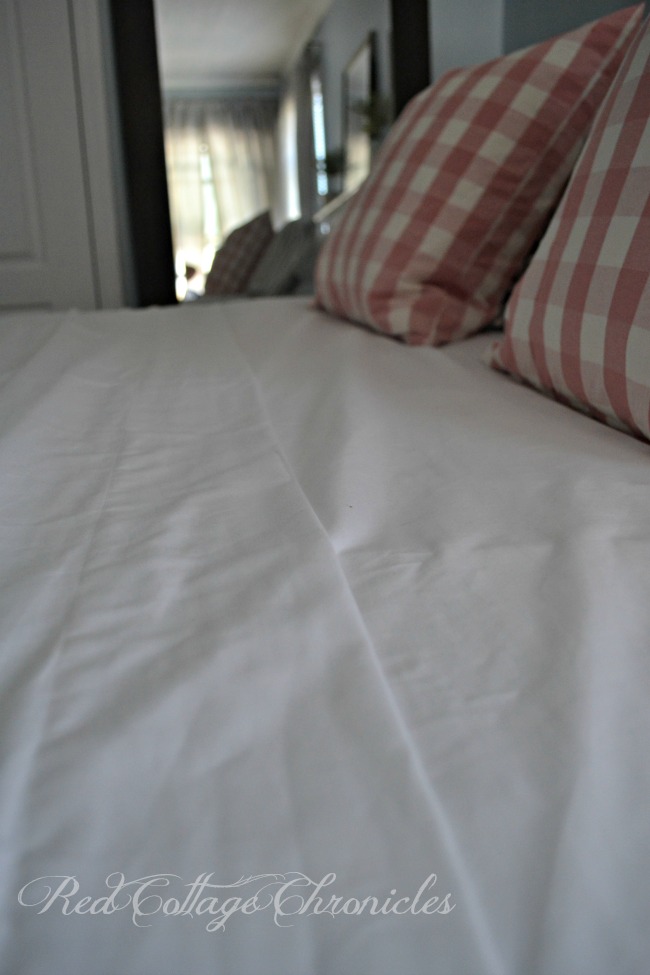 We did settle on one that I am still happy with some 6 years later. It is a Eurotop that does not require any flipping, just rotating end to end every 4 or 5 months.
Since getting a good nights sleep is essential for our health (and our sanity) I thought I would share my 5 steps to a cozy summer bed.
Start with a good quality mattress pad. This protects and prolongs the life of your mattress. In the winter time we actually have a feather bed on top of our mattress to add an extra layer of cozy and warmth. In the summer however we strip it back to a regular quality mattress pad.
Choose 100% cotton sheets (*affiliate link). Choose the highest thread count you can afford, however I have found that it isn't really necessary to go above 500 thread count to achieve a soft, almost satin like sheet. I like plain white sheets for the summertime. I think they just make the whole bed feel cool during the heat of the summer. I
A down (or down alternative) duvet is a must. Yes, even in the summer. It is lofty and adds layers of cozy to the overall look. Even when it is roasting outside, the air conditioning can make you want to reach for an extra layer of warmth. Choose a duvet cover that suits your overall décor without being too trendy. Our duvet cover was purchased from Ikea for the bargain price of $24.99 for the queen size including two pillow shams. Since it isn't right next to my skin I am not as worried about the thread count. It serves to protect and keep the duvet clean. Fold the entire duvet down to the end of the bed to expose the cool crisp sheets.
Pile on the pillows. Nothing says cozy like a whole bunch of pillows on the bed. You don't have to sleep with them all, but they make a nice place to really sink into while reading in bed. Keep the colours light, and be sure to include a few down filled pillows for extra softness.
This next tip isn't really about the bed, but keep your night tables clutter free. They really are an extension of your bed and the last thing you want to look at before you fall asleep is a pile of random stuff right beside your bed!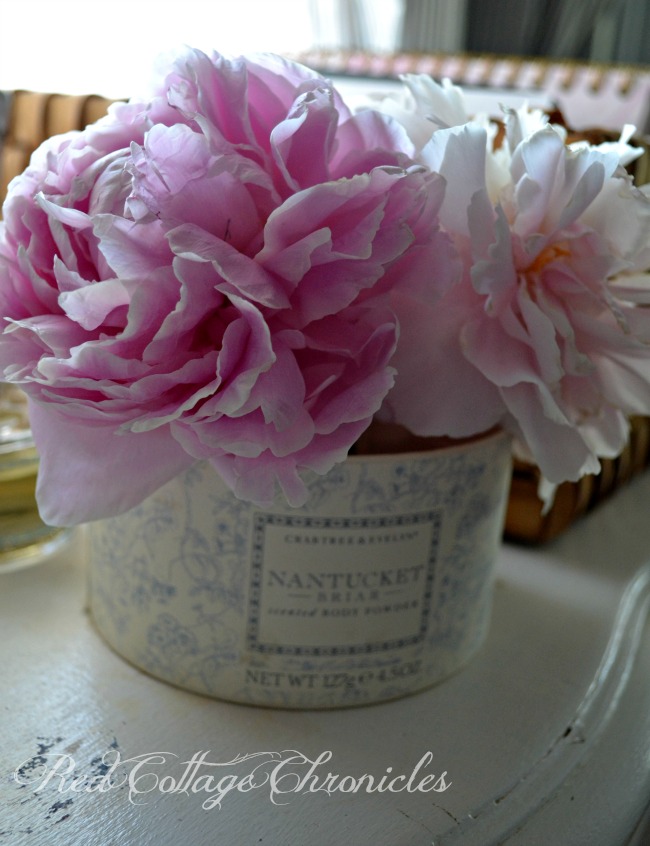 This is one of my favourite things on my beside table. A couple of weeks before my dad died suddenly almost 12 years ago, he and my mom got me a collection things from my favourite fragrance, Nantucket Briar for my birthday. This is all that is left. It is the powder box. The powder has long since been gone, but I can't part with this sweet little round box. All summer long it will have a few blooms tucked into a tiny jar sitting inside the box. It makes me happy whenever I see it!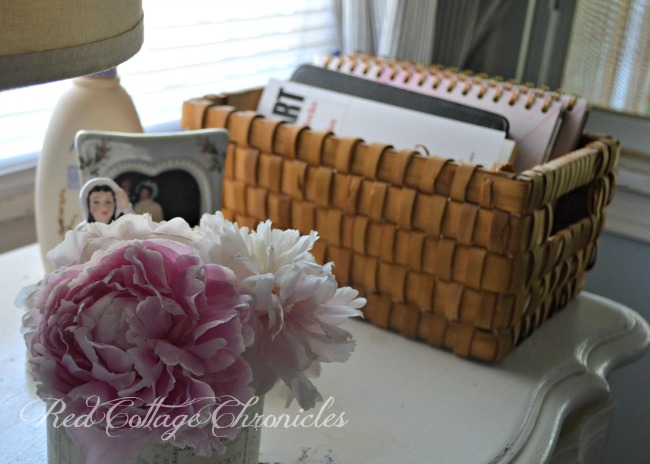 The other thing on my nightstand is a little wicker box that holds my journal, my ipad and the latest book I am reading, as well as a couple of pens. It keeps it all neat and tidy and easy to reach.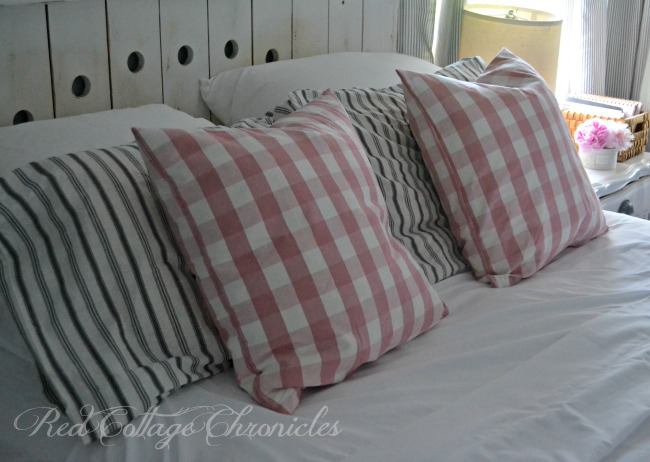 Tim made our headboard for me not long after we were married (and it is our 30th Anniversary this July)! Money was tight, but I had my heart set on a big wooden headboard. He built it with tongue and grooved pine and then I painted and distressed it! We were cool way before our time!
It is almost time to go slip into my cozy bed. Sweet dreams!
Until next time….

This post contains affiliate links, which, if you click on the link and decide to make a purchase, I will receive a small commission. It does not however change the cost to you! I appreciate your support 🙂