Did you know you can have Breakfast at Tiffany's?
Welcome to the Sunday Mail, a new feature here at Red Cottage Chronicles. Each Sunday I will post a few of my favorite recent finds. Always a book, something for the home or garden, a new blog I am loving, maybe a recipe link, a must see movie, and whatever else I think you might love to know about.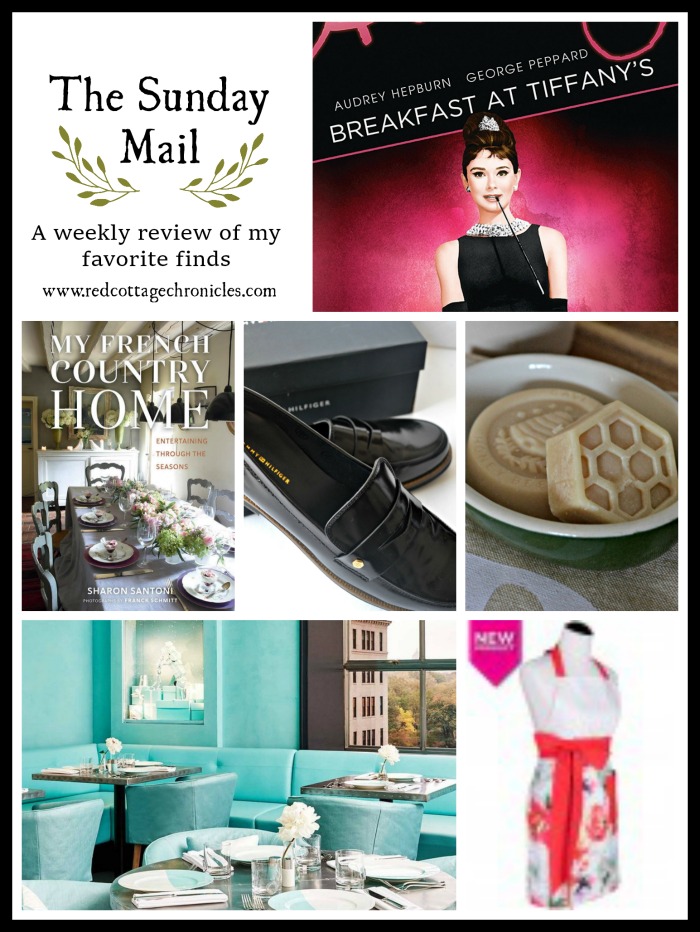 This post contains some links that if you click through and make a purchase I may receive a small commission with no increase in cost to you.
Lets get right to it!
I am never in the kitchen without an apron, and this Kenzie Floral Apron in Coral is simply divine. I love the bright floral print, and the long ties that wrap around the front to tie a pretty bow.
Admittedly I was never one of those woman who loved to shop for shoes. I do however like to have a few pairs of go to shoes that are both comfortable and stylish. My husband knows me well, and these black patent penny loafers (similar) were under the Christmas tree for me this year. Loafers are timeless and look great with skinny jeans or a slim leg cropped pant.
I had heard of Floret Farms in the past, and have their book on my wish list. Over the holidays I visited their blog for the first time and have been smitten ever since. According to their webpage, you can start ordering their seeds and Dahlias on January 2nd, and you can bet I have a put a reminder in my calendar. I am already dreaming of a cutting garden full of beautiful blooms.
Entertaining is something I hope to do more of in 2018. I was thrilled to receive a copy of My French Country Home, Entertaining Through the Seasons by Sharon Santoni. It is full of gorgeous photography and inspiration for your next gathering, be it a party of two or ten.
I love to find little accents for my home that not only are pretty, but useful too. These honey hand soaps are just the thing. Made in Quebec, Canada these hand soaps from Green Bee Miellerie St-Patrice not only contain honey, but olive oil, coconut oil and shea butter. They smell wonderful and soften hands.
A movie worth watching again! I first saw Breakfast at Tiffany's about 6 or 7 years ago on a bus trip to New York City. An eight hour bus ride requires entertainment after all. Released originally in 1961 starring Audrey Hepburn as the delightful Holly Golightly. A love story at heart, the movie chonicles Holly's quirky adventures as she aspires a life of glamour and riches.
My first trip to The iconic Tiffany's jewelry store on 5th Avenue in New York, where Holly felt all was right with the world, has recently opened the Blue Box Cafe on the 4th floor of their flagship location. I hear that it shares the floor with their home goods line. A girl can dream!!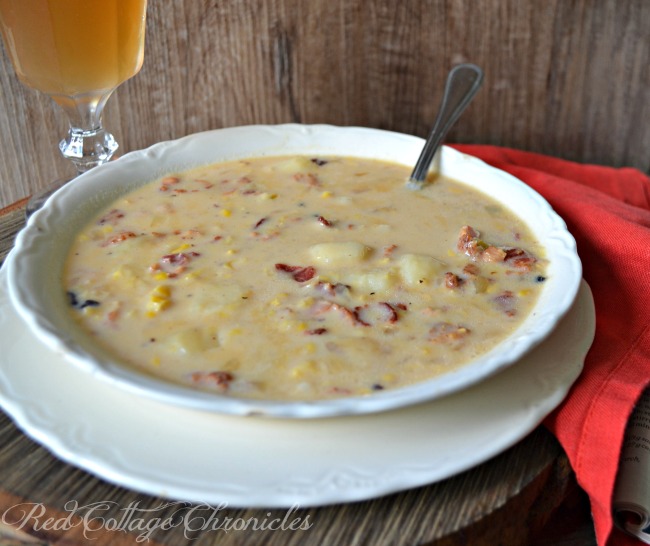 Speaking of dreaming. With temperatures set to hit record lows the next few days I am searching my recipe box for some delicious comfort food recipes. This Potato Bacon Soup will be certain to warm us up.
Stay warm my friends!
Until next time….