$100 Room Challenge The Reveal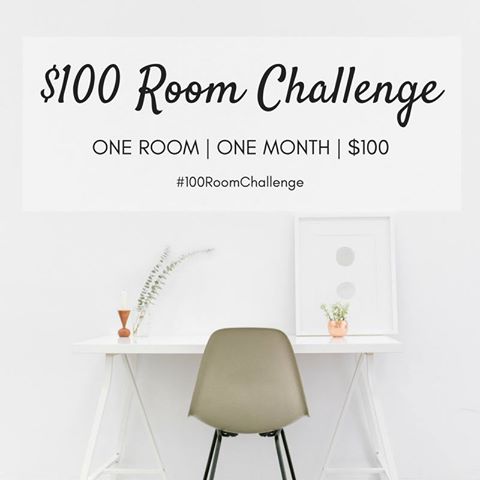 I couldn't be more excited about today! Four weeks and $100 later I have a cottage farmhouse dining room that I absolutely love.
I cannot thank Erin from Lemons, Lavender & Laundry enough for inviting me to join this challenge. There is nothing like a challenge to get a project started. Just in case you are stopping by for the first time, the premise of the challenge was to makeover one room on a budget of $100 in only four weeks!
Before we get to the afters, lets have one last look at the before…..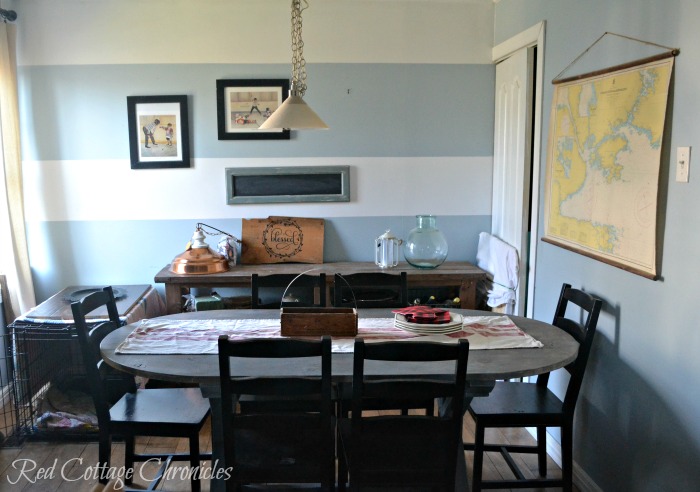 And now……drum roll please……
…..here is what it looks like today!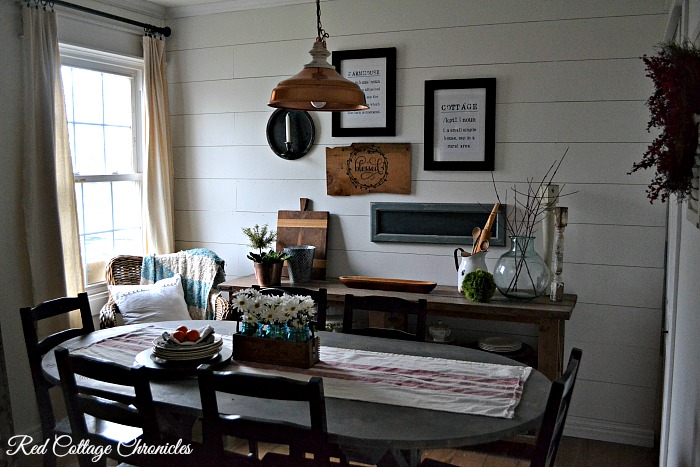 Oh, how I wish you could all just come and see it in real life. Pictures are good, but actually being in the room, you can just feel how cozy and calm it is.
And speaking of pictures, photographing this room was not an easy task. We haven't seen the sun for days. Only drizzle and fog do not make for great photo's. Not only that, I am not home until after 4:00 when the sun has already started its' descent. My daughter Samantha came to my rescue and was able to get some awesome photo's a little earlier in the afternoon!
I will let the pictures do the talking and share the budget break down and links to some of the projects in the room at the end.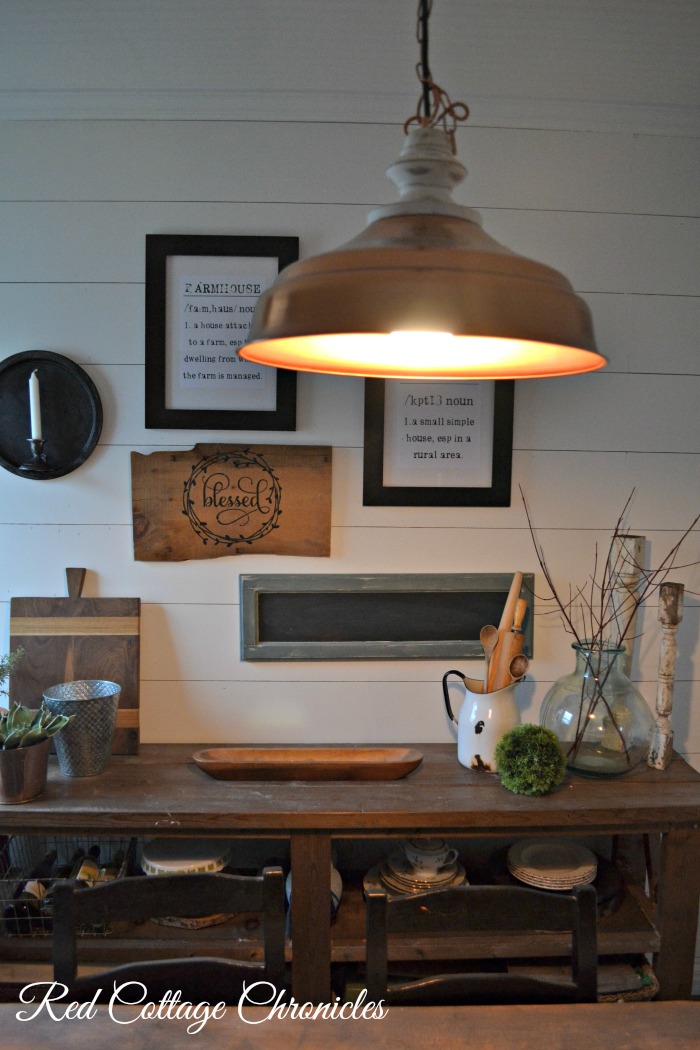 Oh, wait. Just one more thing. It all started with this gorgeous copper light fixture! It gives the room a really soft glow that enhances the mood of the room.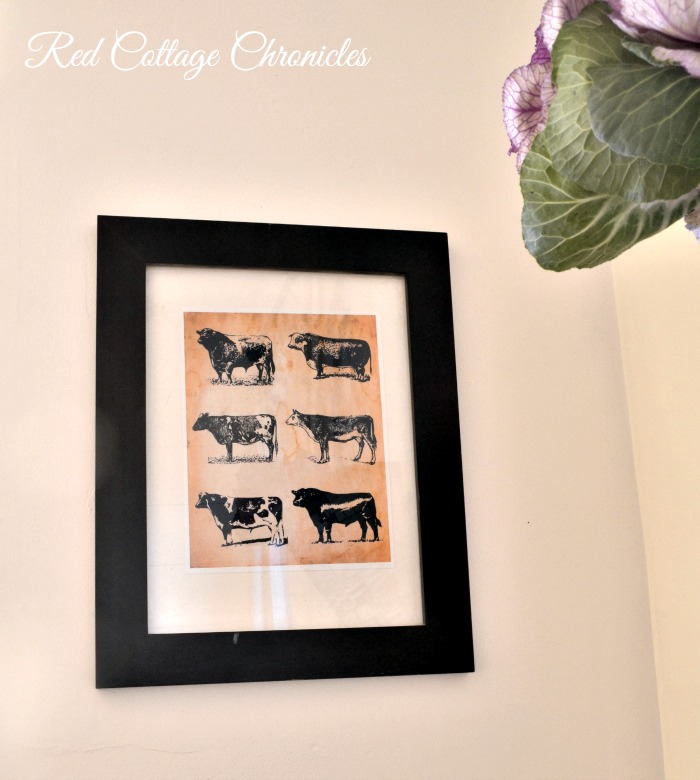 No farmhouse dining room is complete without a picture of cows!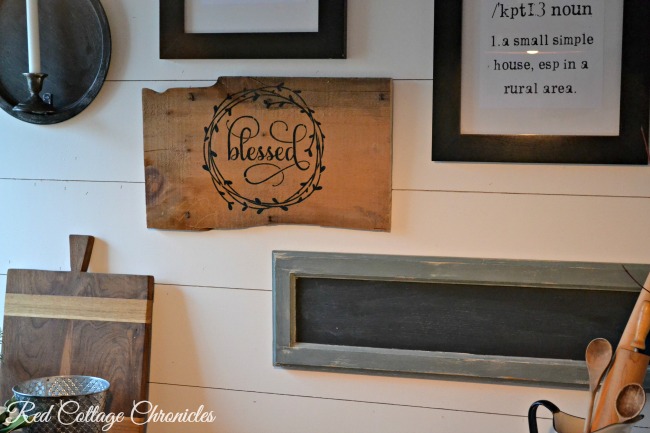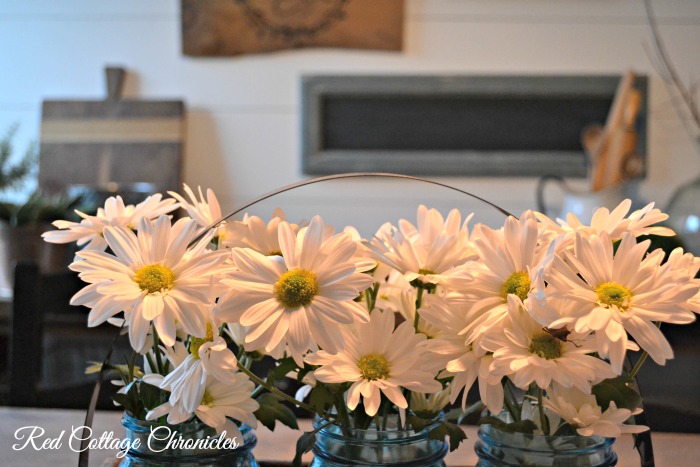 I love fresh daisies. The quintessential country cottage flower!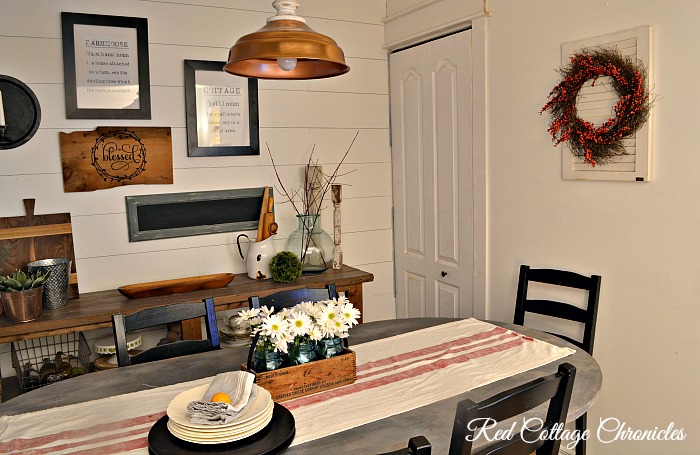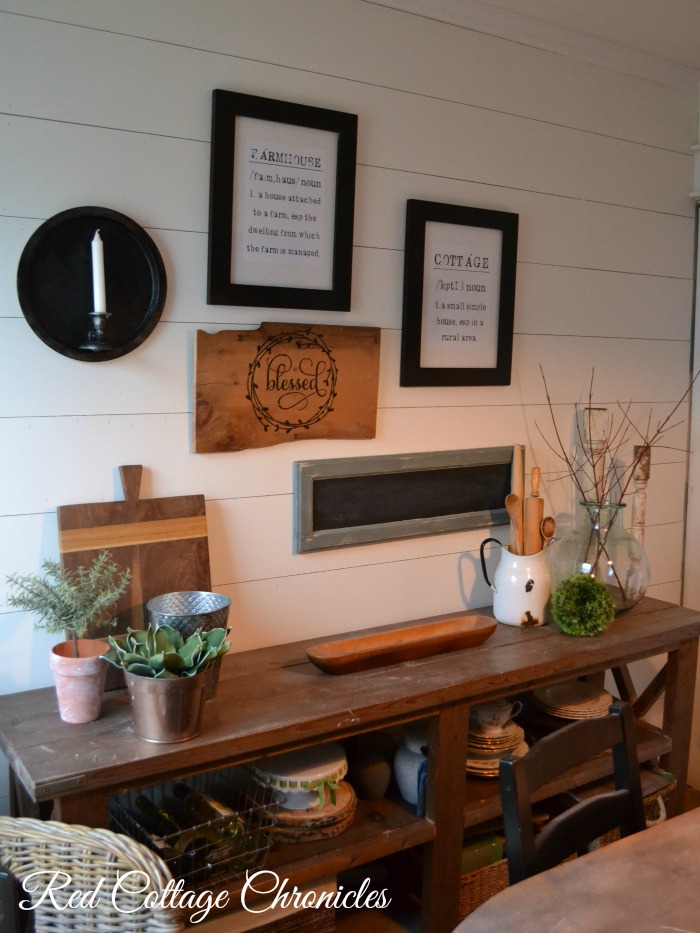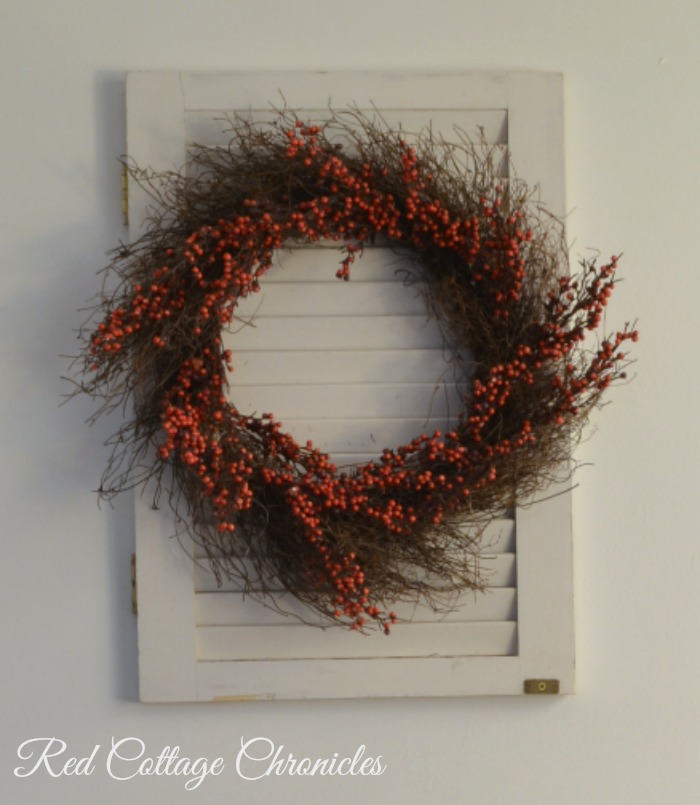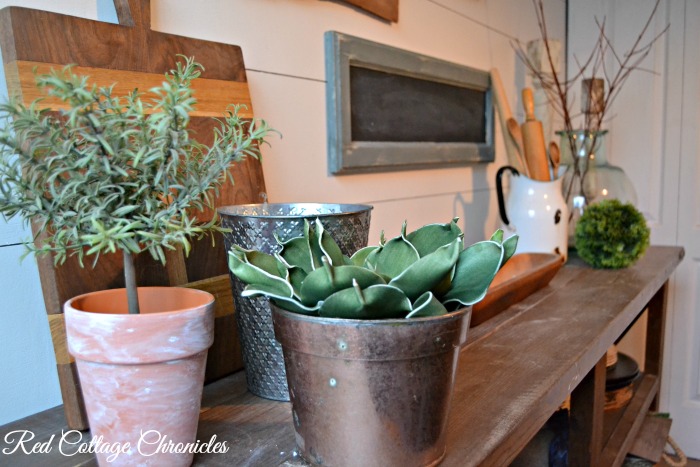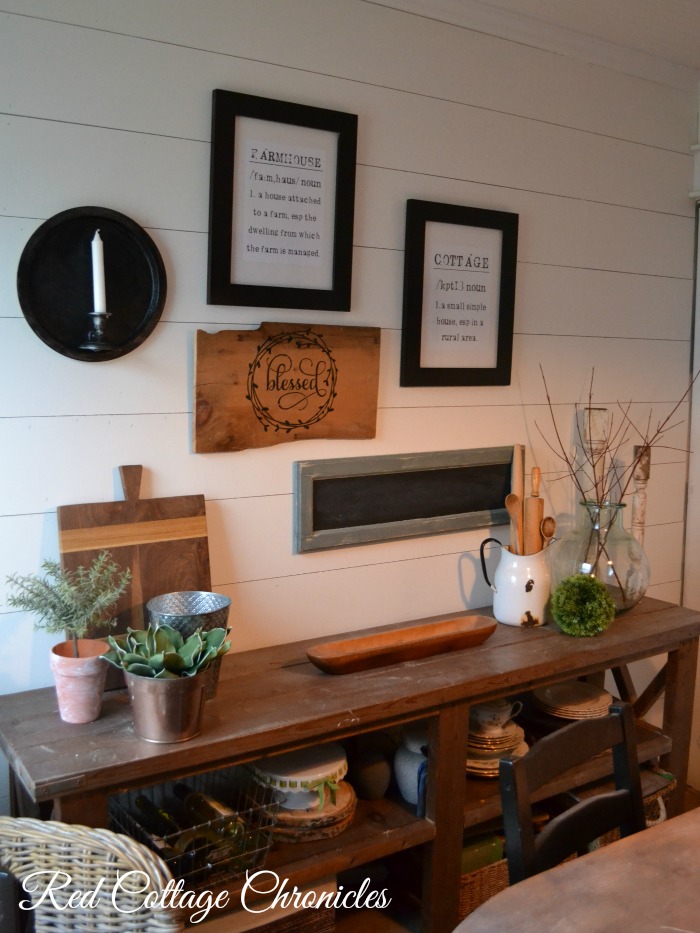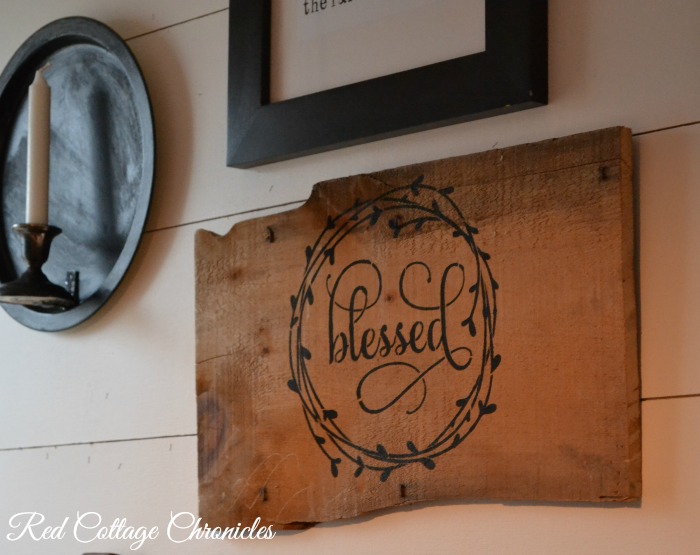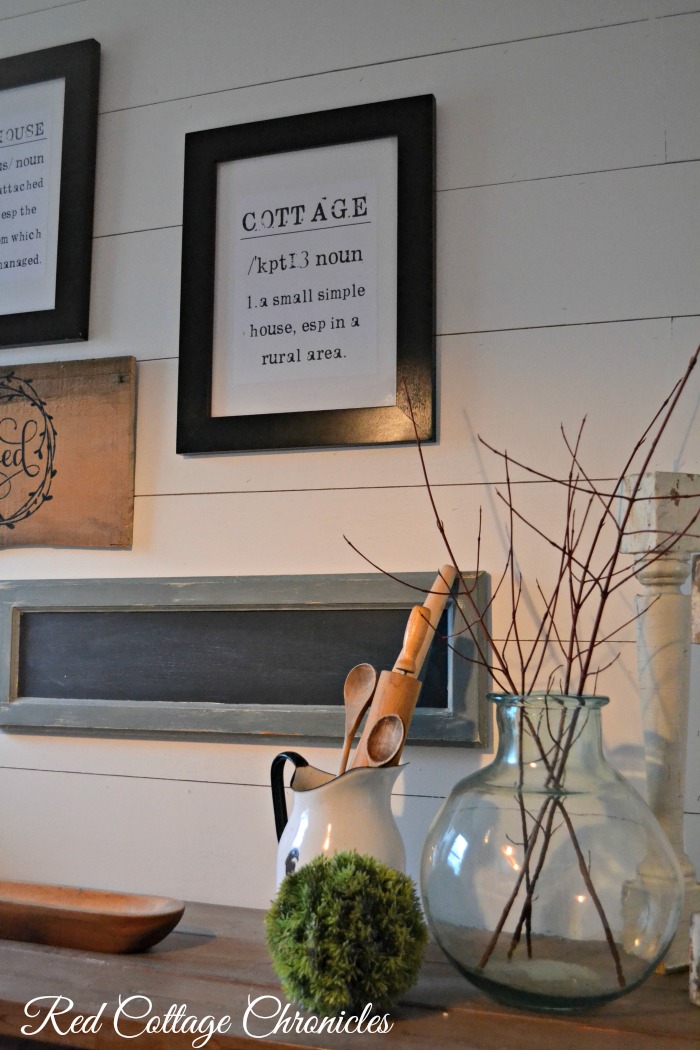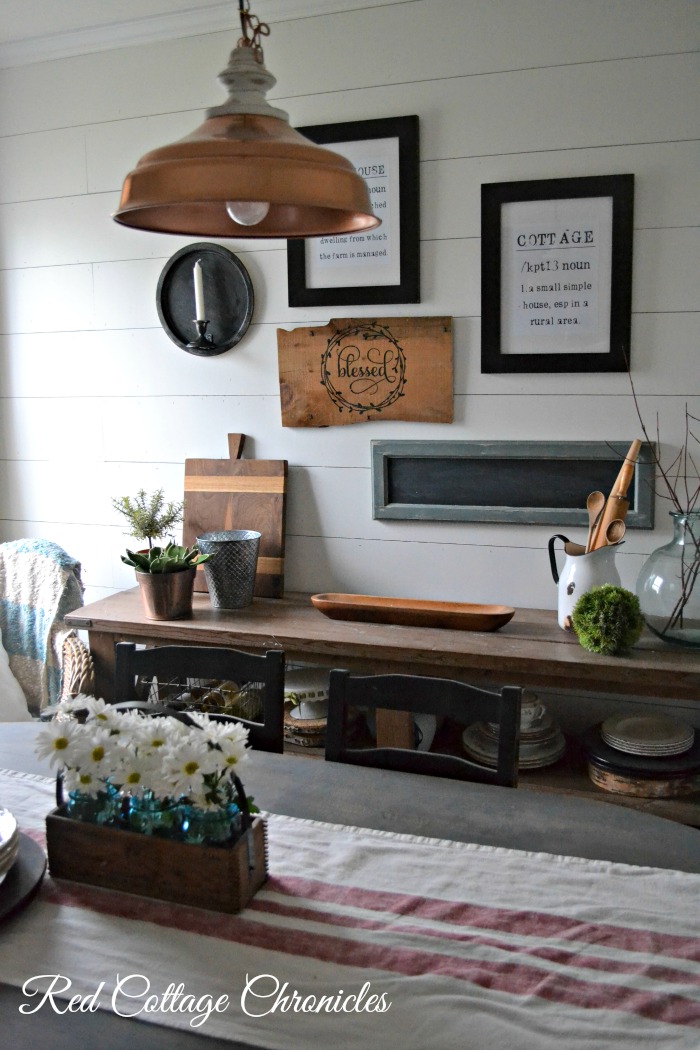 As I mentioned last week, I am a last minute fly by the seat of my pants girl and we spent nearly the entire weekend pulling it all together. We did manage a visit to the Ice Wine cocktail competition, and a relaxing dinner with friends on Sunday night which was the perfect end to a hectic weekend.
You probably noticed I haven't painted the buffet. Once the walls were painted white I really liked the way it looked against them. However, having lived with it for a few days, I haven't ruled it out altogether. Go figure. I'm a Libra. It takes us a while to make decisions!
So, how did I manage to change an entire room for $100? Here is the breakdown.
$47.00 for the underlay used for the faux shiplap
$29.00 for paint (Simply White)
$11.00 Thrift Store Finds
$2.00 to print Printables
$10.00 Michaels
Grand Total $99.00
I wasn't able to get new curtains as the cost to make new ones was way out of the budget as I missed the sale. I just washed and re-hung the old ones and they will work for now while I wait for the next buy one get two metres free sale.
We added some trim to the window to give it more of a farmhouse feel using some 1 x 4 and 1 x 2 left over from other projects. One bonus of living in a small space. Smaller windows means less materials.
The copper light fixture was a Christmas gift. It was purchased here in Canada at Home Sense, which is pretty much the same store as Home Goods I believe.
Our farmhouse table was a DIY project earlier this year.
The buffet table was the very first thing Tim ever built for me and I finished using a combination of paint and liming wax. (The link will also give you a peek at our dining room several years ago). The dining room chairs, originally from Ikea, I painted black last summer.
I used printables that were all from here.
The flower caddie on the table was a previous Thrift Store Upcycle Challenge project. I am sharing another Upcycle project tomorrow that you won't want to miss!
My friend Leslie painted the Blessed sign on a rustic piece of wood, and I just love it!
While I haven't written anything on it because I could not find a piece of chalk, the chalkboard was another DIY project you can find here. It was my very first project working with chalk paint.
I re-used picture frames to display the printables, and pretty much shopped the house for other accessories.
The cutting board is another DIY project and we are toying with the idea of selling them here on the blog in the future. They are perfect for entertaining. Stay tuned!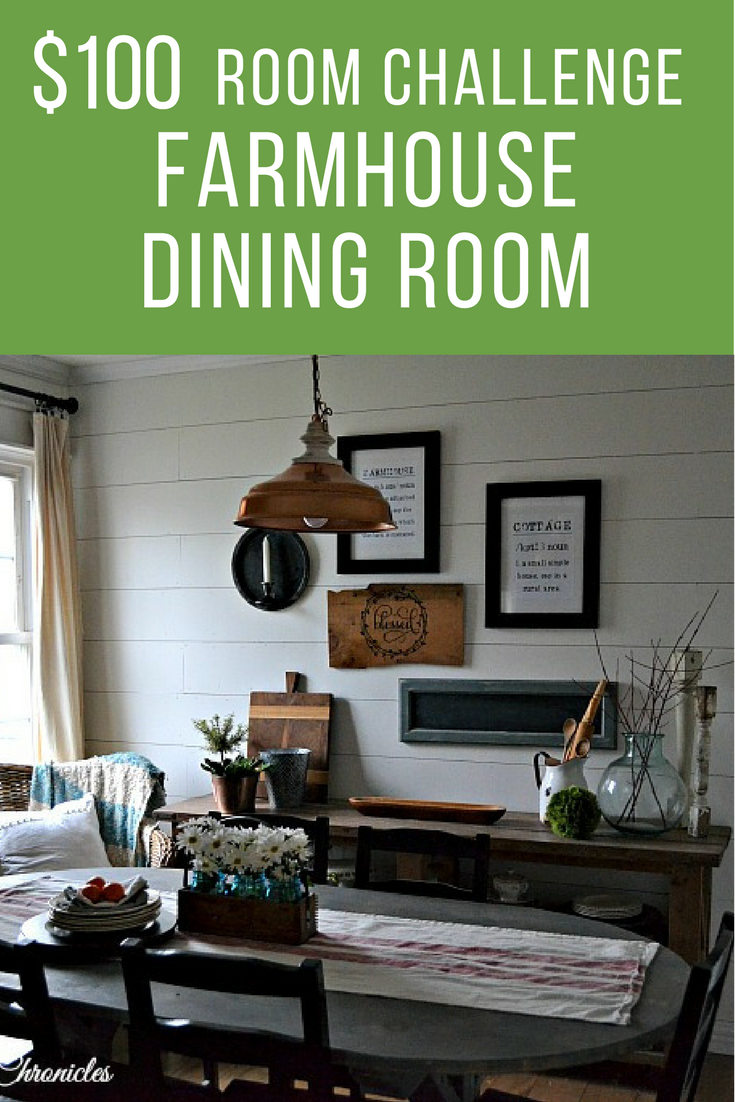 I am excited and relieved for this project to be done. I am so looking forward to visiting all the participating bloggers to see how their $100 Room Challenge turned out! Won't you join me. Just click the links below!
I have plenty more projects planned that I would love to share with you all! If you haven't already subscribed to Red Cottage Chronicles, it is as easy as clicking here and adding your email to our list! No spam, just an email to let you know whenever a new post goes live!
Until next time….