Did you ever have a penpal when you were young!  I remember having a couple.  A couple were cousins living far away in another province, but I also had a few from abroad!  It was way before the days of internet and texting and email.  It was so awesome to get home from school and get a letter in the mail from one of my pals!
Imagine my delight when I somehow stumbled across Foodie  Pen Pals over at the Lean Green Bean!  Penpals and food, all wrapped up into one.  I signed on and registered a few days before the cutoff date, which is the 5th of each month!  A couple of days later I got my penpal match!
Now the fun part!  My package arrives!  I was paired with Kym, a fellow Canadian, who wrote the nicest little note to tuck in with my goodies!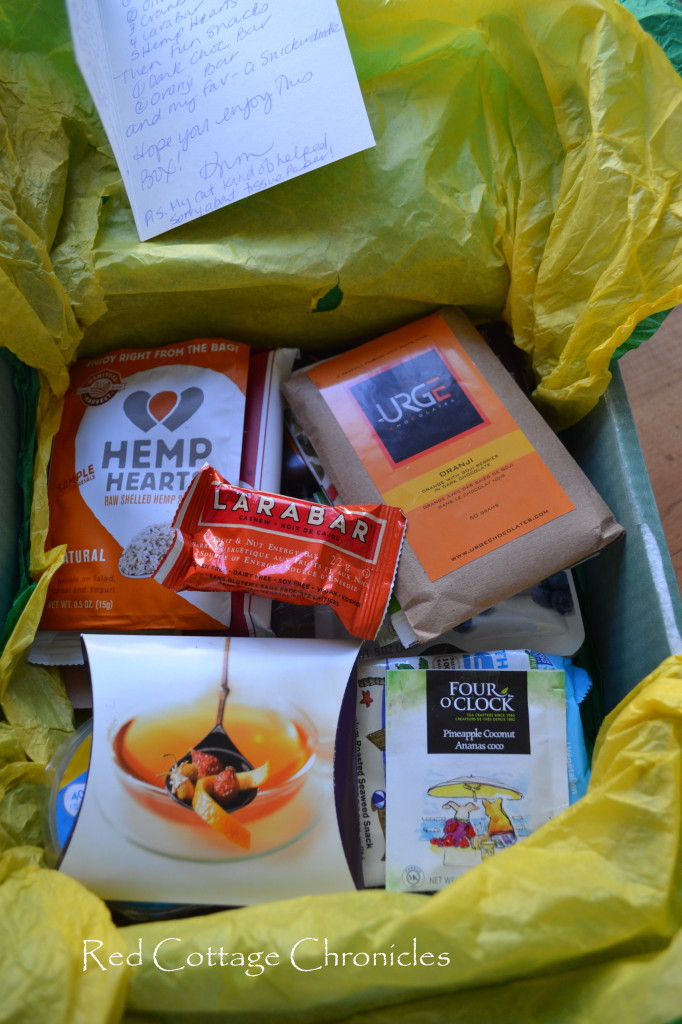 I had exchanged addresses with my foodie penpal through email, as well as any likes, dislikes or dietary restrictions!
Who doesn't love to open a little present now and again!?  My box was literally packed full of the most fun foodie stuff I have ever seen!
There was chocolate!  2 bars to be exact!  Urge Chocolates – Orange with Gogi berries in dark chocolate AND Endangered Species Chocolate – Dark Chocolate with Sea Salt & Almonds!
There was also wheat and gluten free snickerdoodle cookies, Cocomama Quinoa Cereal in Wild Berry and Banana Cinnamon, Hemp Hearts, Mighty Leaf Tea, Four O'clock Fruit Sangria tea, Olives to Go, Organic dried cranberries, Seasnax roasted seaweed snacks.
And I can't forget the U Raaw Munch Better Mix!  A trail mix/cereal chocked full of raisins, banana chips, oats, and coconut!  I can't wait to make up a batch of muffins with this goodness!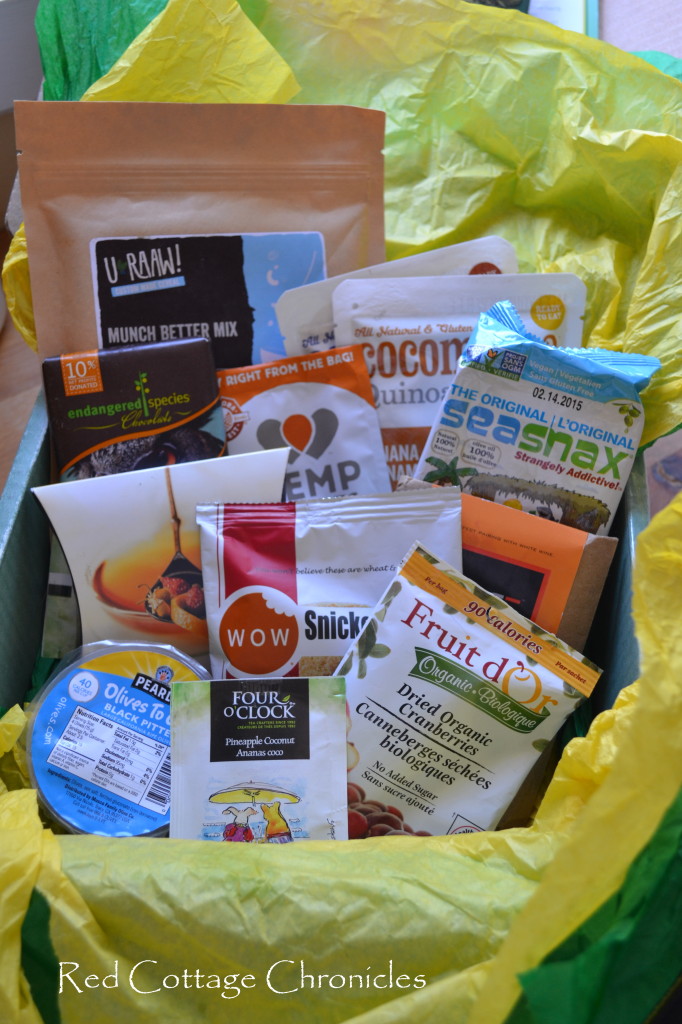 Oh!  And the cutest little Larabar ever!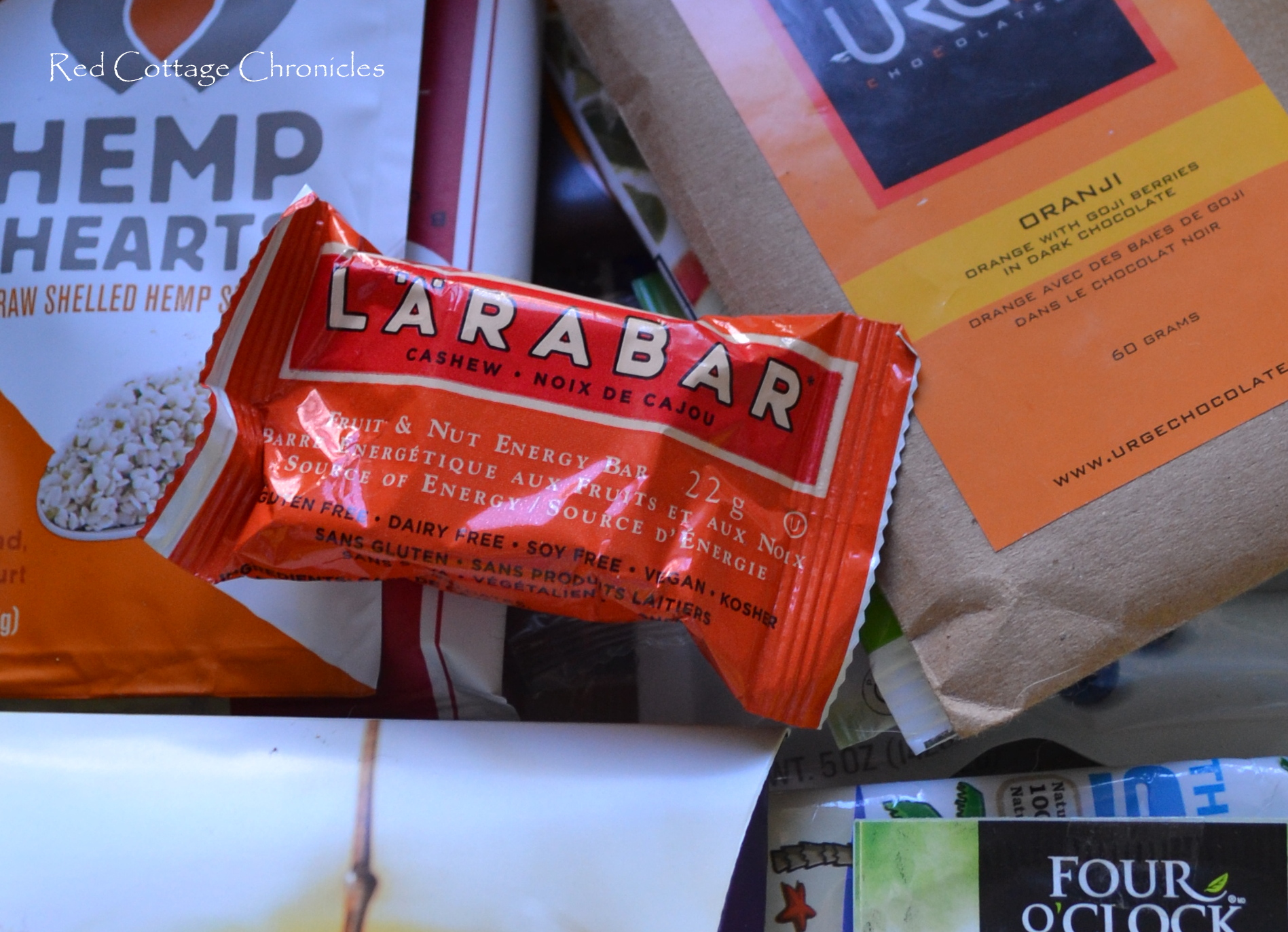 I can't wait to see who I get paired up with for August!
It is easy and so much fun to participate!  You can read more about the program here and fill out the form to register your name.  If you are from the US you will be paired with a US pal, and if you are from Canada you will be paired with a fellow Canadian!  There is a limit of $15 or less to spend on your box and you have to commit to shipping it out by the 15th of the month!
You do not have to be a blogger to participate, but if you do blog, simply post about your foodie box on the 31st of the month!
To say I was happy with my food box is an understatement!  You can bet I have already signed up to participate again in August and cannot wait to see who I get paired with this time!
Although I absolutely love getting presents to open, I equally love shopping for foodie stuff for my penpal!  This was my first month participating and I sent Kym some of my local favorites and whipped her up a batch of these vegan lavender shortbread cookies!
Thanks so much to Lindsay at the Lean Green Bean for facilitating this fun exchange!
So, what are you waiting for?  Go register.  I might just end up being your Foodie Pen Pal in August!
And while you are at it, why not subscribe to Red Cottage Chronicles and get updates every time a new post goes up!