After such a great match up in July I decided to sign up for a foodie penpal in August too!  What a perfect match it was!  I was matched with Tamara from British Columbia. The one thing I like most about the foodie penpal program is connecting with a fellow foodie from somewhere else in the country.  I have to say my match in August was a near perfect match!  Not only were our food interests very similar, our other interests were also very well matched and I think I made a new friend that it will be fun to stay in touch with!
Of course the food boxes are amazing too!  As soon as I opened my box from Tamara, which was so nicely packaged up in colorful tissue and well protected with crinkly shreds of paper, I could smell a subtle scent of sweet cedar.  My interest was piqued and I dove in with both hands.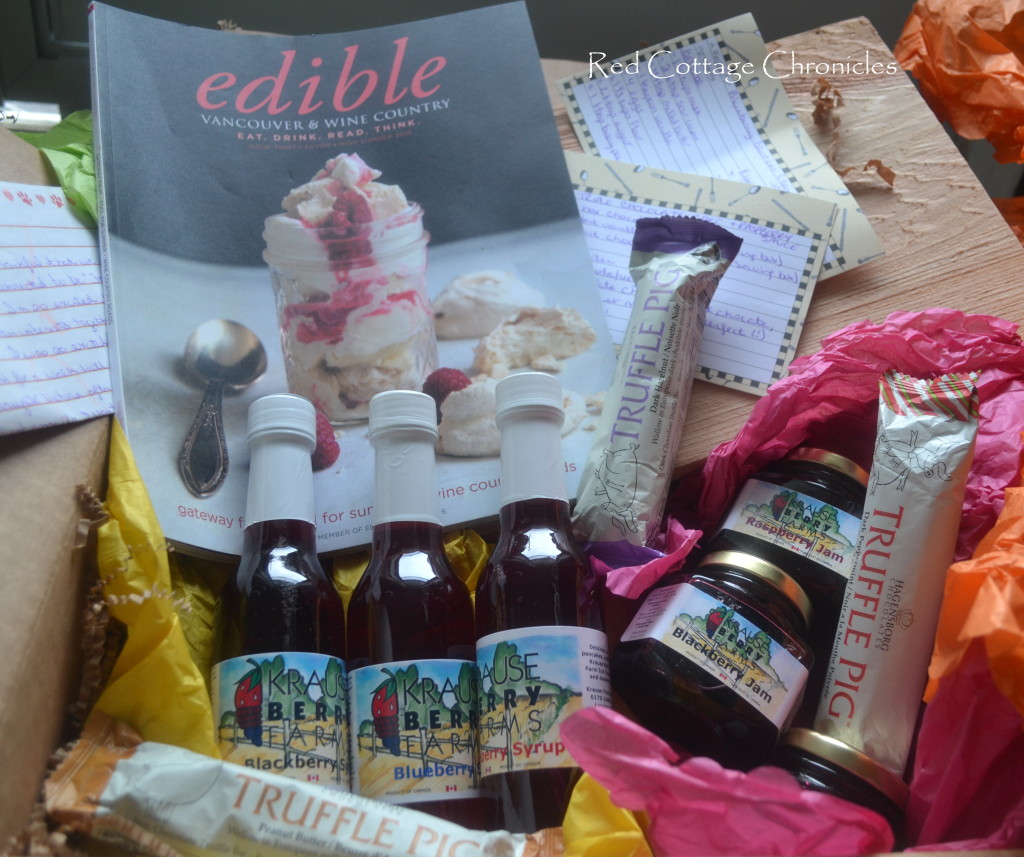 Talk about thrilled!  Fruit syrups in blueberry, blackberry and raspberry and jams to match!  All from a local berry farm.  I cannot tell you how much I love that.

And chocolate.  Not just any chocolate but Truffle Pig peanut butter, milk chocolate hazelnut, dark chocolate peppermint and one I ate so fast I cannot remember what kind it was!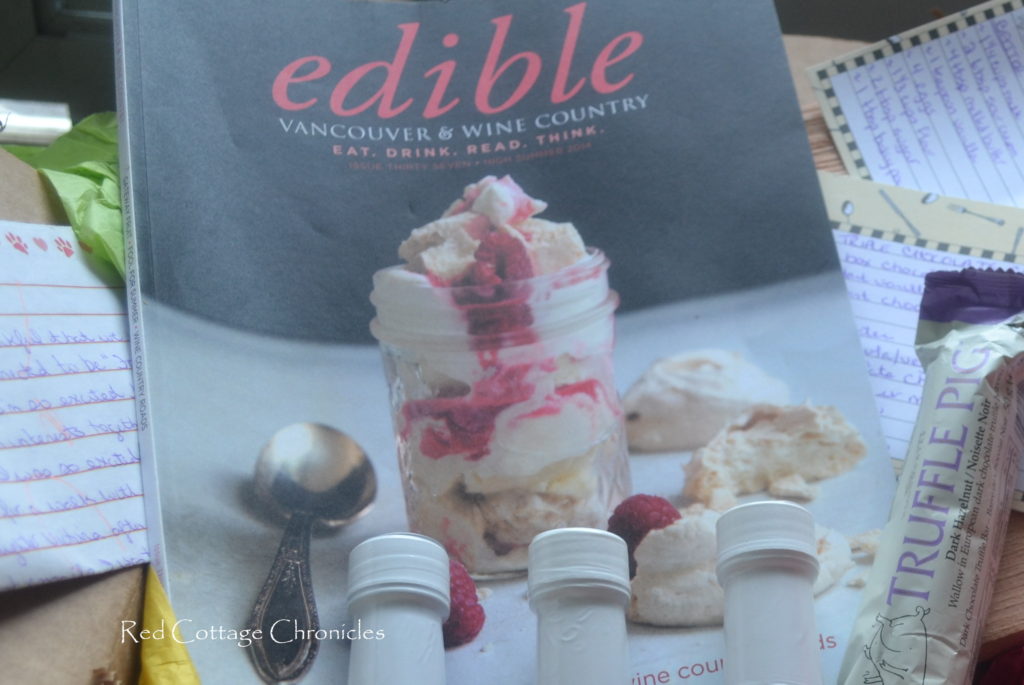 Not only did it have all these amazing goodies but it also had a book called Edible that was full of local information and recipes all featuring area businesses and products.  I have really enjoyed reading it from cover to cover and plan on featuring a recipe or two in the future.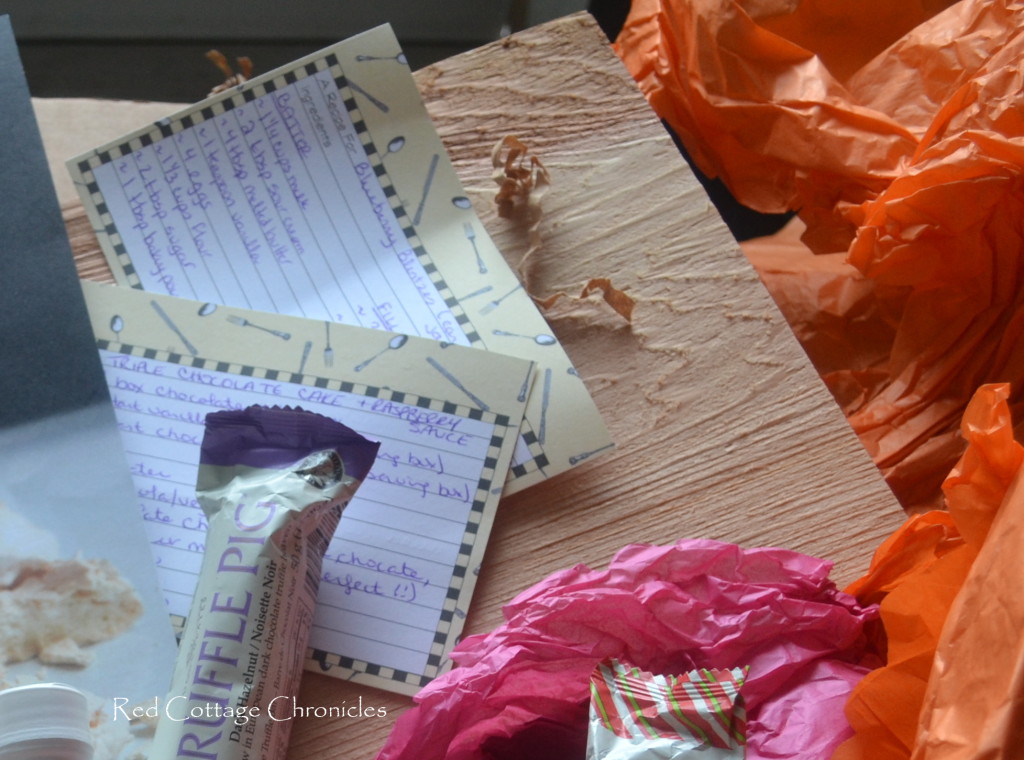 Nestled right on the bottom was a cedar plank which smelled so amazing.  You can bet I will be grilling something on this in the near future.  For now though I just keeping picking it up and breathing in that sweet smell.
She also included a couple of recipes that I can use some of the syrups.. The very next night I made this luscious triple chocolate cake with raspberry syrup!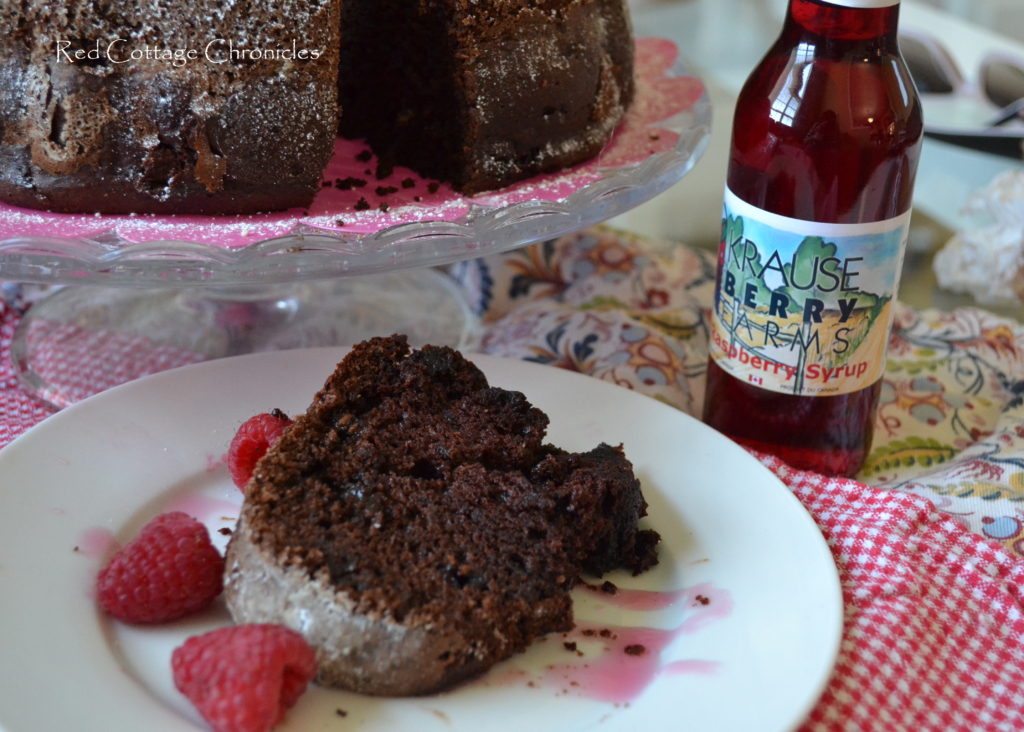 Talk about rich and decadent!  I took it to a barbeque at my sisters and it was a big hit!  I have to admit I was a little light handed with the raspberry syrup as I wanted more for me to enjoy on some ice cream at home!  No one seemed to notice though 🙂
I felt a little unworthy of what I sent to Tamara after seeing this wonderful box arrive!  Her email address hinted at a reference to (what I thought) the Royal family, so I immediately knew I wanted to do a British theme.  I hit up the Scottish Loft and picked out a bunch of things that are endorsed by Her Royal Highness the Queen of England.  There were some travel sweets, mustard, Yorkshire pudding mix, some chocolate and a few other goodies.  I also included a jar of peach jam I picked up during the peach festival from Greaves Jams.  When I showed my daughter what I got, all proud of myself, she said to me "what if she is a fan of the Kansas City Royals and not the Royal Family?"
I hadn't thought that one through very well, had I!?
Thankfully, she went on to explain her love of the Royal Family (another thing we have in common) and I am glad I went with my hunch!
I am really am thankful I have made her acquaintance and hope to have formed a long and lasting friendship.  She has even given me the okay to share her amazing cake recipe and I will be sharing it on the blog tomorrow, so make sure to check back then!
So, what are you waiting for?  Head on over here and sign up for your September foodie penpal!  You too could be receiving a yummy box of goodies like this one!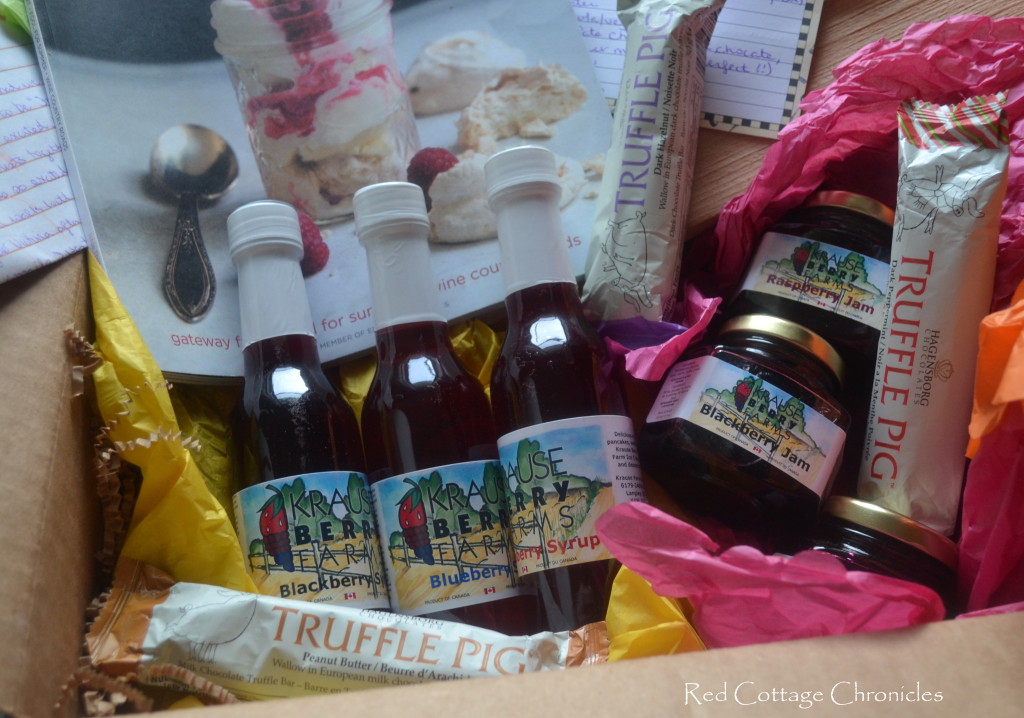 It's okay to be a follower!  Enter your email below to follow Red Cottage Chronicles and receive an email update whenever a new post goes live!