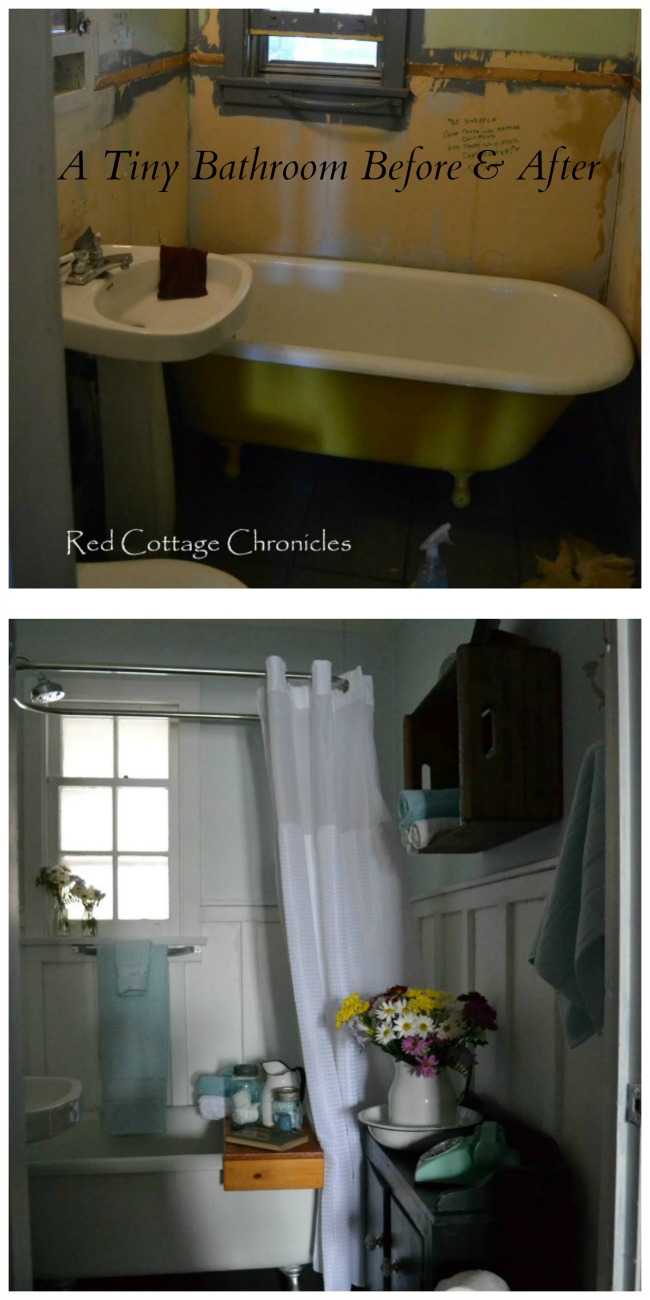 Welcome to Leslie's bathroom reveal! You can read all about the before (and how I met my pal Leslie here)
What I thought would take a few weekends is finally finished the first weekend in March! And I think it turned out pretty darn good. Leslie certainly seems very happy with it. And, I have to admit I am a little jealous of that claw foot tub. I think I see a project in the future for Tim.
This little room has gone from dated and dark, to really kind of sad, to bright and fresh!
Here is another quick look at the before…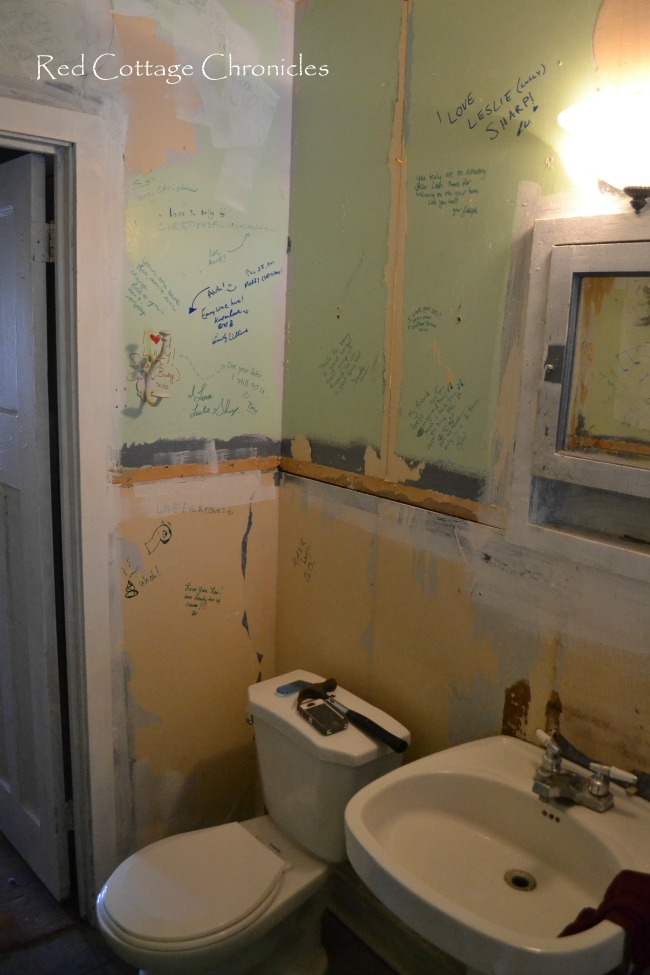 If you are just joining this bathroom makeover you can few the complete before story here.
And here begins the afters….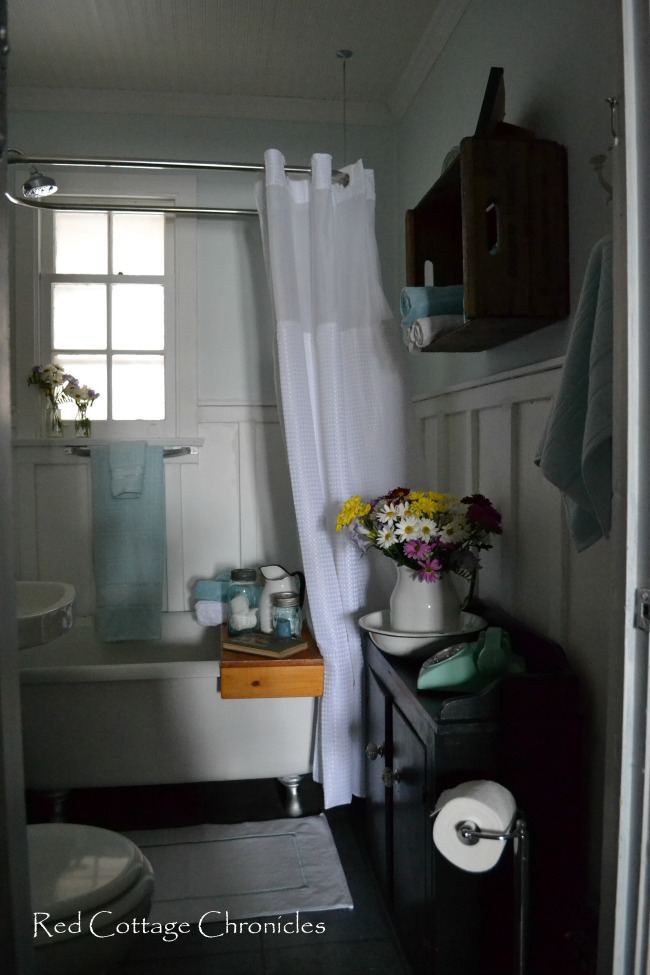 Can you hardly believe it is the same space?!
I certainly cannot take all the credit for this great makeover, Tim and Leslie played a huge part. Tim of course did all the plumbing work, changing out the light fixture and installing the board and batten. He installed the shower & hoop and helped me wallpaper the ceiling. He also installed the crown molding and all the trim work. He is pretty handy to have around.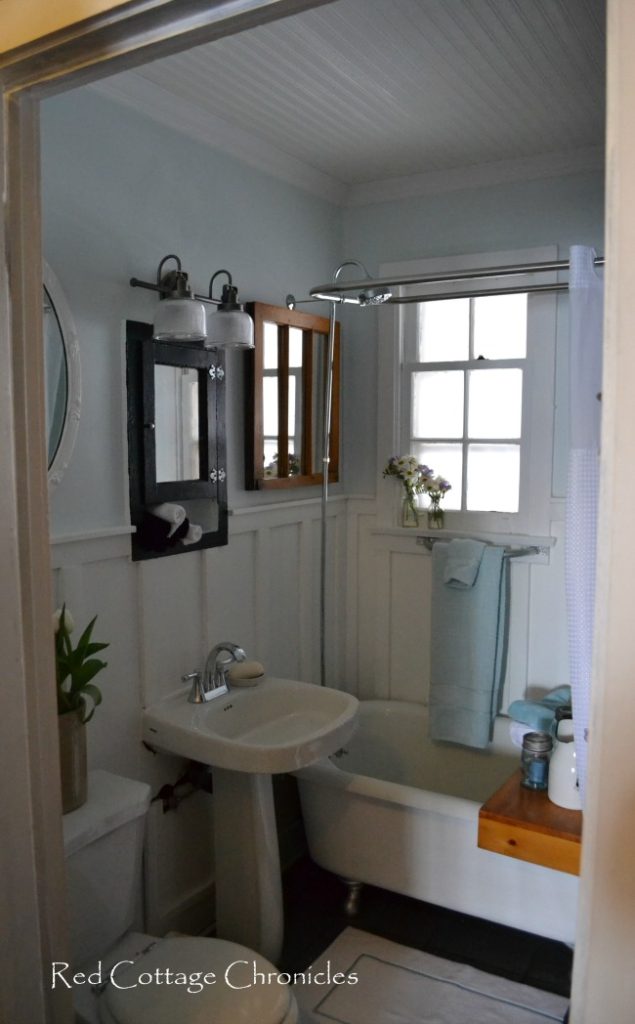 Leslie really did just need some motivation and someone to share in the vision. She rolled up her sleeves and really got to work. She painted, she frosted, and she is pretty darn good with a power drill!!
This is the same wall that was the signature wall. I don't think anyone will dare write on this wall now. A pretty mirror and candle wall sconce adds a bit of rustic elegance. Can you spot the reflection in the mirror?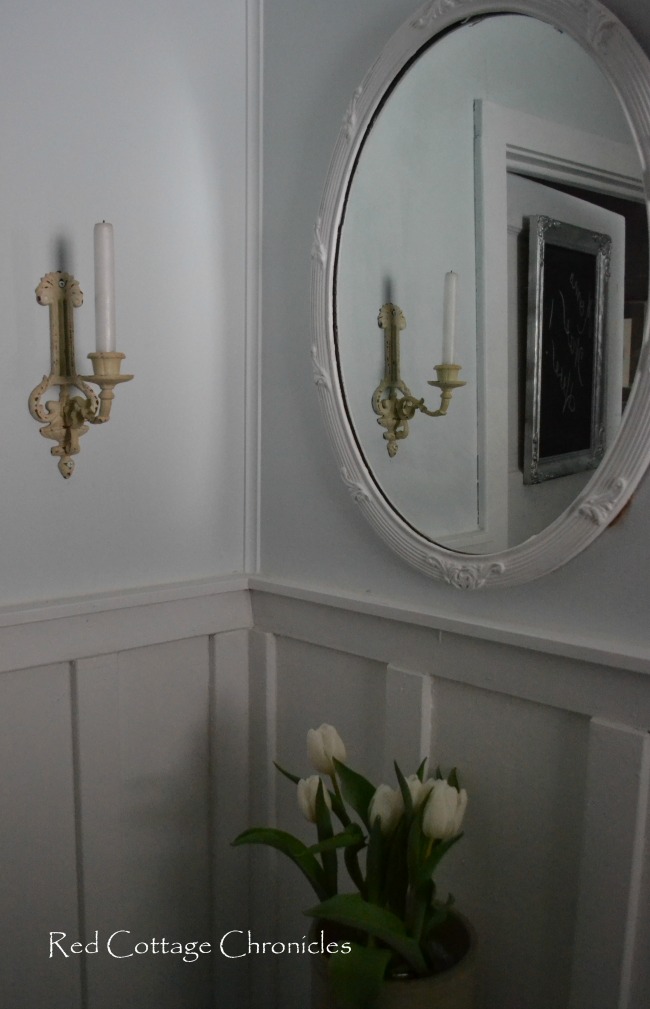 ….this old picture turned chalkboard is the perfect place to leave a message. Leslie painted out the frame and painted the glass with chalkboard paint. We hung it on the back of the door and I of course was the first to leave a message.
MoMo is what Leslie has always called me! She has a nickname for everyone. Some of them are pretty funny.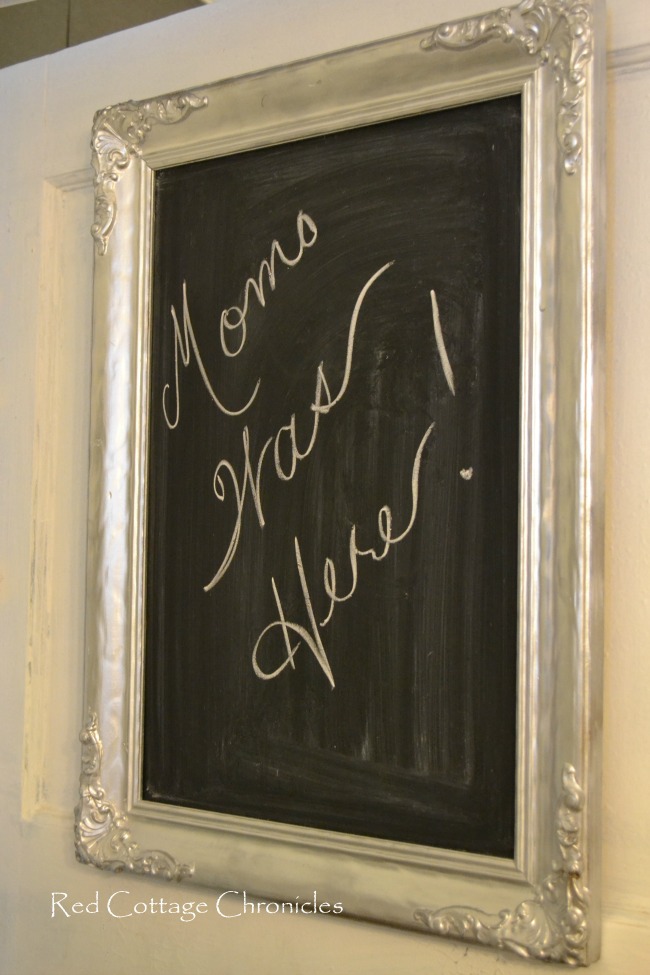 She had the frame already, as well as the chrome paint for another project, so it only cost about $8 for a can of chalkboard spray paint.
The ceiling is simply bead board wallpaper, again left over from another project. Crown molding really is the crowning touch in any room. It makes a pretty big impact for very little money. We have bead board wallpaper ceilings in a couple of rooms at our home and they have held up for years.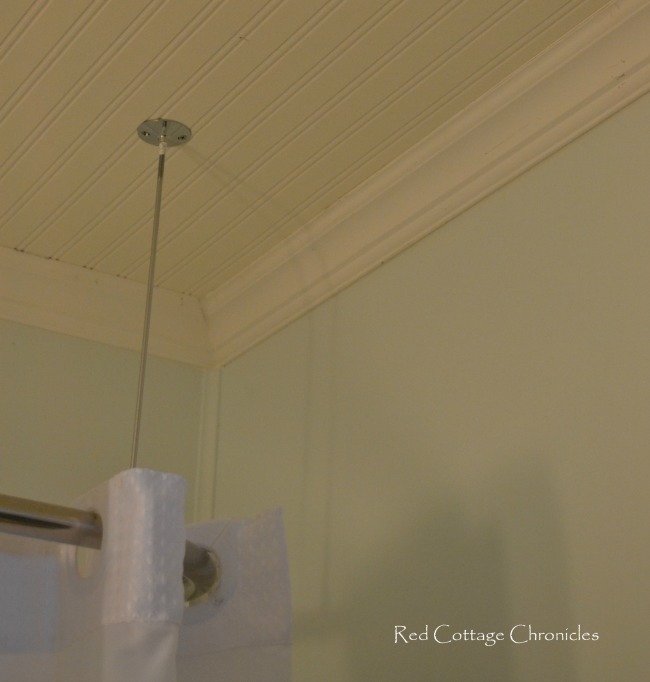 A good portion of the budget was spent on new fixtures. New taps for the sink…..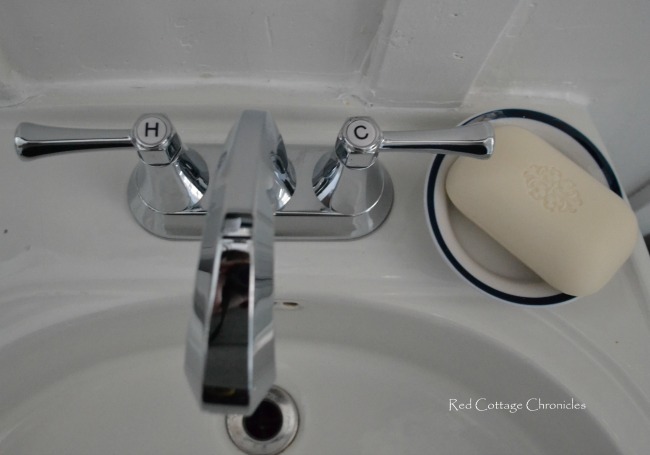 I love, love, love the bathtub taps. They are the perfect fit for a claw foot tub. Since the bathroom did not have a shower before, this particular set of taps have a diverter that allowed for installation of a shower head. They took awhile to get here, but were well worth the wait.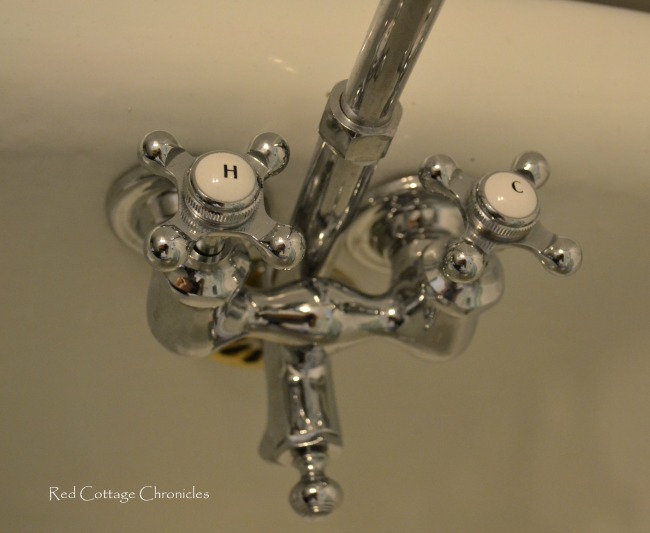 The shower and hoop kit came with a standard shower head that wasn't very pretty, so Leslie opted to switch it out to this one from Moen which gives both a rain shower effect as well as massage features.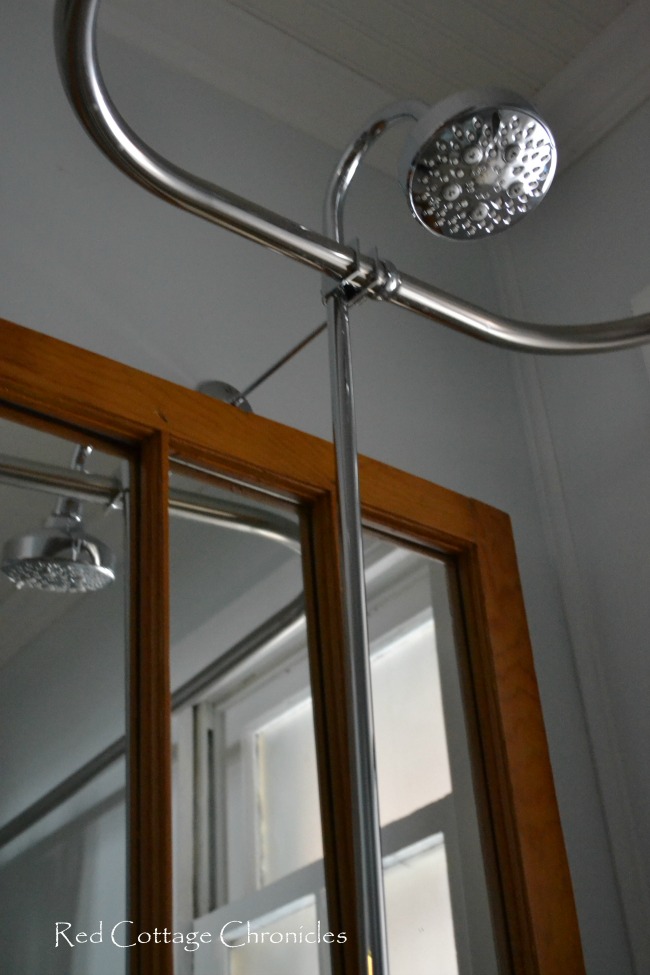 Styling the space was the most fun and other than new towels and fresh flowers, we didn't spend a dime.
She has many mirrors and we choose two to flank the built in medicine cabinet. Mirrors really add the feeling of more space and light to the room. We installed a more ornate oval mirror above the toilet and this pretty wood mirror made for Leslie by her dad many years ago.
The lighting in the bathroom went from one little fixture with chandelier bulbs to this pretty brushed nickel fixture.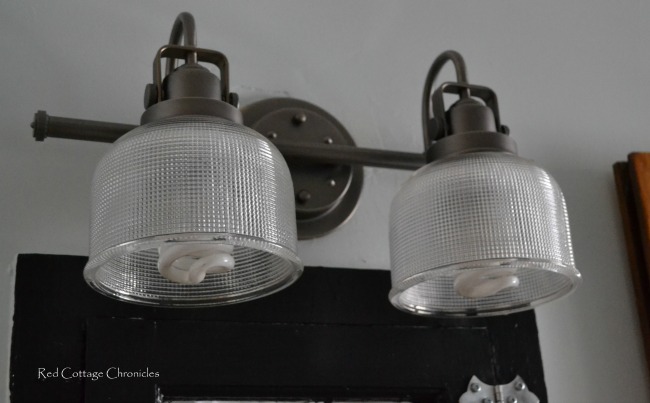 These tiny bathrooms in our homes lack storage space and this wash stand adds the much needed space to tuck things away. The top is the perfect perch for this enamel bowl and pitcher.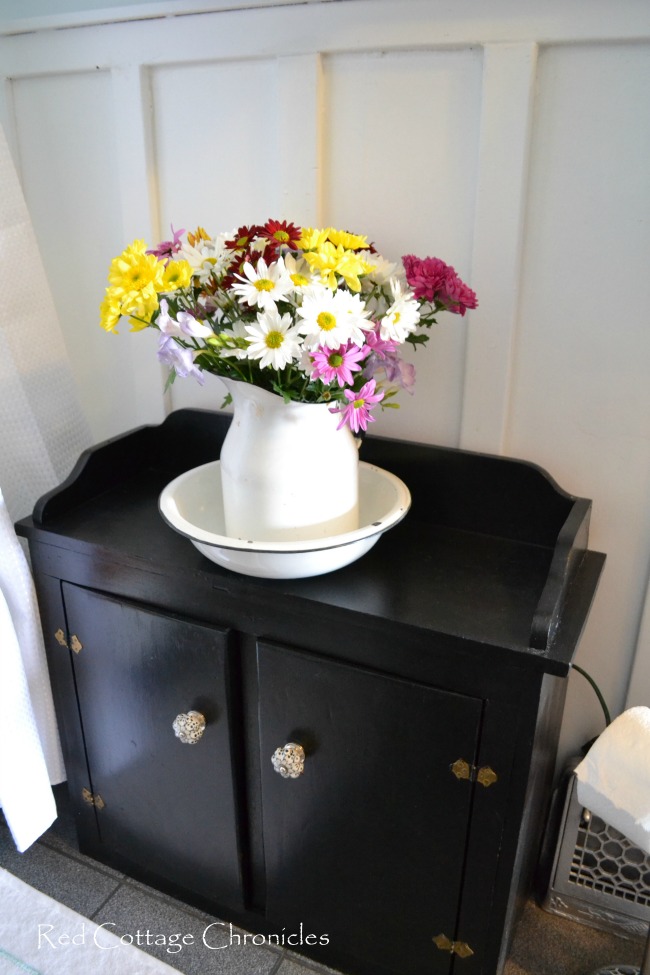 Did I mention Leslie is a collector? Her home is warm and inviting and filled with the many lovely antiques and fun things. Telephones are one of her larger collections, second only to her oil lamp collection I think! She of course had a phone in the perfect color to match the bathroom.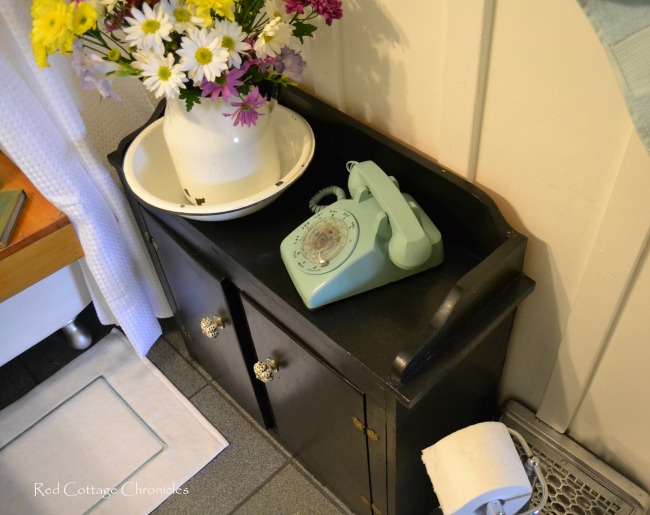 One of my favorite things in the room is this rustic crate Leslie had. Hung on the wall, it makes a perfect spot to store some extra hand towels. It is stamped "1964" which is the year which she was born.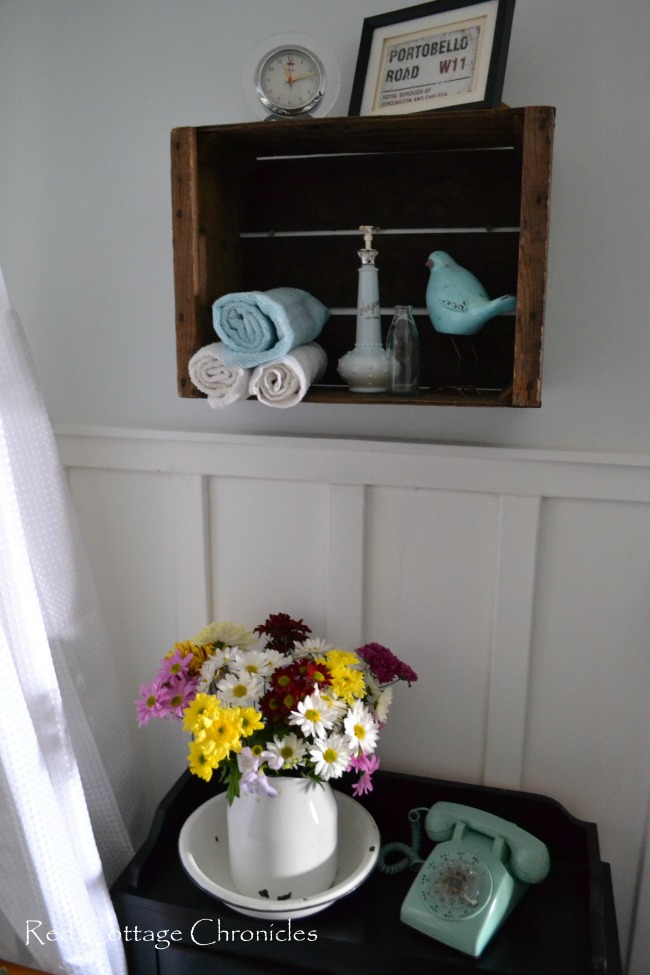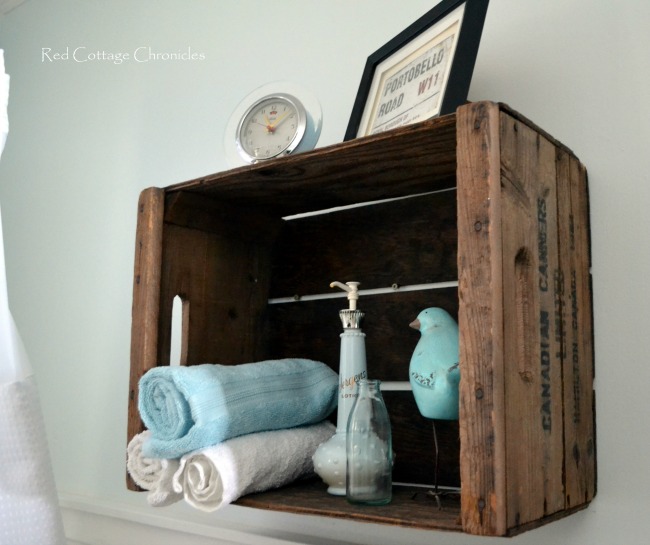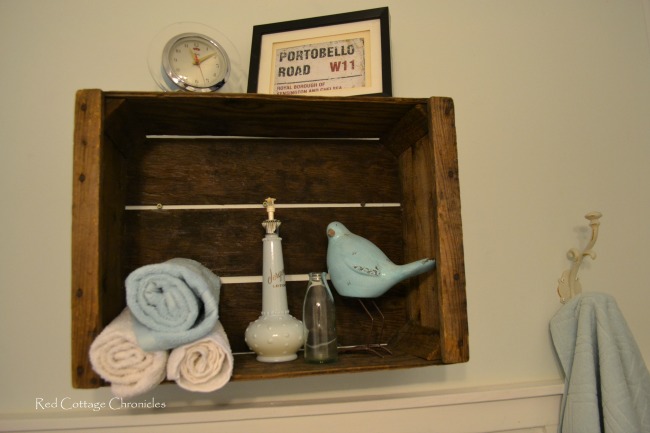 The antique Jergen's bottle was the inspiration for the paint color on the upper walls, which by the way is called Patriotic White a Benjamin Moore color. It was a gift to Leslie from a friend who found it at a wonderful little antique store called Victorian Porch.
We also got these pretty porcelain knobs for the washstand there. I think they are a steal at only about $3 each!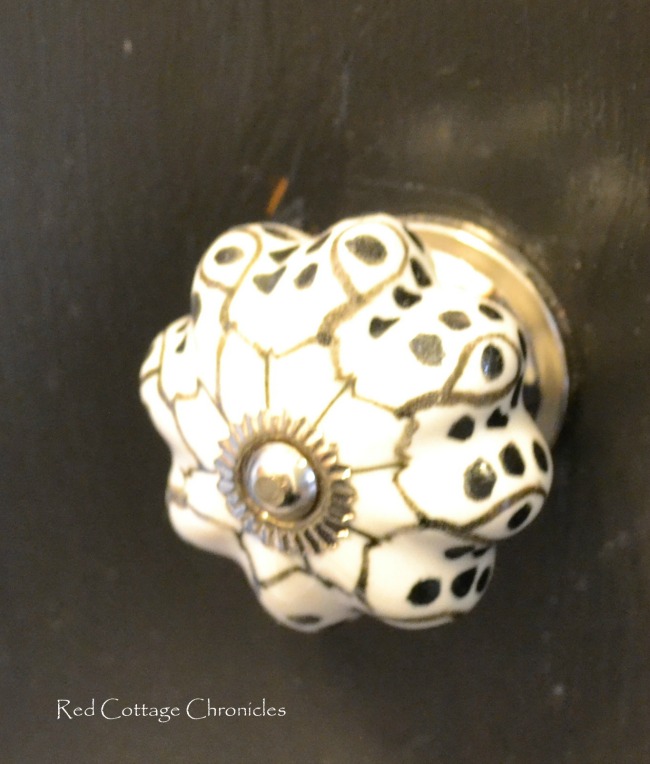 No claw foot tub is complete without a shelf across it to hold a book, a candle and maybe a glass of wine while enjoying a nice long bubble bath. It also is the perfect spot for some extra bath towels and pretty jars holding candles and cotton.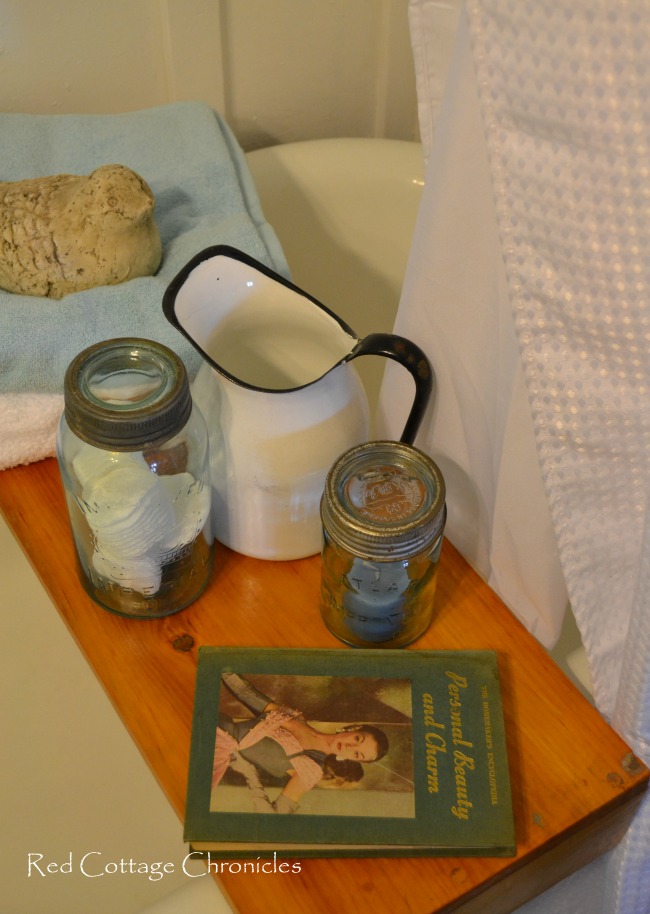 I told you she has some fun things! Who else would have an old book called Personal Beauty & Charm?!
Faux chrome feet on the claw foot tub make a big impact. While they really are not "claw feet", but more like "ball feet" I absolutely love the look.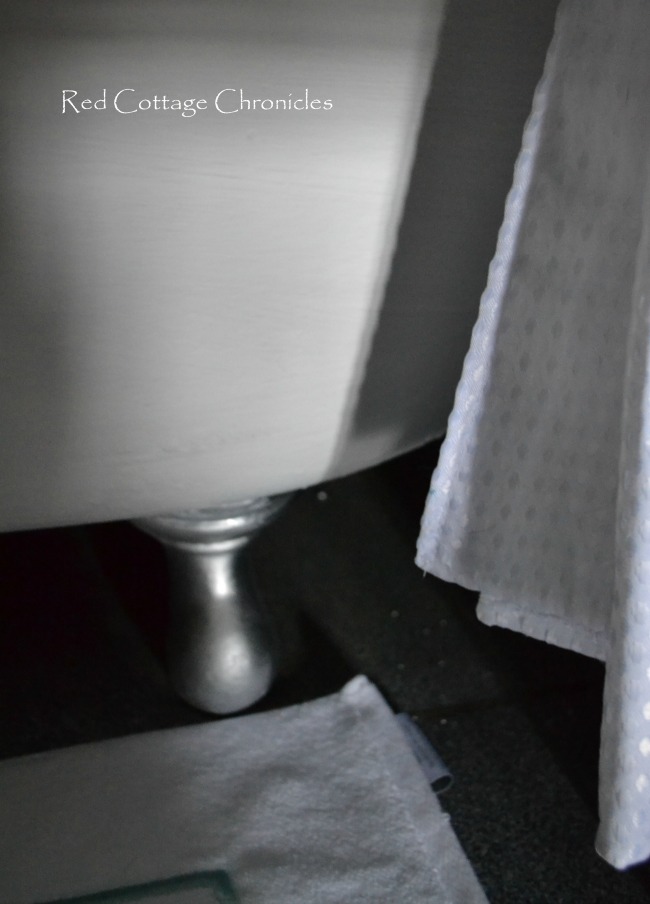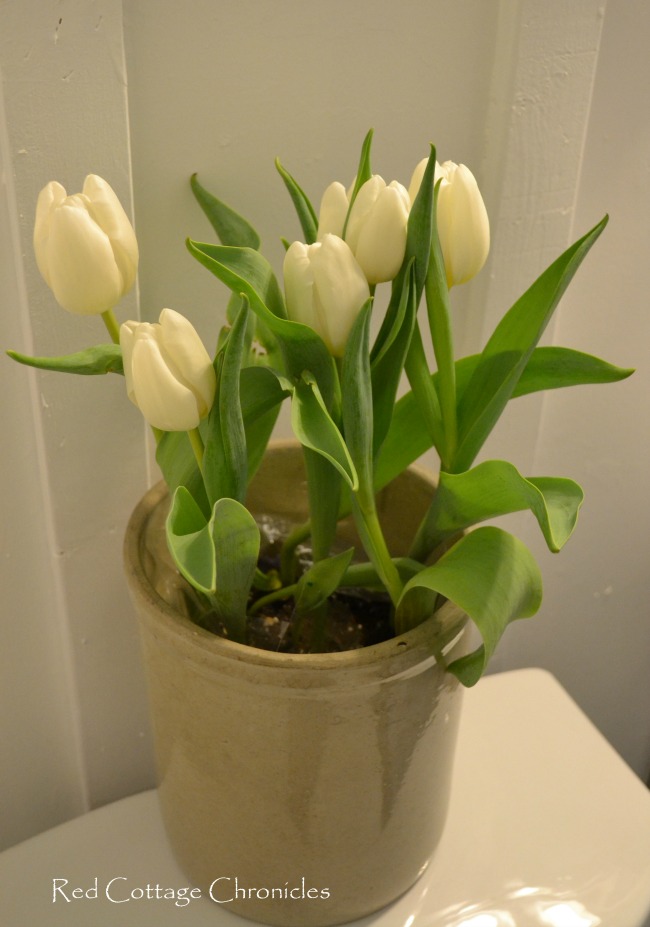 Leslie also has a growing collection of antique crocks. This one was the perfect size to sit on the back of the toilet and hold this pot of white tulips we picked up at the market.
A couple of tiny glass bottles adorn the windowsill with some stray daisies and freesia. We frosted the window with a spray-on coating which provides privacy but still allows in light.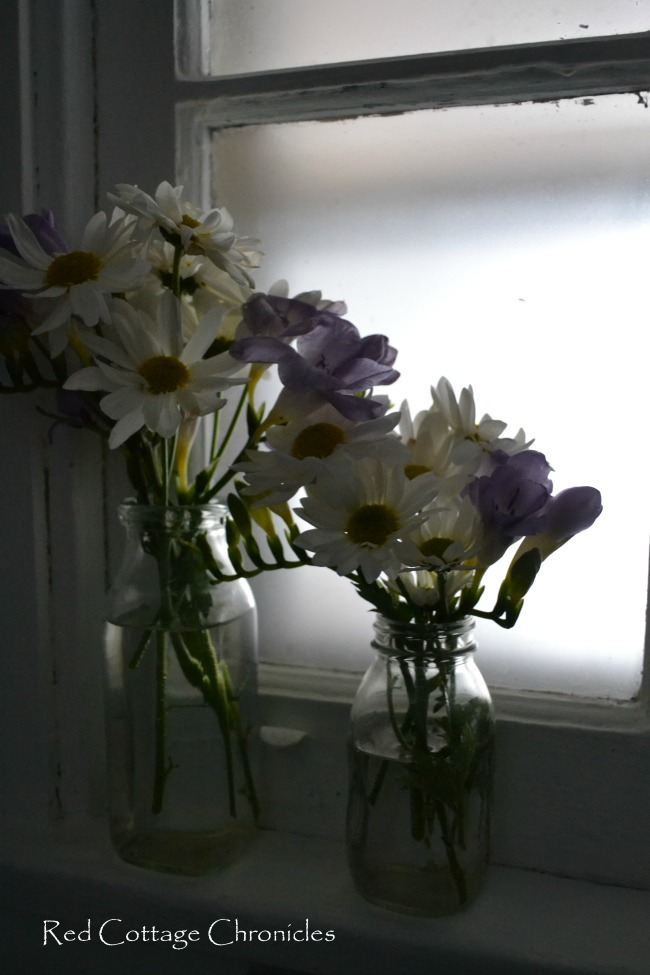 Leslie spent a total of about $1000 to refinish the space. That included all the new fixtures, lights, moldings and trims, gorgeous new fluffy towels in 2 shades of blue that compliment the upper wall cover, and some equally lush white towels, paint & painting supplies.
In the end, I am so happy I was able to motivate and help my friend create a bright and happy new space that completely reflects her personality and style.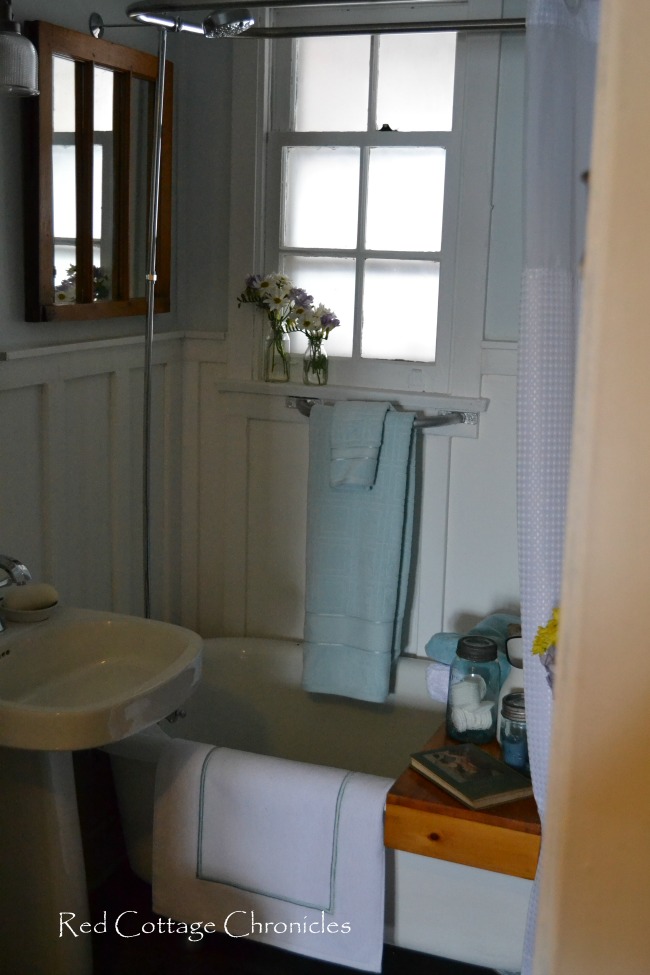 I am trying to keep the renovation momentum going and can't wait for the weather to warm up a bit and get started on my screen porch!
So happy you stopped by today to check out this tiny bathroom makeover! I will post a list of sources later this week.
Until next time…..