Oh I had plans!  Big plans.  I was going to participate in the One Room Challenge again.  You might recall I did it back in the spring.  You can see how that went here when I made over the living room.  Complete with new floors!  Now that was a challenge.  This time I had my sights set on the kitchen.  And while I haven't totally abandoned that project, I just know that six weeks is unreasonable time frame with our schedule this fall!
I also really hoped to participate in the31 Days of Baking series and it was a lot of fun!  But, in an effort to slow down and live a bit more purposefully I decided to pass this year since October 1st just kind of crept on me.  I mean seriously, where did September go?! But I do have plans for jumping in again next year and not leave it to the last minute!  This year I will follow along some of the participants!
So what I am doing instead?  I spent the last week doing a bit of everything!
I went on a "walk about town" and photographed some amazing front doors!  I will be putting together a post and sharing my favorites!  Here is a sneak peak of one of my favorites!  My mind is just full of ideas for styling this front porch if only it was mine!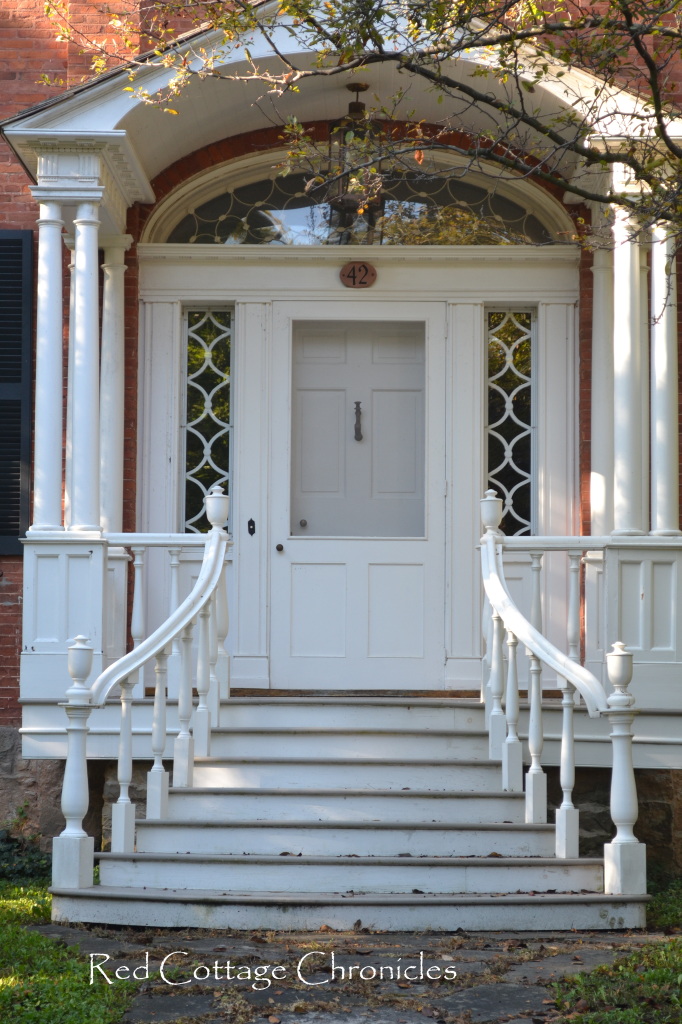 We took Tripper to his 3rd of week of obedience class!  He is just a bit clingy!
I did make some plans for the kitchen!  Starting with getting the dishes done!  On a more grand scale though I hope to change the floors, switch out some of the upper cabinets for open shelving, replace the doors under the sink with some curtains, and of course paint! You can follow my kitchen pinterest board to get an idea of my style.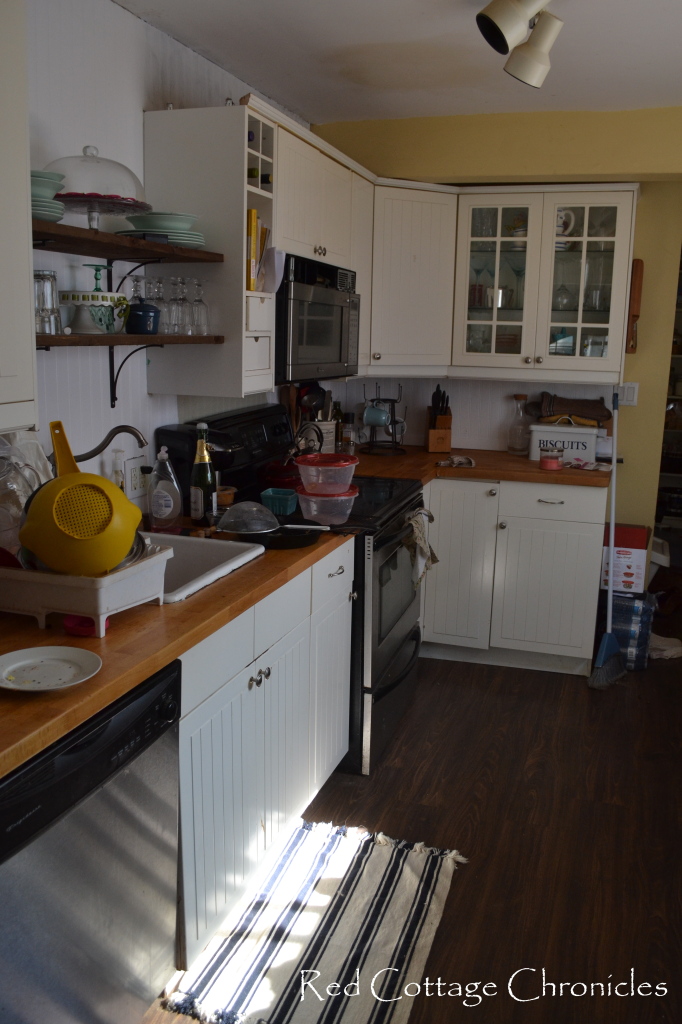 I attended my mom's church Mother/Daughter Tea!  Always a fun event with amazing sandwiches, delicious desserts, scones and clotted cream made with love by the Linen Sisters!  They are a group of hardworking ladies at the Church who meet monthly to sew all the alter linens for the church.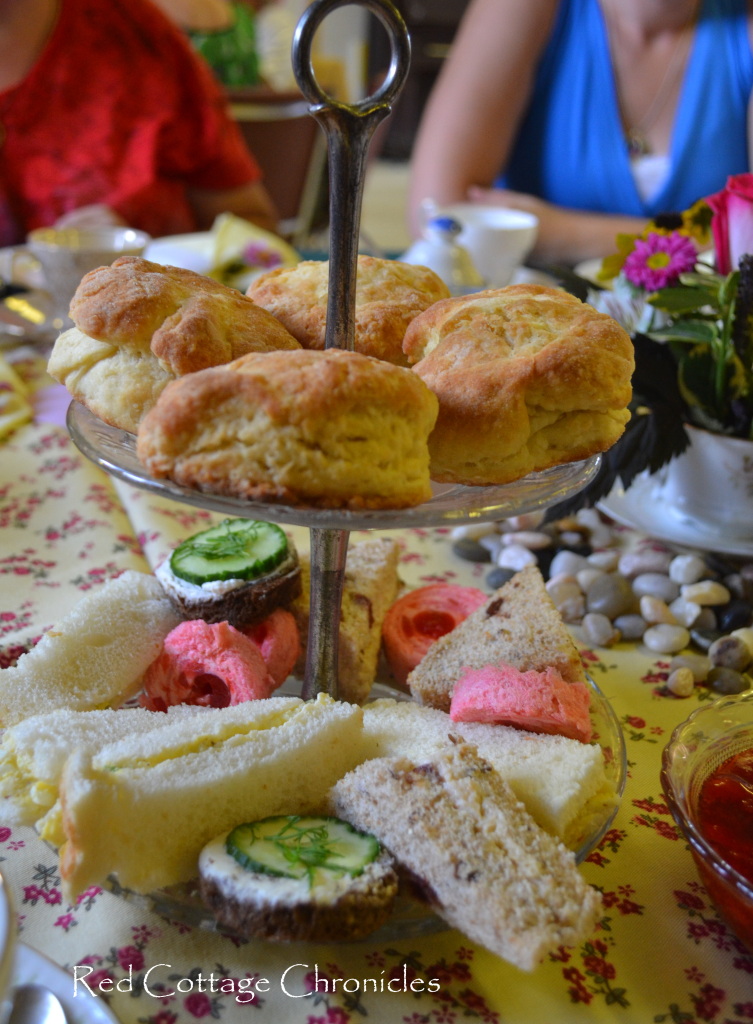 And before I dive into this book…….
……..I made these Turtle cookies! And of course the recipe is below!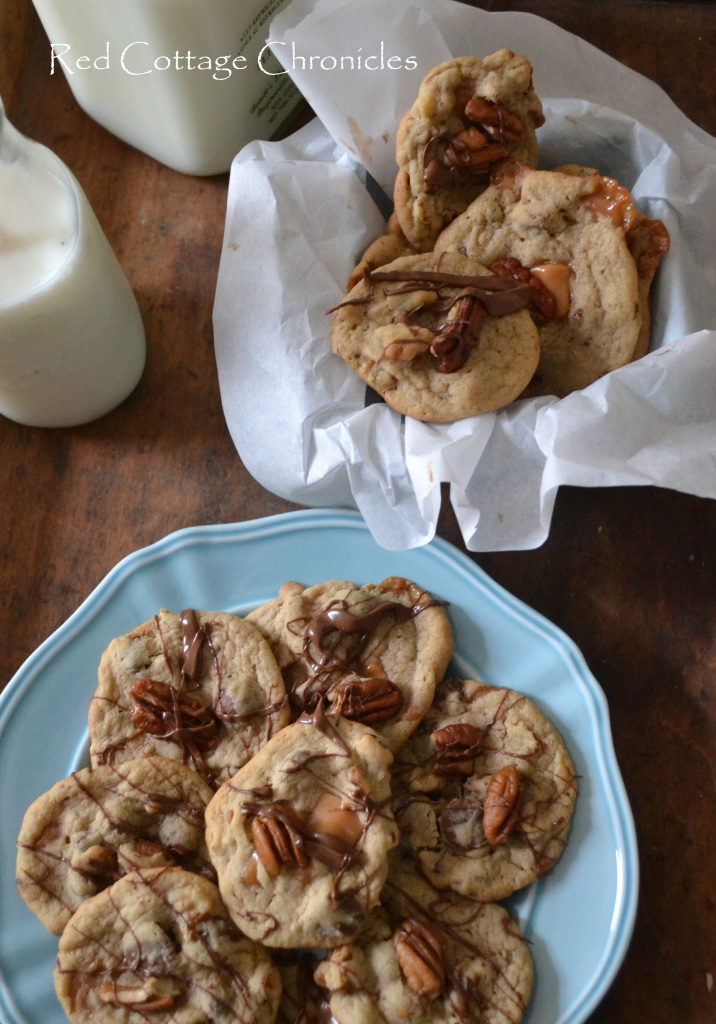 So, while I can't commit to 31 days of blog posts in a row, or finish a kitchen reno in 6 weeks I am getting lots done on my own schedule, because what I know for sure is that the term schedule is used pretty loosely around the red cottage!
Ingredients
1 cup butter, room temperature
1 1/4 cups lightly packed brown sugar
1 large egg
2 tablespoons milk
1 tablespoon pure vanilla extract
1 3/4 cup all purpose flour
1 teaspoon salt
3 /4 teaspoon baking soda
1 cup milk chocolate chips
1 cup roughly chopped pecans + whole pecans for topping
Kraft caramels, unwrapped and chopped to equal 1 cup
Instructions
Preheat oven to 375 degrees
Cream butter and brown sugar until light and fluffy.
Add egg, milk and vanilla and beat until fully blended.
Sift together flour, baking soda and salt and gradually add to creamed mixture on low speed until just blended.
On low speed blend in chocolate chips and chopped pecans.
With mixer running on low/med speed add chopped caramels a few bits at a time to prevent them all sticking in a clump.
Line cookie sheets with parchment and drop heaping tablespoons of dough onto parchment leaving room between for spreading.
Top each with a hole pecan.
Bake for 8 to 10 minutes. Do not over bake.
Remove from heat and allow to cool 5 minutes before transferring to cooling rack to cool completely.
Makes approximately 36 cookies.
https://www.redcottagechronicles.com/baking/instead/