I don't think I ever mentioned it on the blog before, but these summer fruit tartlets became my winning tartlets when they won first place on the Food Network Canada's Bake Off hosted by Anna Olson on their website.  I cannot tell you how excited and surprised I was.  I don't think excited even covers it!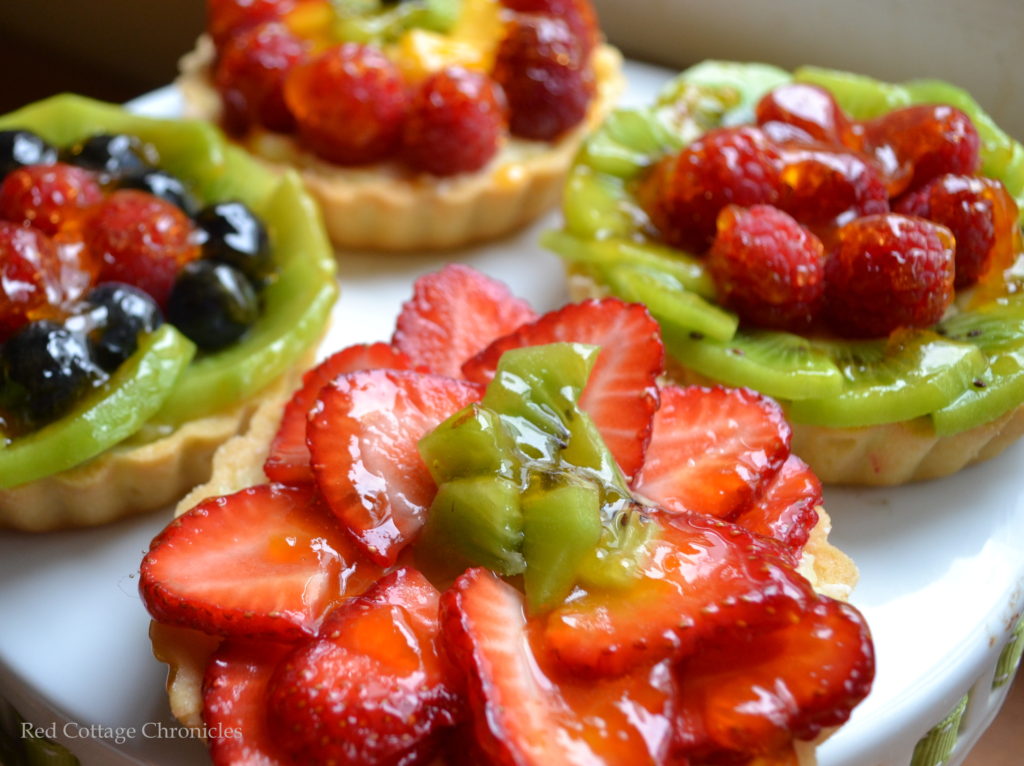 First prize was a gift card for Williams-Sonoma Canada in the amount of $250!
I love Williams-Sonoma, however can't say that I am exactly comfortable splurging on random kitchen tools.  I have to admit I had a bit of guilt even using this card on things I would normally have never purchased.  But in the end, I did it!
The only thing I knew ahead of time that I was going to "buy" was an Emile Henry pie dish I had my eye on forever.  It has the prettiest ruffled edge.  It was love at first site!  And they had one left in red!  $55.00 down, only $195.00 to go.
I also was pleasantly surprised to see they carried the Weck jars in Canada.  I love these jars, and picked up 4 of them.  You can see and example of how I use Weck jars here.  The ones I picked this time are a bit bigger, so I might even use them for canning this time.
You'll also see I choose a Williams-Sonoma apron.  I have become a bit of an apron collector these days so I had to have one.  So many colors to choose from, but I loved the powder blue.  The classic green one is nice as well, but the blue one caught my eye first!
I rounded out my spending by choosing an ice cream freezer container.  I make lots of ice cream over the summer and this double walled freezer container makes storing and scooping a breeze.
The French rolling pin is another kitchen tool I have wanted for awhile, but always justified not getting one by reminding myself I had two perfectly good, useful rolling pins passed down from my Nana.  Which I love, but sometimes the French pins are just so much easier to work with.
The China Bain Marie was a bit of an impulse.  They had it displayed filled with kitchen utensils and it holds A LOT!  I had certainly outgrown the little crock I had been using, so this made sense!  Besides….it looks good too.
And lastly, something I wasn't really looking for, but will make things so much easier with candy and donut making.  A digital thermometer.  It has a nice heavy duty clip, and a steel guard to keep the display safe from splashes and heat.  It was pricey, and would never had paid this much if it was my own money, but I am very glad I choose it.  My traditional one had a weak clip that always seemed to fall over and the analog display always fogged up and made it difficult to get an accurate reading while trying to wipe of steam!
 Oh!  I almost forgot.  I also got a red spatula and 2 spray hand sanitizers!
So, there you have it.  I could have used the entire $250 to get a fancy new kitchen appliance, but I know for sure everything I did choose will see a lot of use.
Can't wait to make my first pretty pie!
I love Williams-Sonoma and admire the quality of kitchen products they carry, so I feel so blessed to have won the gift card.
If you had $250 to spend at Williams-Sonoma, what would you choose??