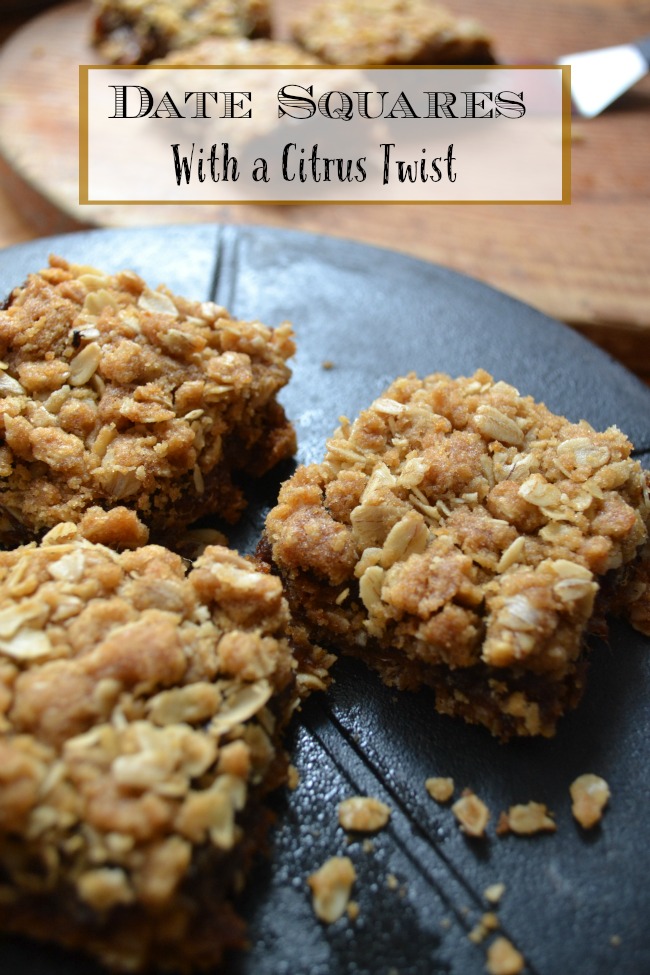 Last spring, when I finally was brave enough to register for a pastry class at our local college, I never expected date squares to be one of my favorite creations.
I was never a lover of date squares growing up.  Needless to say I was a bit disappointed when I saw them in the recipe manual that we got the first day of class.
Each Sunday I would spend 6 hours in the baking lab and come home with dozens of tarts, pastries, cookies, and the like.  I would bring them home, box them up and give most of them away to family and friends.
The Sunday came when it was time to make our date squares and I stared at the huge box of pitted dates pressed into a huge block and thought, why are we making these things anyway.  Blah!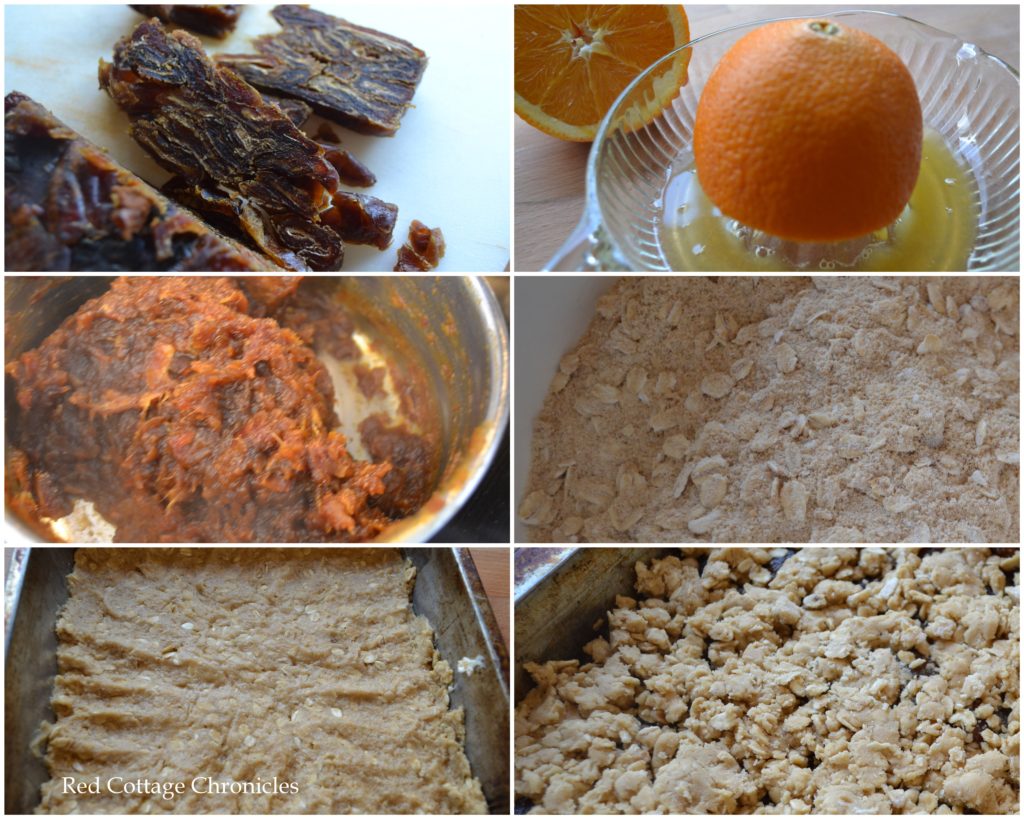 Well, as any good chef knows you have to sample your work (or at least that is my motto!).
Imagine my surprise when I not only tried a bite, but ate a whole square.  I just love the hint of orange.  These are nothing like I remember.  They are actually really good! I don't think I gave any of those away that week!  I have since made them a few times and I am happy to share.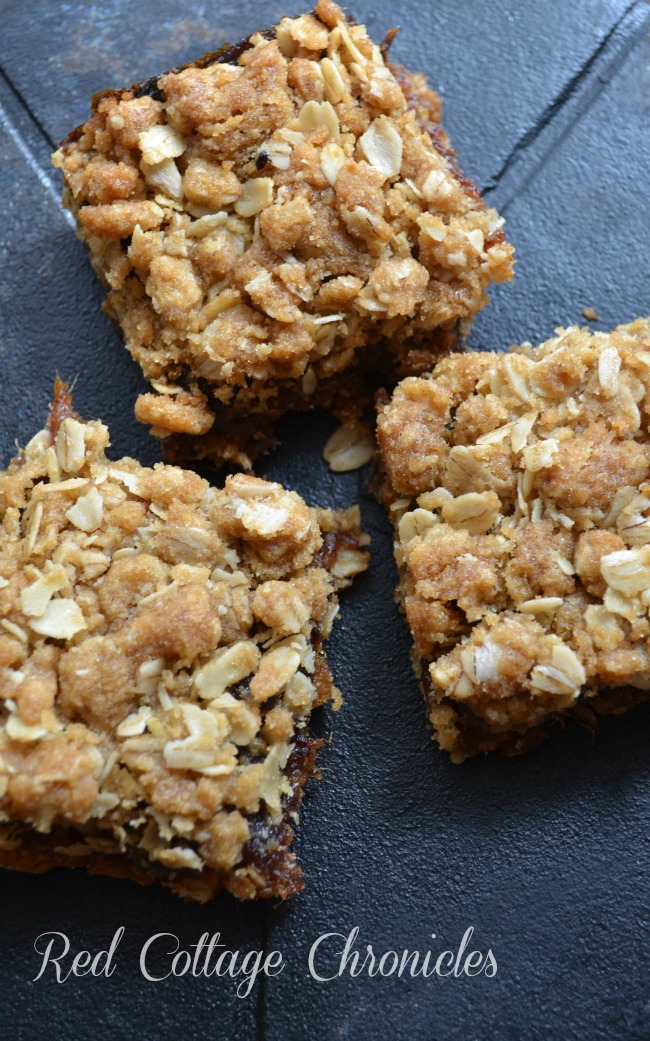 The oat topping and crust is deliciously sweet and crispy.  The date layer chewy and moist.  They freeze very well and make a nice addition to your holiday baking.
You can bake them in two 8″ square pans as we did in class or one 9 x 13 pan as I do now at home.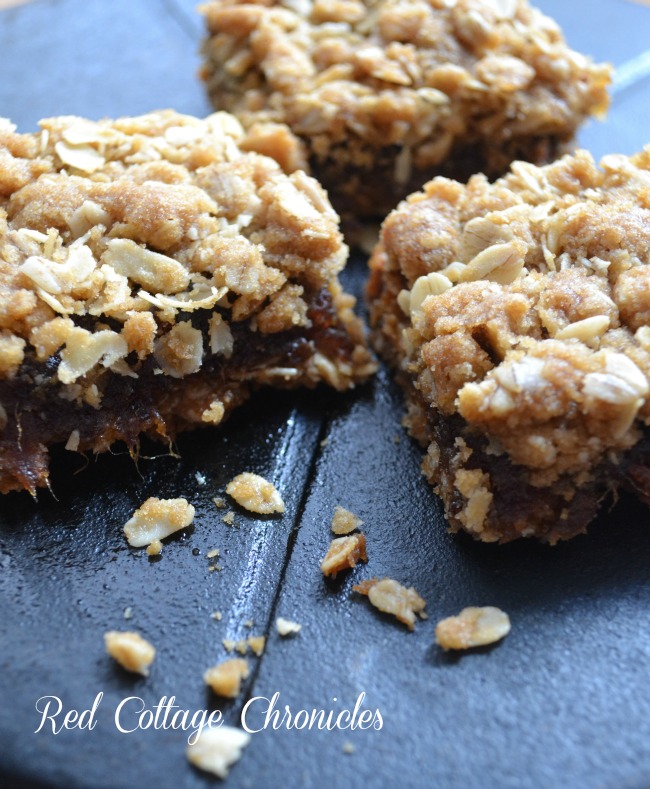 Whatever you do bake up a pan, grab one for yourself and enjoy!  And, remember to try everything once.  You might just be pleasantly surprised!
Until next time….
Maureen
Date Squares with a citrus twist
Author:
Prep time:
Cook time:
Total time:
Recipe is adapted from Canadian Food and Wine Institute workbook
Ingredients
455 g (1 pound) pitted dates
1 tbsp + 2 tsp granulated sugar
230 g water (230 ml)
grated rind and juice from half an orange (I use organic)
1 cup butter (2 sticks)
2 1/3 cups oats
1 cup all purpose flour
1/2 teaspoon baking soda
1 teaspoon baking powder
pinch of salt
1 3/4 cups brown sugar
Instructions
Set oven to 350 degrees.
In a heavy bottom pot combine dates, granulated sugar, water, juice and rind. Bring to boil and continue to cook until soft.
Set aside and allow to cool.
Meanwhile, in a large mixing bowl combine oats, flour, baking soda, baking powder, salt and brown sugar. Mix well with your hands.
Rub in margarine until well combined and mixture is crumbly.
Divide half the mixture between to small square baking pans, pressing in firmly.
Spread cooled date/orange mixture over each crust.
Divide the remaining crust mixture between two pans and sprinkle over date filling. Press in lightly.
Bake for 35 to 40 minutes until golden brown.
Cool completely before cutting into squares and removing from pan.