When I decided to post a tutorial about sweet pastry, I knew I wanted to fill it with lemon curd!  This lemon curd tart is really easy to make, is tangy and smooth, and packs a real lemony punch!
Lemon is hands down one of my favorite flavours.  It is such a sunny, happy flavour!   Lemons are available all year round in most places and are really inexpensive.   When choosing lemons for baking, make sure you choose firm lemons with nice yellow unblemished peel.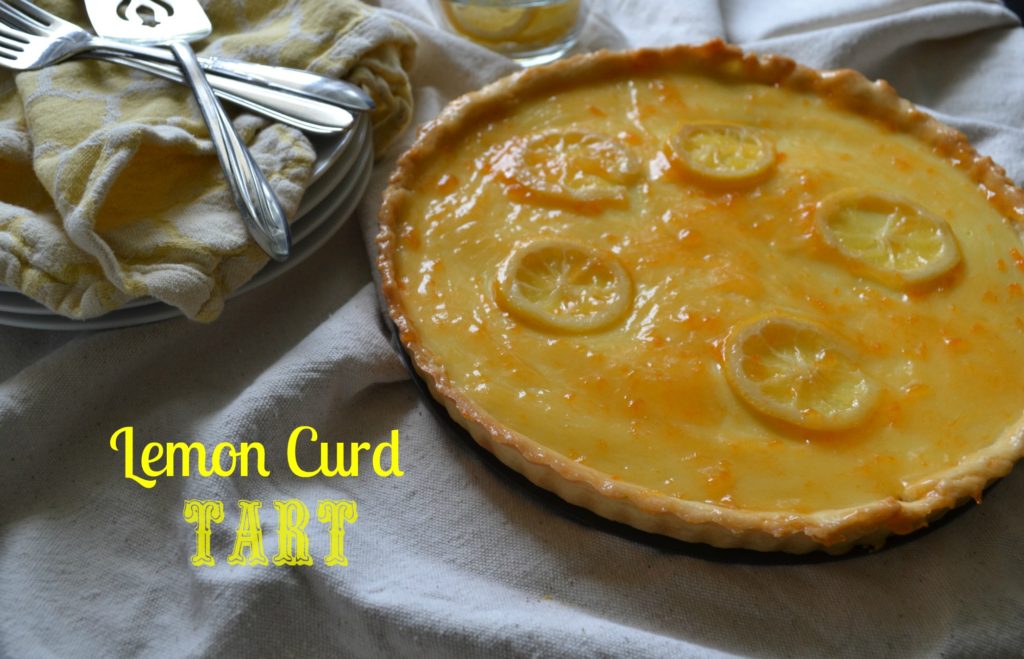 I glazed it with apricot jam, which offers a bit of sweetness!  You can strain the jam after melting if you want to have a more clear glaze, but I like the hint of orange the pulp of the apricots add.
Candied lemon slices add a pretty touch.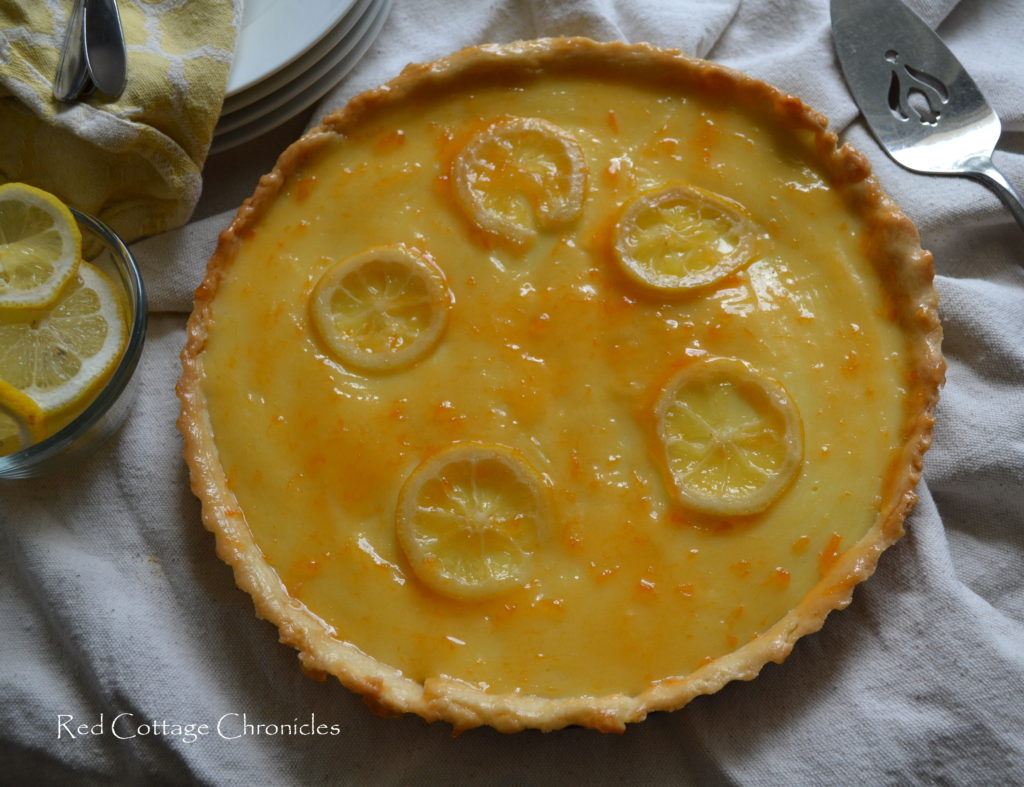 We finally got a chance to have our first family barbecue since my mom got her new harvest table!  Summer time is busy and it is hard to get the whole family together in one place at one time!  We managed to get almost all of us together on Sunday.  We dined on homemade chicken wings, ribs, salads and enjoyed the lemon curd tart for dessert!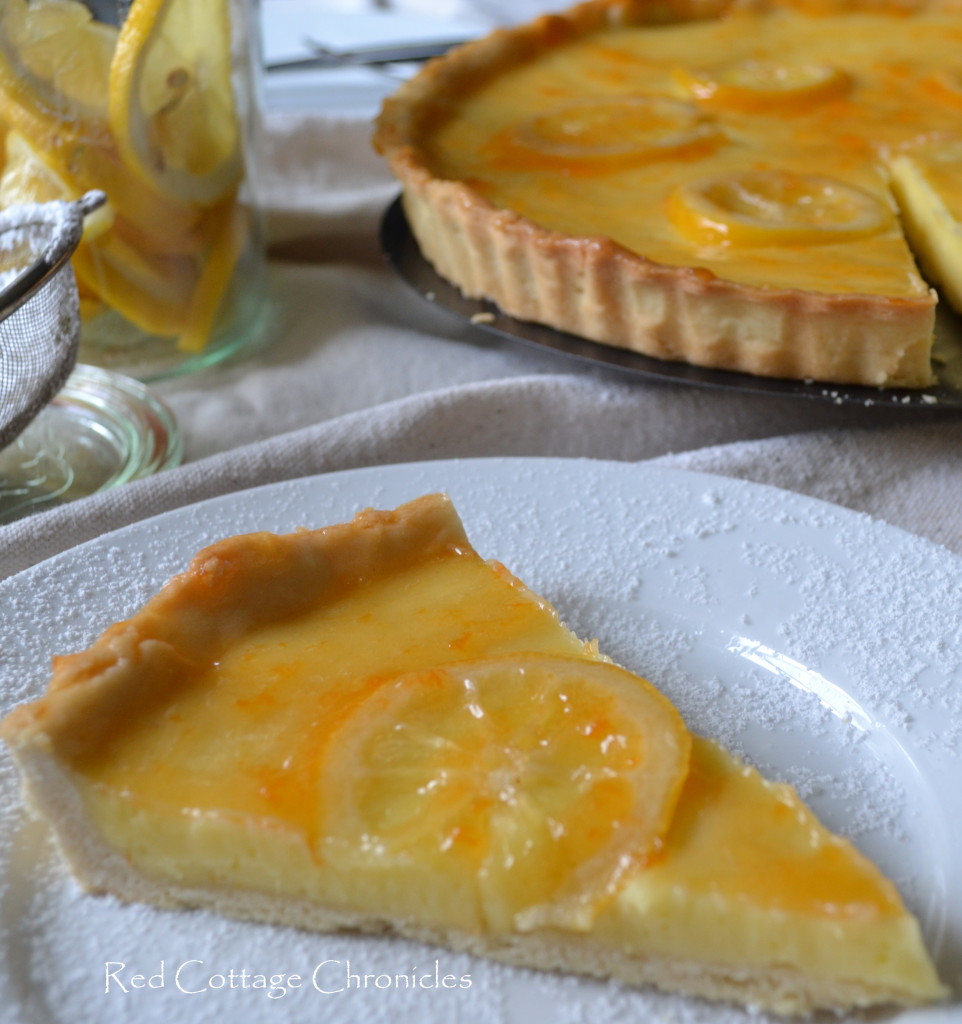 If you are ready to try your hand at making a sweet pastry what a better way to fill it!  It does require an hour or so chilling time so keep that in mind!  I usually make early in the day or even the day before.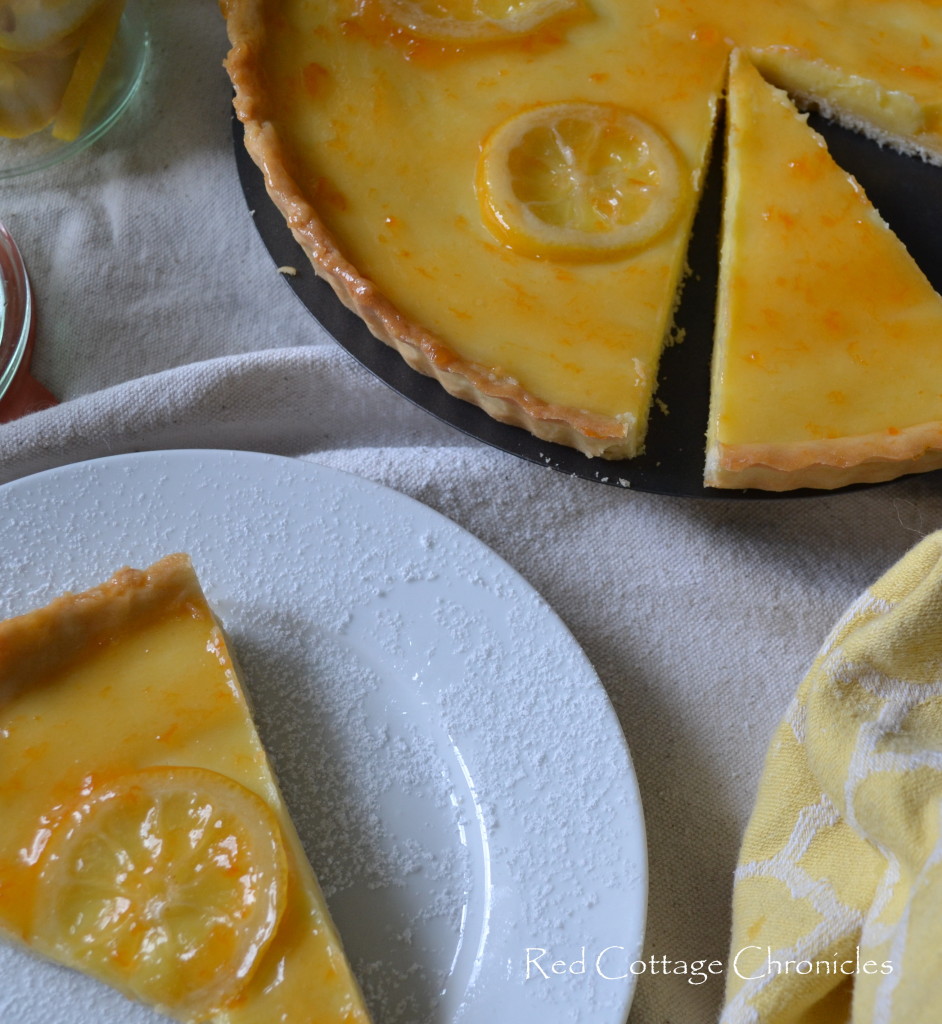 Have a happy, sunny day!
ENJOY!!
Ingredients
1 prepared sweet pastry tart shell
3 lemons + 1 lemon
2/3 cup granulated sugar
3 eggs
1 1/2 sticks (6 oz) butter, diced
1/3 cup apricot jam
Instructions
Zest 2 of the lemons using a zester or grater. Cut all three lemons in half and juice to measure 1/2 cup.
Place the diced butter in a mixing bowl and set aside.
In a small saucepan combine lemon zest, lemon juice, sugar, and eggs.
Whisk over medium heat until it starts to simmer and thicken. This does take some time, so be patient.
When mixture has started to simmer and thicken, remove from heat and strain into the butter.
Whip with whisk until smooth (or use a immersion blender) about two minutes.
Spread filling into the cooled tart shell and chill
For candied lemon slices, slice the 4th lemon into very thin slices. In a saucepan bring 1/2 cup granulated sugar and 3/4 cup water to a boil over medium heat. Add the lemon slices, lower heat and continue to cook for approximately 10 minutes, until peel is almost translucent. Remove from heat and allow to cool in the liquid.
After the tart has chilled for at least an hour, remove candied lemon slices from the liquid and drain on paper towels. Arrange over tart.
Heat apricot jam over low heat until melted. Brush over the surface of the tart and return to refrigerator until ready to serve.
https://www.redcottagechronicles.com/baking/lemon-curd-tart/