Well, we made it through to 2017! As per usual I was sound asleep before midnight, but of course wide awake at 1 AM!! Mid life is such a treat.
On that note, while I am not really into typical New Years resolutions, I do take some time to write down my goals for the year ahead. This year both Tim and I have decided to really make a healthy lifestyle a priority. Not just the typical eating well and getting more exercise, but reducing stress, being more mindful and aware of what we are doing instead of rushing from one task to another, and taking a more holistic approach to life.
One thing that I have been slowly introducing over the last year is the use of essential oils, mostly replacing chemical laden cleaning supplies, but also for holistic health care.
As a hockey referee Tim has his share of aches, pains and strained muscles. Instead of reaching for the over-the-counter anti-inflammatory creams, he has been using a few drops of lemon grass oil mixed in a teaspoon of sweet almond oil. He has found he gets just as much or even more relief from the OTC creams and for longer periods of time. It smells good too!
As for me, while I don't talk about it often on the blog, I am a life long sufferer of general anxiety disorder and panic disorder. Basically I spend most of my days chasing around thoughts of worry and catastrophe, all while going about my day everything is peachy keen. While I do use Ativan on a VERY RARE occasion (such as when I have to travel long distances), I have chosen not to use SSRI's or other anti-anxiety medications. Maybe one day I will but for now, for me personally, the risks make me way too anxious! I know it sounds silly, but I am too anxious about taking medication for anxiety!! Go figure!
Thankfully I do find that lavender essential oil, while it doesn't necessarily quiet the thoughts, it does seem to calm me and allow me to relax a bit. I few drops in a bath with some Epsom salts is always welcome at the end of a busy day.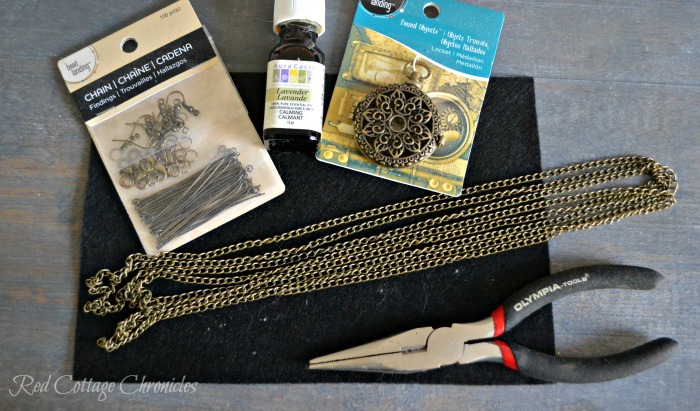 I was always carrying a bottle in my purse to inhale as needed, but it is kind of difficult to be discreet about it when you have to find it at the bottom of your bag, twist off the cap and inhale in a deep breath.
I happened across an essential oils locket on line at one point and thought what a perfect idea. I never got around to ordering it though. On a visit to Michael's recently I swung by the jewelry making aisle to just see if maybe they would have a locket that would work. Low and behold, not only did I find this really pretty locket (you can find a similar one here) but a chain and fasteners to match! Nickel free and regular $5.99 for each (the chain is long enough to make at least two). They were on sale for 30% off, plus I had a coupon for 20% off any purchase. Score!
Follow these easy steps to making your own Essential Oils Locket!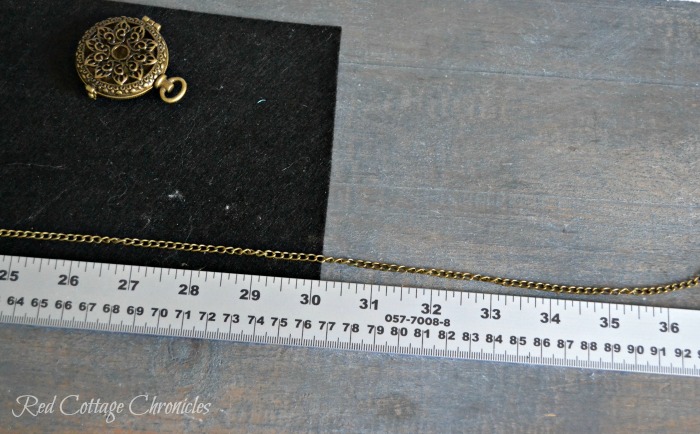 Measure the chain to determine the length you want your locket. I wanted it to hang down about 18″, so I needed 36″ of chain.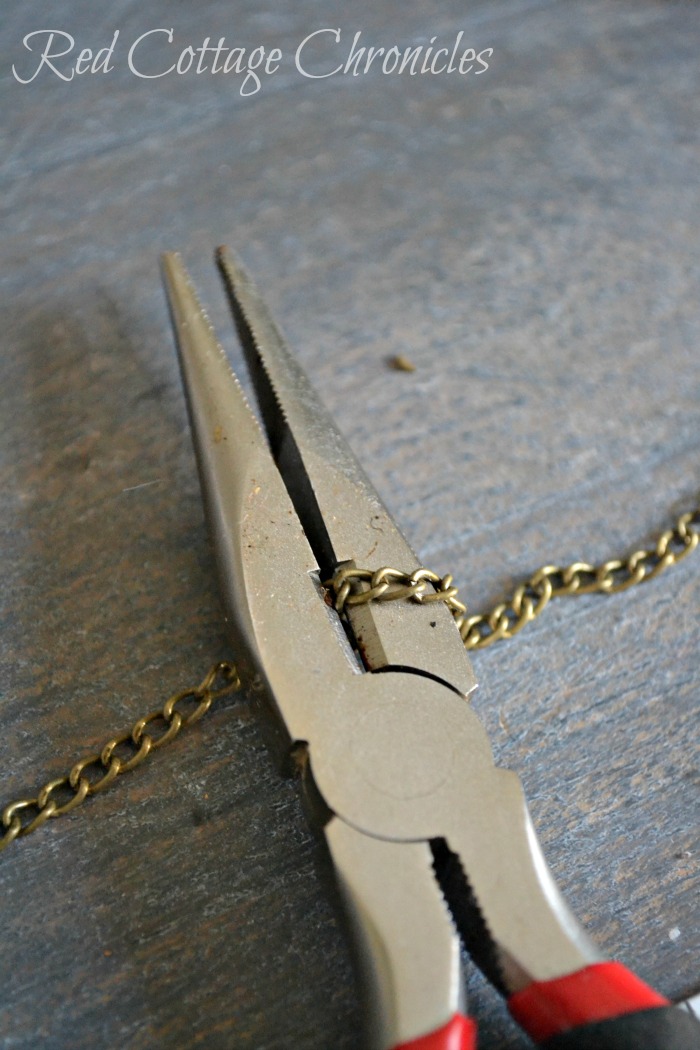 You can purchase special needle nose pliers for jewelry making, but I used ones from Tim's toolbox. They worked just fine to cut the chain to length.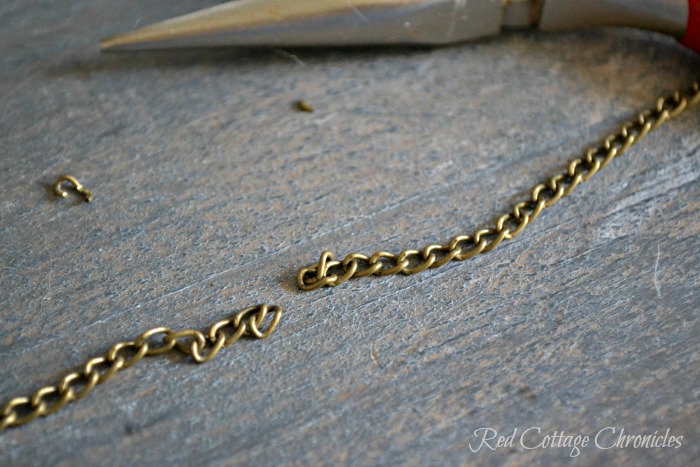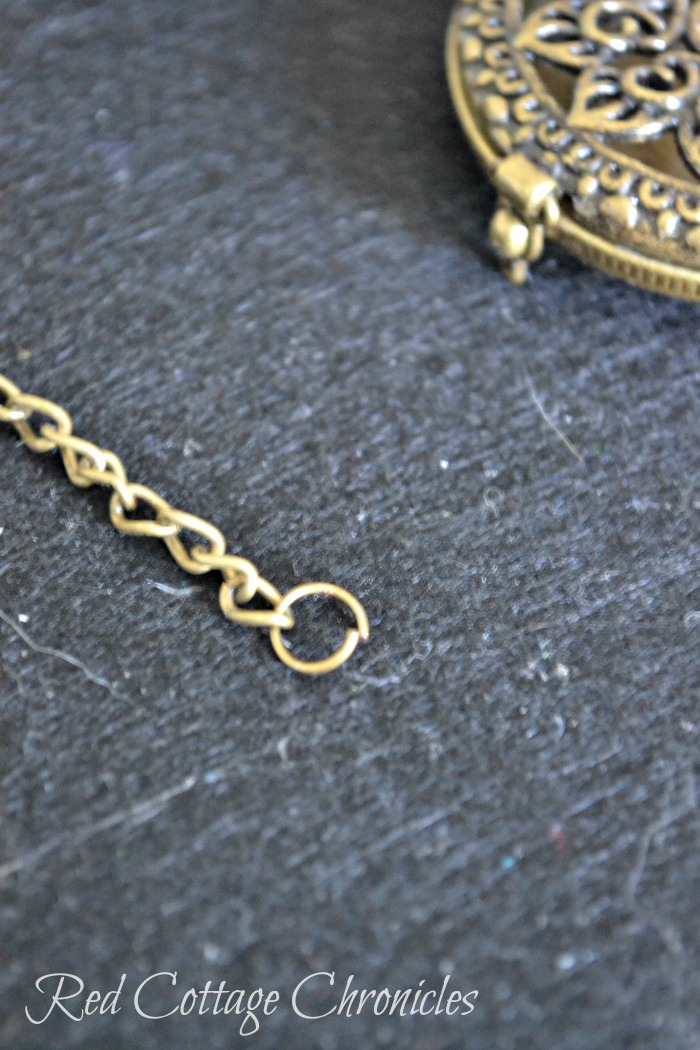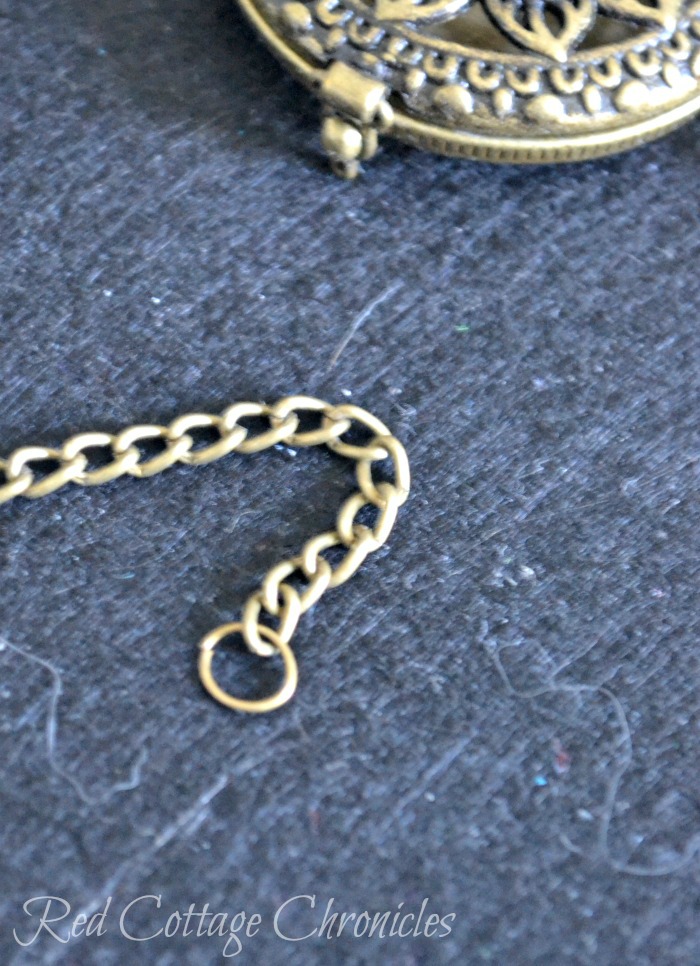 Using the needle nose pliers gently separate a jump ring and slip it over the last link at one end of the chain. Once in place carefully squeeze it shut using the pliers.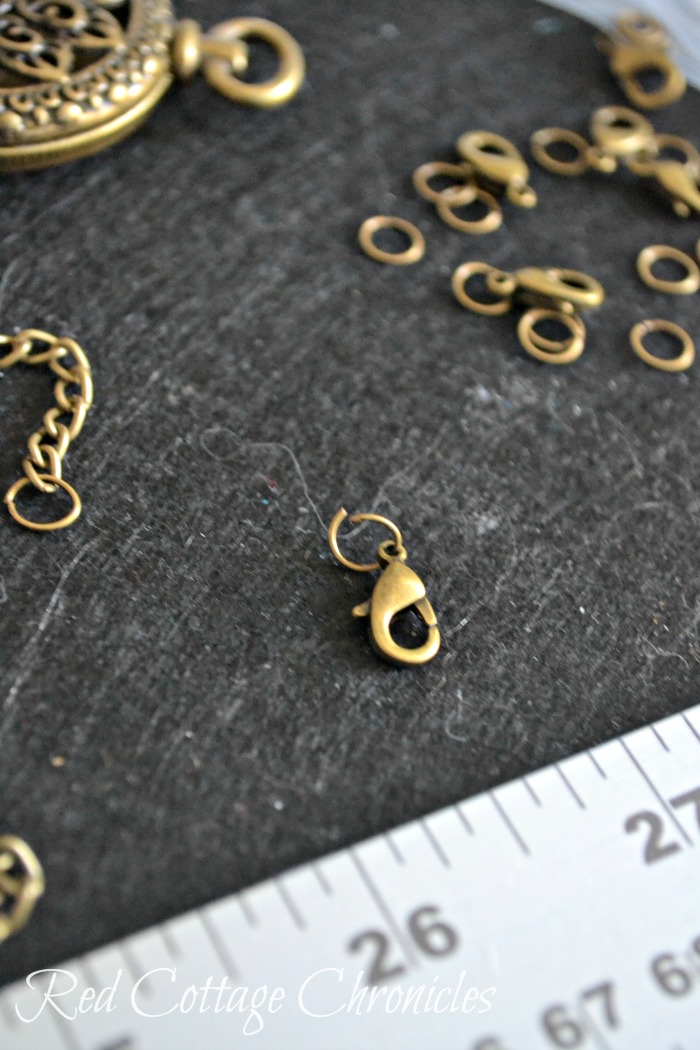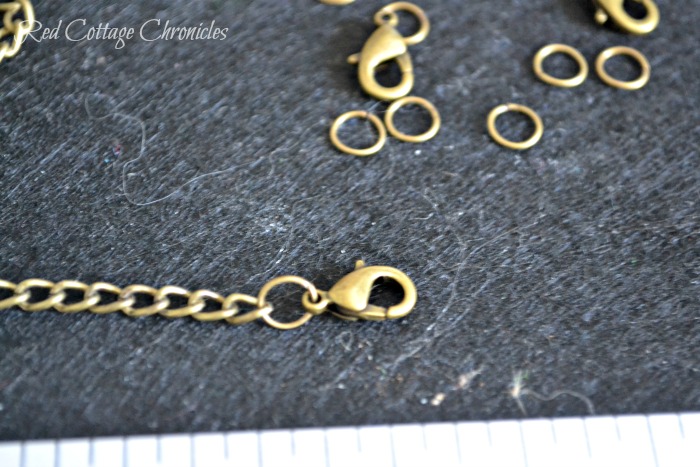 Take a second jump ring and again separate it gently using the needle nose pliers. Slip it through the last link at the opposite end of the chain. Before squeezing it shut, slip a lobster claw closure onto the ring. Carefully squeeze it shut.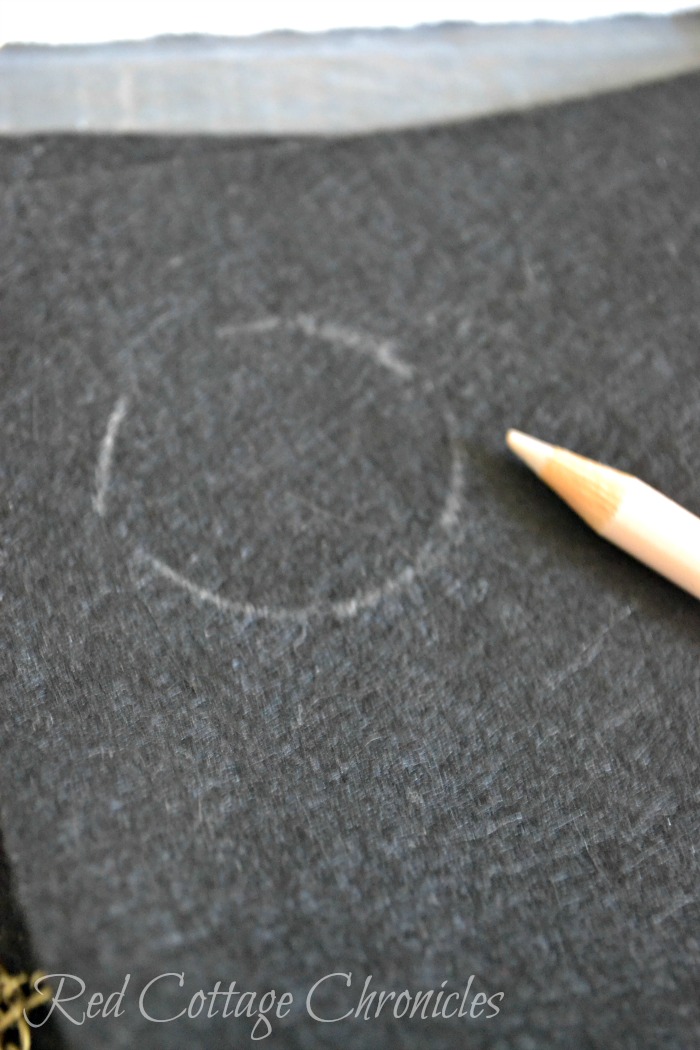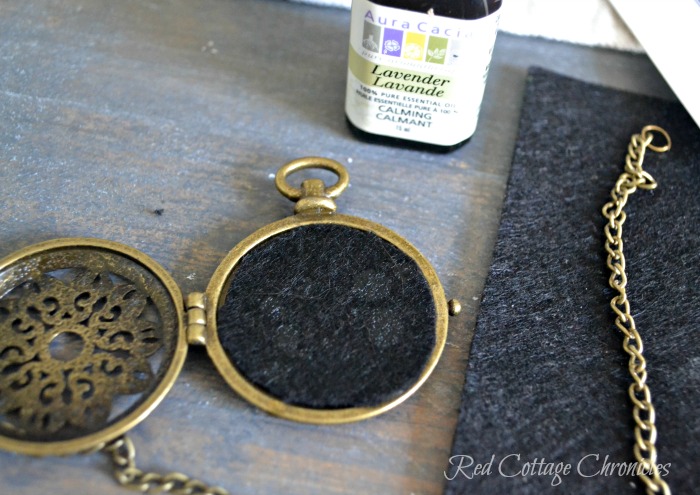 Trace the locket onto a piece of felt. I used black so it would blend in and kind of disappear into the locket. Add a a couple of drops of essential oil of your choice. Lavender is my favourite, but I cut a couple of extra circles so I can change the scents as I like. I have heard that Rose essential oil is also very calming and will be giving that a try as well.
Slip the chain through the opening at the top of the locket and close the lobster claw clasp over the jump ring at the opposite end. Given that my locket is 18″ long, I can easily slip it over my head to take it on and off.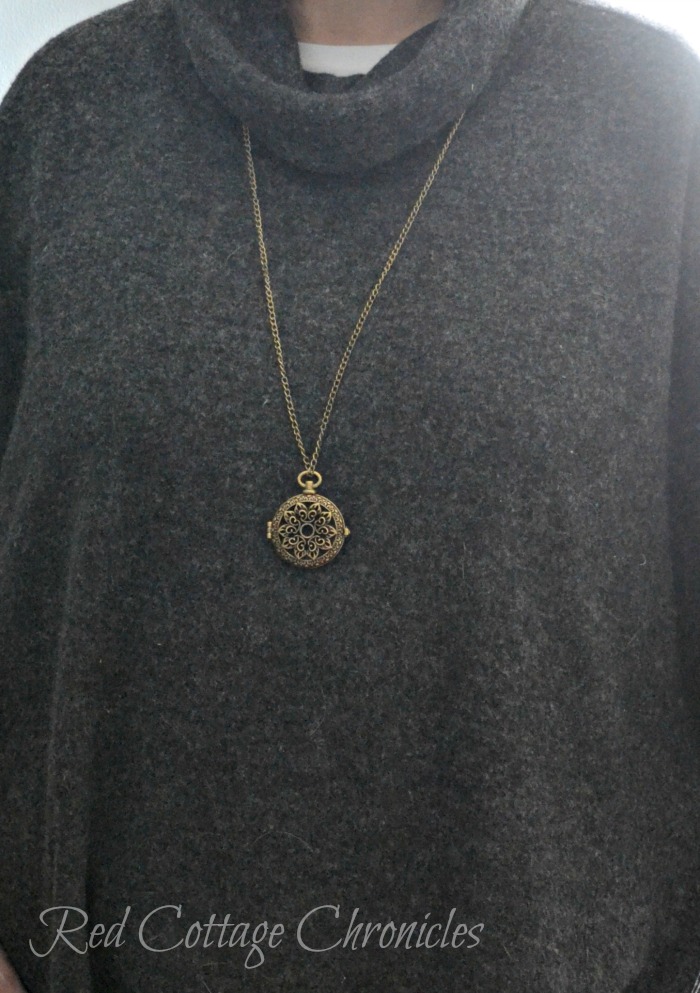 I am not one to wear too much jewelry, but my locket goes with pretty much everything so I wear it almost every day.
No more carrying around an entire bottle of essential oil in my purse. Not to mention it is so much easier to do a quick inhalation to keep me calm and help me to remember to bring my thoughts back to the moment.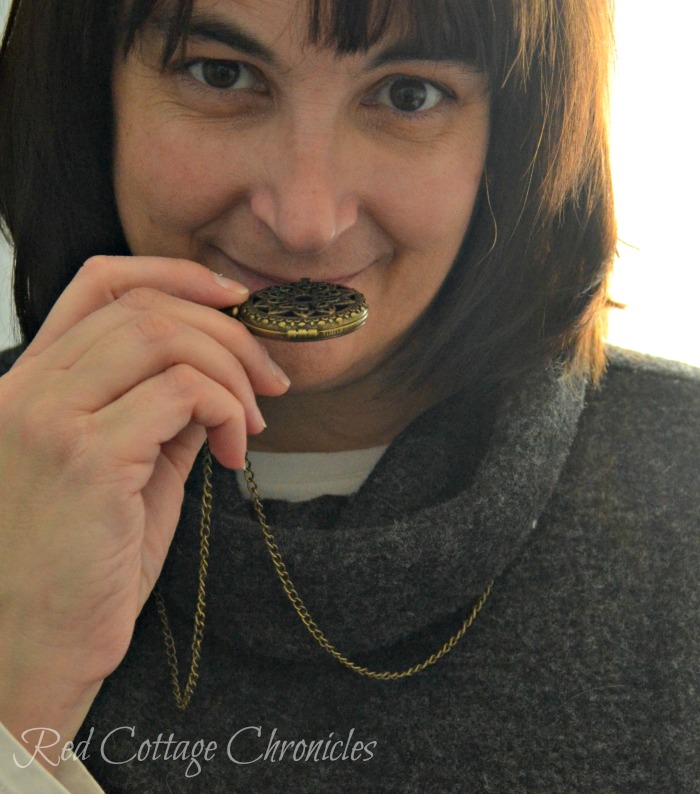 I love that each New Year brings a blank new canvas to paint a brand new picture! With our goals, hopes and dreams for 2017 focusing around good health, both physical and emotional, I can't wait to jump in with both feet!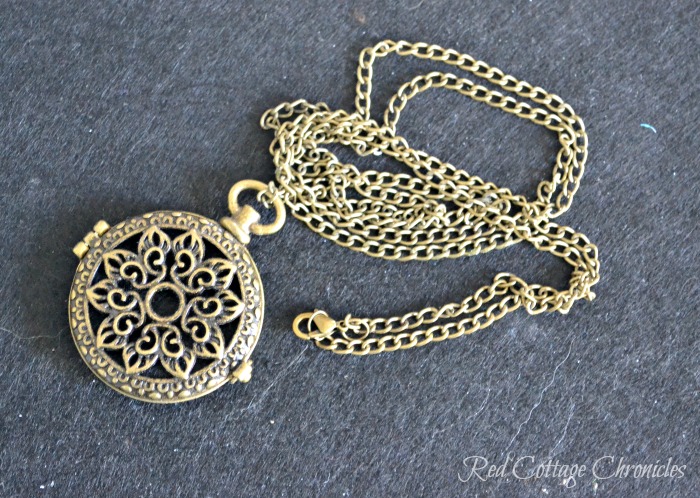 Armed with my calming essential oils, an app or two on my Iphone and of course this little blog that helps take the focus away from my anxiety and swirling thoughts, I can't wait to share new projects, recipes, organizational tips, and well….all things home with all of you this year!
Please indulge me and share your goals, essential oil uses or thoughts on this brand new year by leaving a comment below. Your comments really do make my day! Oh, and don't forget to subscribe to follow along on our journey this year!