'Tis the season for baking. Do you have a cookie exchange party coming up, or are you just getting starting on your holiday baking? Welcome to Christmas Cookies Week!
Since it was my passion for baking that sparked the idea for Red Cottage Chronicles, I am very excited to be sharing three of my favourite Christmas cookies this week. Today I am sharing my recipe for Empire Cookies.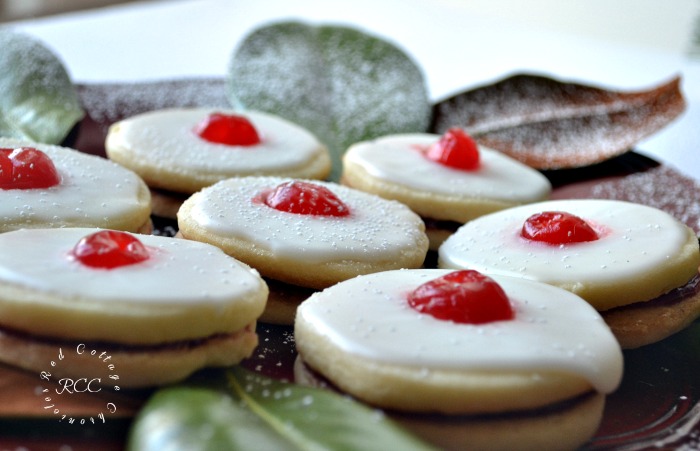 A huge thank you to Ellen from Family Around The Table for putting this exciting Christmas Cookies week together. I can imagine it was no easy task. Not only has she brought together a huge group of bloggers dedicated to posting the very best Christmas Cookie recipes all week long, but she has also arranged for Neilson-Massey to sponsor a giveaway.
Nielsen-Massey Fine Vanillas & Flavors is giving one winner a set of their pure flavors: 2-oz each of Orange, Lemon, Peppermint, Almond, Chocolate, Coffee, Rose Water, and Orange Blossom Water.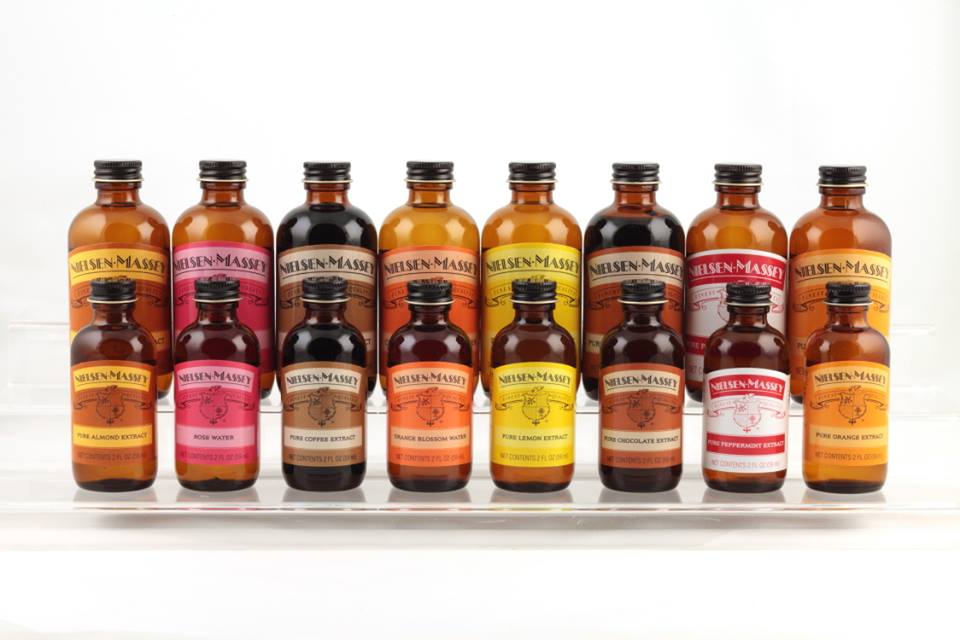 I will be featuring Nielsen-Massey vanilla in my recipe on Wednesday. That will also be they day that I link to the contest where you can enter to win the prize pack.
I chose to start this week with one of my absolute favourite Christmas Cookies. Empire Cookies, or Empire Biscuits as they are also known by. Who can resist seedless raspberry jam sandwiched between two buttery shortbread cookies. And, lets not forget the yummy glaze and the cherry on top!
I mean really, how festive is that?!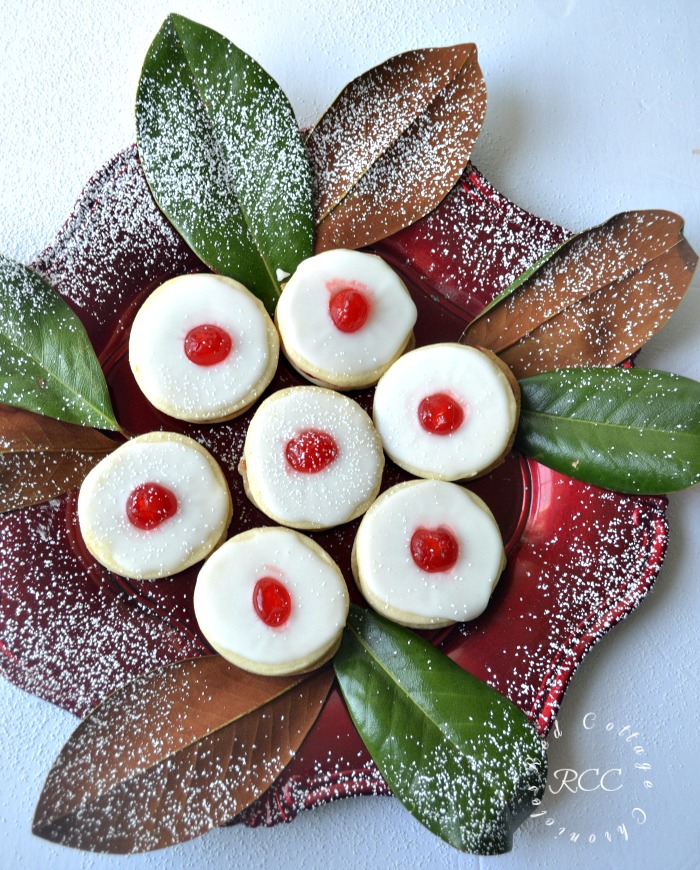 I have only been making Empire Cookies for a couple of years, but my love for these cookies go way back.
There is a bakery in Niagara On The Lake, who always have a display of freshly baked cookies in their window. There can be 15 different kinds of cookies in the window, but the Empire Cookie always stands out. With its snow white glaze, the shiny red cherry and just a hint of the delicious raspberry jam inside, I couldn't resist popping in and buying two or ten!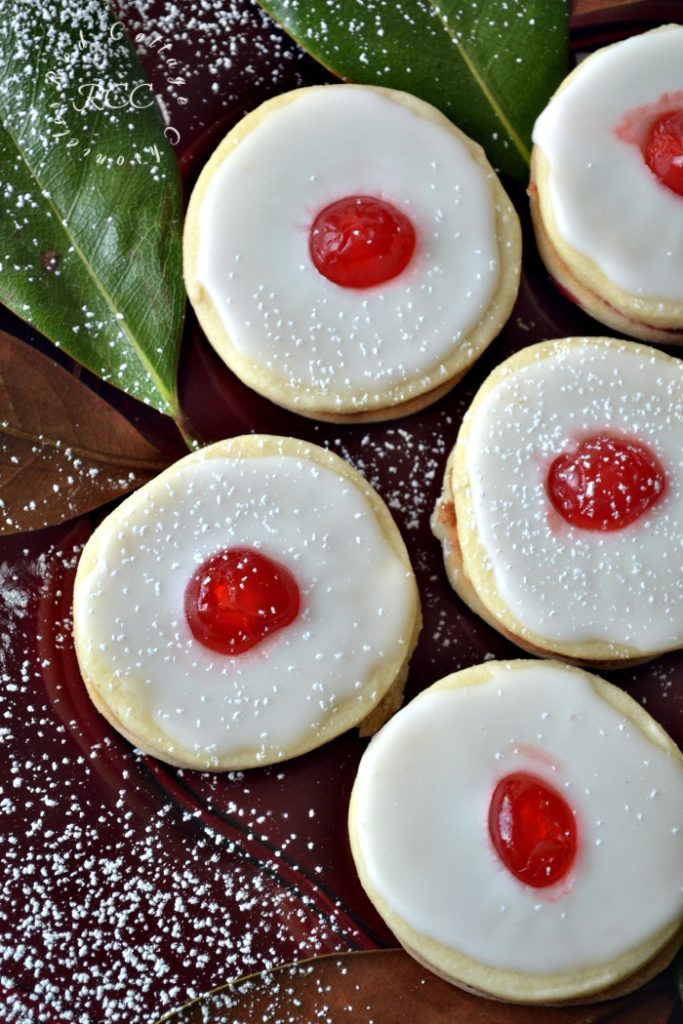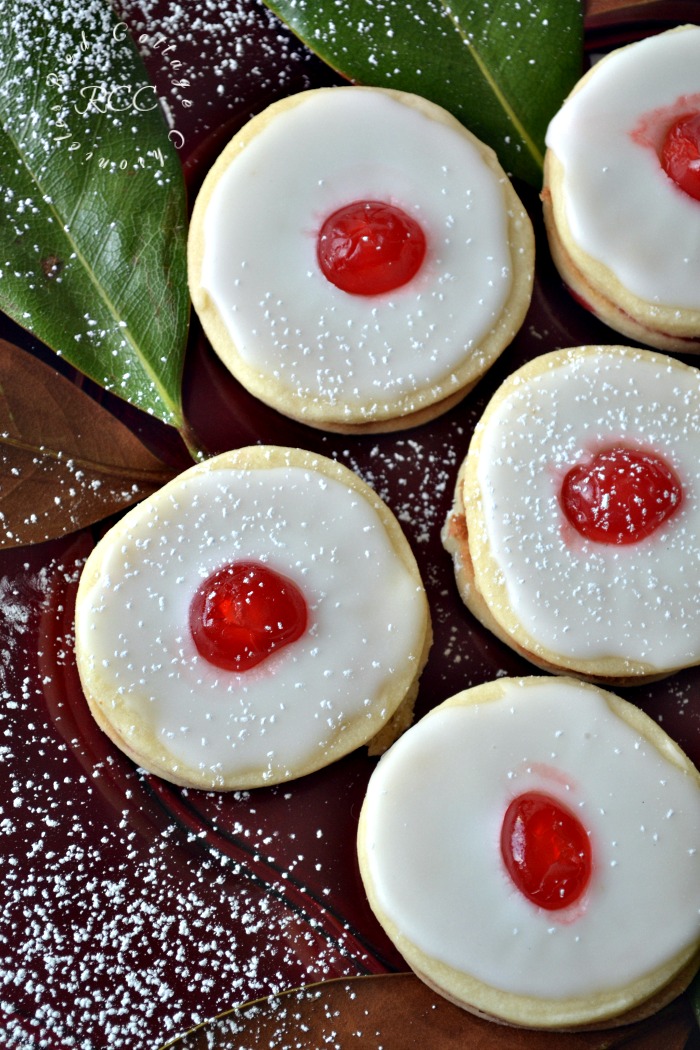 They really are simple to make. Just a basic shortbread recipe, raspberry jam (I prefer seedless), some icing sugar and maraschino cherries. I don't know why I wasn't making them sooner. I always had this misconception that they were time consuming and fussy to make. Was I wrong!
You can have them in the oven in about 10 to 15 minutes, and then once they are cool another 15 minutes or so you will have them assembled and iced.
Despite being so simple, they are always the first cookies to go come Christmas time. I have no doubt they would be a huge it at a Christmas Cookie exchange! They freeze well too. Just be sure to allow sufficient time for the glaze to set and then carefully lay them between wax paper before freezing!


This is just the beginning of #ChristmasCookies Week, and it is off to an amazing start. Be sure to check out all the links below and you will have your Christmas baking finished in no time!
Oh, and don't forget to subscribe to Red Cottage Chronicles. Not only will you never miss another post, you will also get your password for our VIP Printables Library.
Until next time……

Christmas Cookies Week Monday Links!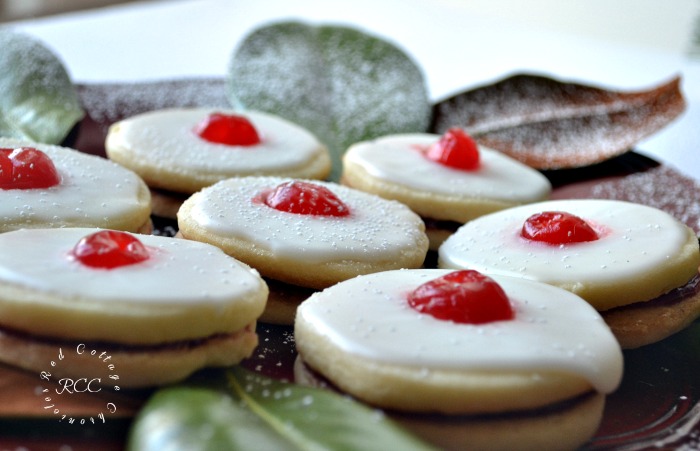 Empire Cookies
2017-12-03 17:21:12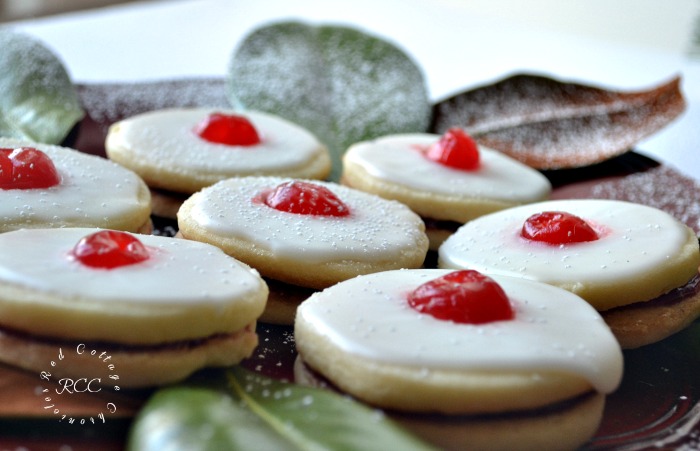 Serves 18
Ingredients
2 cups butter, softened
1 cup granulated sugar
4 cups sifted all purpose flour
3/4 cup seedless raspberry jam
10-12 maraschino cherries, halved
2 cups confectioners sugar
1/8-1/4 cup milk
Instructions
Preheat oven to 350 degrees. Line 2 cookie sheets with parchment paper or nonstick baking mat.
In the bowl of electric mixer, on medium/high speed, beat butter and sugar until smooth, about 4 minutes. Reduce speed to low and gradually add the flour, mixing between each addition, until well blended.
Turn dough onto lightly floured surface and roll to 1/4 inch thick. Using a 2" round cookie cutter, cut into rounds and place on prepared baking sheet. Gather dough scraps, re-roll and continue to cut rounds until dough is all gone.
Bake for 8-10 minutes, until just golden on the bottom. Remove from oven and allow to cool for a few minutes on baking sheet before transferring to a cooling rack. Cool completely.
Sift confectioners sugar into a medium bowl. Add 1/8 cup milk and whisk until you have a glaze that is of spreadable consistency. If glaze is too thick, add a drizzle of milk at a time until you reach spreadable consistency.
Sandwich a dollop of jam between 2 cookies, repeating until all the cookies are used. Spread a layer of glaze onto the top of each sandwiched cookie and top with 1/2 a maraschino cherry in the centre.
Allow glaze to completely set.
Red Cottage Chronicles https://www.redcottagechronicles.com/