Welcome to this weeks Deck the Home Challenge. Today I am sharing Christmas porch decorations that are easy DIY projects anyone can do.
Can you believe we are almost into December? I know I can't! Things are about to get real busy, real fast. But, a fun busy! This weekend was all about getting the outdoors decorated for Christmas.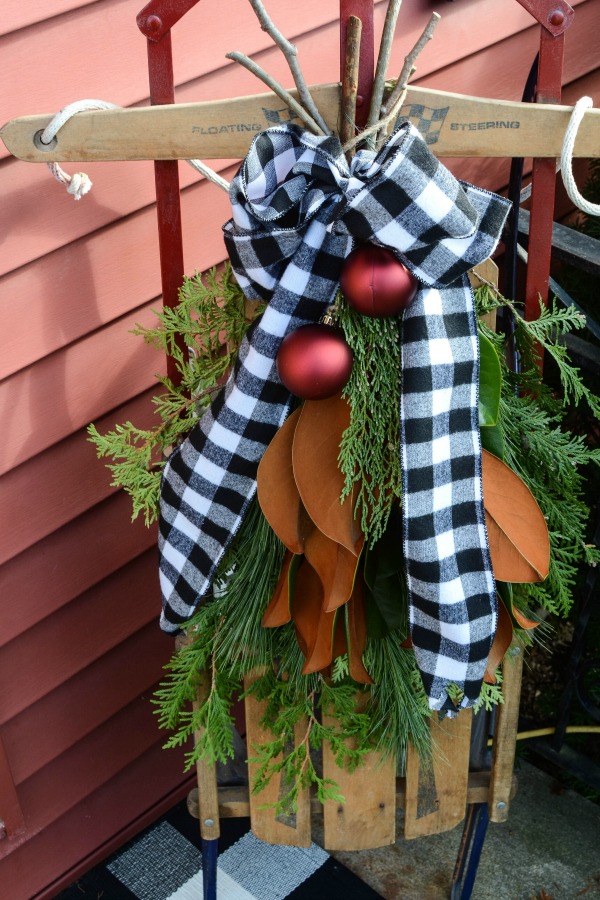 I love Christmas porch decorations because they can be enjoyed by everyone. I know that when we are out walking the dogs I love to check out all the holiday decorations!
I am blessed to have such a good friend who gifted me this vintage sled over the summer. She knew come Christmas time I would put it to good use. And, she was right.
With just a few dollars of fresh greens (also easily foraged), and a bit of embellishment, it makes for some very festive Christmas porch decorations.
Leslie also makes these rustic stars using thin wood strapping my husband brings home for her. While they are really simple to make with the aid of a brad nailer or staple gun, I am more than happy that she makes them!
They look great all year round, but I decided to embellish mine with a bit of greens and ribbon too.
Let me walk you through the process of how I made this Christmas Porch décor to add a festive touch for the holidays!
You will need:
vintage sled, or even a small wood toboggan
several branches of cedar, pine, boxwood, magnolia leaves
wide ribbon
florist wire paddle
2 shatterproof ornaments
string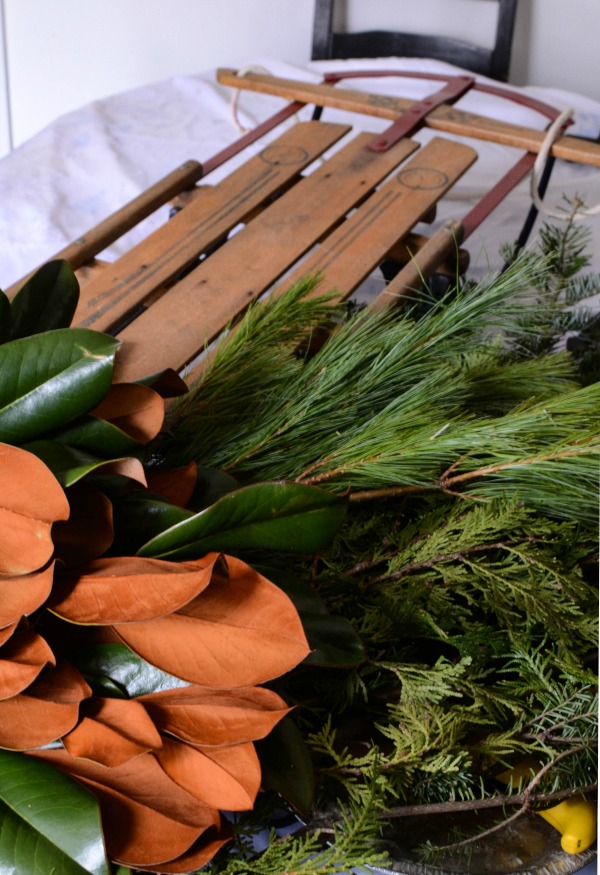 If you are working inside, like I was, protect your surface with a drop cloth or old sheet.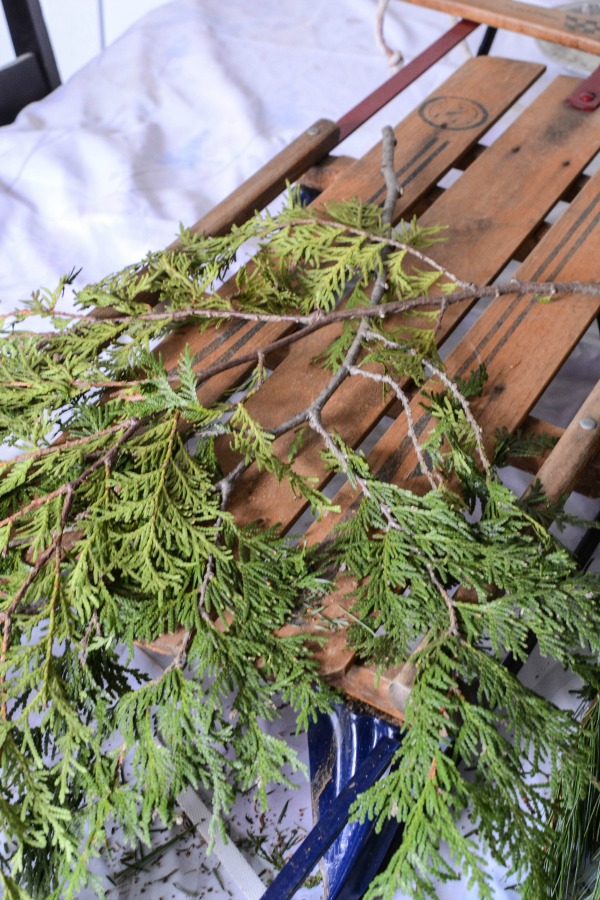 Crisscross 2 or three branches of cedar and secure together with wire.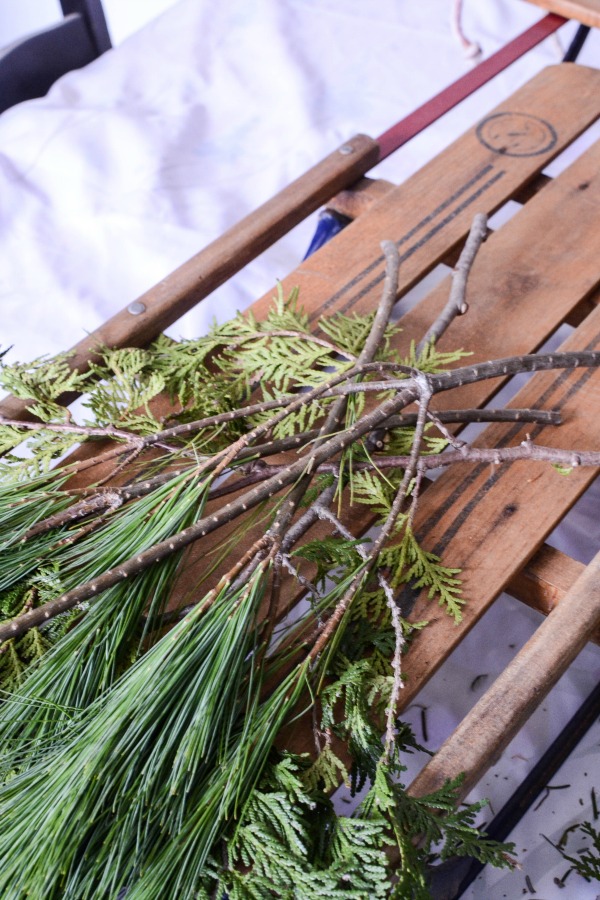 Layer on some pine branches and secure those to the cedar. Crisscrossing branches and weaving the wire through helps hold them in place and preventing them from sliding out.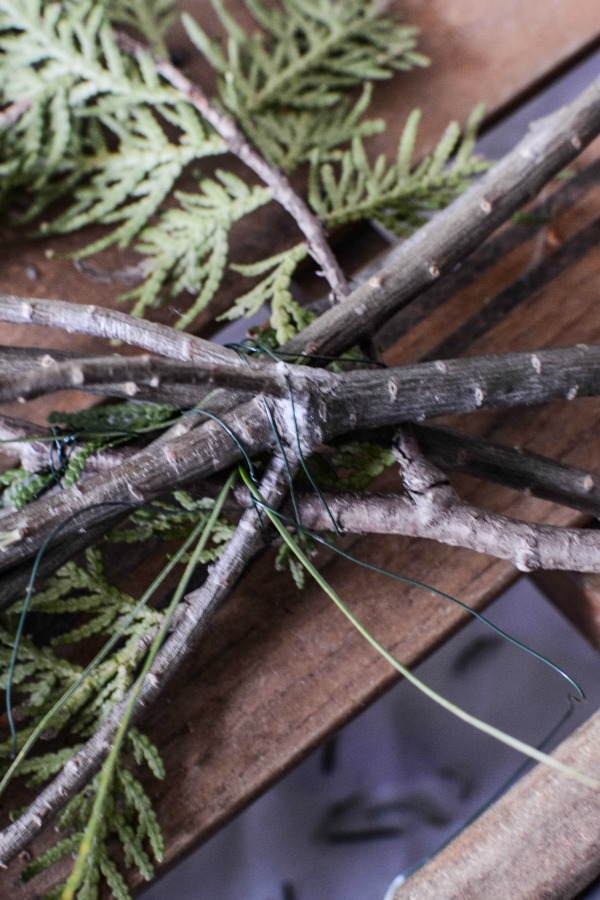 Layer on the additional greens and magnolia leaves and secure them to the bundle.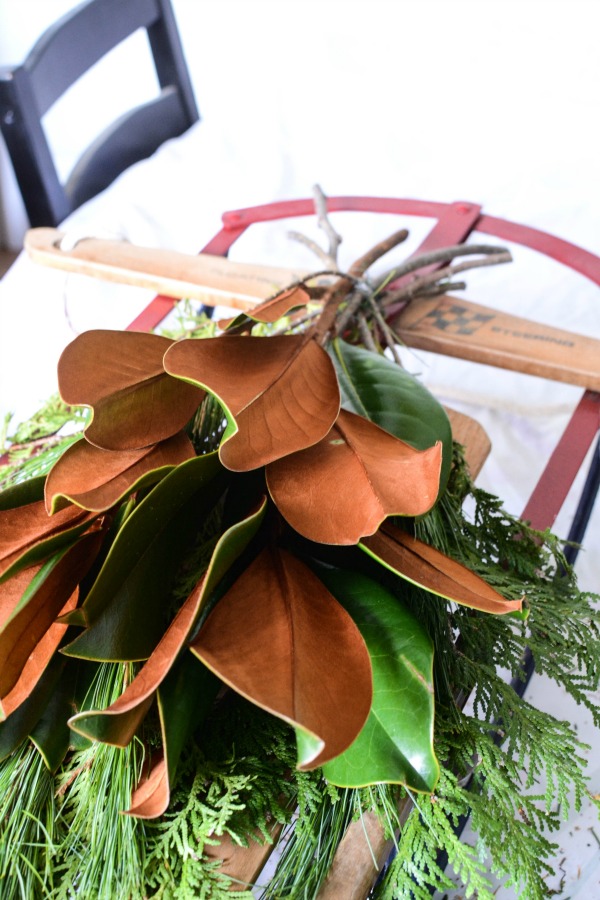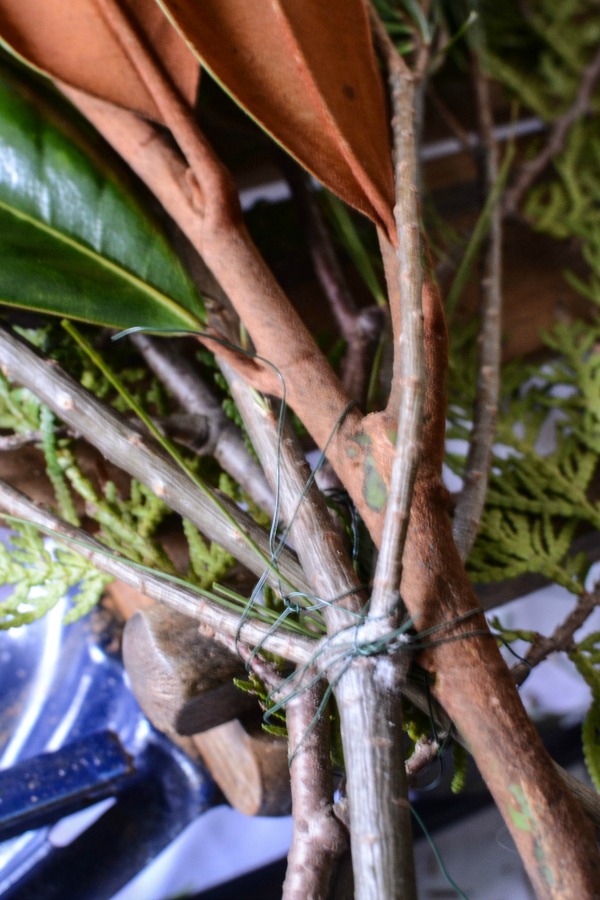 When all the greenery is wired together, attach it to the sled, again weaving the wire around the bars of the sled to keep it extra secure.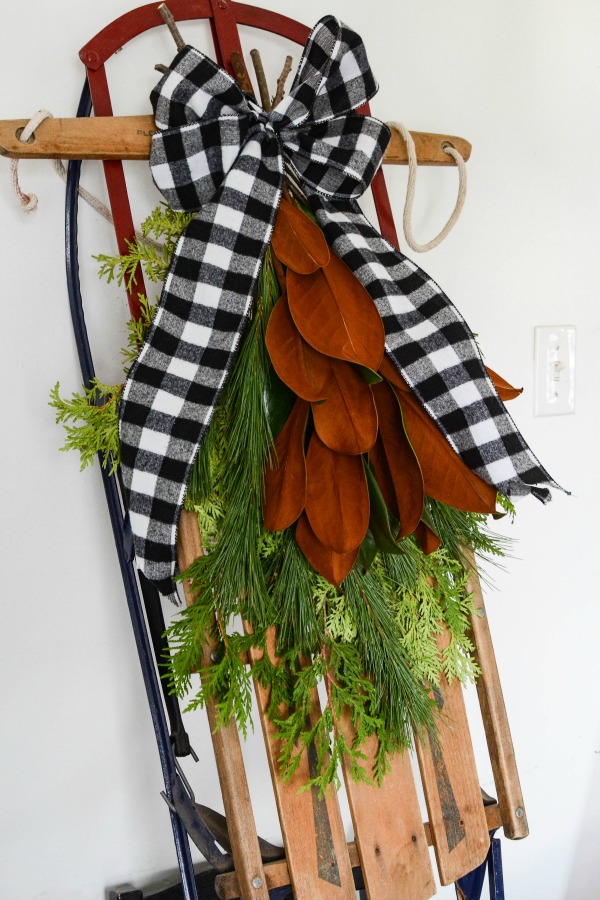 Once the green bough is attached, prop the sled up, and make any adjustments. Attach the bow.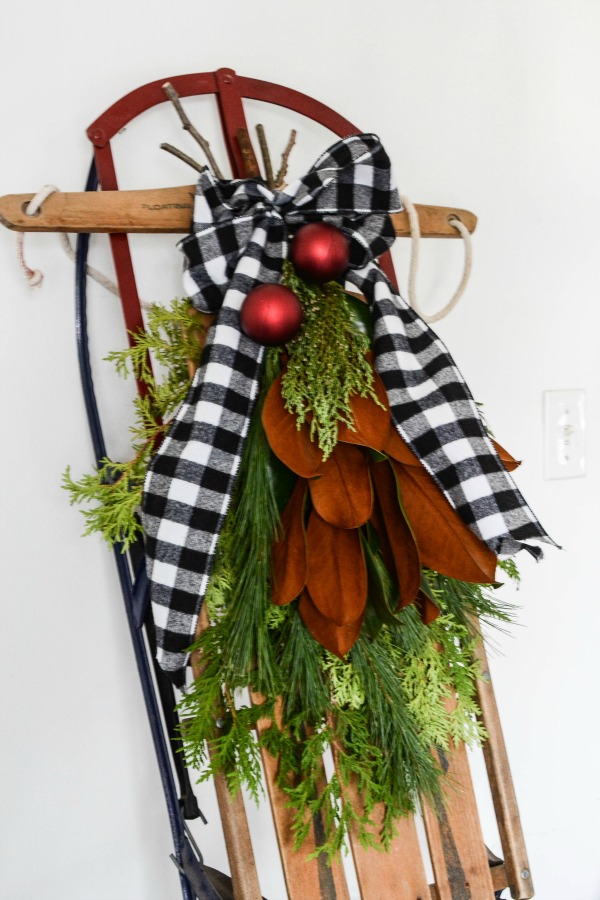 Tie the shatterproof Christmas balls just underneath the ribbon with string.
I decided not to trim off the stems sticking above the ribbon. I think it adds to the rustic, natural look.
The embellished star was just as easy…..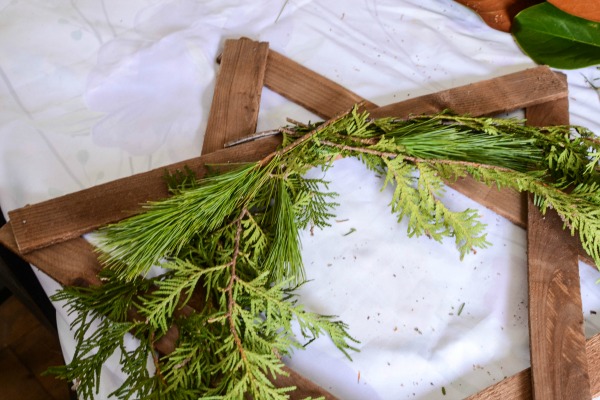 Two small cedar branches, plus two small pine branches wired onto the star.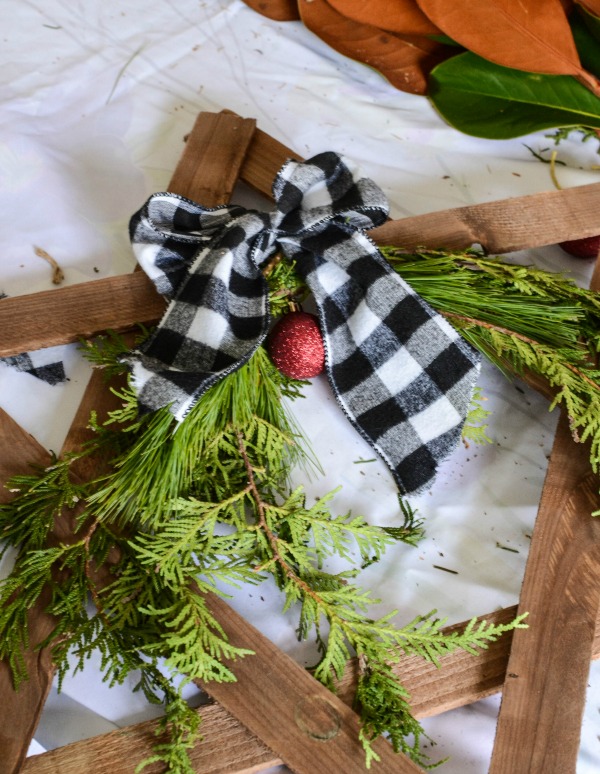 A little bow and a small shatterproof Christmas ball, and your done!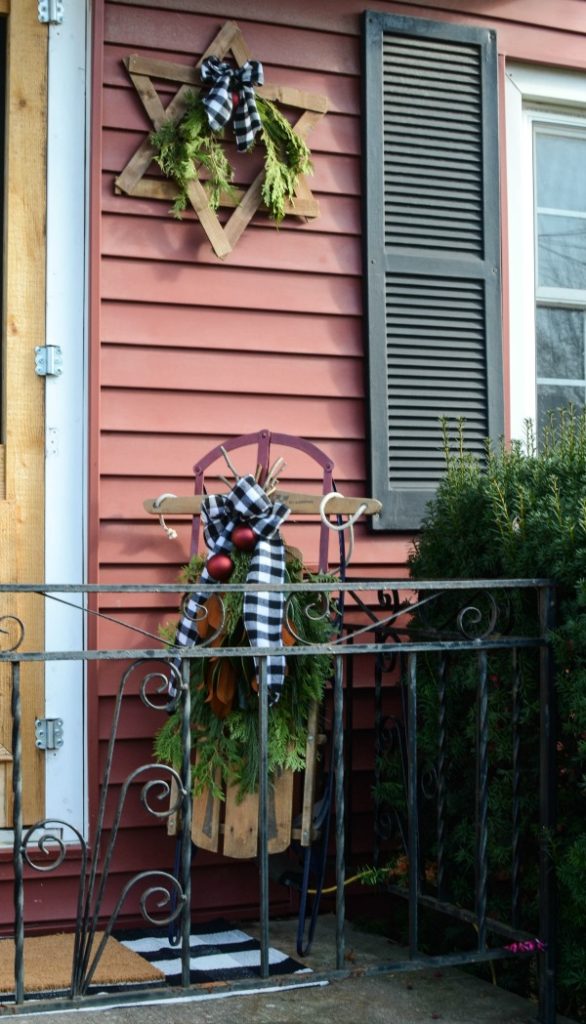 Our porch is teeny tiny and doesn't need a whole lot of decoration. This simple embellished sled and star is all the festive touch that is needed!
Well, except for snow!! And, that is forecast to begin later this week!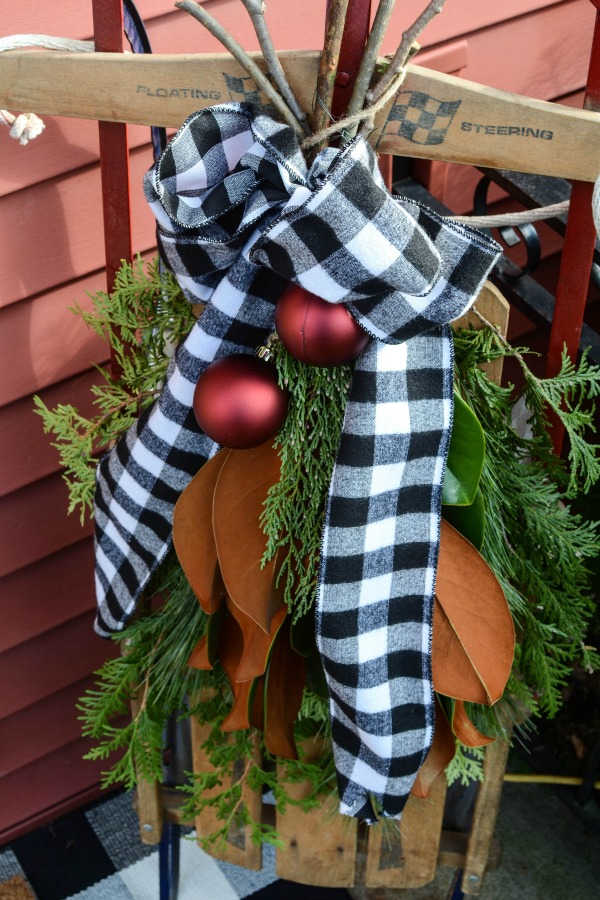 We finished hanging all the Christmas lights, and our big Red Christmas Truck is in the yard. The outdoor decorations are now complete.
Now, it is on to the inside! One Christmas tree is up and decorated. I will be sharing it on Saturday. The fresh trees have arrived at our favorite Christmas tree stand, and we will pick one up for the family room next weekend.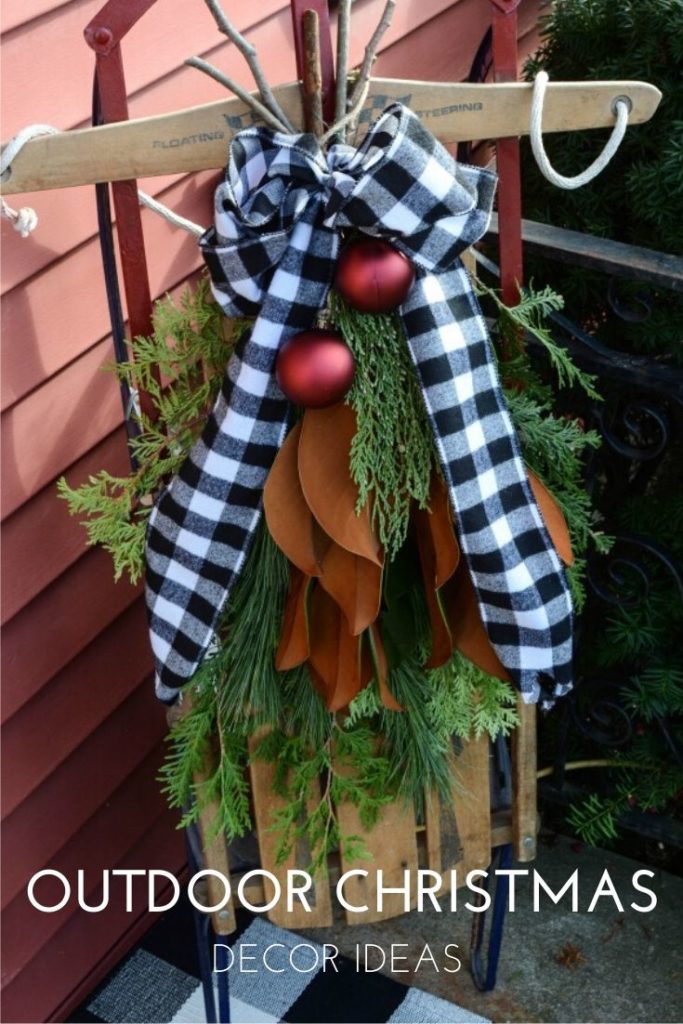 Don't forget to click the link below to find all the participating bloggers DIY outdoor Christmas decoration ideas!
Be in the know! It may be a delicious recipe, a stunning tablescape, or decor tips to make your house a home! Simply click here to subscribe. I never sell or share your information, and you can unsubscribe at any time!
Until next time…..

See More Holiday Outdoor Decor Projects