Mason Jar Thanksgiving Favor
Today I am back with another fun installment of Mason jar craft ideas. Our theme this week is Thanksgiving, and even though our Canadian Thanksgiving is over I couldn't resist whipping an easy little Thanksgiving party favor to send home with your guests for my American friends who will be celebrating in just a few short weeks.
I have been seeing copper all over Pinterest lately, and for a good reason since it is such a warm, rich color. Since copper accents in autumn decor is all the rage I decided to paint my jar Copper Brilliance.
I wasn't certain that the paint would adhere to the glass jar, however I did learn the hard way that 3 light coats rather than one heavy one provides the best results!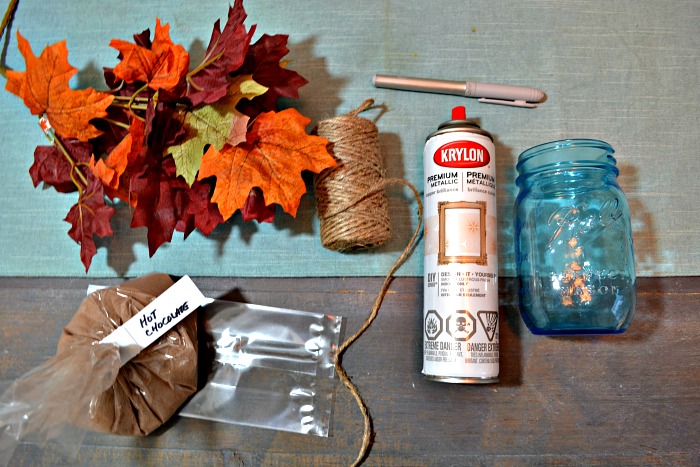 What makes this simple copper painted jar a party favor you ask? Why, filling it up with a glassine bag of hot chocolate of course!
For this Thanksgiving Party Favor you will need:
A clean glass jar
Metallic copper spray paint
Twine
Faux maple leaves in autumn colors
Glassine (or plastic) bag, small size
Paint your jar outside in a protected area protected from over spray. I didn't photograph this step as it is chilly here now and I literally ran out, gave the jar a quick, even spray, and ran back in three times over the course of an afternoon. If it is cold where you are make sure you bring the jar inside to dry between coats.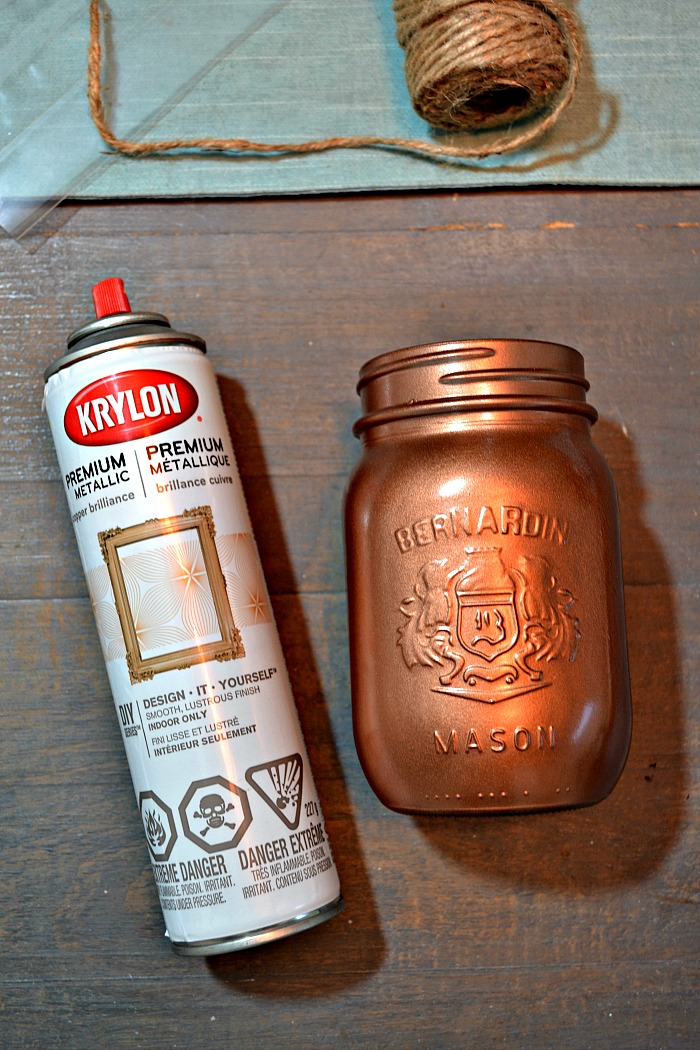 Cut along length of twine, and leaving a long piece hanging down the front, wrap the twine around the jar just under the lip before the threads start. Tie it off leaving a second length of twine down the front. As shown in the photo below.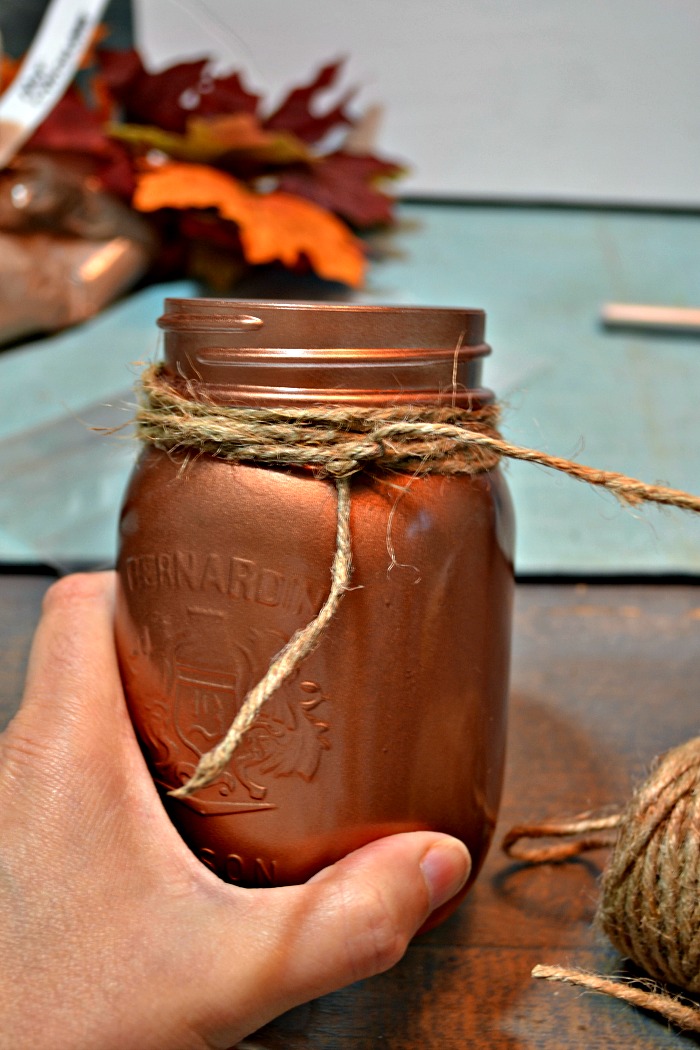 Add a little bead of hot glue down the centre back of each faux leave and press one onto each length of twine.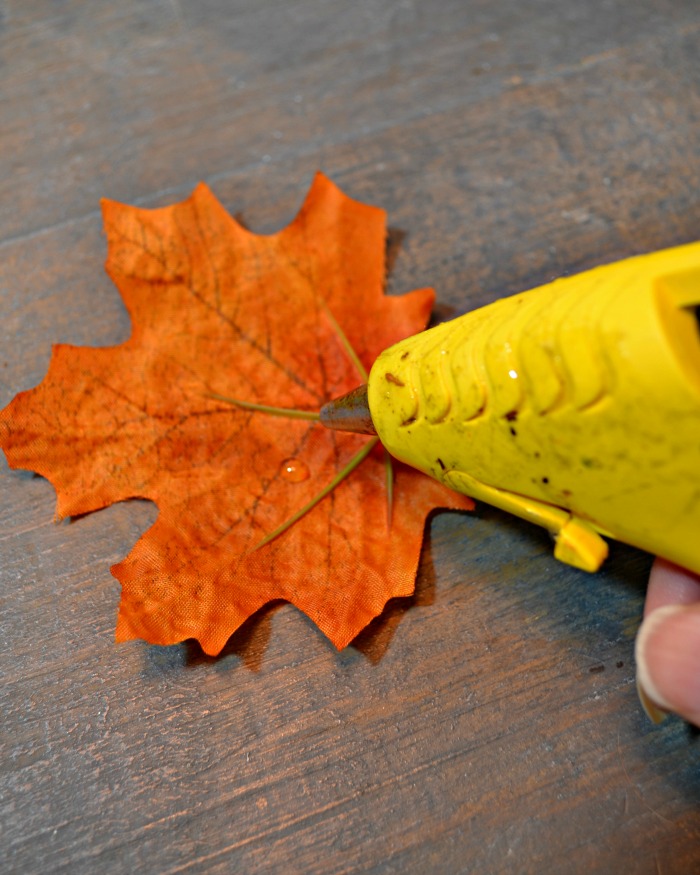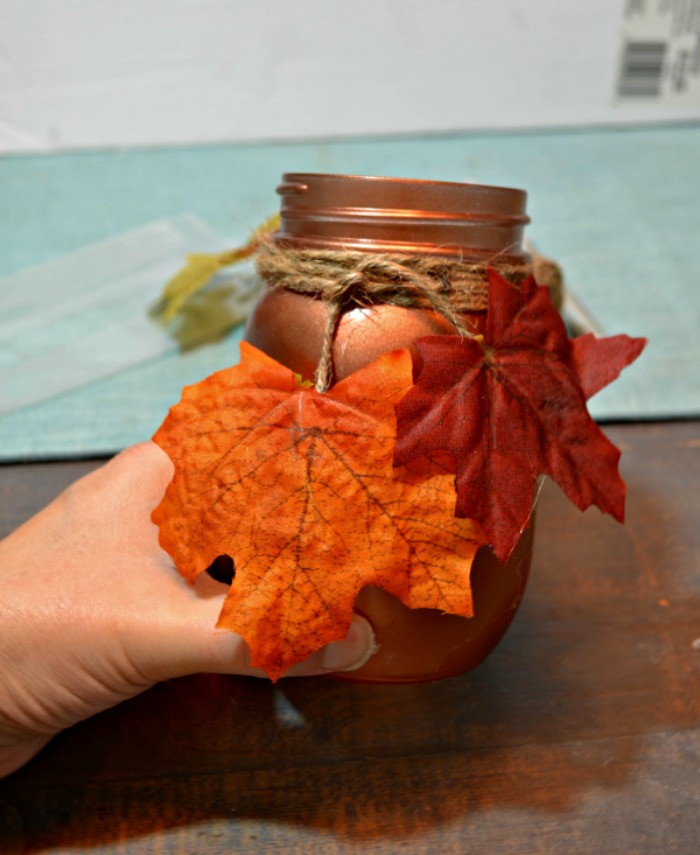 Fill a glassine bag about half way with hot chocolate mix and tie tightly closed with a piece of twine. Fit it into the jar. You might have to squeeze it a bit until it slides down inside the jar. Tuck the top of the bag down a bit and twist on the lid.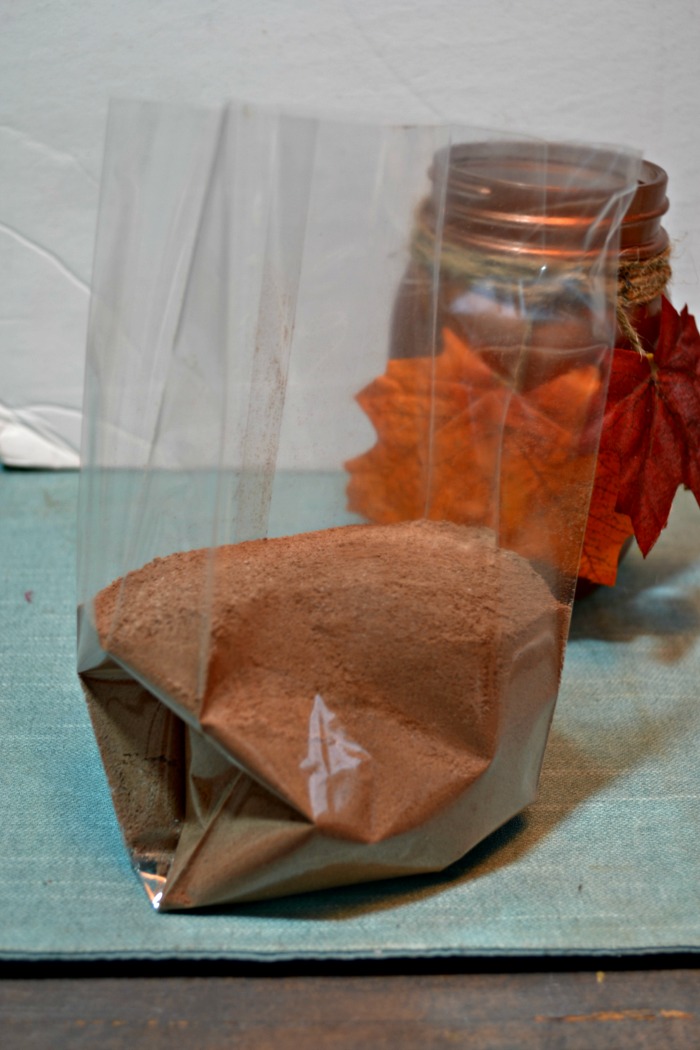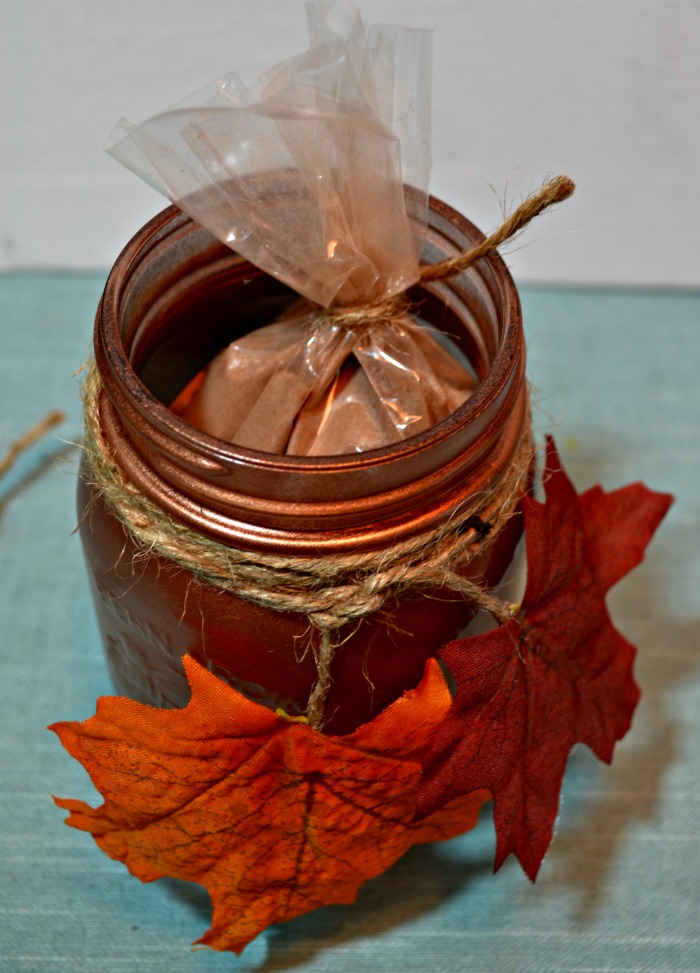 I love setting pretty tablescapes for all occasions, and when you are setting your table place a Thanksgiving Party Favor on each plate stack. Not only does it add to the tablescape, but it's the perfect take away for your guests.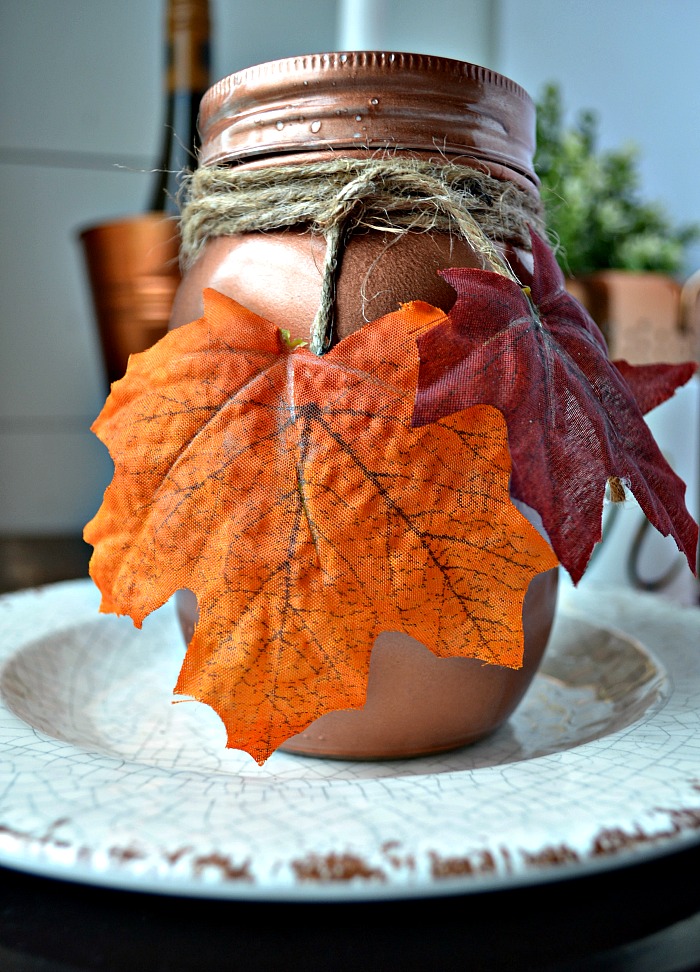 And, don't forget to tell the little treat that's tucked inside! They will thank you again and again, each time they make themselves a delicious mug of hot chocolate on those cold winter nights ahead!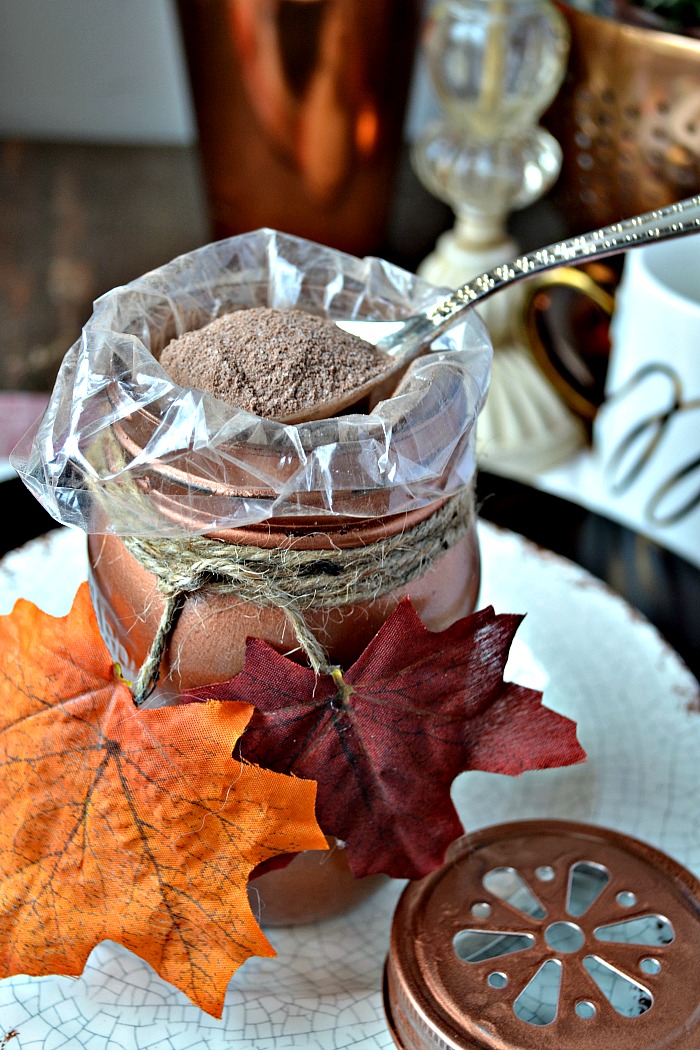 Now that you have one Mason jar craft idea for Thanksgiving, scroll down for even more ideas!
Until next time….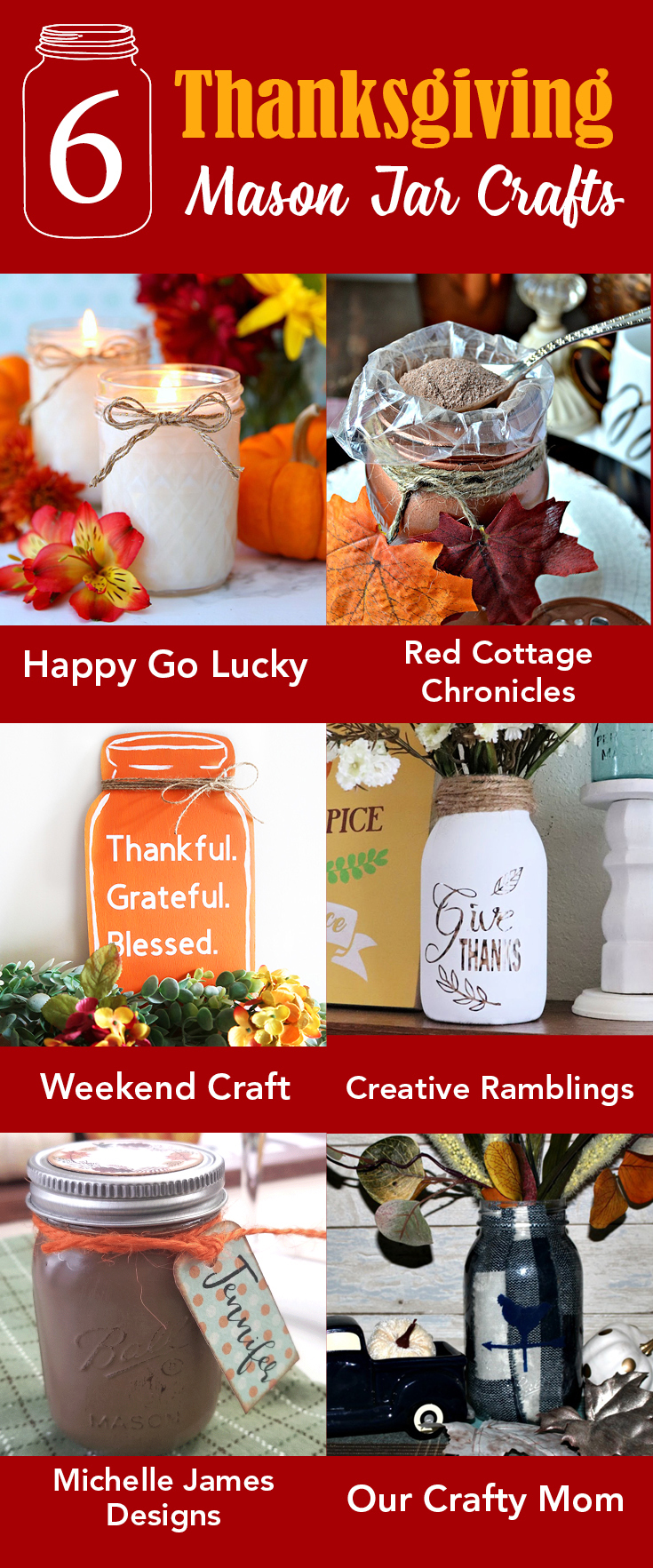 Thanksgiving Hostess Gift from Happy Go Lucky • Thanksgiving Mason Jar Sign from Weekend Craft • Give Thanks Fall Mason Jar from Creative Ramblings • Mini Mason Jar Party Favors from Michelle James Designs • Make A Buffalo Check Mason Jar With Fabric from Our Crafty Mom