Mason Jar Terrarium for Easter
The versatility of Mason jars never ceases to amaze me. This month our Mason jar challenge theme was Easter, which means today I have six different Easter Mason jar ideas for you. Starting with my own take on a terrarium.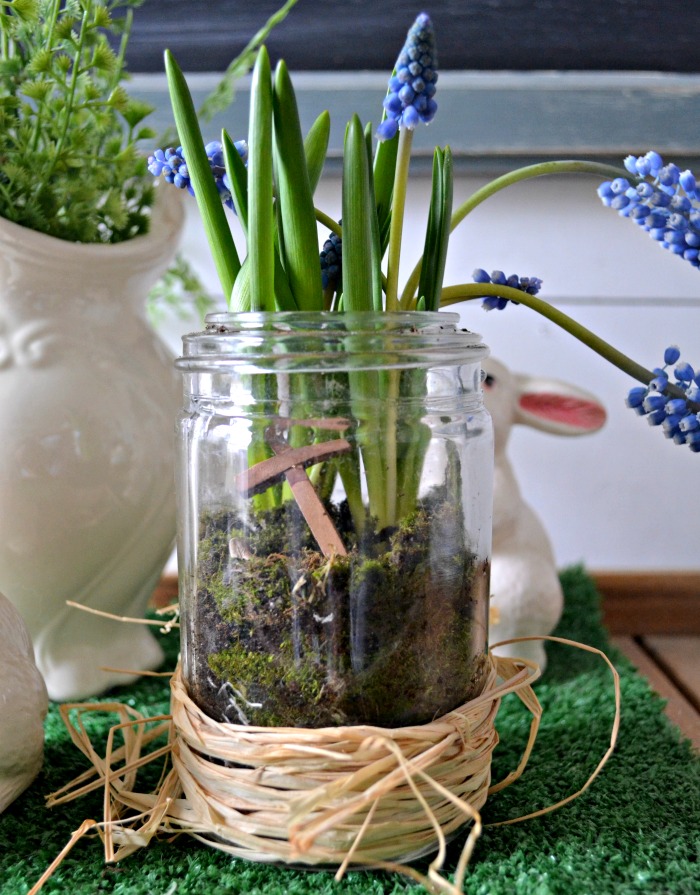 The inspiration for my project came from a tiny wooden cross that a friend had brought back for me from Bethlehem several years ago. I have always carried it in my wallet. It gives me a sense of peace knowing it is there.
However I have always wanted to use it in my Easter decor, but being as tiny as it is (only about 2 inches tall), I was always afraid it would get lost.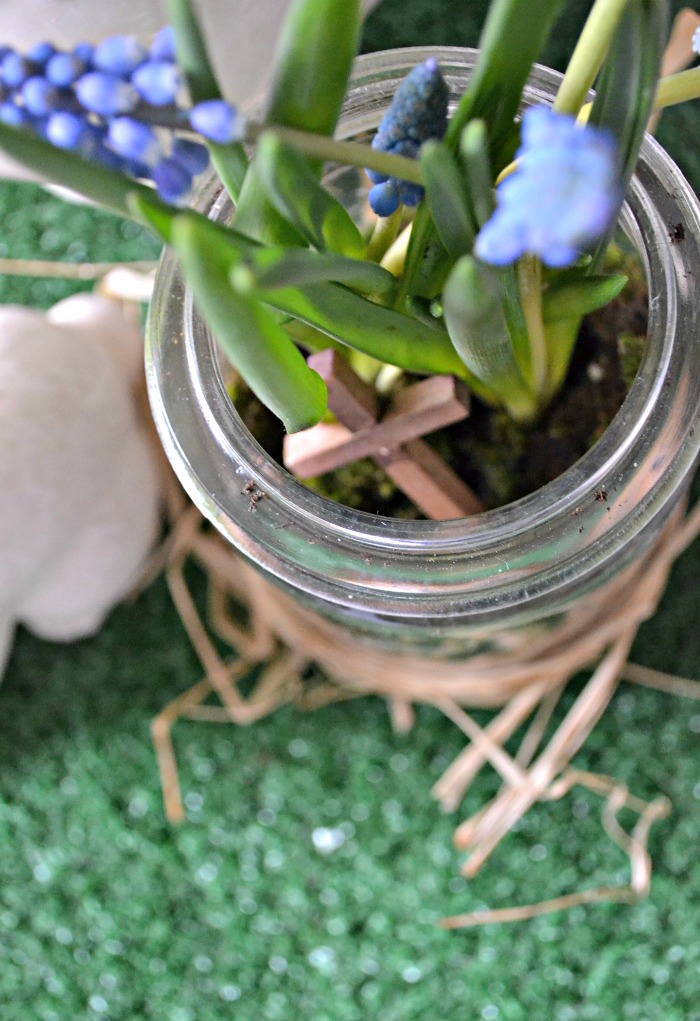 There is zero chance of this happening since I tucked it into the soil at the bottom of a grape iris. Some live moss harvested from the garden and some natural raffia complete my Easter Mason jar.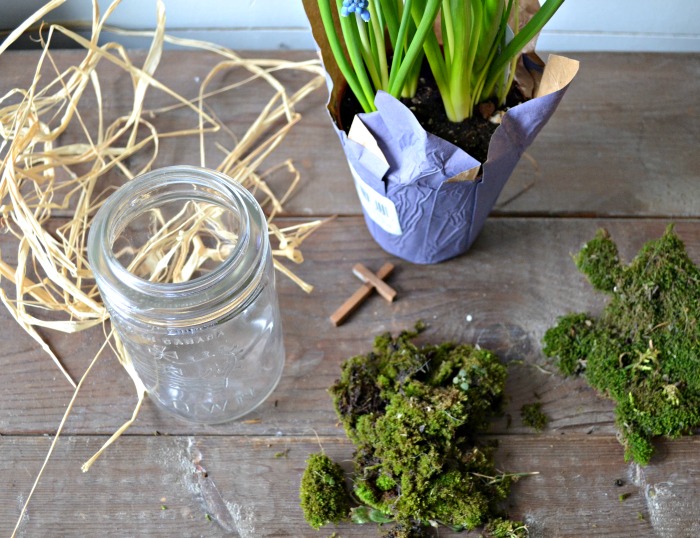 Truth be told I am using a vintage Crown jar this time. Any glass jar will do for this project. Be it a Ball, Mason, Crown or even a clean spaghetti sauce jar.
You can purchase dried moss at the craft store in sheets that would work well for this project. I realize not everyone has moss growing in their garden! It was frosty this morning and I had to wait until it warmed up from the sun to harvest it. Once it warmed up a bit I used a small flat spade to lift it off the dirt.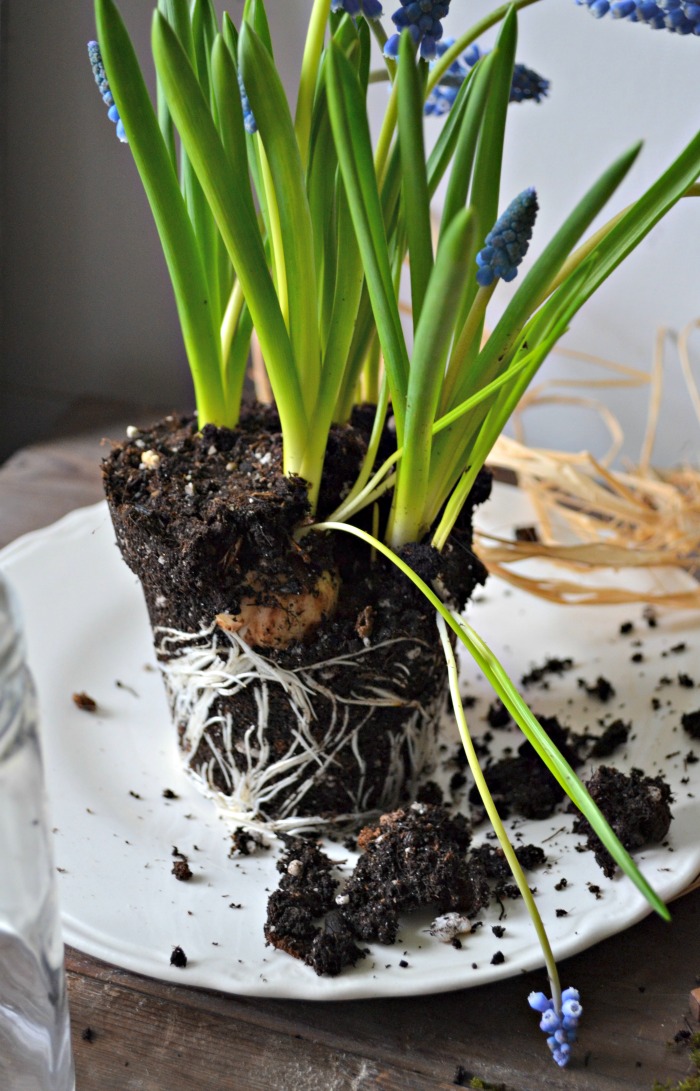 After separating the iris bulbs, I used some of the loose soil to line the bottom of the jar. I placed one of the flowering bulbs in the jar and then used more loose soil to cover the bulb. (It is okay for the roots to show along the bottom as we will be covering the bottom with the raffia.)
Then I carefully tucked the moss into the jar around the edges between the soil and the glass.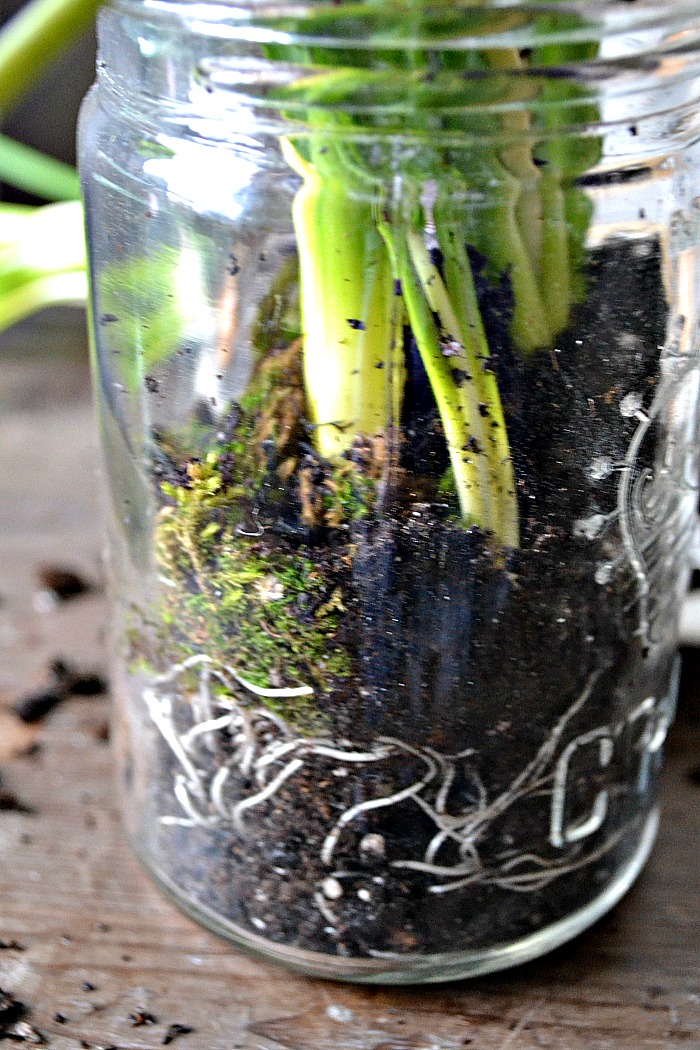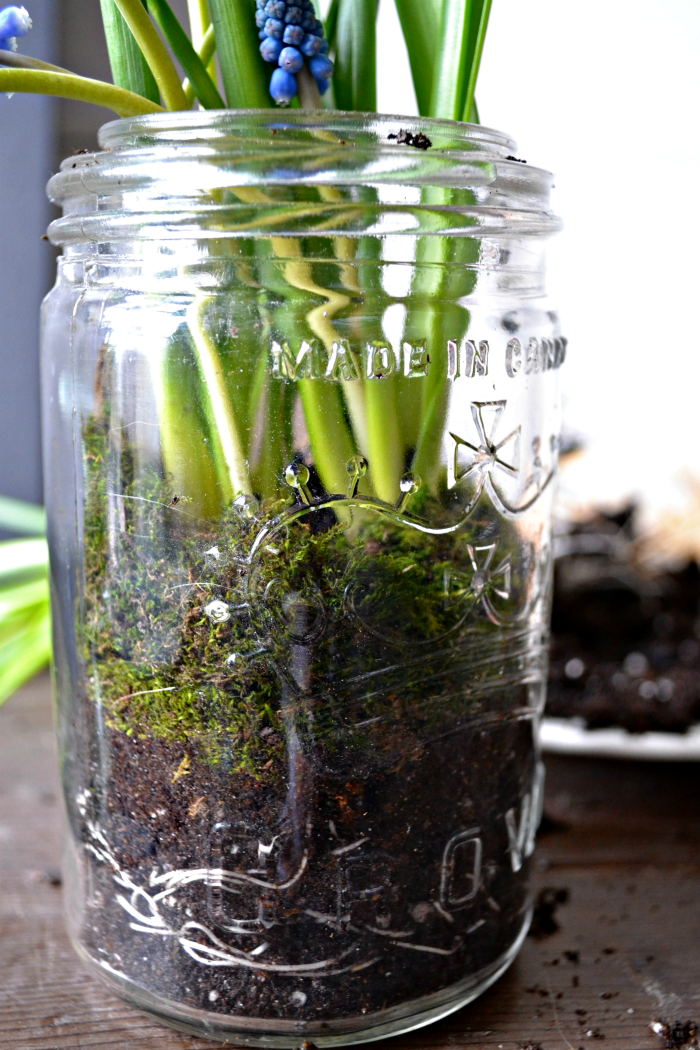 I wrapped the raffia around the bottom third of the jar to hide the soil and the roots, tying it off with a knot. The cross was tucked down into the soil allowing it to lean on an angle against the side of the jar.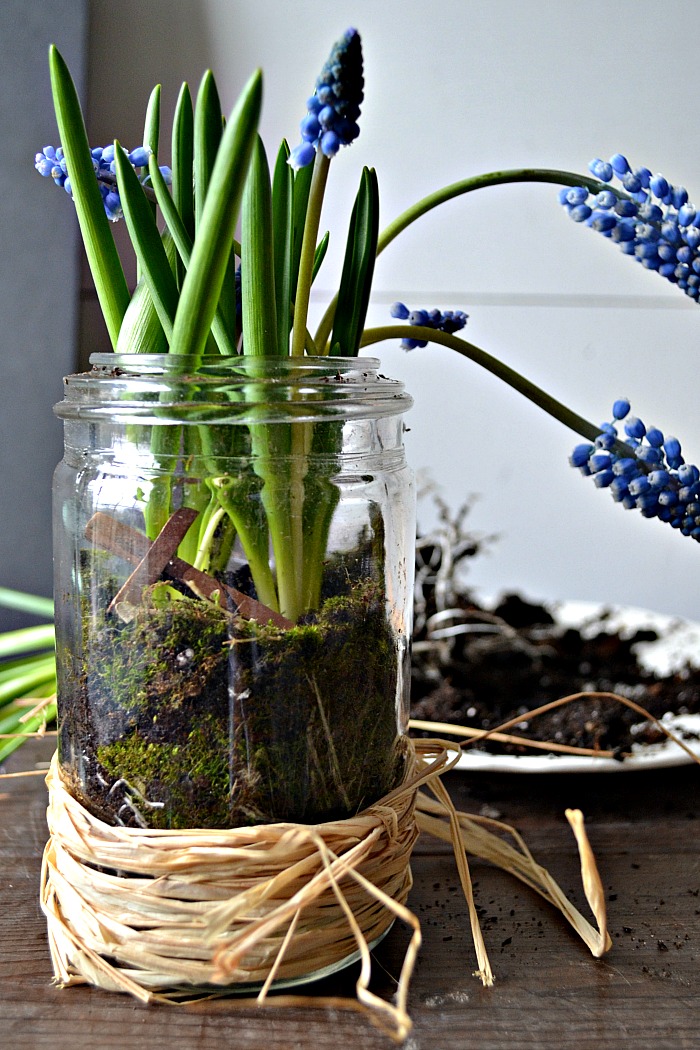 Sometimes the simplest projects are the ones that I love the best. The only thing I had to purchase for this project was the grape iris bulbs. I created a little vignette on my sideboard with the finished jar, a pair of Easter bunnies I used last year for my Easter tablescape, and a thrift store pitcher filled with faux greenery.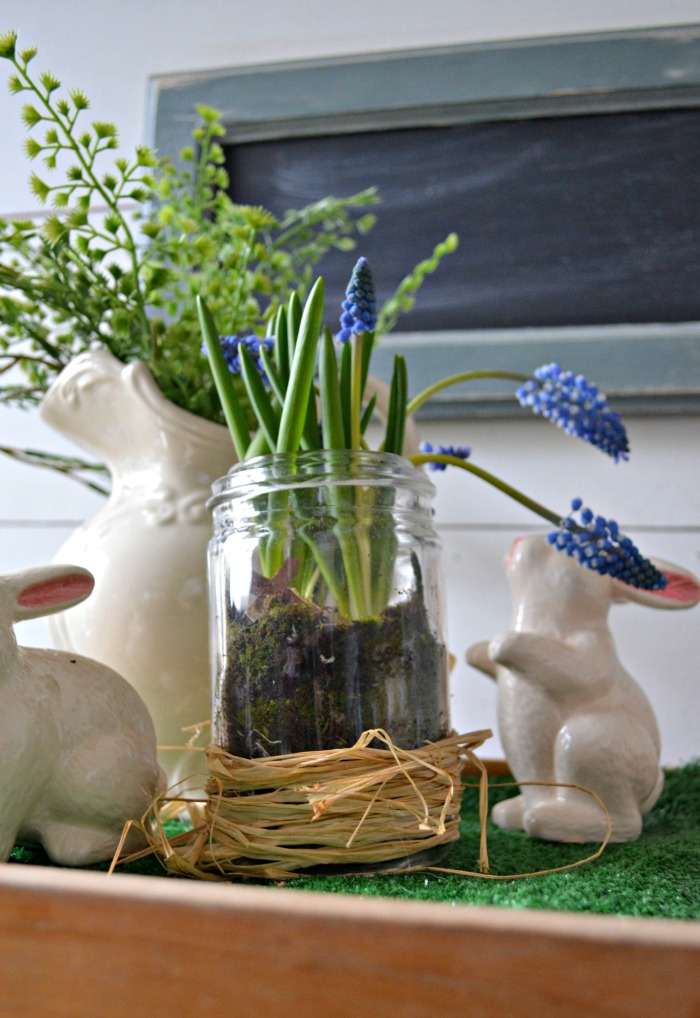 Please tell me I am not the only one who sees the face of a black cat in the image of the jar above! I have a gray cat, who I assure you was nowhere near the dining room when I was taking these photos! I have to admit it freaked me out a little bit and I was going to edit it out, but decided to leave it as it was because it was so unique.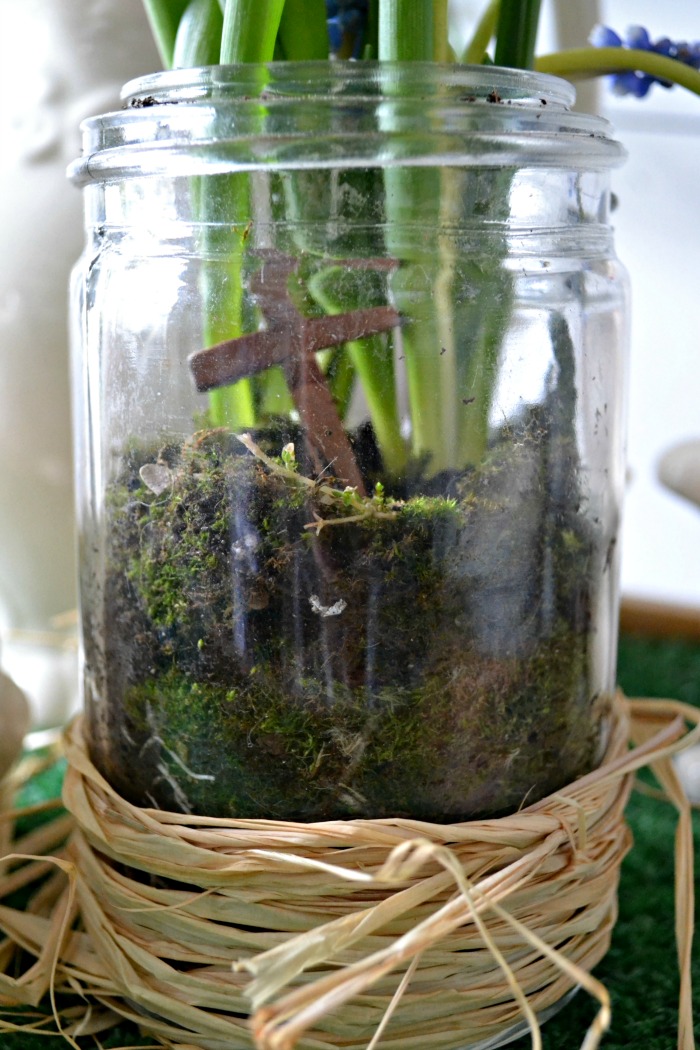 There are so many different Easter Mason jar ideas out there, but I am kind of partial to my own! If you don't have a tiny cross like mine, you could use faux Easter eggs, a little spring bird or a tiny birds nest. Whatever makes you smile.
How lovely would these be for your guests to take home after Easter dinner. They would make such a pretty addition to your Easter tablescape and give everyone a lovely reminder of the occasion! Hmmm, I think I might be on to something here!
And speaking of Easter Mason jar ideas…..
…..you will want to visit all of the links below for tutorials on more fun Mason jar crafts. Everything from bunnies, chicks, and succulents are featured today!
Easter Mason Jar Terrarium from Red Cottage Chronicles • DIY Easter Chick Mason Jar Vase from Weekend Craft • DIY Bunny Mason Jar Craft from Michelle James Designs • Mason Jar Succulent Planter For Easter from Our Crafty Mom • Personalized Easter Gift Idea from Daily DIY Life • Bunny and Chick Easter Mason Jars from Creative Ramblings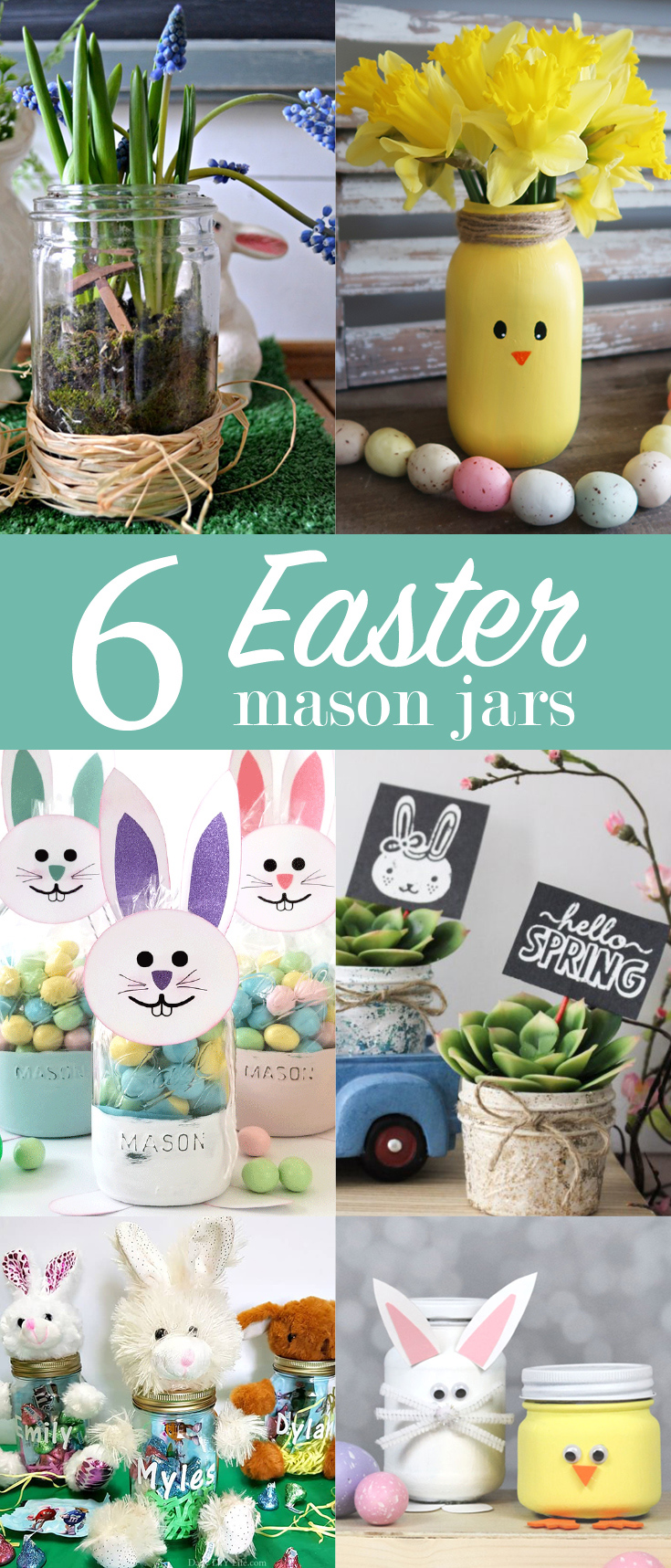 One more thing before I sign off! If you want some behind the scenes happenings from our Red Cottage, be sure to SUBSCRIBE to our email list! I will never, ever share or sell your information or send you spam! I will send you an update to let you know when a new post goes live, plus every two weeks I will send you a newsletter with some extra content not shared on the blog!
Until next time…..