An Early Autumn Tablescape
I am so delighted to be participating in this fun early autumn tablescape blog hop hosted by the very talented Chloe from Celebrate and Decorate! If you are hopping over after enjoying some of the other gorgeous tablescapes, a very warm welcome indeed! If this is your first stop on the blog-hop the entire week's posts are linked below. The inspiration really is incredible.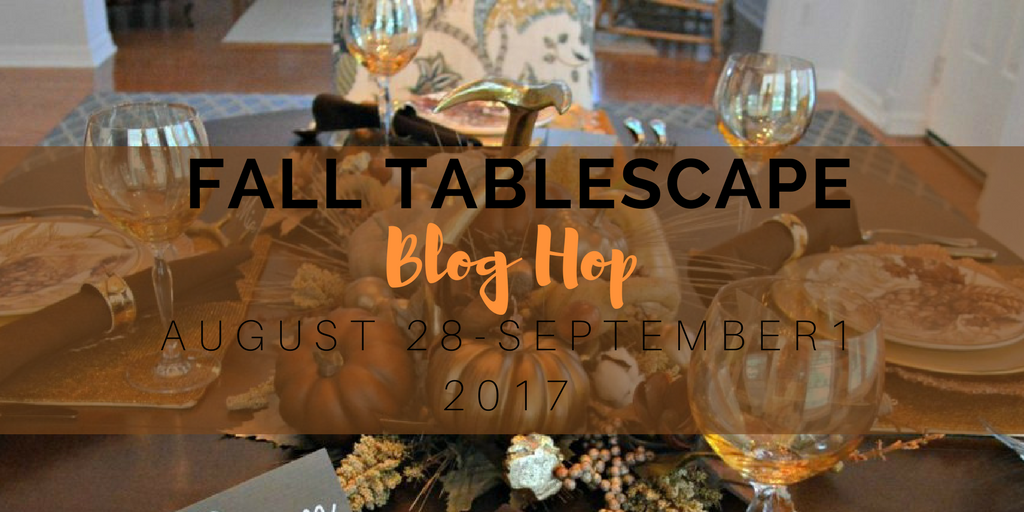 While many people are moaning and groaning that fall comes to soon, I for one say HOGWASH! I can finally come out of hibernation now that the temperatures are cooling off and we finally able to sleep with windows open again.
I start dreaming of autumn round about July 1st. Now, don't get me wrong, I do enjoy the long days of daylight and the blooming gardens, but most summer days are just so stifling hot that I don't even want to go outside!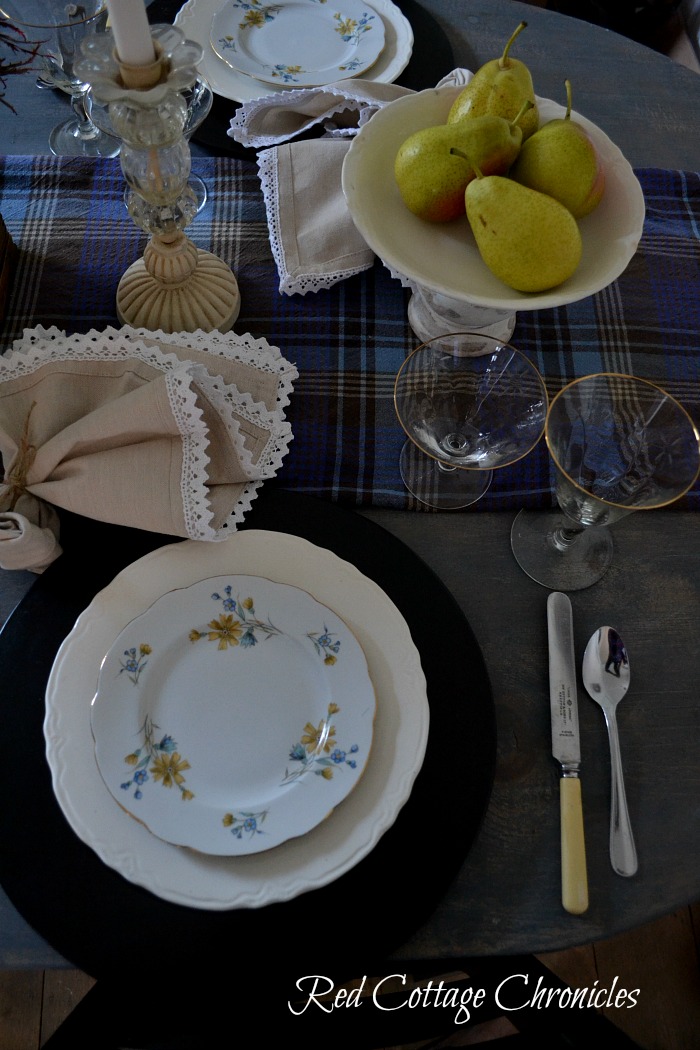 Autumn is also the best time of year to gather around the table with friends and family. I love to set a pretty table, but I also don't want to spend a fortune doing so. I always hit up thrift stores, dollar stores and clearance sections at HomeSense and Pier One when I am putting together a pretty tablescape.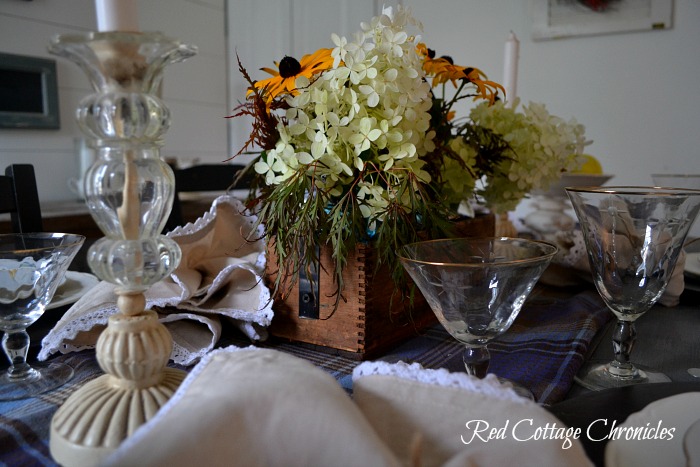 In fact, for this early autumn tablescape I didn't have to spend a penny. I just gathered things from around the house and the garden and as Tim Gunn say's "Make It Work"!
Even our farmhouse dining table was a DIY project!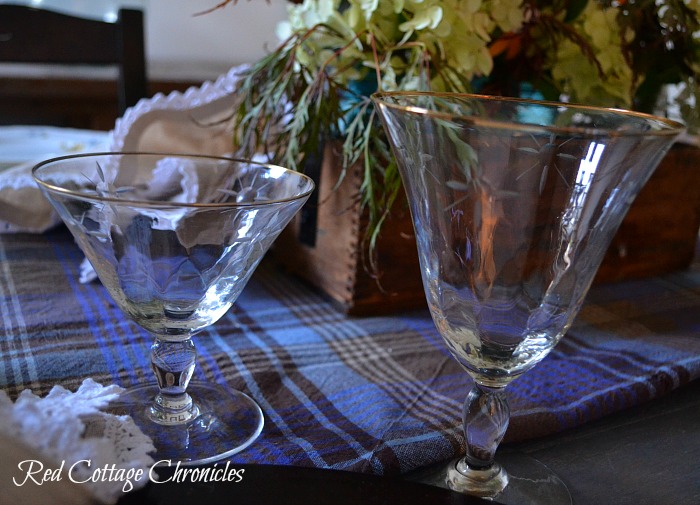 The glassware belong to my Nana (my grandmother on my mother's side) I have no idea of the pattern name, but it is really delicate glass with a little etched flower pattern and gold rims. Given how delicate the glass is, I am surprised I still have 6 of both sizes left!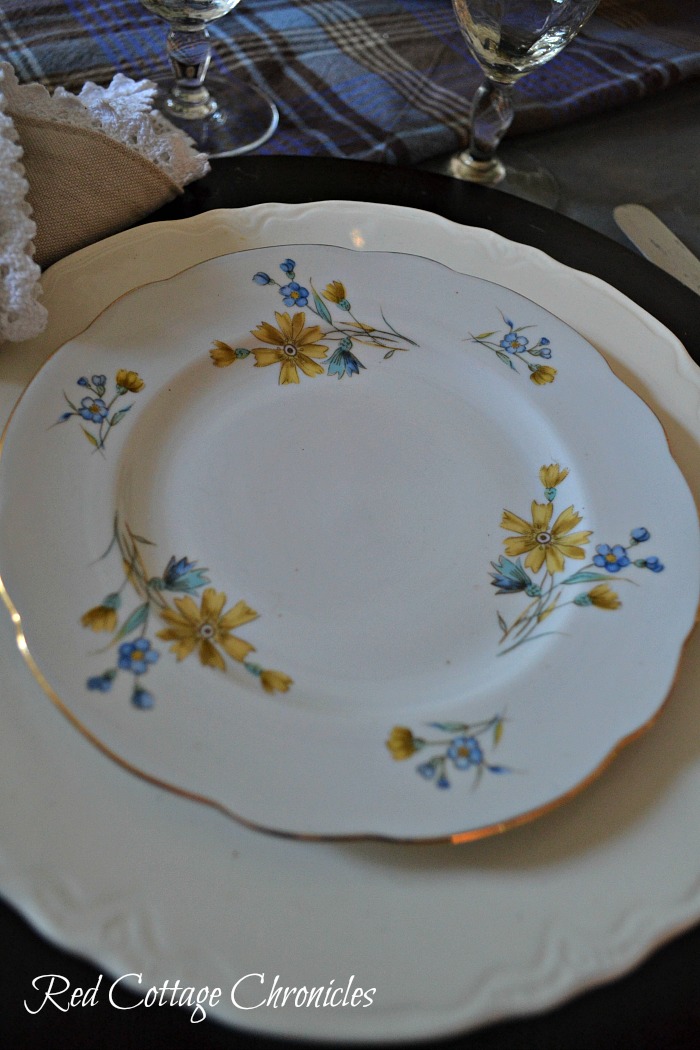 The floral china belonged to my Grammie (grandmother on my Dad's side). I have been searching for the pattern name, as I inherited it with one dinner plate and 2 bowls missing from a 4 piece set and I would really love to replace them. I do know it is made by Cmielow from Poland. If anyone has any idea what this pattern is I would be grateful to know.
I stacked these salad plates on top of yard sale ironstone plates and dark wooden chargers.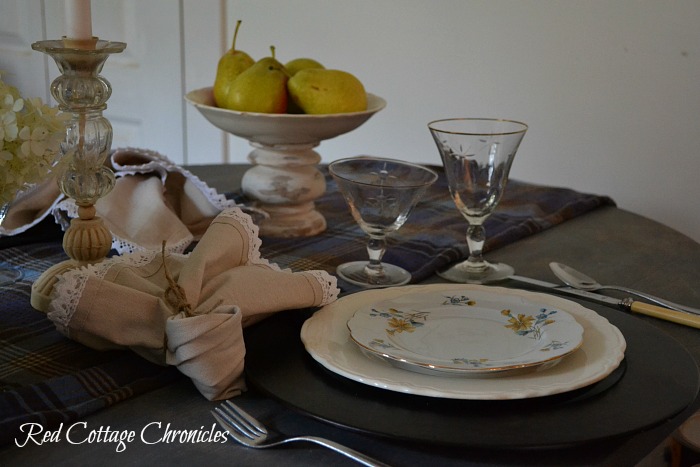 I used Pears from the crisper drawer and just set them atop my thrift store upcycled candle sticks. The lace edged linen napkins from HomeSense I already had. Mismatched flatware including some beautiful bone handled Sheffield knives are from my friend Leslie.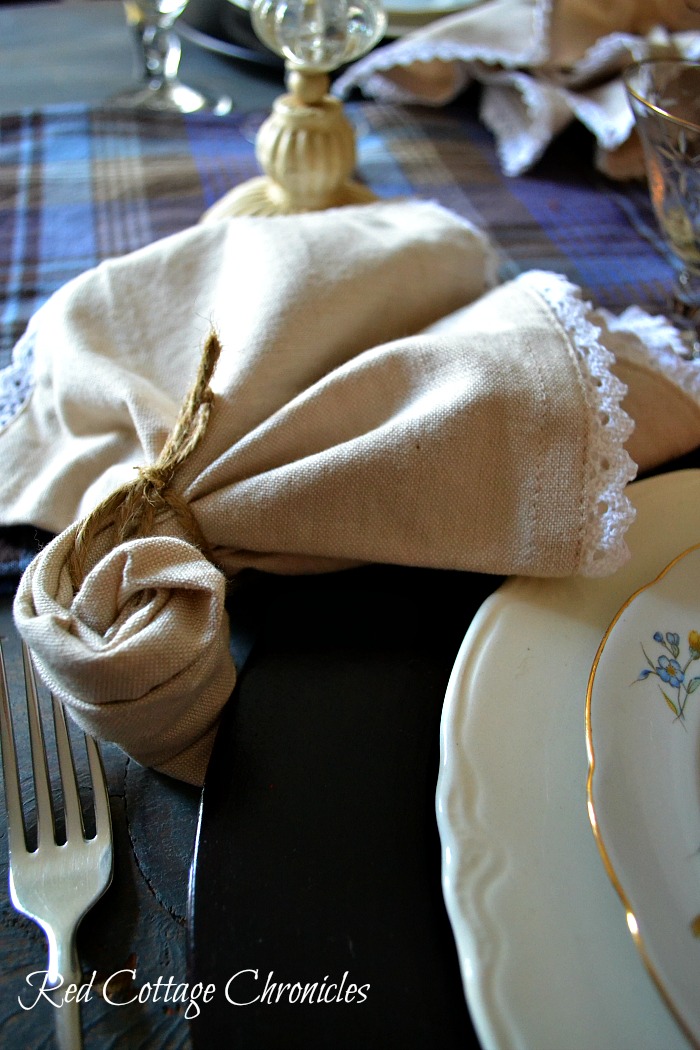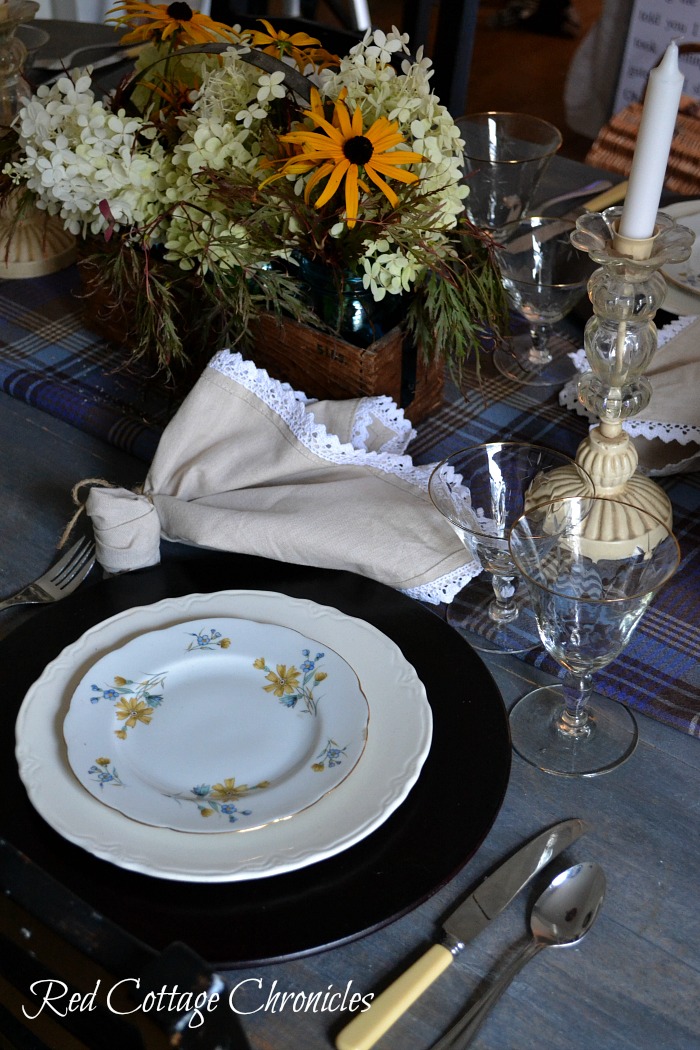 Flowers from the garden including limelight hydrangea, black eyed Susan's and Japanese Red Maple. I just plunked them in my blue ball jars lined up in this "Fixer Upper" style thrift store upcycle project.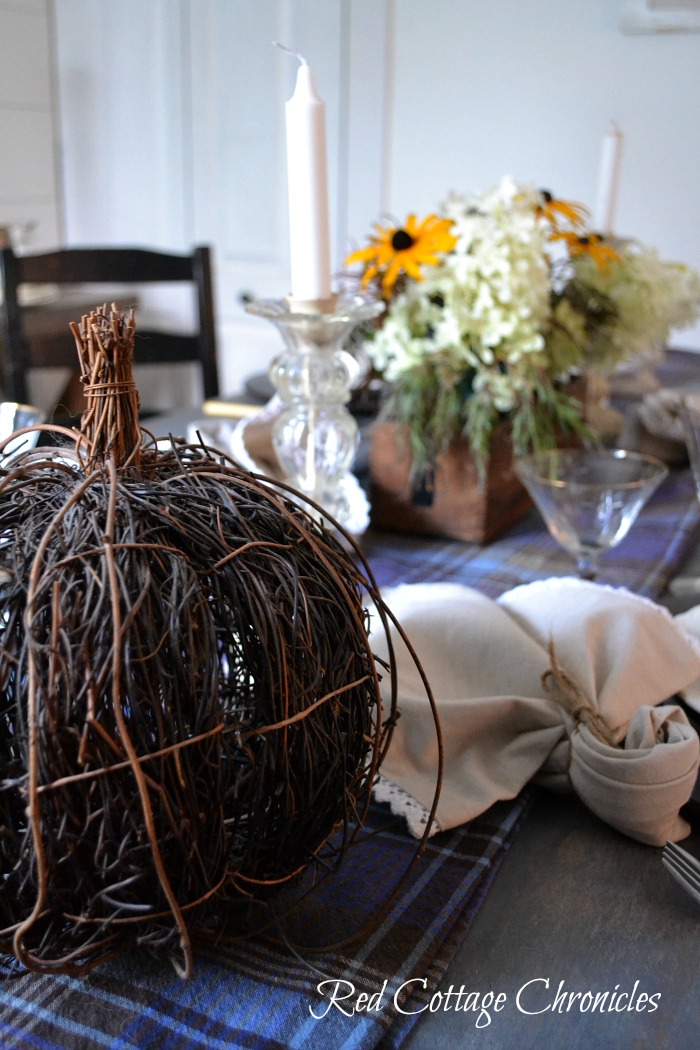 A set of yard sale candlesticks, an old grapevine pumpkin and a huge plaid tablecloth folded up to create a table runner complete my early autumn tablescape.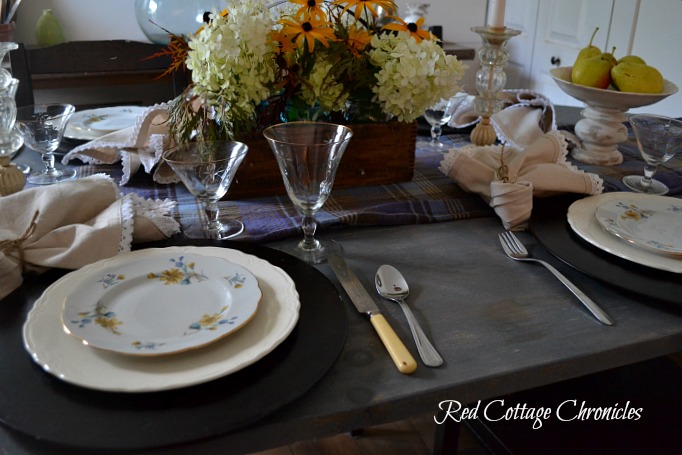 Before you go, don't forget to visit my blog hopping friends! All the links are right below.
Until next time….

MONDAY
Everyday Living
Home is Where the Boat Is
My Kentucky Living
Bluesky Kitchen
My Thrift Store Addiction
TUESDAY
Rattlebridge Farm
Knock it Off Kim
The Painted Apron
Savvy Apron
Living With Thanksgiving
WEDNESDAY
Sweet Sensations
Twelve On Main
Life and Linda
Rosemary and Thyme
THURSDAY
Me and My Captain
Starfish Cottage
Our Crafty Mom
Dining Delight
Celebrate and Decorate
FRIDAY
A casa di Bianca
Hey Fitzy
Red Cottage Chronicles
Rustic & Refined
Supper Table Talk