Happy Friday! I cannot believe how fast September has flown by. I mean how can it possibly be September 26th! I swear we were just watching the Labour Day parade yesterday! But, when I look back I have accomplished quite a bit this month! Since our family discovered Windwood Farms a few years ago we have been visiting every year since. I never tire of baking with apples.
I was thrilled when my mom baked me an apple pie this week! What a treat.
Today I am happy to share the recipe for these easy Apple Pie Cupcakes I made the other day. They are made with a boxed cake mix, fresh apples, brown sugar and butter! They are topped with a vanilla bean butter cream and sprinkled with cinnamon sugar!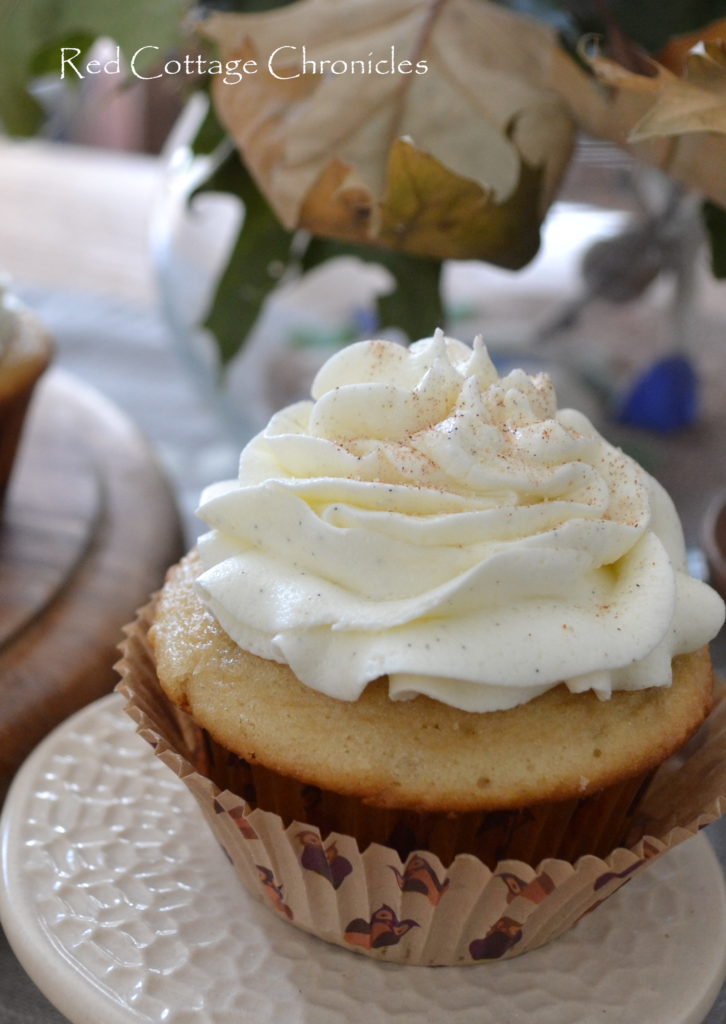 Pretty aren't they! But it is what is on the inside that make them extra special.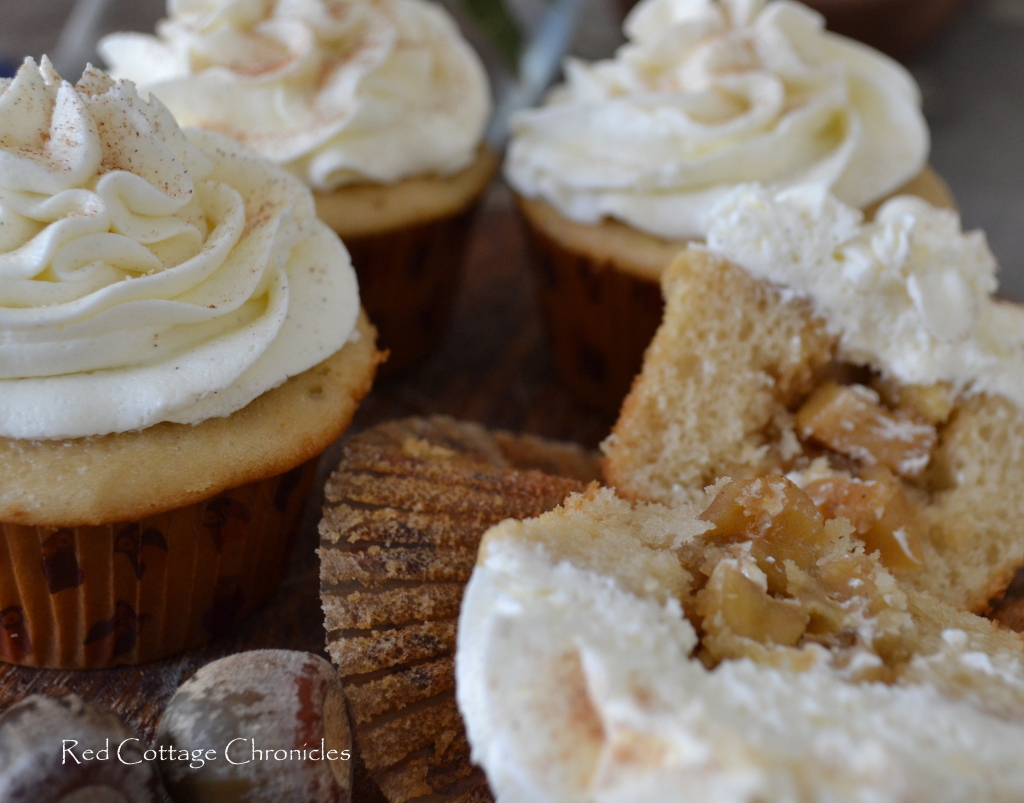 A big bite of apple pie!
These disappeared in a flash.
I shared some with my sister, whom if you remember from this post, was facing a scary surgery. I am happy to report she is recovering very well and all things point to a full recovery!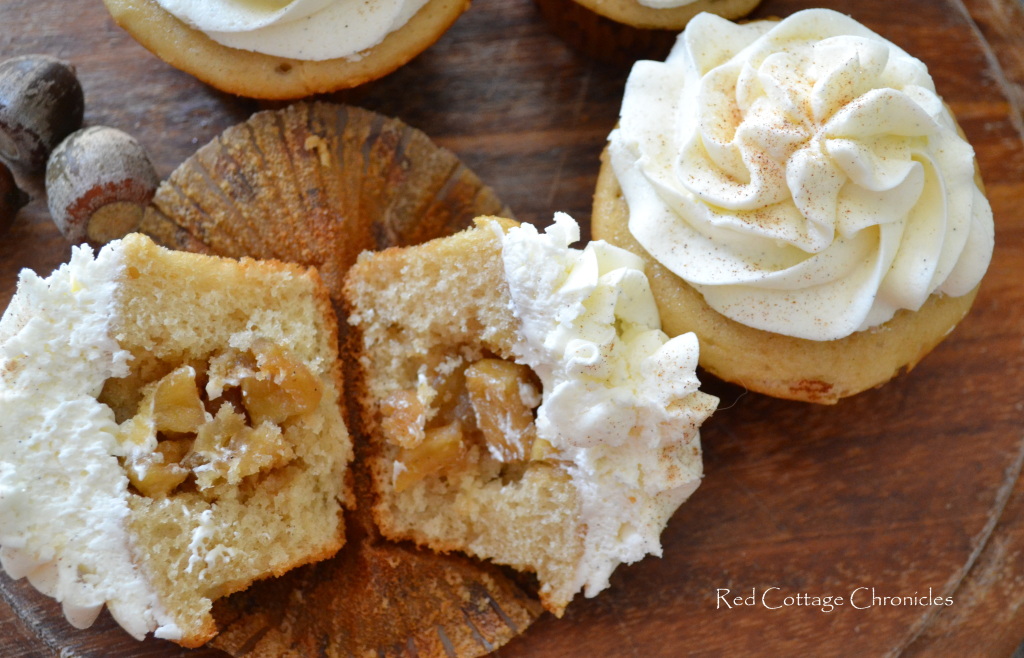 I love using vanilla beans for flavour whenever I can. I really like how they had a bit of speckle to the frosting. While they are a bit pricey I think the splurge is worth it every once and a while! And while I just use the seeds for this frosting, I add the bean to a cup of sugar to make vanilla sugar!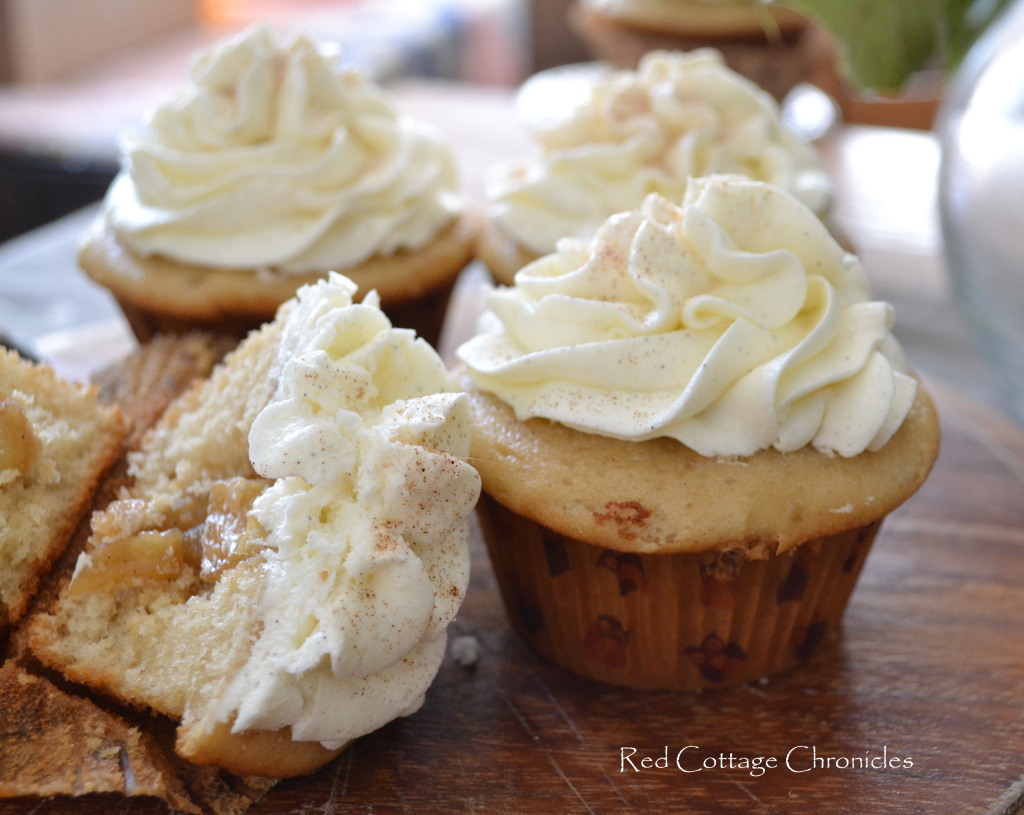 Now that we are going into the last weekend of September it is time to really ramp up the fall décor. October is on the doorstep and here in Canada it is when we celebrate Thanksgiving! So while I have resisted adding a pumpkin or two so far, October is the time to pick some up.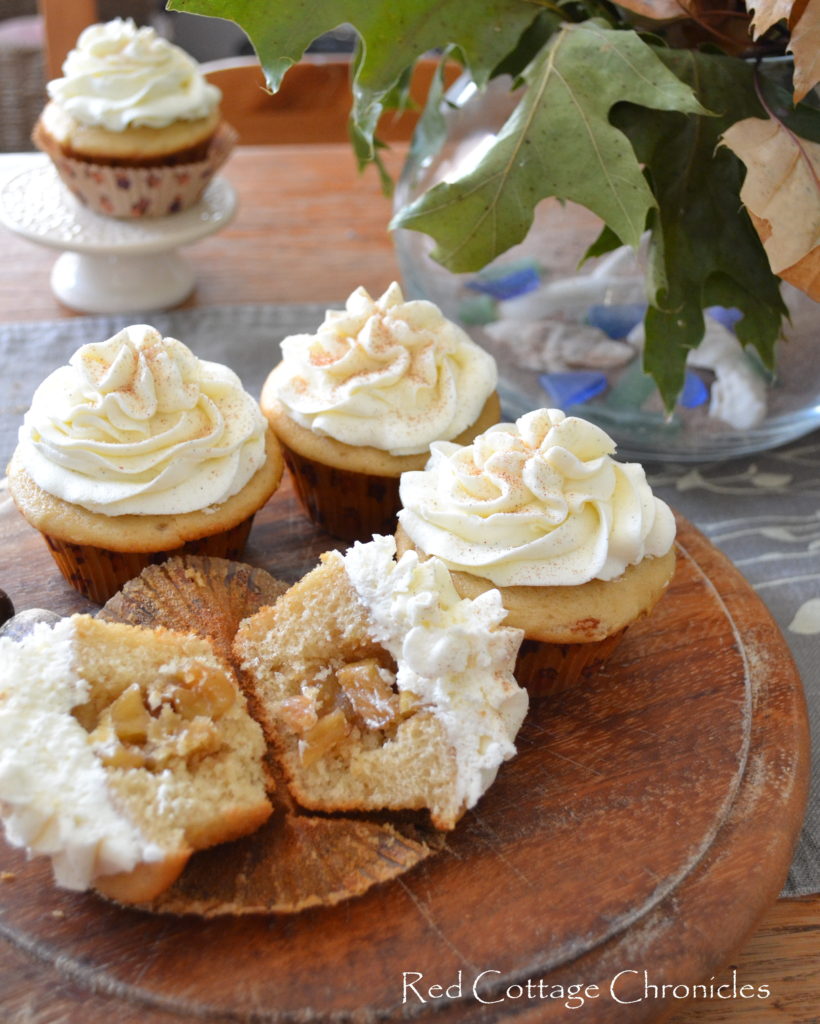 Since my birthday always falls on Thanksgiving weekend (and sometimes on Thanksgiving itself), I always remind my siblings my parents have so much more to be thankful for as we celebrate this holiday!
So much to do this weekend. Some mundane chores like getting patio furniture put away, and the gardens ready for winter. But also some fun stuff like Niagara Wine Festivals, a friends 50th birthday celebration and our annual mother daughter tea complete with derby worthy hats!
I am sure there will be some baking in there somewhere as well! But for now I will enjoy the last Apple Pie Cupcake that I hid away for myself! Shhh….don't tell!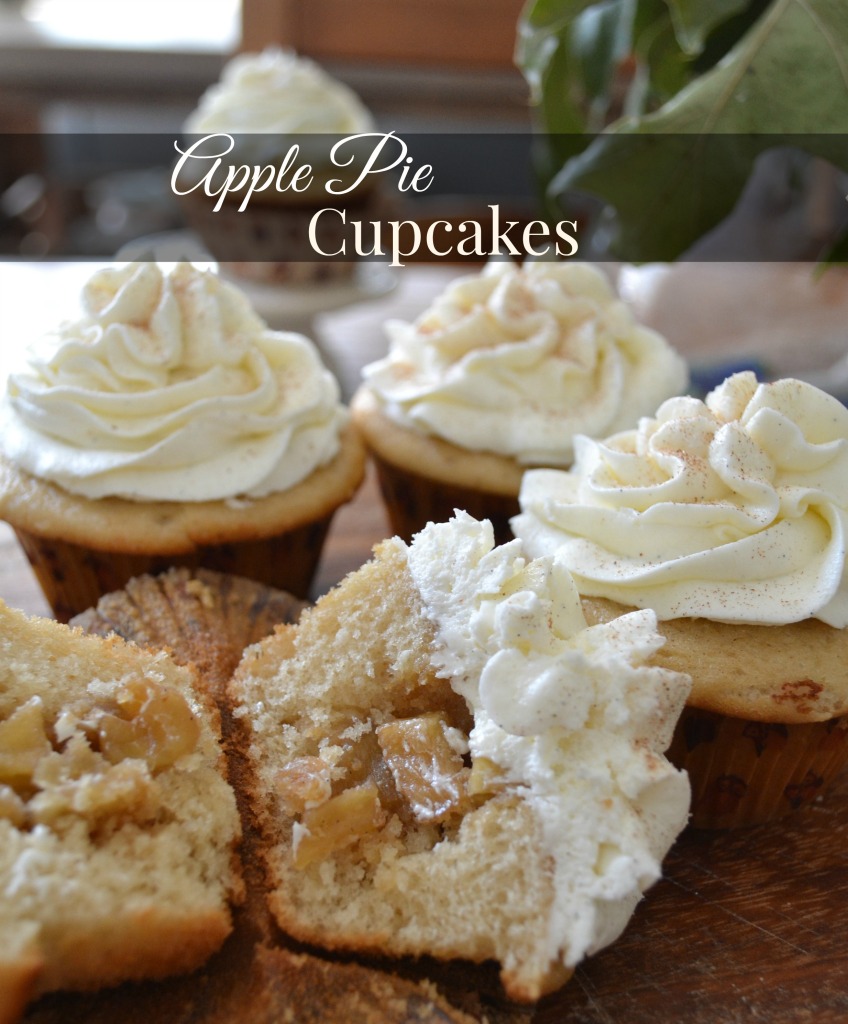 ENJOY!
To get more out of the vanilla bean, after scraping the seeds, add the bean to 1 cup of sugar and allow to sit covered for a couple of weeks to make vanilla sugar!
Ingredients
1 package butter pecan cake mix
3 or 4 medium apples, any variety
1/4 cup butter + 1 cup butter, room temperature
1/4 cup packed brown sugar
6 to 7 cups confectioners sugar
1/2 cup milk
1 vanilla bean
sugar and cinnamon
Instructions
Prepare cupcakes as per cake mix instructions (I usually make them a bit bigger so I only get 20 instead of 24)
Allow to cool.
Meanwhile peel and small dice apples.
Melt 1/4 cup butter with brown sugar in a frying pan over medium heat. Add apples and cook for 8 to 10 minutes until sauce thickens and apples slightly tender. Remove from heat and allow to cool.
Using an apple corer or paring knife, scoop out the centre of the cupcake about 2/3 the way down. Reserve the removed cake.
Fill with a heaping teaspoon of apple filling and top with the reserved cake, tapping down if necessary.
To prepare frosting add the remaining 1 cup of butter and 4 cups confectioners sugar and 1/2 cup of milk to the bowl of electric mixer. Beat on high for 4 to 5 minutes.
Split vanilla bean and scrap out the seeds. Add the seeds to the frosting and beat to combine.
Add remaining confectioners sugar 1 cup at a time and beating 2 minutes after each addition until desired consistency is achieved.
Frost cupcakes and sprinkle with cinnamon and sugar.
https://www.redcottagechronicles.com/recipe/apple-pie-cupcakes/