Like every other Thursday,  yesterday the pile of grocery food circulars came along with the newspaper and for the first time I did not break out in a cold sweat!  I am 48 years old and fear the grocery flyers.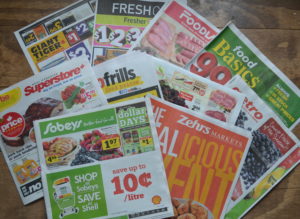 Welcome to our Once a Month Grocery Shopping Experiment!
I have been grocery shopping for 28 years for the family and for 28 years I have loathed the task.  I have tried everything.  Shopping with cash, shopping with a list, shopping when I am full (epic failure, this makes me not want to buy anything), meal planning.  You name it I have tried it.  The problem is I really am paralyzed by all the choices.  I try to make a list based on the flyers and to get the best deals but it is just so overwhelming I inevitably forget something  which requires another trip to the store.  And once inside I see something shiny and end up going in for eggs and leave spending $40 on stuff I don't need!
Please tell me I am not the only one!?  There has to be other neurotic grocery shoppers out there somewhere!
When I looked at our bank statement for June we made an astonishing 43 food purchases (37 of which were grocery, 7 fast foot)!  And that does not include the cash purchases.  Talk about a major waste of time and money!  Something has to change, and fast!
When shopping at Costco on the weekend to pick up some supplies for a barbecue we are hosting, a light bulb went off in my head!  What if we only shopped once a month for our groceries!  I almost felt instant relief.
Now, I should explain that my initial thought was Costco would be the best place for shopping a month at a time.  Costco and I have had a very casual relationship in the past.  We have been members for a couple of years and rarely go.  The stack of grocery flyers we get each week made me believe I had to shop at ALL of those stores to get the best bang for our buck!  When I was shopping at Costco on the weekend I took the time to note some prices and was pleasantly surprised that the deals are pretty good.  Not everything is cheaper, mind you, but overall not too bad!
So here begins the experiment.  For the next three months we will be grocery shopping only one time per month.  While we know we will not be able to get everything we need at Costco, we will do what we can there.  We will also choose one local grocery store with the best overall offers the week we are shopping.
We will save $100 of our monthly budget for our Saturday morning visits to the Farmer's Market, which is the only shopping activity I enjoy, to stalk up on fresh fruit, veggies and eggs.
 In preparation for this experiment  I will be cleaning out all of my cupboards and as you can see, they are in bad need of some organizing!  I cannot even believe I am showing them!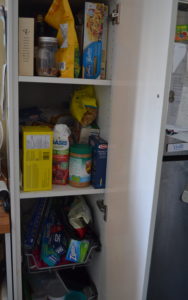 The pantry.  Small, but ample storage space when organized.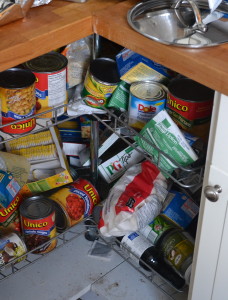 The lazy-Susan!  Looks like someone else has been lazy too!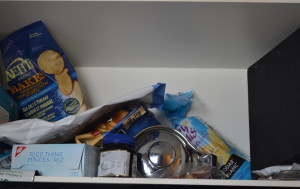 The cupboard above the microwave, usually used for snacks.
This will help me take inventory of what I already have and what we have bought in the past and is now shoved to the back of the cupboard and forgotten (which is a clear indication we didn't need it in the first place)!  We also have a chest freezer, and a baking pantry that holds all my flours, sugars and other baking ingredients.
Once a Month Grocery Shopping Experiment Rules
1.  Stay on Budget
2.  Shop only 1 day in the month (plus farmers market on Saturdays)
3.  Eat at home
4.  Prepare a doable menu plan
Are there any other monthly shoppers out there?  How do you plan your shopping list?  I would welcome and appreciate any suggestions or advice and, as always your comments really do make my day!!
Next Friday I will do an update so you can to see how our first monthly shopping trip went, how I planned my shopping list and how the cupboards look now!
Wish me luck!