There is no doubt that dinner time is probably one of the most ordinary things you do every day. Today I am going to share with you how I have decided to celebrate the ordinary simply by setting everyday tablescapes. Even if it is just me and the Mr.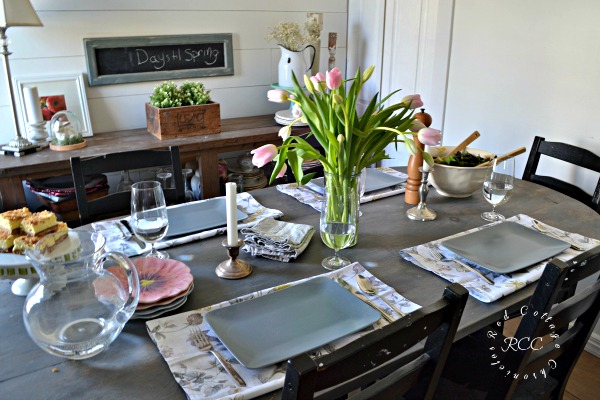 As I began last week, a week off from my "day job", I was sitting at my dining room table and got to work on editing photo's and planning upcoming blog posts. I paused for a minute and took in the sad state of my dining room table. Living in a small home our dining room also serves as my office and craft room. And, since it is right inside the front door, a landing spot for mail and lunch bags. It is like the black eye in the rest of the space.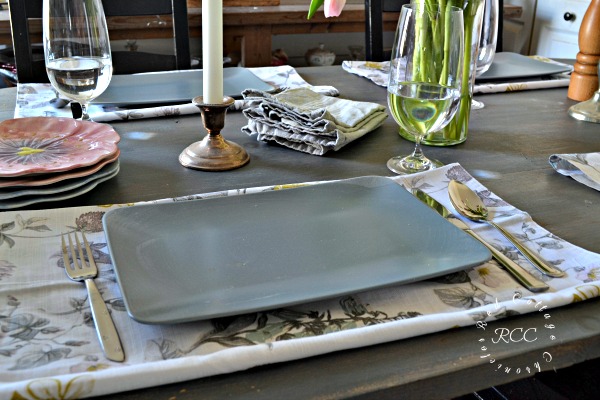 It got me to thinking how much I love how it looks when I set a tablescape for a special occasion or holiday. I decided at that moment it was time to start setting everyday tablescapes instead of shoving aside a pile of paper to find a place to eat.
This year we are working on slowing down and living more intentionally. Having this week off while Tim is still working, has been the perfect week for me to reflect on the things that I can change or contribute to help us reach that goal. Taking the time and a bit of effort into setting the table for dinner every day is a great place to start.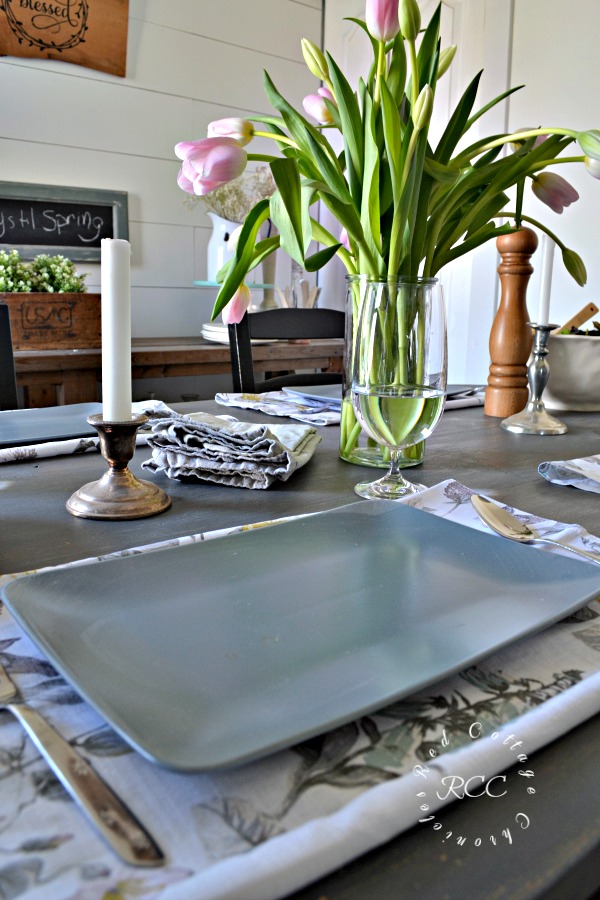 On of my favorite things to do is to create pretty tablescapes for holidays and special occasions. I find that taking the time to set a festive table helps to create an atmosphere that makes you want to linger engaging in conversation. So, why was I not making that effort everyday for the people that matter most to me?
Everyday tablescapes need not be fancy. Your regular dishes and utensils are the base. Since we have been completely off pop (soda) since last August, we drink a lot of water and I have been picking up inexpensive pitchers when I see one that I like. Ikea has lots of great choices, some for under $5 each! The water glasses, while they look fancy schmancy, are not at all precious. They are from Crate and Barrel and cost just $6.95 each (similar here).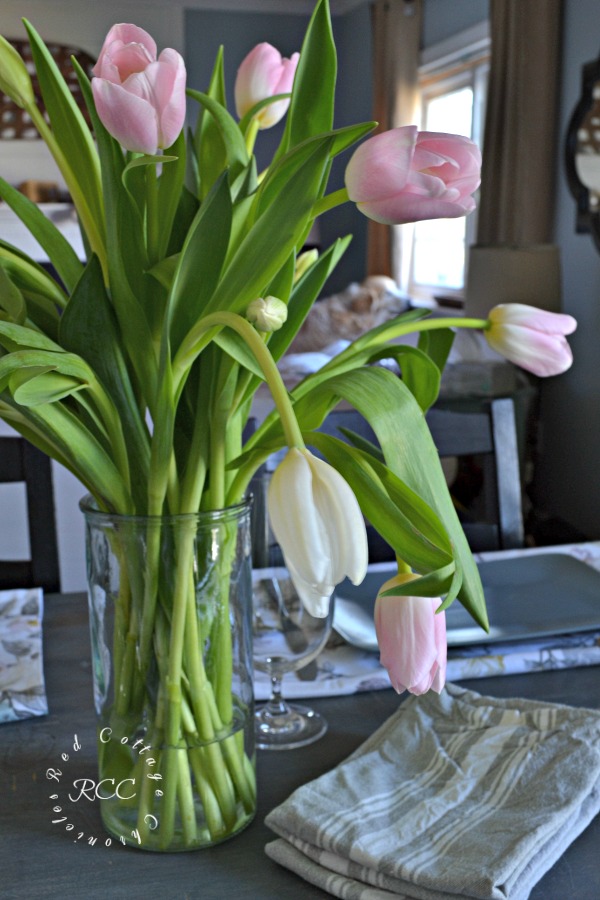 I have a thing for cloth napkins and when I come across some that catch my eye, I can't resist bringing them home. For this table setting I actually used some really large napkins I recently found at Homesense and folded them in half to use as place mats. I rarely pay more than $20 for a set of 4 napkins, but more often than not I find them for $10 to $14 per set. I prefer 100 percent cotton as they are easy care and last a long time. You can't go wrong with investing in a basic white cotton set of 12 napkins like these ones.
I almost always have flowers on the table, that usually get put onto the buffet when I am working. A centerpiece can be as simple as a pretty basket or bowl, candles, or flowers from your garden or the market. This week I picked up 2 bunches of tulips, trimmed off their bottom leaves and plunked them in a glass vase from the dollar store.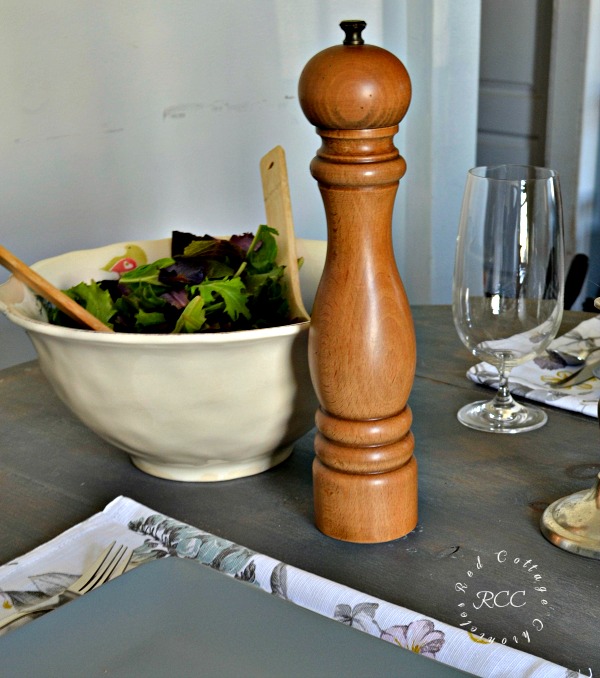 We don't use salt at the table, but I love my French pepper mill. It was a gift from my sister this past Christmas. We have been adding a salad to dinner to up our veggie intake, so having a big bowl of fresh field greens encourages us to have seconds!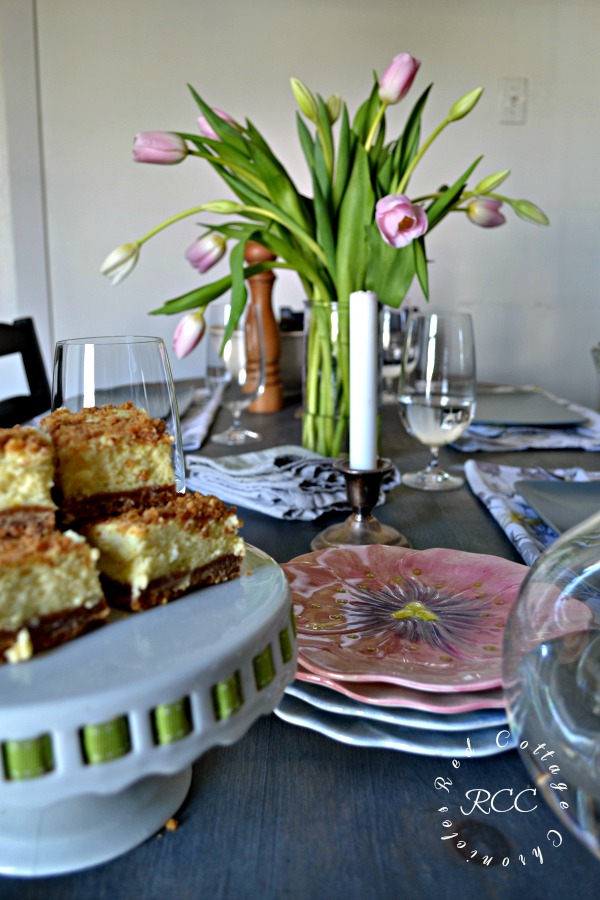 We don't have dessert everyday, but I had made some lemon squares so I set them on a cake plate for anyone who wanted to indulge.
I fear that sitting around the dinner table has become a lost art. Why not take a few minutes today and surprise your family with a pretty tablescape. When they ask what the occasion is, just tell them you are celebrating the ordinary!
Until next time…..

Red Cottage Chronicles is a participant in the Amazon Services LLC Associates Program, an affiliate advertising program designed to provide a means for sites to earn advertising fees by advertising and linking to Amazon.com