Well, here we are already! The first week of April. I have been waiting for this week since before Christmas, when we decided to tackle our kitchen for the One Room Challenge hosted by Linda from Calling It Home! If you are new here, welcome! You have stopped by at the perfect time!

Twice a year, April and October, Linda graciously hosts this event where bloggers are challenged to transform one room in their home in only six short weeks! Every Thursday as a guest participant of the challenge I will be posting an update of our progress with the final reveal beginning Thursday May 11! I hope you decide to follow along!
If you are anything like me, working with a minimal budget makes things that much more challenging. Over the next six weeks I hope to give you some tips and inspiration to renovate your kitchen on a tight budget.
Week One is all about introducing you to the room we have chosen and giving you an idea of what we have planned! We have a lofty goal of renovating our kitchen over the next six weeks! Crazy right! Oh, and did I mention we are doing EVERYTHING ourselves?! The insanity level is going to be pretty high at the Red Cottage over the next few weeks!
Here is a look our kitchen, shall we…..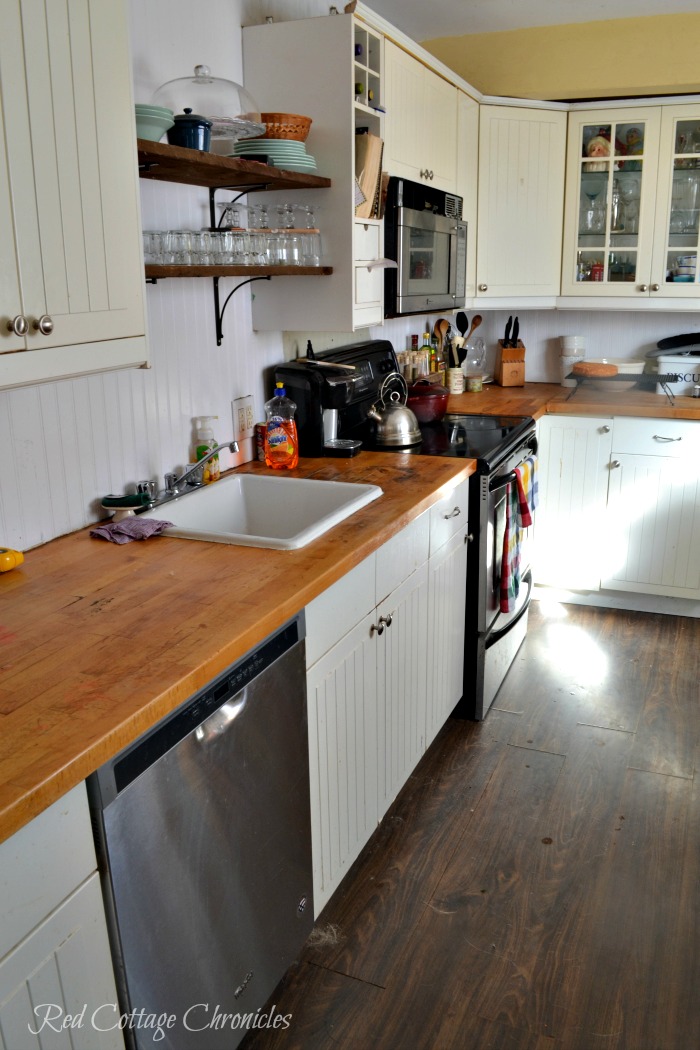 That beam you see running above the cabinets on the back wall is structural and cannot be moved (unless we want to pay a small fortune!) It is actually the original outside wall of the house before they added the basement and hallway.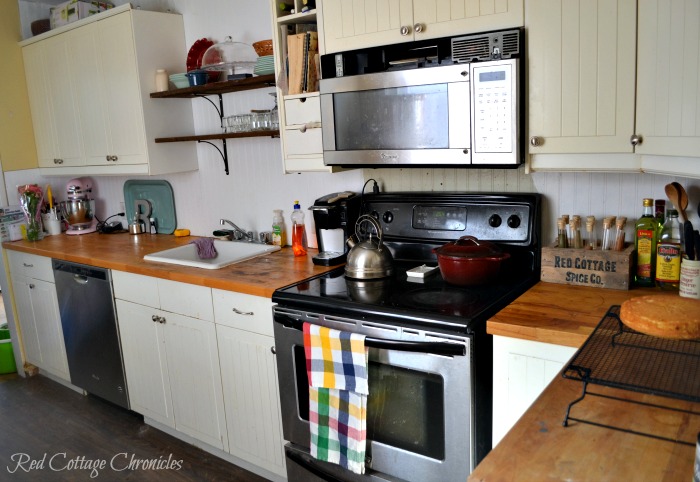 I didn't realize how small our kitchen sink was until I saw it from this perspective! It will be replaced with a huge farmhouse style sink!!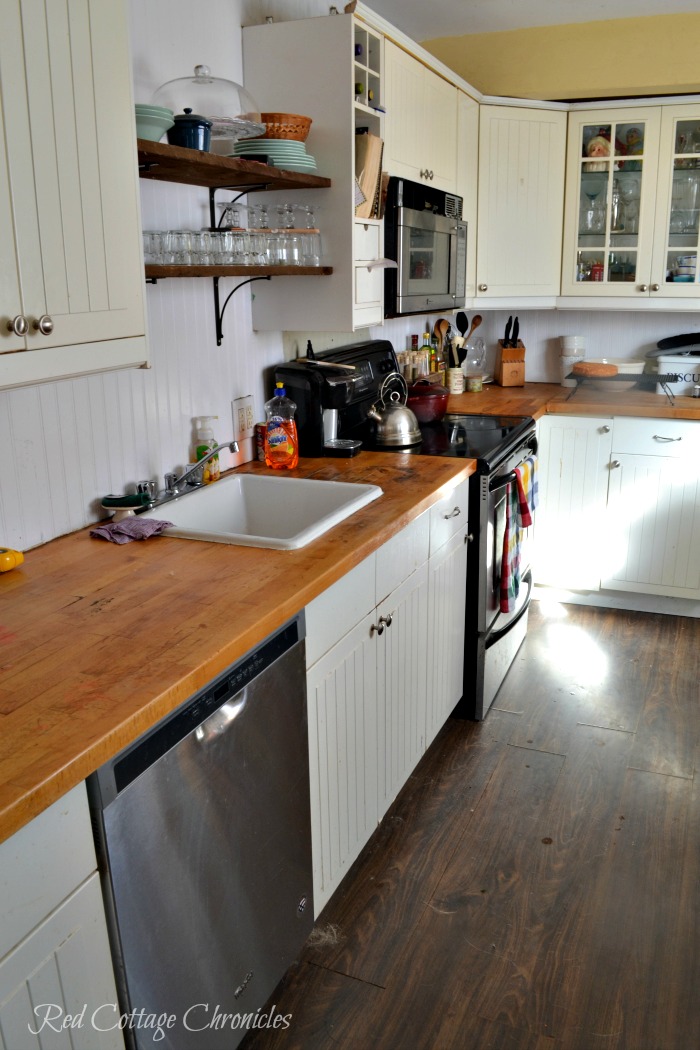 The kitchen is essentially a galley kitchen with no seating space at all. My plan is to add a moveable island to the window wall that will allow two stools to tuck underneath.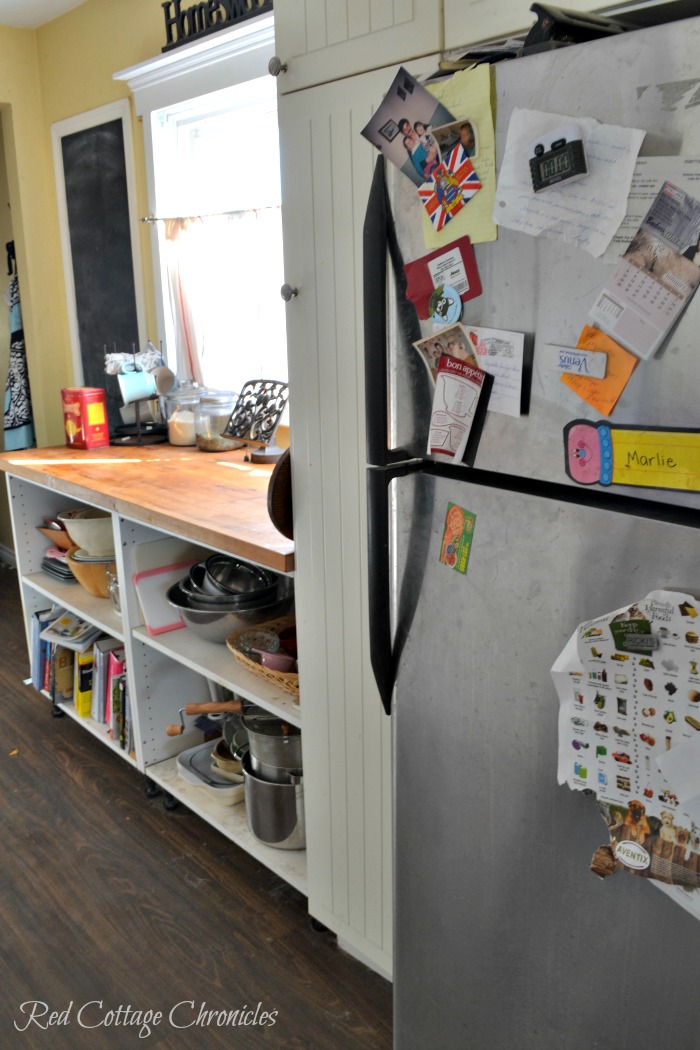 I am kind of a fly by the seat of my pants girl when it comes to decorating, but for a project of this size I really needed to have some of the major changes planned in advance. And, do we ever have a lot of plans!
Kitchen Renovation Checklist:
Remove most upper cabinets including above the range microwave
Create built in shelving in an old recessed space behind upper cabinets (similar to the photo in my mood board below)
Build new sink cabinet to accommodate apron front sink
Paint all lowers
Install new rangehood and custom rangehood cover
Level the ceiling
Change the flooring
Remove cabinets below the window and replace with a custom moveable island
Install backsplash & shiplap
Paint the entire room
Install open shelving above sink
New countertops
New lighting
I think that covers everything, but as with any older home, I expect we might have a few surprises.
I am thrilled and honored to be partnering with Blanco Canada who have provided us with an amazing farmhouse sink. I can't wait to tell you more about it. Para Paints has also partnered with us, supplying the paint finishes. They have an amazing line of heritage colors that I am just in love with!
When tackling a big renovation, a mood board is always a good place to start. I have created a mood board to show you some of the choices we have already made….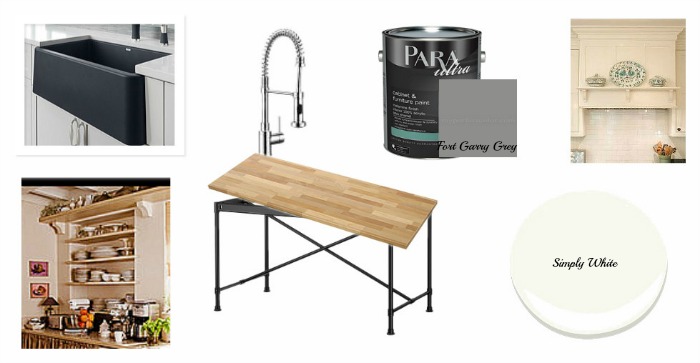 In the end I hope to have created a warm and welcoming farmhouse/cottage style room. I spend a lot of time in my kitchen so I will be creating the perfect space for me. Part of this transformation will be purging my kitchen supplies and finding stylish and functional storage solutions. The over all space is not that large, and it is the main thoroughfare it reach our lower level and our backyard. It gets a lot of foot traffic (yet nobody seems to stop on their way through to do the dishes!!) so I want it to feel as uncluttered as possible.
When I told my husband I wanted to get rid of most of the upper cabinets he was at first very apprehensive, but when I drew it all out for him, and showed him inspiration photo's from Pinterest he came on board with the idea!
We will eventually be re-purposing some of the upper cabinets to create extra storage in large open coat closet that is in the back hallway off the kitchen. I will be able to store less used kitchen appliances and gadgets in them, so they will be out of the way but still close at hand.
There are still several things that we are a bit undecided on, and I really won't know how they will evolve until things start to come into place.
Still left to choose…
lighting fixtures
flooring | I am trying to decide between wood planks or porcelain tile
how to finish the ceiling after we have level it
countertop | we have a very small budget and I am trying to decide between new butcher block or a DIY faux soapstone made from plywood
We have our work cut out for us, but we always seem to work better under pressure! My favourite part is how Tim embraces the projects I pitch to him. He jumps in with both feet to learn any new skills he needs to get the job done. He is becoming accustomed to pushing his own limits and growing in his skill set as a result.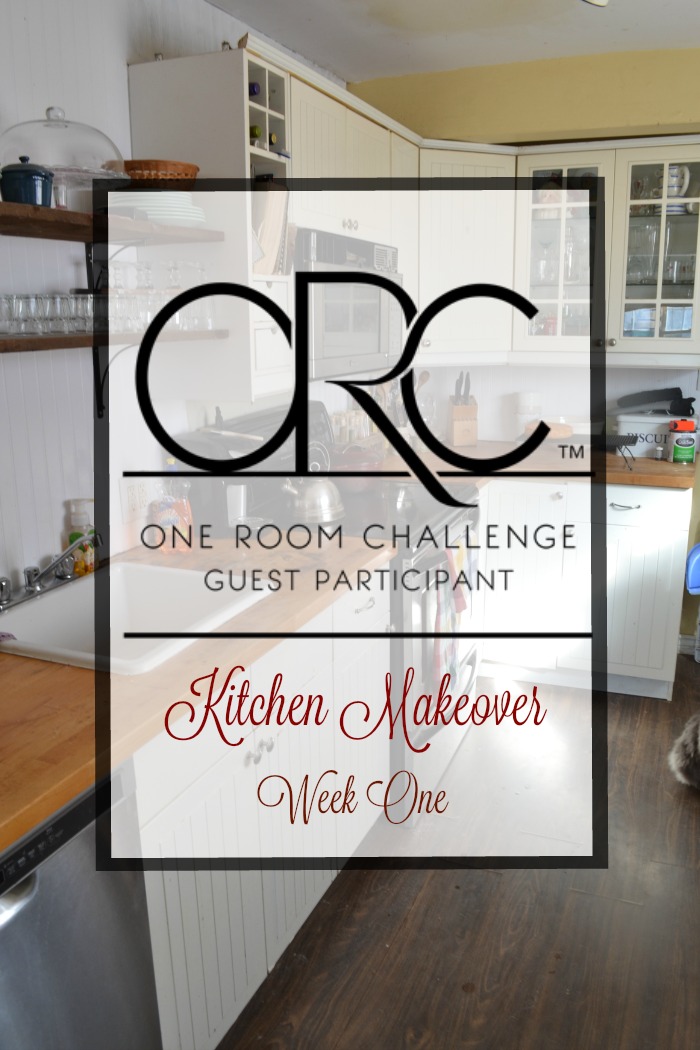 Be sure to come back every Thursday for an inside look on how the project is progressing and to find out if we are still talking to each other!! There is nothing like a DIY renovation to test a relationship!
Simply click here to subscribe to Red Cottage Chronicles and only receive an email when a new post goes live!
Until next time…..