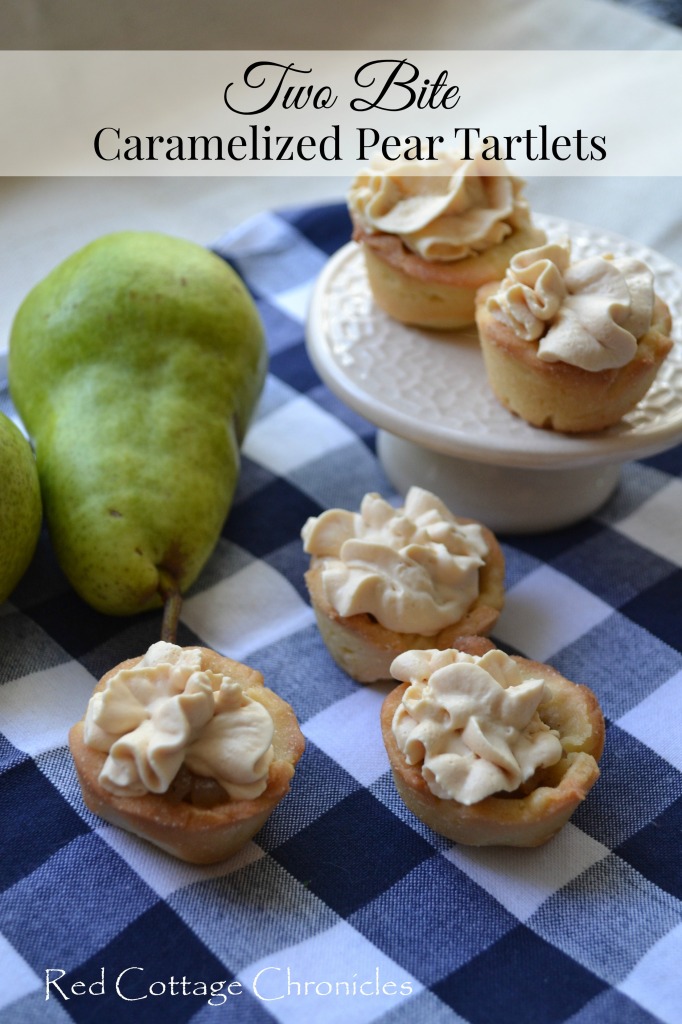 Lately I have been loving the idea of caramelized fruit desserts.  These two bite caramelized pear tartlets are so simple, and they are just the right size to indulge in a little bit of sweetness.
Not to mention, if there is fruit in it, it has to be at least somewhat healthy!  We won't count the cinnamon whipped cream on top!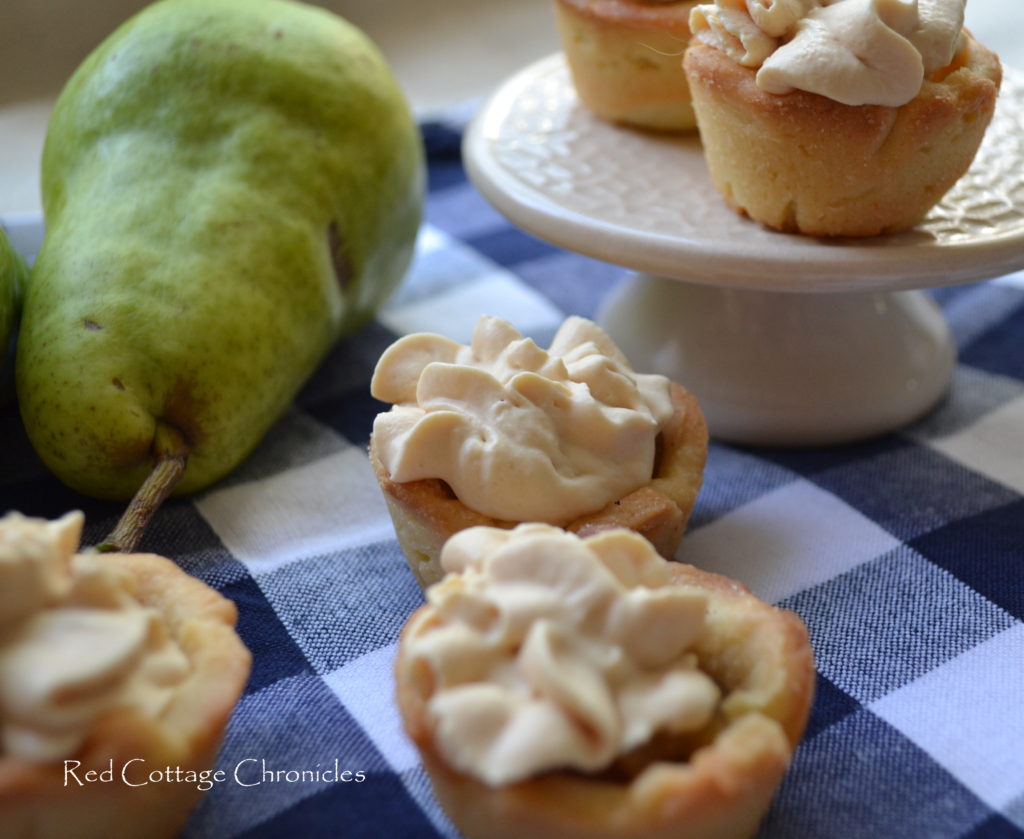 If it makes you feel better though, you don't have to add it.  That way you could pack one or two into your kids lunch box and not have to worry about the whipping cream melting.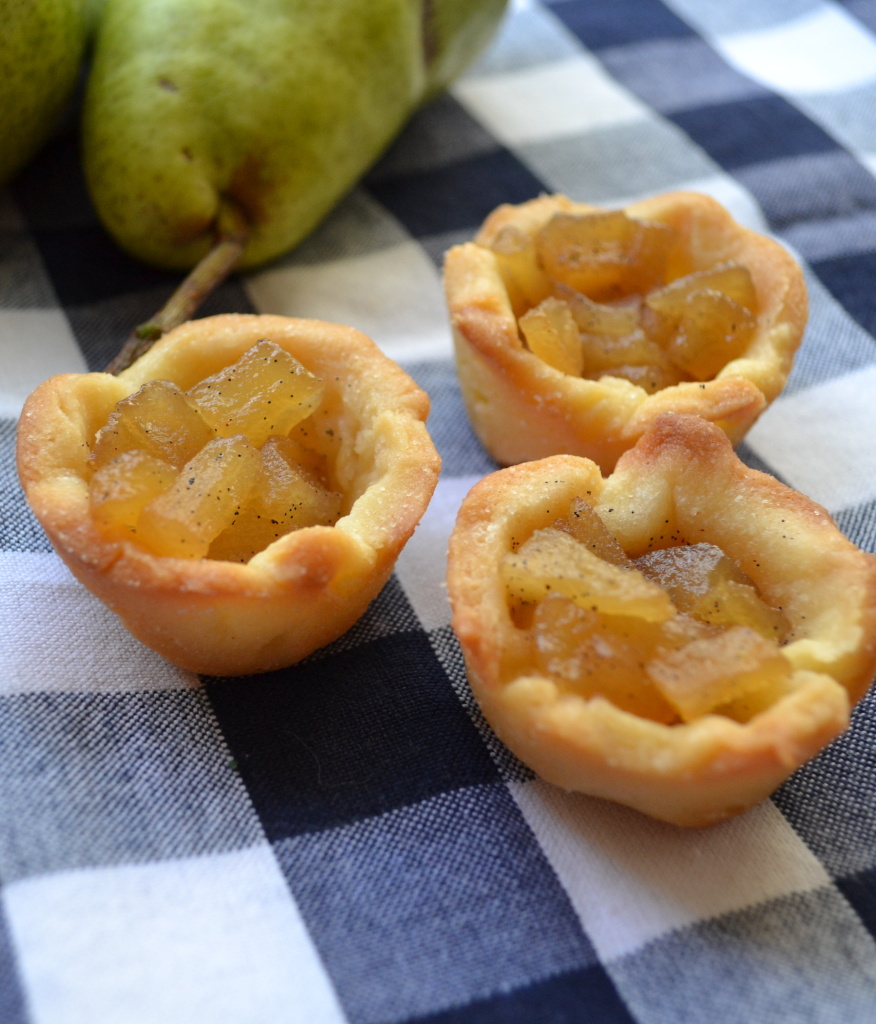 But.  Then you would have even more whipped cream for yourself!
(Again, for quality control I double taste tested both with and without whipped cream and you really can't go wrong!)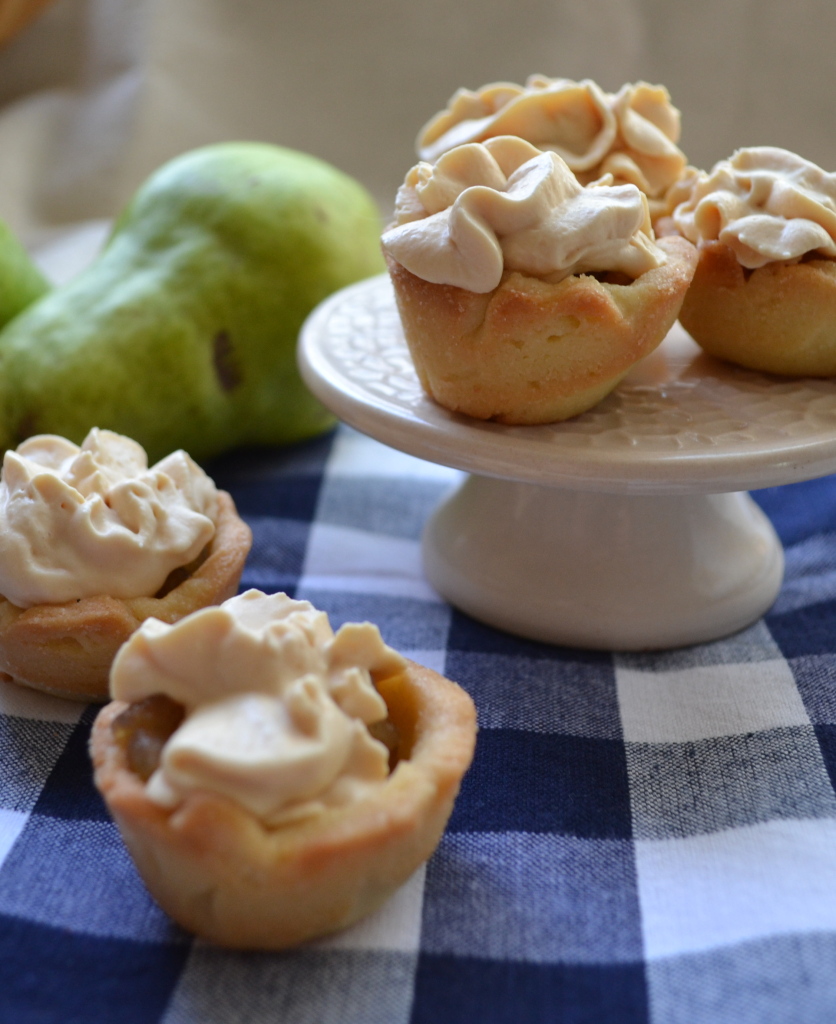 You can find the sweet pastry recipe here.  After rolling it out I used a 4″ round cookie cutter to cut 24 circles.  I lined 24 mini muffin tins with the pastry.  Bake at 350 for 12 to 15 minutes.  Allow to cool slightly and fill with caramelized pear filling!  Using a piping bag fitted with a star tip, pipe a small dollop of whipping cream onto each tart!
Bonus tip – If you have any filling left over it is amazing warmed up a bit and served over vanilla ice cream. You're welcome!
Two Bite Caramelized Pear Tartlets
Ingredients
I recipe sweet pastry
5 pears of any variety, peeled and diced small
1/3 cup brown sugar, lightly packed
4 tablespoons butter
1 cup whipping cream
3 tablespoons sugar (I use superfine)
1 teaspoon cinnamon
Instructions
Roll pastry and cut into 24 4" circles. Place each circle into non-stick mini muffin tin. Dock the bottom of each with a fork to prevent puffing up of the pastry. Bake at 350 degrees for 12 to 15 minutes. Remove from oven and allow to cool.
In a frying pan add pears, butter and brown sugar. Cook over median heat until pears are slightly tender and caramelized with the thickened butter/brown sugar sauce. Approximately 7 to 10 minutes.
Fill prepared tart shells with a heaping tablespoon of caramelized pears and allow to cool.
Meanwhile in a chilled mixing bowl whip heavy cream at high until soft peaks form. Mix sugar and cinnamon and add to whipping cream. Continue whipping on high until stiff peaks are reached.
Fill a piping bag with whipped cream and pipe onto cooled tarts.
https://www.redcottagechronicles.com/baking/two-bite-caramelized-pear-tartlets/