Chef Michael Smith Cookbook Giveaway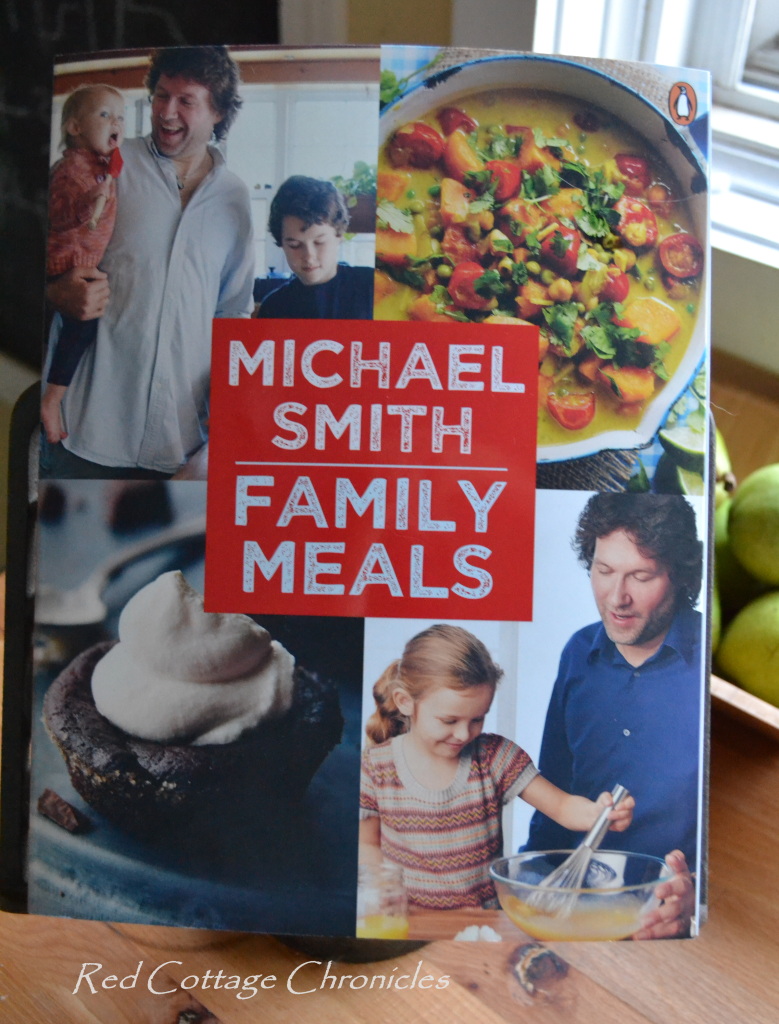 I almost titled this post "Chef Michael Smith Giveaway" but quickly realized that I don't think he would have appreciated me trying to give him away! So Chef Michael Smith Cookbook Giveaway it is!
His newest book Family Meals to be exact. And to make it super special I had him autograph it too!
I have been following Chef Michael's (he doesn't know it, but we are on a first name basis now!) adventures in the kitchen for many years on Food Network Canada. I finally had the pleasure of meeting him at a book signing on the weekend. He did not disappoint. First thing I noticed as he walked into the venue were his flip flops! I thought to myself "yup, you can tell he is from PEI"! He was so relaxed and, well, normal Just really, really tall!
Even those of us sitting at the back could see him without a problem!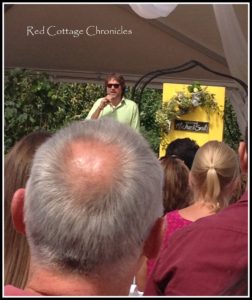 His current show, Chef Michael's Kitchen, is as real as it is going to get! He prepares easy, family meals in his own amazing kitchen. I cannot even tell you how much I love this kitchen. It is the perfect balance of chef's kitchen and family kitchen. It was featured on House and Home On-Line TV and you can see it here! Go ahead. I'll wait!
Now tell me you don't want a cooling rack built in beside your oven!
He is also on Chopped Canada, which returning for a second season!
He is really entertaining in person, and although I was expecting to stand in a line and wait for him to sign my books, I was pleasantly surprised when he gave a fun talk about some of his favorite culinary experiences through the years. He also spoke passionately about the importance of sharing meals with your family. About cooking with everyday ingredients so you don't end up with a bottle of some kind of sauce left over in your fridge you will never use again!
My favorite story was his first experience as a published chef! Let me just tell you this. He will always have a cookie recipe in his cookbooks!
After his talk, he actually sat ON the table and not behind it to sign everyone's books and took the time to take a picture for any and all who requested it.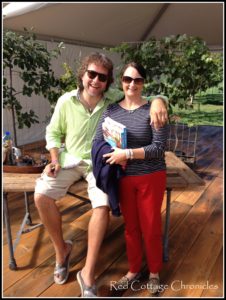 3 Generations of Chef Michael Smith Fans! My youngest daughter, Sam. My mom and myself!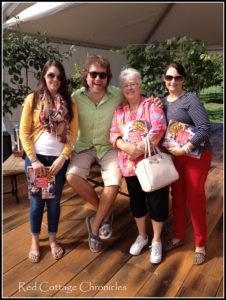 When I went up with my two books. One for me and one for Red Cottage Chronicles he actually said "you were on twitter earlier today" Knock me over with a feather!! I had tweeted earlier in the day how excited I was to be going to the book signing! I mentioned to him that next summer when we are in PEI I will definitely have to make the trek past Charlottetown to visit The Flavour Shack from the Malpeque area of PEI where we stay. He mentions the Ship To Shore restaurant which was right across the bridge from my sisters place but is now sadly closed! I love that he was really connected even though it was such a brief conversation! I would have been happy if he had have said "uh huh"!
Now, for my US friends, I am not sure whether you can see his shows on The Food Network. You can always try this link, to view his shows on-line on Food Network Canada!
Now for the real fun! Enter using the rafflecopter widget below to win a signed copy of Family Meals, With recipes like Bacon Salad with Crispy Onions or A Pan of Pork Chops with Marmalade Mustard Pan Sauce, and Flaming Banana Splits, it will be well used in any kitchen! It even has a section on lunch-box tips! And a cookie recipe!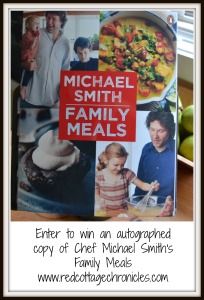 Contest is closed! Congratulations to the winner!
(Chef Michael Smith is in no waiting affiliated with this giveaway and this is not a sponsored post. I simply want to share my love of the work of this talented Chef!)